---
You can check all the guarantees and shipping times directly on AliExpress by clicking here. And see all the frequently asked questions resolved in this other link.
---
AliExpress Coupons
Active
List of all the coupons
List of all Seller Coupons ordered by category.
Use this code to get a 3$ discount with a minimum spend of 4$.
Latest Flash Offers. If you see something you like don't hesitate, these products sell out quick.
---
We have been asked a lot about how to buy on AliExpress from Australia. In this guide, we will tell you everything you need to know so that you can start shopping safely in AliExpress Australia and get the best brands of Chinese origin at unbeatable prices.
If you want to access AliExpress Australia directly, you can do so by clicking here.
First step: register on AliExpress and get a welcome coupon, as well as a promotional coupon
The first thing you have to do is register with your email in AliExpress (it is better not to do it with your Google or Facebook account, as you will not receive notifications in your email). When you sign up, you will get a Welcome Coupon to use on any purchase. Don't miss it, sign up and get your coupon at this link.
In our guide on Discount Coupons on AliExpress you will find important information about other coupons that AliExpress offers.


Promotional code AliExpress Australia
AliExpress also has a welcome promotional code that you can use to get a discount on your first purchase (note that you cannot use it at the same time as the Welcome Coupon) you just have to enter it before paying.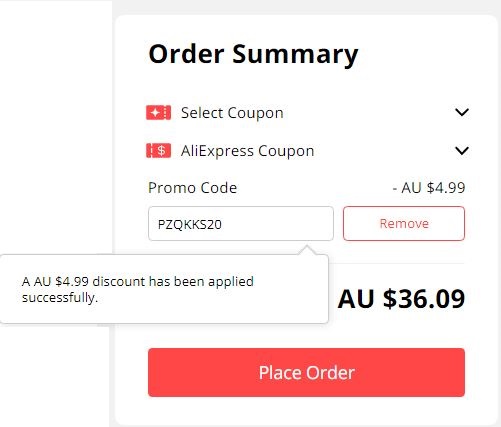 If the promo code does not work, try this link instead.
How to find products with shipping to Australia on AliExpress
It is very easy, you just have to go to the settings found in the right corner of the main page of the platform and indicate your country, language, and currency. This way you will obtain among the results of your searches products with shipping to Australia.
Directly access the page with the settings here.

Before buying, read the description and specifications of the product
Something really important and that is often overlooked is to check the product description very well. There, you will find data such as size, size equivalency (essential if you are going to buy clothes), what the order includes, among others. In this way, we will know what we are going to find when we receive the product. And if the information provided by the seller is not enough, contacting them is very easy and they will answer all your questions.
But you should not only trust the description. So that your experience is the best, we recommend you review the opinions of other buyers and look at the seller's reputation to see if it is reliable. Sometimes you will see real photos of the product. If you want to know how to find reliable sellers, read our Ultimate Guide on Finding Sellers on AliExpress.
Payment methods accepted for AliExpress Australia
The best form of payment is by credit or debit card. AliExpress accepts Visa, Mastercard, and American Express cards. It is very important that the card allows you to buy online. You can also buy with a virtual card.
You have several other methods, including electronic wallets or even cash with options like Yandex.Money. All the accepted methods are in the image below.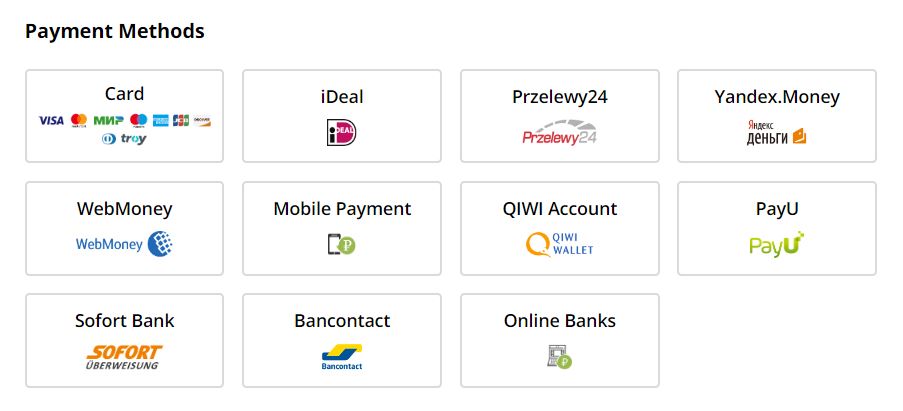 As we mentioned, paying in AliExpress is really save. Your money won't be released until you confirm that you received the order correctly. Remember that if you buy several products from different stores, you will also receive them in different packages (but if you bought various articles in a single store, you will probably receive a single package).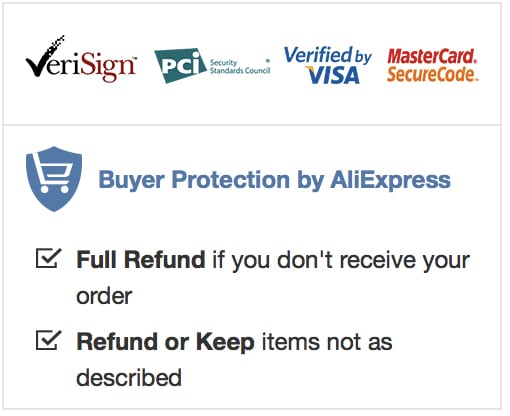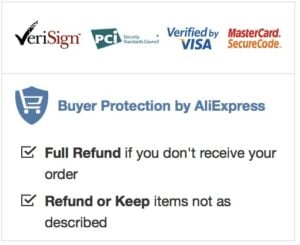 Shippings: How do they work for Australia
As you see, there are different methods you can choose for the shipping of your products. The delivery time will depend on the shipping method. With AliExpress Standard Shipping or China Post, shipping is usually free or very cheap, although the waiting time is up to 50 days (it also depends on the time of the year) and often you won't have the option of tracking down your order.
Nowadays, a good option is ePacket. It is also cheap but usually a lot more faster. You can also receive your order earlier through companies like DHL or FedEx, but the price is considerably higher. We would say it is better to wait an extra week (besides, with these private companies, the possibilities of your order being blocked in customs are higher).
You can check out our Guide on shipping times on AliExpress for more information. We also have a Definitive Guide to Shipping Methods.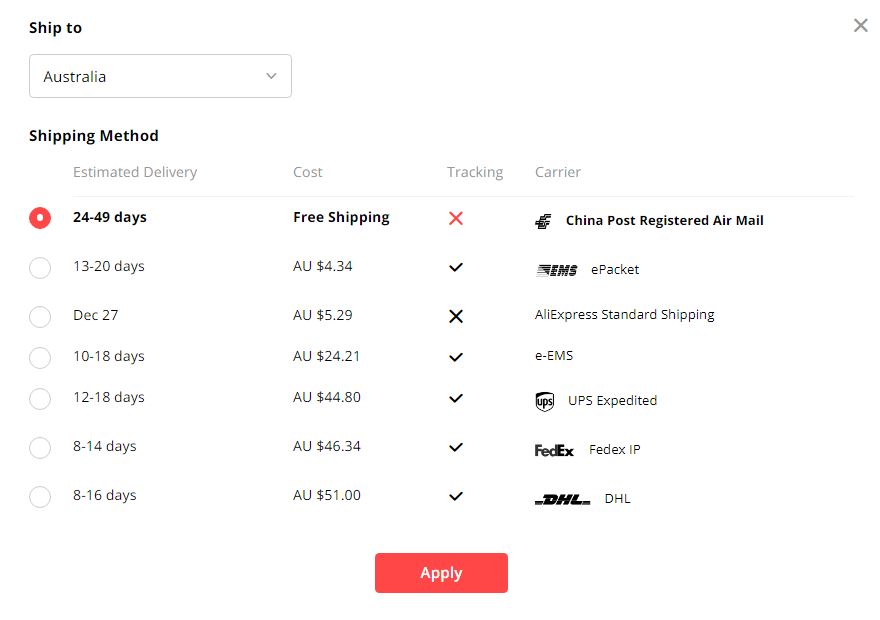 How to find products with national shipping
Did you know that there are more and more AliExpress stores and brands with local warehouses in Australia? Yes, you can actually order from your country and receive your purchase by national shipping without it going through customs or paying extra taxes. And it will arrive super fast!
To find products with shipment from Australia you just have to use the filter "Ship from" in the search engine and select your country.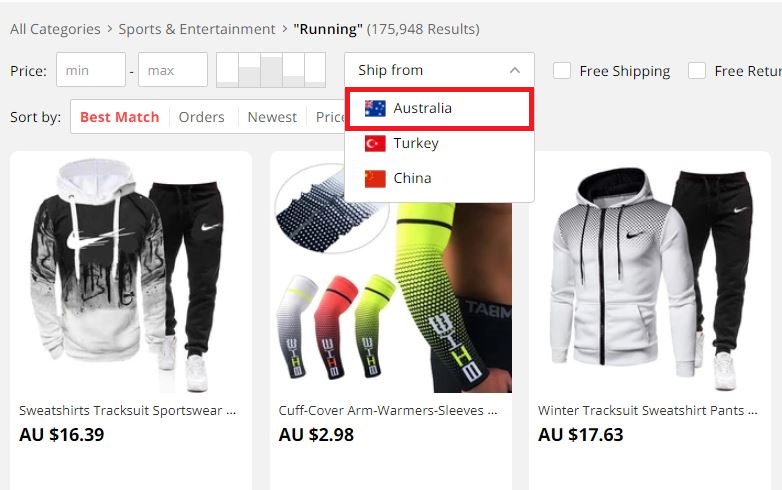 How to check the tracking number
If you want to know where your order is at any moment, we recommend looking at the tracking number. In the order details, you can see the different states of your order. You can also track your package through pages like 17track.net. On our blog, we have a Guide on tracking AliExpress orders if you want to know more about this.
Customs
For a couple of years now, all products imported to Australia with a value under AUD $1000 have to pay 10% of Goods & Services Tax (GST). The good news is that this amount will be charged directly when you pay on AliExpress, so your purchase pass directly without any other customs processes. However, if your order costs over AUD $1000, you will have to pay customs duties when your order enters the country (these amounts are calculated considering the type of product and the price).
In case you have to pay customs for your order, you will receive a notification from customs and they will explain what you have to do. If while you are tracking your order in AliExpress, you see the message "In customs", you don't have to worry, it doesn't mean it has been detained, is just part of the process since it has to go through customs in China and also when it arrives in Australia.
In our Guide about customs you will find more general information.
How to open a dispute on AliExpress if you have a problem with your order
If you have a problem with your order and you have not been able to solve it with the seller, you will have to open a dispute. The money of your purchase will be protected during the protection time, that is, 60 days from when it's sent (although nowadays this time has been increased up to 90 days) and 15 days after confirming that you received the purchase. For instance, if your tracking says "delivered", but you didn't receive it, this protection time will reduce and you will have to open a dispute (another reason to track your order regularly).
If you want to open a dispute, you just have to access your account, go to the orders section and click on the "open dispute" button. We explain how to do it step by step in our Guide on claims, disputes and returns.
Frequent doubts and questions when buying on AliExpress from Australia
We have received some questions frequently, so here are the answers for them.
What should I do if my order has been detained by customs?
In this case, just wait to be contacted by them and follow their indications.
My order appears as delivered but I have not received anything
If a message appears on the tracking number that the package has been delivered, you should first get more information about what happened: contact the postal company and the seller. If the tracking was wrong and the package was not for you, the seller should offer a solution, or you can open a dispute to get a refund. You will need to provide as much evidence as you can, so you can use a tracking page and capture where your order was delivered.
Can I buy from another country and send the order to Australia?
Yes, you can do that. You can also order from Australia and send the order to another country. Just make sure you are clear about the customs duties or taxes, especially if it is a gift, since the person who receives it will have to pay them in that case.
I'm not at home much, can I send my orders to the post office?
No, please provide any address where the mail company can reach you (it can be the address from your work or any other place).
How to change any details of my order
If you have already paid and you have made a mistake in the size, color, address, or other details, probably you will have to cancel the order and buy again. But we recommend you contact the seller and explain your situation, sometimes they can make changes. If the order has already been shipped, the seller will no longer be able to change anything.
Can I buy wholesale from Australia on AliExpress or Alibaba?
Yes, you can make wholesale purchases, however, if your intention is to do it in the long term, it is better that you contact a specialized person who can guide you with imports from China. You can know more in our guide on How to buy wholesale on Alibaba.
Is it safe to buy on AliExpress from Australia?
Yes, as we said previously, this is a very safe platform for shopping online. However, you can read our guide on preventing frauds or scams for more information about security.
More and more people are starting to purchase on AliExpress, since it is very easy and you can get good and low-priced products. If you need more tips and tricks to buy on this platform safely, in our blog we have a section with tutorials where you will find interesting articles. We especially recommend our Essential Buyers Guide for AliExpress if you are not familiar with this online sales platform
What about you? Have you already bought on AliExpress from the Australia? We would love to hear your opinion, do not hesitate to leave a comment below about your shopping experience.