Summarized version: a side from coupons and seller discounts, on this 11.11 Shopping Festival it is important to be aware of two other types of coupons with are cumulative with each other: the "Select Coupons" and the "AliExpress Coupons".
Normally Select Coupons are obtained by exchanging AliExpress coins, however from the end of October to November 13 these free, so take advantage of and enter this page from time to time and claim yours.
I also recommend that you collect coins by adding products to your shopping cart every day and doing app missions. When you have a few coins you can go to this page and exchange them for AliExpress Coupons (the red ones, remember that the white ones are the Select Coupons that you can get for free!).
In addition AliExpress is giving "AliExpress Coupons" to it's most loyal users, you can check if you are one of the lucky ones in this section of your account.
---
Extended version:
We already have a complete guide of offers for the 11 11 shopping festival on AliExpress, but in this article we will summarize and focus on how to:
Get Coins
Get Coupons
Combine them in the smartest way
Get practically free stuff (yes, it's possible!)
Let's get started!
What are AliExpress Coins?
Coins are "virtual points" that you can get by doing actions and playing games on the AliExpress app. In this post we explained everything in more detail, but I can summarize it in five points:
Add to your cart all the products that interest (even if minimally): if you change your mind and decide not buy them nothing will happen, but in the meantime you will win coins and receive a notification with their discounted price on the 11.11.
Enter the app ("Coins and coupons" section) every day until 11.11: the more consecutive days you enter, the more coins you will earn (they increase exponentially).
Follow the actions you are asked to do: search by image, share a category, follow a user, etc. These are quick and easy ways to accumulate coins.
Be wise when you play games (if not careful it's easy to end up losing quite a lot of coins 😔)
Important: do not exchange coins for select coupons. Later I will explain how you can invest them better.
What types of coupons are available?
The first thing is to understand what types of coupons exist in AliExpress, something that is actaully quite complex. As we mentioned in the AliExpress coupon article, there are at least six types of coupons/discounts that can be applied to the same product. Let's go over the most important ones.
1. Store Coupons and Direct Discounts
These are very common: store coupons are direct discounts discounts appear automatically on the product pages.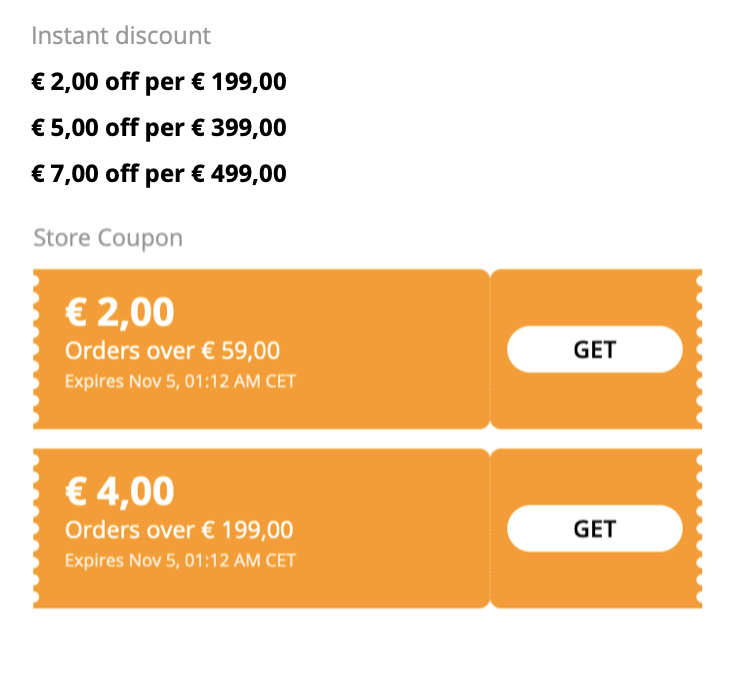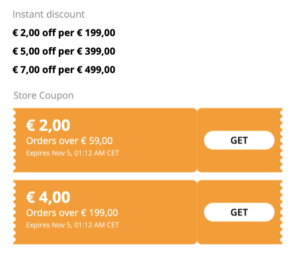 They are available all year round, including the 11th of the 11th season. The direct discount is automatic, however with store coupons you have to look at how much you are going to spend overall and click on "GET" on the highest coupon for that amount.
2. AliExpress Coupons
These are given away by AliExpress to loyal customers, they usually appear out of nowhere in this section of your account (check it, AliExpress is quite generous during this time of the year).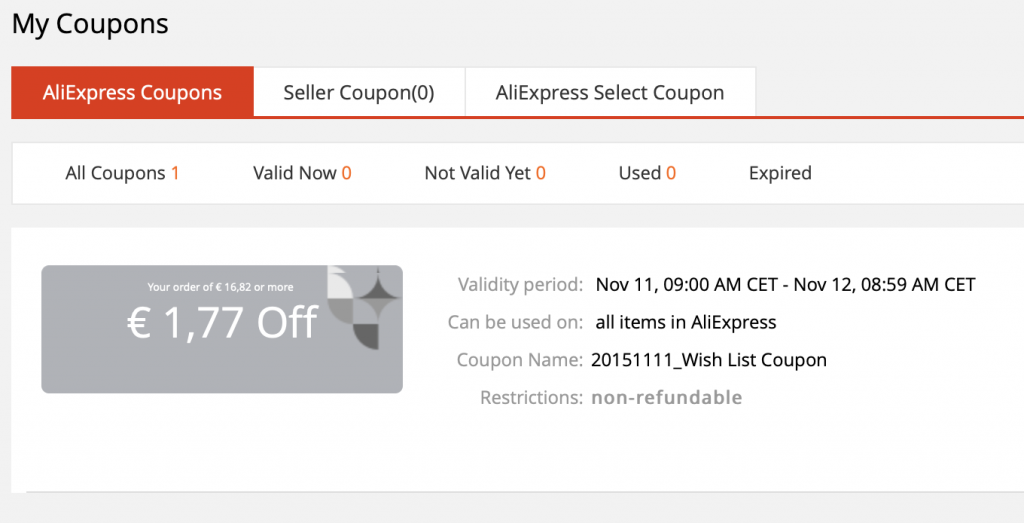 3. Select Coupons
These are also available all year round, with the exception that outside of the 11/11 season they have to be exchanged for coins. However, during the shopping festival and the days leading up to it (from the end of October to the 13th of November)… they are free!
Free?
Yes, look: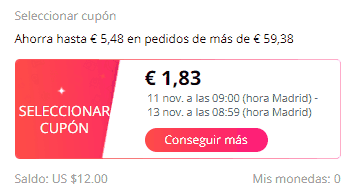 In this account there are zero coins and I can ask for 1.83€ coupons indefinitely (well, there's a limit of $238, at the end AliExpress had to cap it somewhere…).
Does this mean you can get a 200€ mobile phone for free? No, of course not.
The selection coupons are given out by AliExpress, but then the seller establishes how many you can use for each minimum amount, for example they might say, "Save up to €5.48 on orders over €59.38".
The good thing is that they are cumulative, so you can get pretty good discounts if combined with the other types of AliExpress coupons. And that's what we'll talk about next, but first there's a fourth type of coupon:
4. Promotional Codes / Promo codes
These are the only type of coupons where you have to introduce a code like "ALIEXPRESS10" in a box in the last step of the purchase process: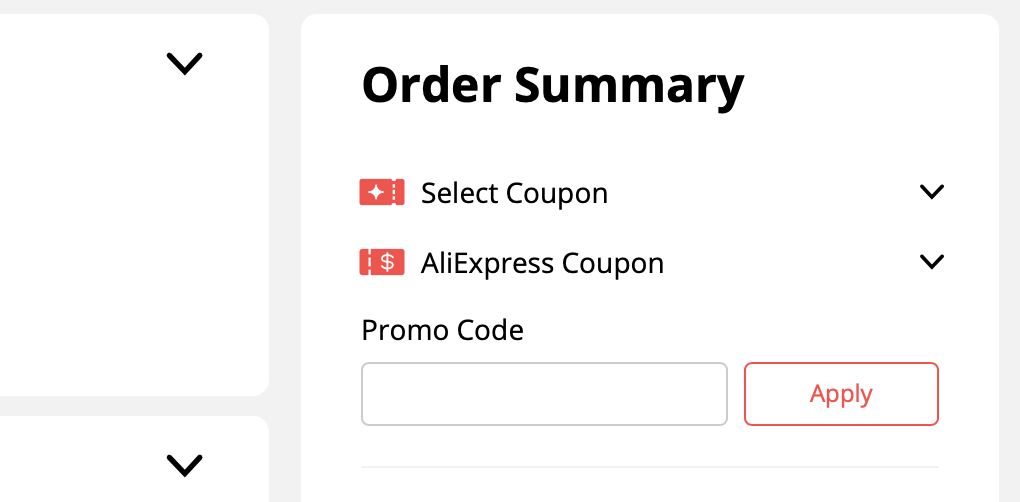 To get ahold of them you have to pay attention to AliExpress' social media accounts AND be quick because they fly.
The only disadvantage of these coupons is that they are not usually compatible with the AliExpress Coupons (those mentioned in point 2).
So, how can I save more money?
In addition to putting everything that you are interested into your basket, I follow this strategy:
1. Buy AliExpress Coupons
If you enter from the app to this page you will see that you can exchange coins for Select Coupons and AliExpress Coupons: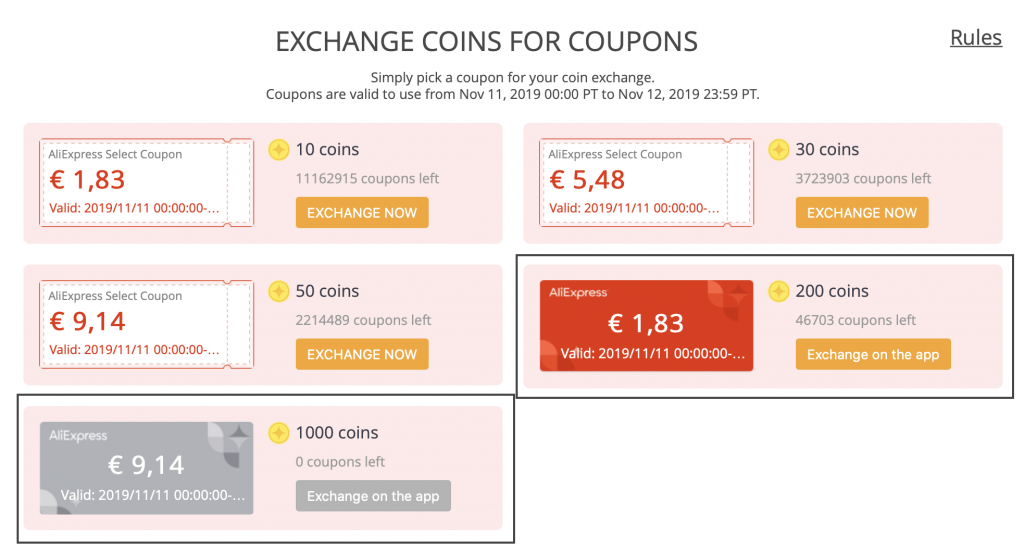 Remember that Select Coupons are free, so the good ones are the second ones, the red AliExpress Coupons. At the time of this screenshot the $10 coupon had run out, but these days more will be released.
2. Spend your coins well
If you have leftover coins, you can go to the <<Coins and Coupons>> section in the app, and then click on <<Exchange Coins for Seller Coupons>>: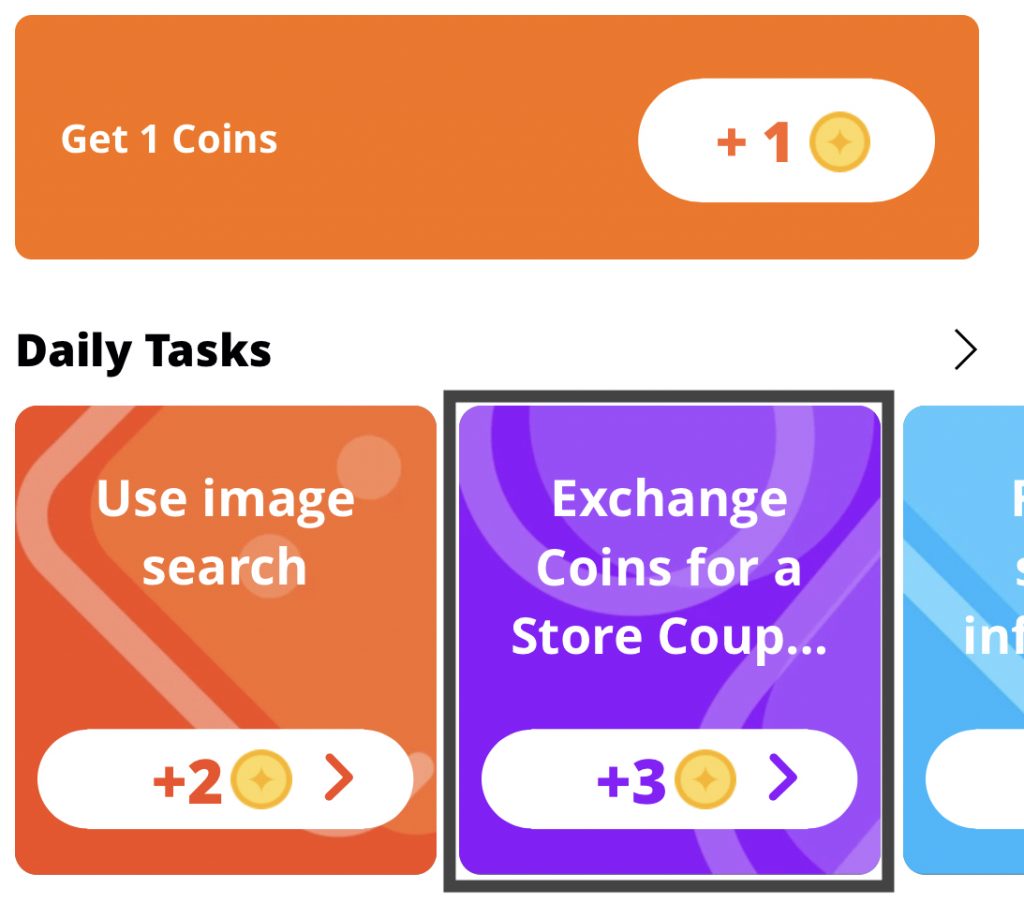 There you'll be able to see if any stores you're planning to buy from are selling better proportion store coupons than the free ones.
Here's an example of what I mean by "better proportion". Hong Kong Goldway (link) only has these two free Store Coupons:

Logically, if you only plan to buy a Mi Band 4, you won't reach either of them, and even if you did, the discount would be less than a 1% of your purchase. On the other hand, in the section "Exchange coins for Seller coupons" you can buy a 0.92€ ($1,00) coupon for a minimum expenditure of 0,93€ ($1,01).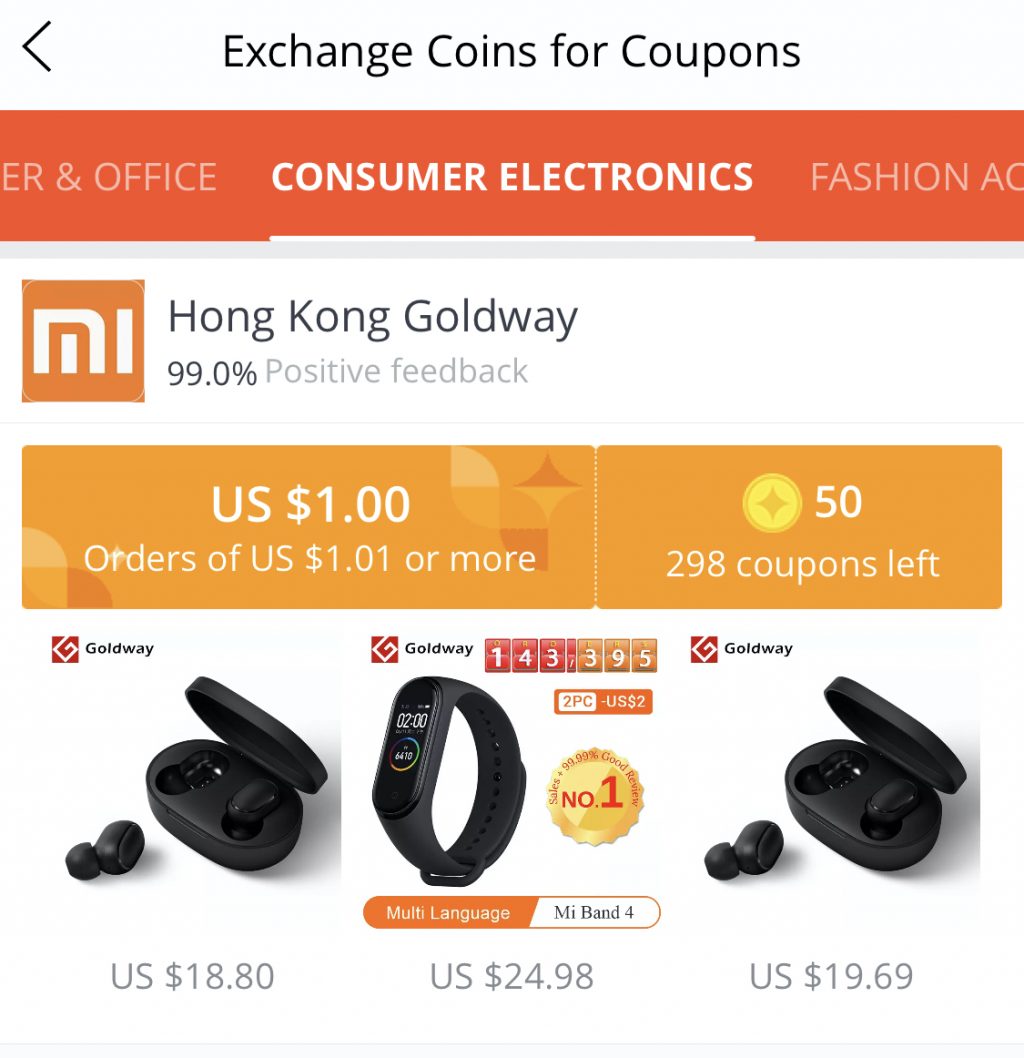 Of course a much better ratio between discount and minimum spending than free Shop Coupons, right?
You can also buy products directly with the app. These are products for which you have to pay a few coins and some money (from 1 cent to several euros), and you can find them in the "Coins and coupons" section. You won't find high quality products, but you don't lose anything by taking a look.
3. Do your calculations
As we said, with a same product you can combine up to four types of discounts (Store Coupon, Direct Discounts, Select Coupons and AliExpress Coupons / Promotional Code), and each of them requires a minimum cost (which usually does not include the shipping cost), so you'll have to do some quick mental calculations. For that you will find it helpful to know the order in which AliExpress applies the discounts:
Direct Discount
Store Coupon
Select Coupon
AliExpress Coupon
Promotional Code
What's that supposed to mean?
You have an AliExpress Coupon of 2€ for every 10€.
You find a 10€ product
This product has a Direct Discount of 1€ for every 10€ spent.
Then your basket remains at 9€ and you can't use the AliExpress Coupon…
In these cases you simply have to look for some cheap product that will help you reach the minimum for the coupon in question (in this case, something worth 1€). This way you save 1€ more and get the product for free.
And that's it, I hope you save a lot!
I leave you with a link to the AliExpress coupon center.