Many of you are asking us how to start a business with AliExpress products. Today we will explain how the dropshipping system works, a good way to have an online business without worrying about inventory or shipping products.
AliExpress is a good site to start your online business since many sellers offer products with dropshipping, as you can see below. We will teach you how to get the most out of it and how to find sellers that offer dropshipping on AliExpress, you can easily find some by clicking here.
What is dropshipping?
The dropshipping system is well known in the world of online commerce. It consists of the sale of products (usually online) but with the peculiarity that the seller does not usually have the goods in its facilities, but asks its wholesale supplier to send the product directly to the final customer. Therefore, the retailer does not have to worry about storing products or sending them, but only acts as a mediator between the wholesaler (the AliExpress supplier, in this case) and the end customer (who pays for the product).
Pros and cons of this system
This system has great advantages since you will avoid having to buy products to have them in your store and the risk of not selling them with the consequent loss of money. In theory, dropshipping is the ideal business model: it does not consume resources, you will only obtain benefits. It is a way to set up an online store cheaply and with little investment. You will only have to create a good sales platform and dedicate yourself to expanding your business in the best possible way, avoiding storage or shipping costs.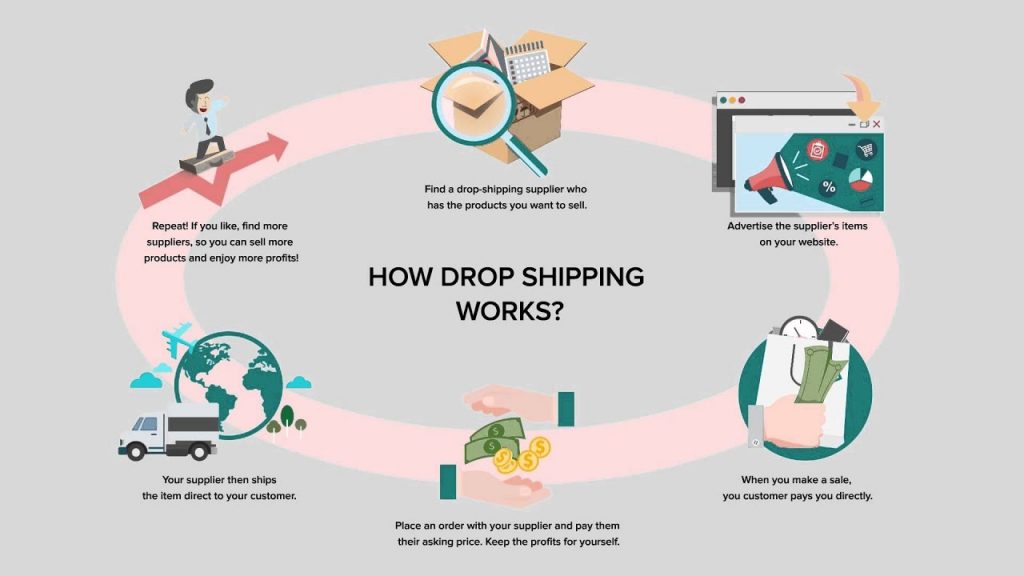 But on the other hand, this system also has some drawbacks: we will need to find reliable suppliers, we will not be able to check the quality of the product ourselves, and the delivery time may be somewhat long compared to other online stores. Obviously, these disadvantages have to be taken into account when creating this type of business. You can look for a good strategy that compensates the possible difficulties with the great advantages that buyers can find in your store: looking for original products, difficult to get in other webs, or selling them cheaper than other platforms can be a good strategy.
Is it worth creating a dropshipping business with AliExpress?
In short, setting up a business through dropshipping is much easier. AliExpress is a good website to find suppliers since you will find thousands of sellers, millions of different and original products, and the best part: very cheap prices. But as we have already said, you need a good seller that you can trust and offers this method of shipping.
How to find reliable dropshipping sellers on AliExpress
There are pages specialized in creating AliExpress dropshipping stores, but the purpose of our article is not to recommend an intermediary, but to explain how you can do it yourself without the need for third parties. Finding sellers with dropshipping is the most difficult task. Our recommendation is to add the word dropshipping to your search, as we have done here to find watches with this type of service.
Another option is to look for the products you want to buy and ask the seller if they do dropshipping (and ask them not to attach invoices or advertising). The third option is to order from any store by putting the customer's address, and asking them, as we said before, not to attach advertising, that is, it would be like ordering for ourselves but shipping to another site.
In any case, you will have to add the customer's address at the time of purchase and wait for the seller to send it. It is advisable to write down the data of the purchase (order number, tracking, price, date of purchase…) in a spreadsheet so that we can have our purchases controlled.
Why should you explore dropshipping with AliExpress?
Another doubt when creating this type of business is about the guarantees offered by AliExpress sellers. Let's summarize the advantages that exist when buying on this page and those that can benefit you when setting up your business:
Returns and Refunds
If there is a problem with the product, you will have to open a dispute by providing proof and you may receive a partial or full refund (depending on the error). In addition, some sellers offer the possibility of returning the product to a national warehouse in case the product received is different from what was requested. To find products with this service, you will have to filter the search like this:

Also now you can return products for free within 15 days for some selected products, so if you choose sellers with this option your buyers will be able to benefit from this option. If the product arrives in poor condition or with a delay, you will have to open a dispute and claim to the AliExpress seller. See our guide to refunds, disputes, and claims for more information on how this works.
Local Shipping
Some sellers have a warehouse in various parts of the world: Italy, Germany, United Kingdom, Spain, USA… This means that if, for example, you live in one of these countries, you will be able to receive your packages in the shortest time possible, and without any customs problems. To find products with local delivery you have to filter the search as we show you below. In our article about products with domestic shipping and return you have more information.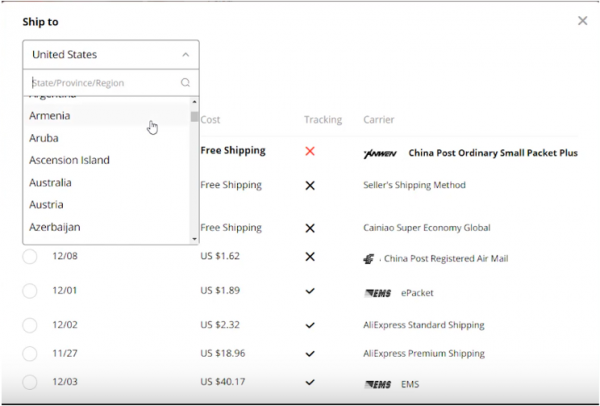 Fast shipping
There are different shipping methods in AliExpress and some have a very short shipping time. But in addition, AliExpress is improving the conditions of their shipments. Besides being able to find sellers with local warehouses, you can also receive the products in less time thanks to the fast delivery in up to 10 days. It is not available for all countries but it is a great option.
Also, there are some shipments that like AliExpress Standard Shipping that work with an agreement with some shipping companies and arrive faster to your country. So even if you can't choose a seller with national warehousing and fast shipping, you still have options to get your order there faster than other online sales platforms.
Warranty on cellphones
If you are thinking of setting up a business to sell smartphones of Chinese origin, AliExpress is a fantastic provider, because in addition to the advantages we have mentioned above, the site offers a national guarantee according to your country. This service is not available in all countries, look in the ad for the guarantee conditions of your purchase.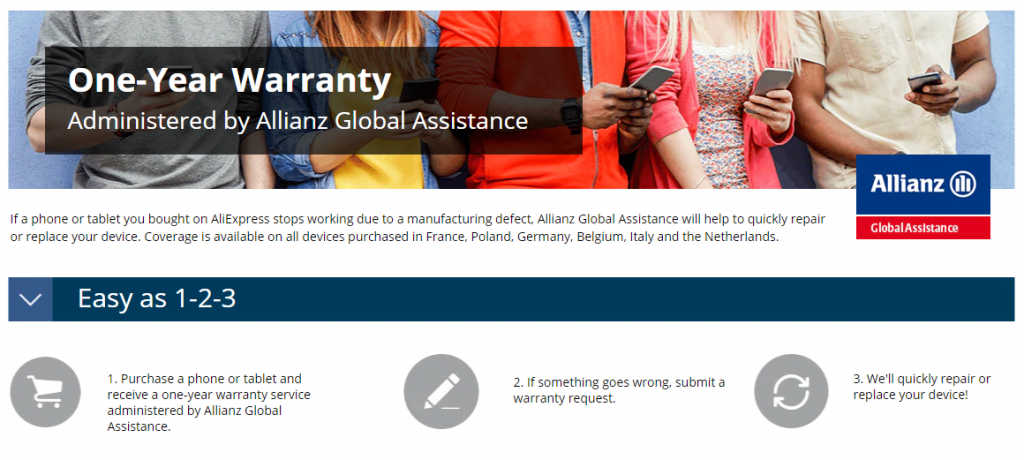 Reliable sellers and leading brands
In AliExpress you can find high-quality products at a low price, and this is one of the reasons why dropshipping with this platform is a good business idea. As we have already said, not all sellers do dropshipping but we recommend that you take a good look at the seller's rating before you buy, and in our AliExpress best sellers guide you have a selection of the best and how to check the ratings.
Customs and tax payment
One thing to keep in mind before starting a dropshipping business with AliExpress is that when buying abroad we may have to pay customs, although this is easily avoided if we buy small and low volume products. If you are going to sell to only one country it is best to find out about customs regulations. You may also find our shopping guides by country helpful where we provide more personalized information:
Sizes and measurements in AliExpress
Although we receive many questions about sizes in AliExpress and you may know that it is a controversial topic, the truth is that choosing sizes in this platform is very easy since sellers incorporate measurement tables. All you have to do is measure yourself or follow the seller's instructions and choose your size. So by following these tips, you will always get your sizes right. You can find more information in our AliExpress Sizing Guide.
Dropshipping or buying in bulk, which is better?
Sometimes you ask us what is better, to buy in bulk or to do dropshipping? Well, they are totally different sales systems. Dropshipping totally avoids having products in stock which is very useful since you will avoid losing money. But if you want to open a physical store or offer a shorter delivery time, you will have to choose to buy in bulk. If this is your case, we recommend you to continue reading our guide to buy in bulk at Alibaba and AliExpress.
What if I want to sell on AliExpress?
But if you already have your supplier and what you want is to start selling on this online platform, it has been possible for some time now to sell on AliExpress from some European countries. It is a good way to launch your business into an international market with few commissions, a good alternative to Amazon. We also give you some tips for selling in China (but not through AliExpress).
Other tips before buying from AliExpress
If you are determined to create your dropshipping business with AliExpress, in our blog you will find reviews of the best products from this website and how to find them at the best price, which will help you select the products from your online store. In addition, in our tutorial section, you will find very interesting articles to buy more safely on this page of Chinese origin. If you don't know it yet, I recommend you to go through our Essential Guide about AliExpress.