---
IMPORTANT: You can see all the guarantees and shipping times directly on AliExpress by clicking here, and see all frequently asked questions in this other link.
---
AliExpress Coupons
Active
List of all the coupons
List of all Seller Coupons ordered by category.
Use this code to get a 3$ discount with a minimum spend of 4$.
Latest Flash Offers. If you see something you like don't hesitate, these products sell out quick.
---
AliExpress is becoming more and more popular since it allows buying quality products from any country in the world at unbeatable prices.
Of course, France is no exception. If you are in France, we are going to tell you everything you need to know to buy on this online sales platform. Keep reading or go directly to AliExpress France.
First step: register on AliExpress and get a welcome coupon, as well as a promotional coupon
AliExpress has different types of coupons, to find out what each one is for you, can read more here. The first thing you have to do before start buying is to open an account on the platform with your data. Thus, you will get a welcome coupon with which your first purchase will have a discount. You just have to click on it to collect it, as you will see here, and then you will be able to use it.


Promotional code AliExpress France
When finishing the buying process, enter the code below for using your promotional code and have a small discount.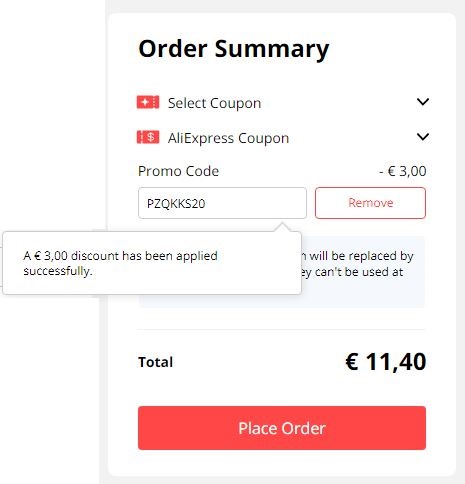 To finish the registration process, you must provide an address where you want to receive your orders. Remember that it can be your home or work address, whatever is most practical for you, but you will not be able to receive your order at the post office. It is also advisable to give a telephone number so that they can locate you. If the promo code does not work, try this link instead.
How to find products with shipping to France on AliExpress
At the top of the page, you can configure the country where you are and the currency. Therefore, when you open a product's profile to see the details, it will be displayed automatically with your currency and you will see the shipping options for your country.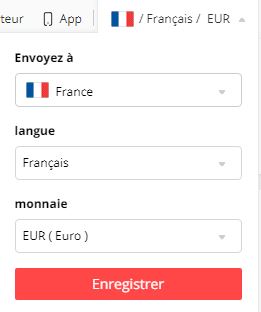 You can go to the version of the page with the configuration above (France – Euros) by clicking here.
Once you have done that, you can start looking for the products you want. One way to do it is by browsing the different categories in the menu, for seeing different articles you may like on each one. You can also use the AliExpress search bar and type directly what you are interested in buying. There, you will find different filters so your search results are more accurate.
Before buying, check the description of the product
It is a step that you cannot skip. Before buying any product, it is necessary that you read the complete information so that you are aware of the different characteristics, as well as sizes or colors if it is about clothing, or material, models, and any other relevant information. In the case of sizes, in the garment profile, you will usually find a table with different measurements, so that you can choose better and be sure that you are buying something that will suit you (or if it is a gift, that will suit the recipient). If you need any information and it does not appear in the description, it is always a solution to contact the seller. Remember not to make the purchase if you are not sure of the specifications.
You can also see in the profile of the item the opinions and evaluations of other buyers, as well as the seller's score. This will give you a better idea and you can rest easy knowing that they are a reliable seller if the profile indicates it. Don't risk it: we always recommend buying from reputable sellers on AliExpress. You can know more about this by clicking here.
Payment methods accepted for AliExpress France
For France as for any country, the most common payment method (and the one we recommend the most) is credit or debit card. AliExpress accepts payment with the most known cards, including Master Card, Visa, or American Express, although it also has some other options. Something that is also often used are virtual cards. Other methods you can use to pay are: bank transfer (it is the least recommended), Webmoney, iDeal, Przlewy24, Yandex. Money, Mobile Payment, Quiwi Wallet, PayU, Sofort Bank, or Bancontact.
If you want to know more about payment methods, click here.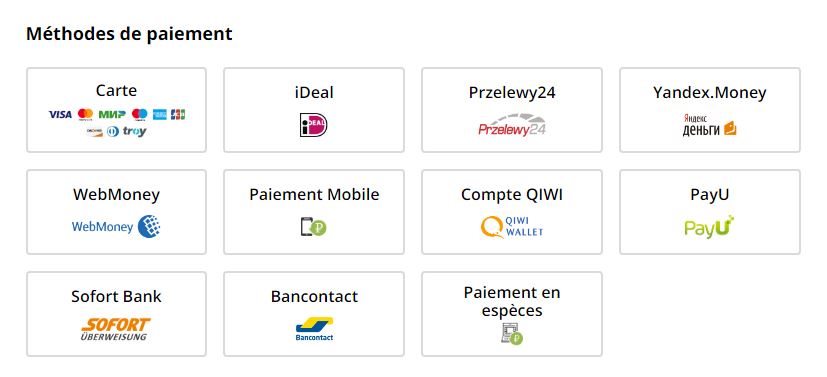 Take into account that, if you have various products in your cart and make a single payment, you will receive several different packages, corresponding to the stores where you have purchased.
On AliExpress, your payment will always be protected, as it uses Verisign SSL encryption to hide your details. On the other hand, thanks to the escrow system, your payment will not be released until you confirm that everything has been received in order.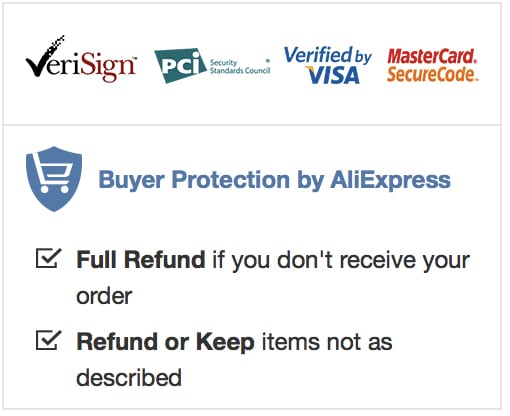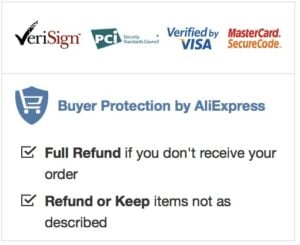 Shippings: How do they work for France
When you go through the purchase process and before paying, you will see that you have various shipping methods available for some items. For some products, you will only see AliExpress Standard Shipping, but in others you will find options by private mail, as you see in the image below. Well, our recommendation is that you choose AliExpress Standard Shipping. It will take longer, but the cost will be lower and it is less likely that you will have to make an additional payment at customs, as we will explain later.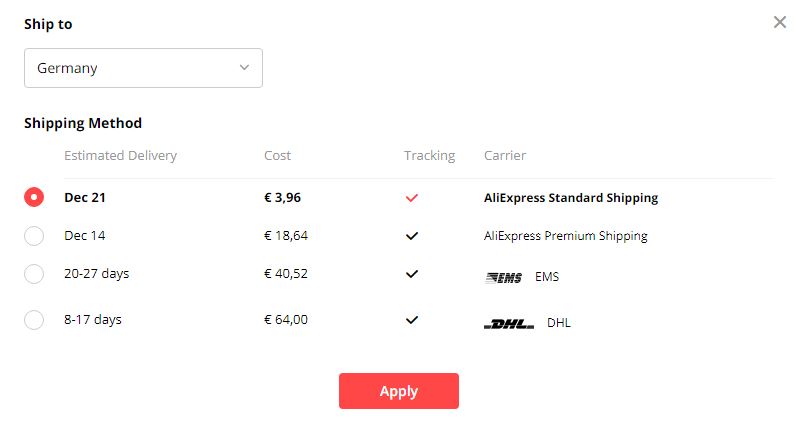 Your order will arrive at the address you indicated by mail. Remember that you cannot give the address of a post office to receive your order. However, if the order arrives at your door and they cannot locate you, they will leave you a notification so that you can pick it up at the nearest office (or at the one established by the postal company). You can read our AliExpress Shipping Guide in order to be more clear about this.
Shipping time: How long does it take an AliExpress package shipment to France?
The buyer protection period is up to 60 days, however, a shipment from China generally takes three to four weeks to arrive via AliExpress Standard Shipping. Keep in mind that during holidays like Christmas, the demand is higher and this sometimes causes shipments to take longer.
It is likely that by choosing shipping through a private company your purchase will arrive earlier, although you will have to pay more. A seller may also offer their own shipping method, which is usually free, but these take even longer than with AliExpress Standard Shipping.
Some stores, on the other hand, have local warehouses in different European countries. If the product that you want to buy, for example, is available from a warehouse in Spain, it is likely to arrive in just one week. You can even find stores with national shipping from France.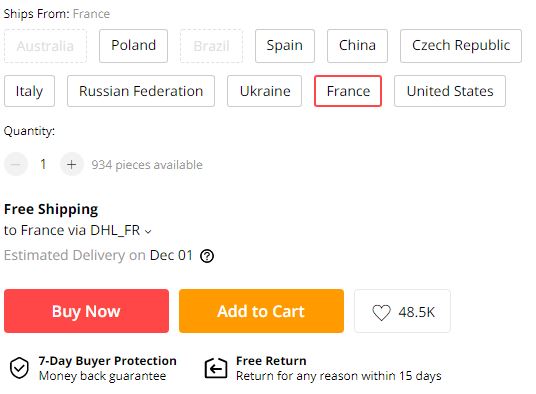 How to check the tracking number
At AlixBlog, we have a Guide for tracking your orders that you may find useful. Nevertheless, you just have to enter the code of your order among other details on the website of the post company. Also, there are other pages, like 17track.net, that allow you to do this. When you choose the shipping method, you will see if it is possible to track your order, which you will be able to do almost every time.
Customs
Customs tax charges are always on the buyer, although some private mail companies already include these amounts in advance. Aside from the low shipping price, another reason we recommend AliExpress Standard Shipping is because with this option it is less likely that your package will be detained in customs. As there is more volume of shipments by national mail, the reviews are usually not as thorough as by private mail.
The amounts established for customs duties are similar to the entire European Union, and depend on the cost of the product and the type of merchandise. A product will only pay customs duties if its price exceeds € 150 (however, if the shipment is from any other country in the European Union, you will not have to pay these taxes). As for VAT, it must be paid for products over 22 euros.
If your package were to be detained in customs, they will contact you so that you can deliver the required documentation and they can calculate the amount you must pay. Our recommendation to avoid this is that you order packages under 2 kg and that cost less than 22 euros. A good trick, if you are going to buy several items, is to make the purchase separately (and make sure that the seller also sends them separately), to avoid that your packages are retained. We recommend reviewing this guide, where you will find more information about customs.
How to open a dispute on AliExpress if you have a problem with your order
If you had any problem with your order (for example, you did not receive it on the indicated date or it arrived with a defect) you can always open a dispute. You just have to click "open dispute" in your order. However, it is advisable to contact the seller before, since many times they will be able to solve your problem.
You can open a dispute during the 60 days within the buyer protection, or up to 15 days after receiving and confirming the delivery. The seller will have to respond whatever the situation, but AliExpress has the ability to intervene if not. We recommend our Guide on Claims, disputes and Returns on AliExpress to know more.
Frequent doubts and questions when buying on AliExpress from France
Here are some answers to the most frequent doubts and questions we receive at Alixblog.
What should I do if my order has been detained by customs?
If your package is detained at customs, they will contact you and explain the process to follow. As we already mentioned, you will have to provide certain documentation where the price of the item appears, and they will make a calculation of what you must pay.
Don't worry if you simply receive a notification that your package is in customs. Normally it does not mean that it has been detained and it is only part of the procedure, since packages must go through customs both when leaving the country of origin and when arriving at the destination country.
My order appears as delivered but I have not received anything
It is very unlikely that this happens, but in that case, the first thing you should do is notify the seller. If they cannot solve or clarify the situation, you must open a dispute with evidence that the package was not delivered to you (you can track it and send a capture of the place where it was delivered, for example).
Can I buy from another country and send the order to France?
Of course, you only have to give the address where it should be delivered when selecting the destination of the order. You can also buy from AliExpress France and send the package to any other place in the world.
I'm not at home much, can I send my orders to the post office?
This is not possible. If you are not at home regularly, you can give your work address, or any other where you can be located during the mail delivery hours, but you cannot receive any orders at the post office.
How to change any details of my order
You may have indicated a different size by mistake, or perhaps you want to change the color of a garment after having made the purchase. It is always possible to contact the seller, it is likely they can help you without canceling the purchase and having to do it again. We recommend that you review our Guide on changing or canceling orders on AliExpress.
Can I buy wholesale from France on AliExpress or Alibaba?
At Alixblog, we have made a guide on  How to buy wholesale on Alibaba, where you can know everything you need to do to buy wholesale from anywhere in the world. However, each country has certain specifications, especially when it comes to customs processes. We recommend that you inquire about this with a specialist before deciding to import.
Is it safe to buy from France?
AliExpress is a completely secure platform, and that is why it is increasingly used to buy from any country in the world. Your money will always be protected thanks to the escrow method, to prevent any possible fraud or scam. On the other hand, if something doesn't go the way you expected it is always possible to open a dispute and request a refund.
At Alixblog we have a section with tutorials where you can learn more about AliExpress security and procedures. We also recommend reading our Essential Buyers Guide for AliExpress if you are starting to buy through this page.
What about you? Have you bought anything on AliExpress from France? We would love to know your opinion, so please don't hesitate and leave a comment about your shopping experience.