Hong Kong Goldway is one of the oldest stores on AliExpress' platform, having more than 10 years of working in this marketplace. It specializes in mobiles and technology products from Chinese brands such as Xiaomi or Pocophone.
Attention: to go to the real Goldway store you can click here.
Do you know why we link it directly to you? Because Goldway has become so famous that many new sellers put the word Goldway everywhere to try to confuse buyers and benefit from Goldway's good reputation. Therefore, it's important to make sure that you're in the original store, number 311331.

We'll tell you why it's so famous and whether it's worth buying your next phone here.
Is this store reliable according to AliExpress users?
All you need to do is look at the store's rating, which is the result of other buyers' comments. The store has a positive rating of over 97%; it also has the "Top Brand" seal that informs us that it's one of the trusted stores on the platform based on the good service and customer care it provides month after month.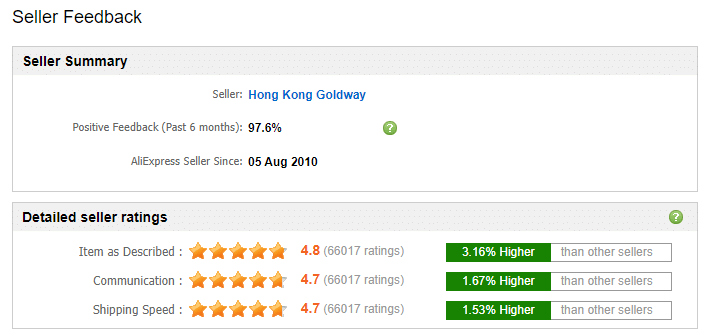 Undoubtedly, Goldway's store is still very safe for people interested in buying technology products on AliExpress. Check for yourself its outstanding reputation from this link.
Opinions on Goldway
Today AliExpress has thousands of technology stores, even big brands like Xiaomi or Pocophone have decided to open official stores on its platform. The competition to offer the best price is insane, so sometimes we can find better deals in other trusted stores.
For this reason, we're going to analyze point-by-point everything that Goldway offers, to see if it's still the best alternative.
Product variety
Rating: ⭐⭐⭐⭐ (medium)
A few years ago, Goldway had a wide variety of Chinese brands. However, nowadays, it focuses on the most popular ones: such as Xiaomi and Pocophone mobiles. It mainly sells mobiles, although you can also find some Xiaomi electronics products such as headphones, activity bracelets, and more.
Although it's possible that their catalog will change and by the time you read this article there will already be a wider variety of brands and products. You can take a look for yourself by clicking HERE.
Offers and discounts
Rating: ⭐⭐⭐⭐ (remarkable)
Considering that Goldway is one of the top brands and one of the best-rated stores on AliExpress, it's normal that it makes offers or joins the promotions offered by this platform, such as the 11.11, Black Friday…
It's even common to have some phones temporarily discounted. If you want to know what promotions and offers it currently has, just look at the main page of its store or the sale items section, where you will see which devices are discounted or if the seller offers discount coupons.
Shipping methods
Rating: ⭐⭐⭐⭐ (medium)
As time goes by, more sellers are opting to have local warehouses outside of China. Thanks to this, users can benefit from faster shipping. However, Goldway's main warehouse is still in China. If you're in Europe, you could potentially benefit from buying from a seller whose warehouse is located somewhere in this area.
As for the shipping itself, Goldway usually offers free shipping via AliExpress Standard Shipping. We know that most of you like this shipping method because it arrives faster and also has a tracking number. It usually takes less than 30 days, and you will be able to track your order and see where it's going, so you won't have to worry about anything. The phone comes fully protected to withstand international travel, so it will arrive at your home in perfect condition and ready to use.
If you need your order to get to you urgently, for an extra sum of money you can choose to receive it by private courier (it may vary depending on your country). We don't really recommend this unless you really are in a hurry, as almost all private courier orders go through customs. Meanwhile, orders with free shipping have a very slim chance of getting stopped.
Warranty
Rating: ⭐⭐⭐⭐ (medium)
If you're thinking of buying a cheap smartphone on AliExpress, you are surely worried about whether these products have some kind of warranty, as it's possible that we may have some problem with it after a while. Goldway offers a warranty on all its products, but this usually involves having to send it back to China and therefore paying the shipping costs.
Returns
Rating: ⭐⭐⭐⭐ (medium)
Another new feature that AliExpress has recently incorporated is the possibility of returning certain products for free. In the case of Goldway, it depends on the product, but in general, it doesn't offer free returns on its products. If you're not satisfied with your purchase, you will be able to return it, but you'll have to pay the shipping to the warehouse of origin. Look for this icon in the product description to check if the product includes free returns.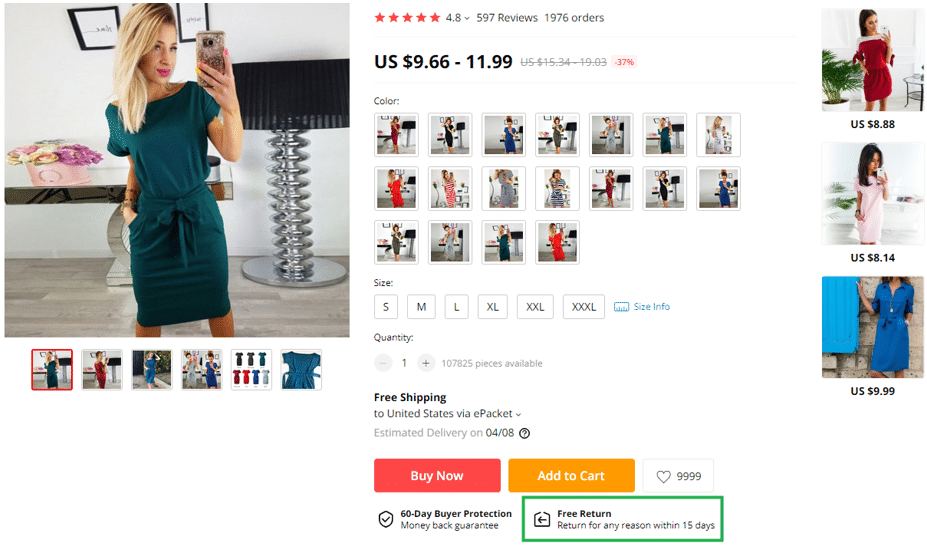 Conclusion: Is it worth buying at Goldway?
As you may have seen, the main advantage of Hong Kong Goldway is that they're a reliable seller, shipping their products fast and securely. With more than 10 years of selling on AliExpress, it's one of the most reputable stores.
That said, there are currently many technology sellers on AliExpress that have great advantages over Goldway: international warehouses, national warranty, free returns… You just have to check out AliExpress' catalog.
If you need help, in AlixBlog we have created a complete guide to detect reliable sellers. And if you want to know more tricks to buy cell phones with total security, you also have our guide to buying cheap mobiles on AliExpress, where you can also find a list of recommended sellers.