Cryptocurrencies are more in style than ever: thanks to the success of Bitcoin, there are many people looking for the next big opportunity. And what better than a cryptocurrency backed by a giant like Amazon, right?
Yes, as you may have figured out, the famous online store has a virtual currency, called Amazon Coin. They can be purchased on its own page, through this link, but before doing so, we recommend you continue to read this article, to understand exactly what they entail.
What are Amazon Coins?
It is a token or virtual currency, which means that with our real money, we can get these virtual coins that serve as a form of payment for some Amazon services. But it's neither something new (as it's a few years old), nor is it a cryptocurrency because it doesn't use blockchain technology.
Besides, it's not decentralized and its value is set by the company itself, unlike the price of cryptocurrencies that is usually determined by supply and demand. Therefore, the first thing you should keep in mind is that it has a fixed price set by Amazon, so there is no possibility of making money from them, since there are no variations in their price.
So, if you find on the Internet any cryptocurrency that uses Amazon's name, it's a scam. There is no official Amazon cryptocurrency.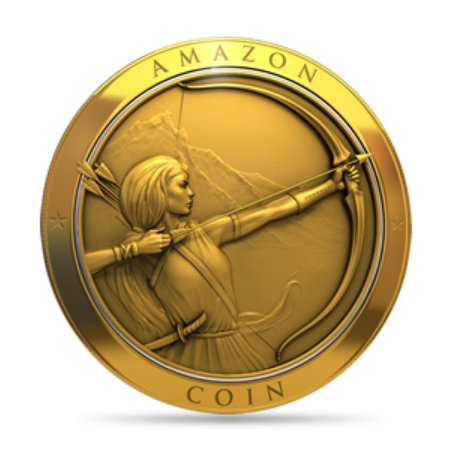 Pricing: How much are Amazon Coins worth?
Amazon Coins have a price set by the company itself. Currently each coin is equivalent to $0,01.
They can be purchased in packs with the following prices:
300 coins cost $2,91 ($0,0097 per coin).
500 coins cost $4,75 ($0,0095 per coin)
1.000 coins cost $9,0 ($0,009 per coin)
2.500 coins cost $21,75 ($0,0087 per coin)
5.000 coins cost $42,50 ($0,0085 per coin)
10.000 coins cost $82,00 ($0,0082 per coin)
50.000 coins cost $400,00 ($0,008 per coin)
Basically, the more coins you buy the more you save, although as you can see, the difference is not very significant. The good thing is that each Amazon Coin ($0,0097) is equivalent to $0,01 to spend on certain Amazon products.
How to get these coins?
As we have mentioned previously, Amazon Coins are not cryptocurrencies, it is a virtual currency, so they are not encrypted and can not be mined. You just have to buy them through Amazon.
To buy Amazon Coins just click here. You have no need to look on crypto or investment websites since these coins are only sold through the Amazon platform because they can only be used within their own application.
Where can I buy Amazon Coins?
Amazon Coins can be purchased in bundles through:
The Amazon Appstore app for Android (not available for iOS).
Fire tablets.
The Amazon website by clicking on this link.
They can also be purchased on a Fire TV, through the games without needing an acceptance message or verification. So be careful if you have this device and leave it in the hands of young children. Remember to apply parental controls or add a password to purchases through the Amazon store.
Can I get free Amazon Coins?
Sometimes you can get Amazon Coins through games or promotions of the platform itself and also by clicking on the gift box through the application. But, as we said, you can't mine them or buy them outside the app.
So it's best to buy them directly from Amazon by clicking on this link.
Are Amazon Coins refundable?
Amazon Coins are not refundable, as it appears in the conditions of these coins. You can check them out in this link. In any case, we recommend you to contact the Amazon customer service center, as you know they are usually very responsive with the problems of buyers.
Where can I see my Amazon coins?
If you want to see the balance of the Amazon Coins you have available you must do it through the Amazon App Store. You will not find any section in your Amazon account from the shopping app to check your balance.
Another trick to see the balance of Amazon Coins is to access from here and see how many coins you have available. Click on the check button in case the data that appears does not match what you have bought.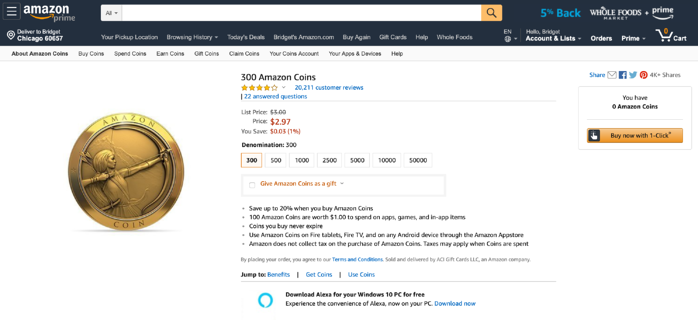 What can you buy with these coins?
Now, onto the important part: if they are not a cryptocurrency to speculate with, then what are these coins for?
With them you can buy apps, games and other items in the Amazon App Store. And no, they don't serve as a balance to buy products on the Amazon home page or any other type of product of the company, only for purchases in the Amazon AppStore.
Through the App Store you can buy more than 50,000 applications with Amazon Coins: from language learning apps to online games. Click here to see all the applications that can be paid for with Amazon's virtual currency.

How to buy Hearthstone with Amazon Coins?
For example, if you are a fan of the Hearthstone game, you will be interested to know that you can buy cards with Amazon Coins. You can save a lot of money because 100 Amazon Coins are equivalent to $1 in the app. So if, for example, a pack of cards costs $50 you will need 5,000 coins, which are equivalent (if we buy them in a pack) to $42.50.
To be able to buy in this game with Amazon currency, the first thing you have to do is to buy Amazon Coins through the App Store, website or a Fire Tablet. You have to make the purchase with your Amazon account.
Then, you have to download the game from the Amazon Store. In case you already have it downloaded, uninstall it and install the game again but always through the Amazon Game Store.
In short: Are they worth it?
As of today, Amazon Coins are only interesting to those who play through the Amazon App Store. But this app is only available for Android, so it seems that fewer and fewer users are able to use these coins.
Although there is quite a lot of confusion about it on the Internet, remember that it is not a cryptocurrency, but instead, a virtual currency, and its value is not going to increase in the coming years. In fact, they are not even redeemable or transferable.
So anyone who tries to sell you a supposed Amazon cryptocurrency is trying to trick you.