It is possible that while browsing Amazon you have come across the expression Amazon Renewed and you are not sure what it is.
It's nothing more than an Amazon initiative to sell refurbished products at a much lower price than the original.
Thanks to this, smart shoppers can get real bargains, so here we are going to explain everything you need to know about this category that is becoming more and more important on Amazon.
How does it work exactly?
"Make it work and look like new."
Often buyers return products to Amazon because they have outer imperfections or because a part doesn't work.
What Amazon does with these products is recondition them, i.e. put them through very strict repair processes to make them as good as new and put them back on sale.
The reconditioning of products can be carried out by Amazon when it comes to products from its own stock or by sellers and independent stores that market their items on the platform. Amazon claims to be very strict with products reconditioned by third parties but, as we will tell you later, some users do not agree.
How to buy these products?
You can find a selection of Renewed products on this page but you will also see them in the search results, mixed with regular first-hand products.
If you are looking for a specific refurbished product, you can filter your search within the Amazon Renewed category:

You will be able to distinguish the results of Renewed products because their title always says (Refurbished) or (Renewed).
These are pre-owned products, so you may notice some signs of use. Despite this, Amazon guarantees that:
The item will have no visible cosmetic imperfections, which can be seen from more than 30cm away.
All batteries are tested to have at least 80% of the charge capacity compared to when the products were new.
It is also important to keep in mind that many times products may not come in their original packaging or with their original accessories. For example, if you buy a cell phone, it is possible that it comes with a generic charger and not with the brand's charger. This is not always the case but it can happen.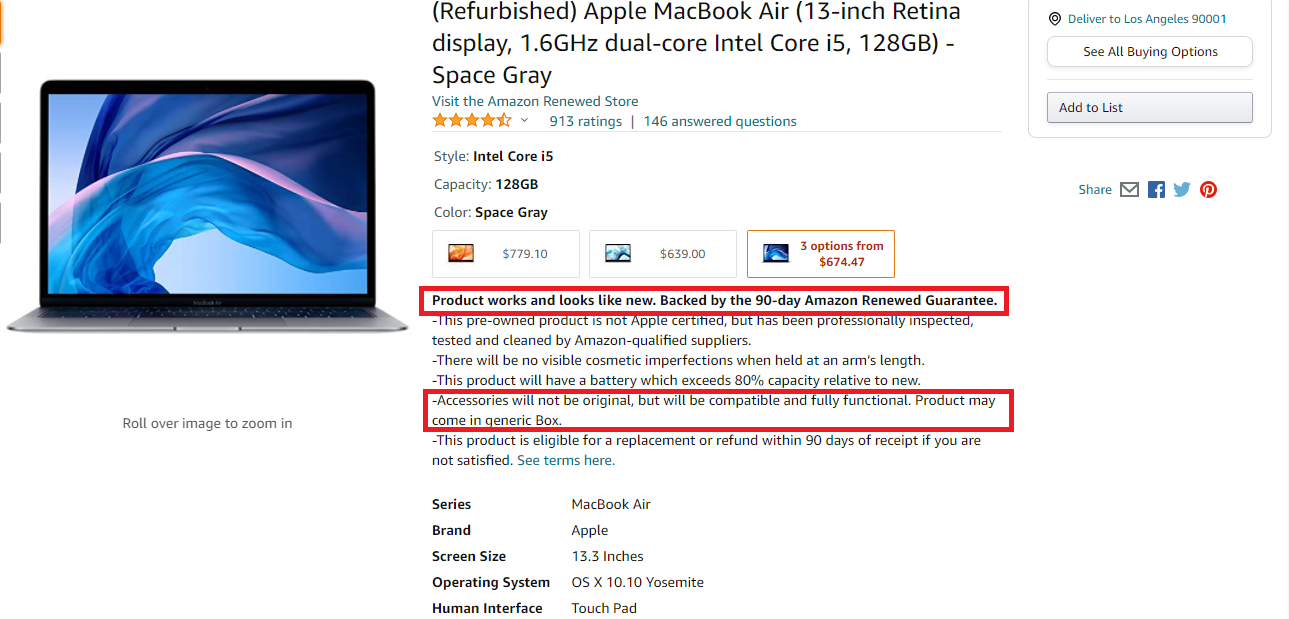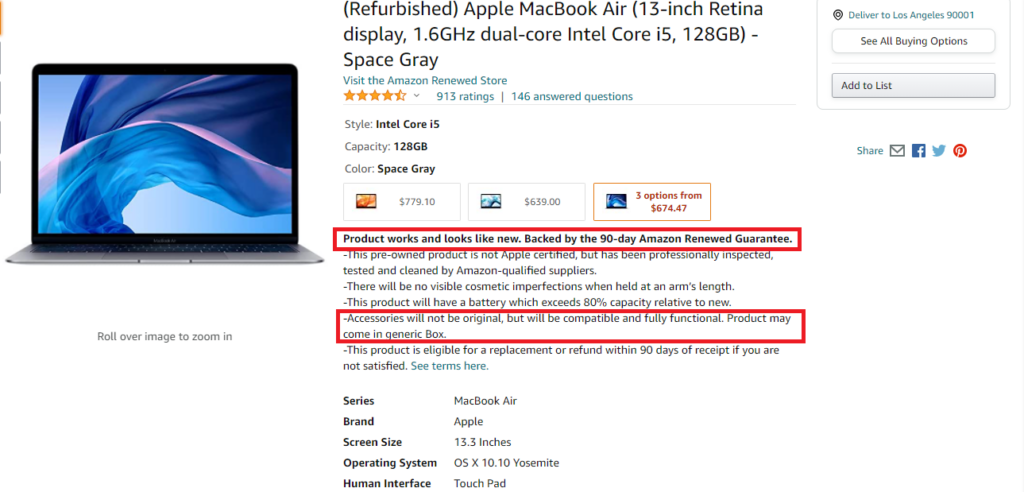 In exchange for all this, we will get a price that on average is between 20% and 50% less than new products.
Here the option to see other refurbished items of the same model seems very interesting to us as you will be able to choose the refurbished item that is most convenient for you.
How is Amazon Renewed different from Amazon Warehouse?
Many people often confuse Warehouse and Renewed, but they are actually categories with some differences between them.
The items you'll find in Amazon Renewed have been returned because of a flaw or damage and then repaired to like-new condition.
On the other hand, the products in Warehouse have been returned because the box was open, because they had minor technical problems or damage caused by handling in the warehouses.
Although both groups are often considered as reconditioned, the truth is that only Renewed would fall into this category. Why? Because the process to refurbish them is more complex and specific.
At the same time, Warehouse items have their own categorization system:
New
As new
Very good condition
Good condition
These categories have an impact on the price of your product, with new products having the smallest difference with the original prices and good condition products having the biggest difference.
Another difference is that Warehouse products have a right of return, but they do not have the same warranty as Renewed products.
Amazon Renewed Warranty
Renewed products have their own warranty, for example, if you are not satisfied with your product, you have a 90-day guarantee to exchange it, if you wish.
This means you have up to a year to test and verify that your product is and works as you expected. If when you receive it and try it out there is something that does not convince you, you have that period to initiate the return process and get a full refund.
Since these are not new products, Amazon gives you more time than usual to try it out so that you can rest assured with your purchase.
However, please note that this warranty does not include possible theft or accidental damage after receipt of the product.
On the other hand, if Amazon considers that you have tried to return the same product many times or when you didn't have to, you will be abusing your warranty. This is rare, but when it happens they reserve the right to decline or cancel returns and refunds for buyers.
To learn more about the Amazon Renewed warranty click here.
What can I find on Amazon Renewed?
Most of the products you can find in this section of Amazon are computers and electronics. Among the ones that stand out and sell the most are:
Cell phones
Computers
Speakers
Televisions
Household appliances
Tablets
In terms of brands you will find several very interesting proposals:
Apple
Samsung
HP
Lenovo
Dell
You can click here and use your search bar to browse only among Renewed products.


Reviews from other buyers
Here are several opinions regarding the products purchased on Amazon Renewed.
Some buyers claim that they've had no problems with their orders: they have arrived on time, in optimal conditions, with original accessories and they look like new.
However, there is a small portion of buyers who have not been satisfied with the products they received. While often the cause of this dissatisfaction is related to the performance of the device, other times it is due to aesthetic details.
When it comes to product aesthetics, we consider this to be a very personal and subjective point of the buying experience. It depends on how much details you're willing to tolerate for the price you paid.
What is unanimous is the positive assessment of the warranty and the attention received by Amazon when returning products for a refund.
The only objection is that sometimes there is no exchange option because the stock of Renewed products depends exclusively on what people decide to return, so the inconvenience is often solved with a refund.
Finally, we have noticed that several buyers recommend, when possible, to opt for products that say "refurbished by Amazon" and not by the seller or independent store.