In AliExpress you can find loads of highly reputed shops selling cheap Arduino kits. So if you are thinking about getting started in the world of automation and starting your own electronic and robotic projects, this is the perfect occasion to get a cheap Arduino board.
For those of you that don't know, Arduino is a hardware platform with digital an analog inputs and outputs that can receive information from the environment (with sensors) and make them do autonomous actions through computer programs. Because they are cheap and easy to use, they are the perfect instrument to practice your recently acquired programming, electronic and automation knowledge and start economic robotic projects.
Arduino board models in AliExpress
AliExpress has a wide range of Arduino models. From standard ones such as the Arduino Nano, Arduino Uno, Arduino Mega, Mini or Leonardo, to Arduino kits that include a selection of the best electronic accessories, such as the Starter Kit.
When buying a Arduino, one of the first things you need to do is choose the right model for you. That's why you should check the number of inputs and outputs (digital and analog) it has, the kind of UART (integrated circuit) and its memory capacity. Here is table with the features of the most famous models: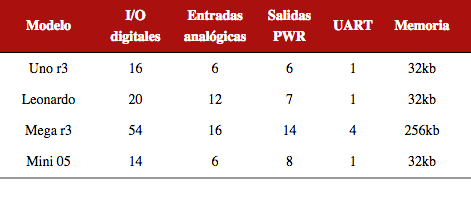 The best known easy model is the Arduino Uno r3 board, perfect for beginners and small projects. If you have a more complex project, involving the use of a lot of engines, you will need a model with more outputs. In this case, you should use a model such as the Arduino Mega r3 (with 54 digital outputs, 16 inputs and 14 PWR outputs).
On the other hand, the Arduino Mini 05 is the perfect model for more advanced programers,made to be left connected to your computer or program at all times. You can find it in AliExpress for less than 3€.
The best shops for Arduino boards in AliExpress
Here is a selection of the best shops to buy cheap Arduino boards (if you are still having doubts, contact the seller directly):
A+++ Electronics – This shop, with 3 diamonds, has a wide selection of cheap Arduino boards. You can find simple ones like the Arduino Uno r3 as well as complex ones.
MT Technology. – With a 5 diamond reputation, this Chinese seller might just be the best option for you if you are looking for good quality cheap Arduino boards.
Team Top – This top rated shop (2 crowns) has a wide range of electronic accessories, perfect for you automation and robotic projects.
DealPark – In this shops you can find loads of Arduino models (Arduino Uno, Arduino Mega or for the more expect users, Arduino Mini).
Buying an Arduino in AliExpress – Advice
Before buying an Arduino in AliExpress, make sure you check the shop's ratings (our personal experience is that from 1 diamonds onwards its a safe bet) and the ratings and comments left by previous customers. Also, because we are talking about a complex electronic product, you should pay special attention to the product description and ask the seller directly any questions you might have about it.