After receiving several emails from people interested in buying Asics sneakers in AliExpress, we've decided it's hight time we wrote an article about it. Some time ago, original Asics where fairly easy to find, but as of this moment (May 2016) there seems to be no originals in the platform.
A few months ago, with a little investigation, we were able to find original Asics models such as the Nimbus, Runnning, Gel or the Kayano…both for women and men. However, I've been looking through the original article and AliExpress (looking for "Asics shoes") and the seller offering originals seems to have disappeared completely. This being said, you might be able to find some soon so, just in case, here is a few tricks to know if the product is original or not 🙂
How to identify original Asics sneakers?
If you are looking for original Asics sneakers try going to this search. If you got lucky you might have found a couple of sellers using the AliExpress Guaranteed Authenticity icon:

In case you can't see it well, it's this icon:

If a seller uses this icon and the product turns out not to be original, they will have to give you back up to double the price you originally paid for the sneakers, including shipping. Plus, you might even get to keep the fake ones and the shop will be punished by AliExpress (sometimes even by closing them down). In any case, if you can see this icon, you can be sure you are making a good purchase.
Can I trust a seller that says he has originals but doesn't feature the authenticity logo? If you find sneakers with a similar price to the original ones but without the Guaranteed Authenticity stamp you can be pretty sure they will be original, but DO be careful.
What can I do to be 100% sure?
If you want to be 100% sure, you are going to have to be a bit more careful. Just follow these steps:
Make sure the seller has a good reputation (check for medals, crowns and diamonds).
Check it a lot of units have been sold.
Check other customer comments (feedback). Look for positive reviews from customers of different countries.
If you are still having doubts, contact the seller directly and ask for pictures.
The quality of Asics trainers in AliExpress
If you purchase original Asics sneakers in AliExpress, they are going to the exactly like the ones you could get in the official store: that is to say great quality and durability. Even so, make sure you look closely at the seller's reputation and comments left by previous customers. This being said, from what we can tell, customers seem to be very happy with these sneakers.
Another thing you might want to keep in mind is if the sneakers you are getting are originals or replicas. We can't help you much more here, they aren't hard to tell apart, just check the price and if they feature the Guaranteed Authenticity icon.
Important advice when buying in AliExpress
Compare prices for original sneakers. For example, on Amazon you can get Asics GEL Nimbus for 110€ or GEL Kinsey 6 for 150€, so if you find a pair for 30€, you should know they're not original…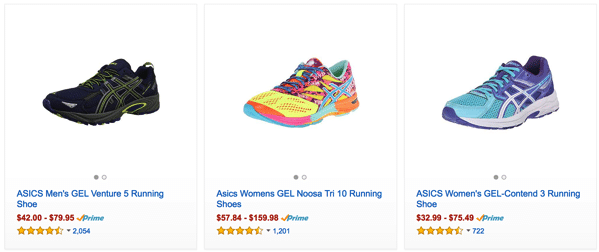 Finally, if you have any doubts about the originality of Asics, we recommend you contact the AliExpress seller directly. You can always change seller or look at Chinese alternatives.
Chinese sneakers similar to Asics, a cheaper alternative
Leaving Asics replicas aside, there is another way to get cheap running sneakers like Asics or other brands. Try looking at Chinese brands, some of them are really well known for their price, design (some of them looks as good as Nike or Adidas), materials and quality.
We are taking about really good sneakers for 30/40/50€ and tons of models for both women and men. Especially when it comes to Li-Ning.

If you want more information take a look at our guide on the Li-Ning brand.
The importance of choosing the right size
To avoid any problems or having to return your sneakers, make sure you choose the right size. To do this, check the information provided by Chinese seller. As a general rule, they will ALWAYS include a conversion table for American and European sizes.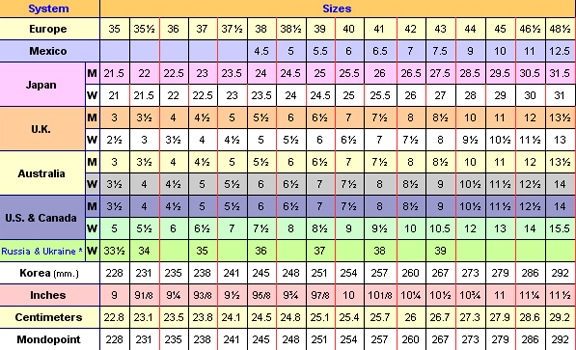 Luckily for us, unlike other sneakers, most sellers offering original Asics Running will use the European or American size.

This image is also good to talk about shipping. Shipping usually takes up to 15-45 days. A friend of mine got some and they took 3 weeks. That's the usual time, but I've received products in only 11 days (a personal record), so you might get lucky and not have to wait as long.
Need more help?
If you need any more help remember you can always leave us a comment or write to us, that's what we are here for.