In recent years, sites selling second-hand products have become very popular. However, when it comes to buying electronic and technological products, we must be careful about which websites we choose, as there have already been several cases of scams.
The Back Market store specializes in the sale of refurbished products, i.e. smartphones already used, but that have been restored by experts. This makes them cheaper than buying a new and 100% functional product.
Here we'll explain how Back Market works and if it's reliable.
What is Back Market?
This online store specializes in refurbished electronic products. You can buy computers, smartphones, tablets, headphones, laptops, consoles, and much more. You will find the best brands on the market and products like new ones at a lower price.
It actually works as a marketplace: Back Market doesn't recondition nor is it a workshop since the sale is made through different sellers. But unlike other sites, it has a very strict selection process to ensure that the final customer will get what they have bought without surprises.
Additionally, Back Market offers excellent customer service, so you can shop with the same security as you would when you buy a brand-new product. If you're thinking of buying technological products and don't want to spend a lot of money, this is a good option.
Seller selection process
The key to having satisfied buyers when shopping on Back Market is, in part, thanks to the selection process of sellers. It's very important to the platform that all repairs of refurbished products are done by professionals. You can see the seller's information on the product page itself.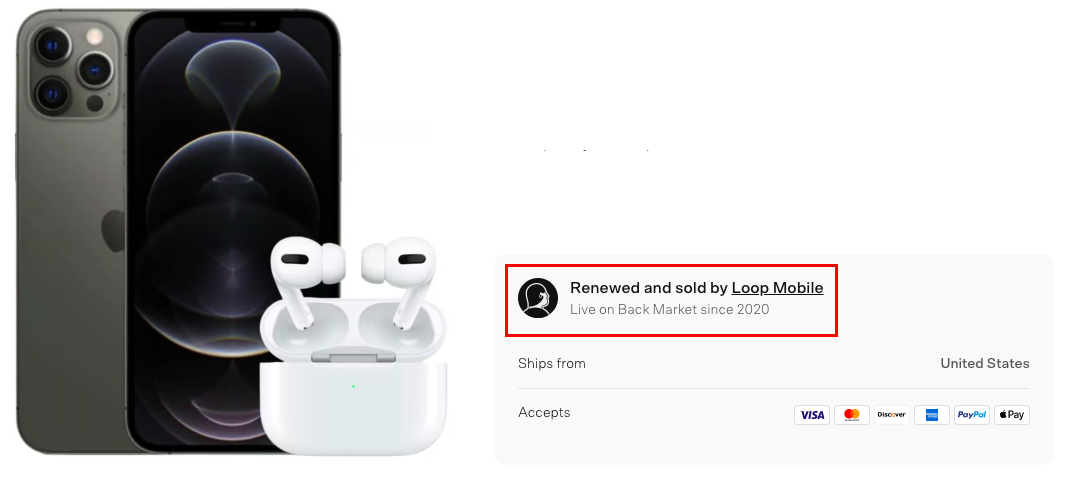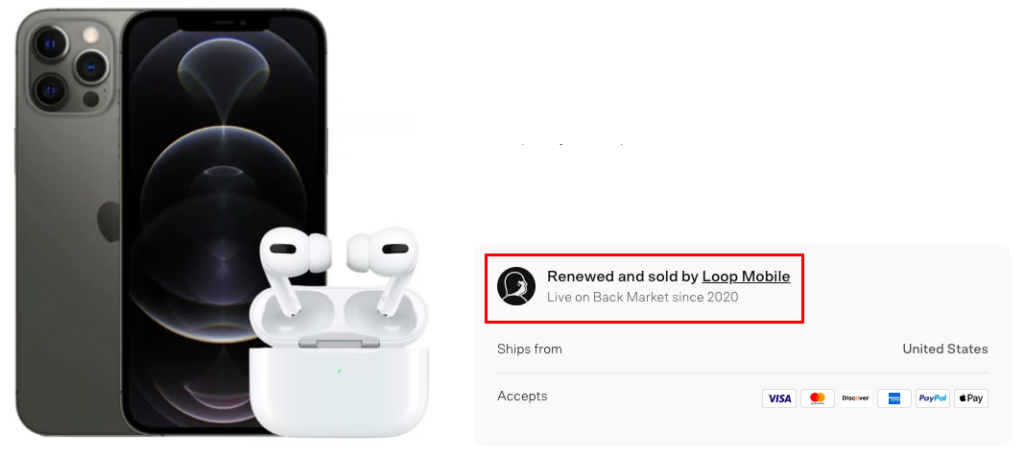 Only professional sellers can sell on Back Market. At times, you can even find products reconditioned by the brands themselves. Before starting to sell, they must pass a selection process and a trial period where they're required to have a sufficient level of quality to pass the selection.
In addition to this section process, the platform does an exhaustive follow-up of the sellers, making anonymous orders to check the quality. This is why only 1 in 3 sellers make it through the trial period.
Refurbished products: Are they worth buying?
A reconditioned product is not the same as a second-hand product. Both have been used, but reconditioned products haven't been active in the hands of any user. This type of product comes from returned purchases, because they're defective from the factory or from the exhibition, and have damaged packaging, among other reasons.
The most important thing is that, unlike a second-hand product, the refurbished product goes through a specialized company that checks and repairs it before returning it to the market. They replace the screen, and the battery if it has poor performance; they also repair hardware or component failures and clean it.
And most importantly, if you buy it through Back Market you will have 30 days return and 2 years full warranty. Whereas when you buy a second-hand product there's often no warranty.
How much you can save (by buying at Back Market)
If you want to buy a cheaper electronics product, choosing a reconditioned one is the best option. By buying at Back Market you will save between 30% and 70% compared to the same brand-new product.
The price may vary depending on the condition of the product and the seller. The platform doesn't fix prices, although it does give recommendations to sellers so that they can improve their sales.
When choosing a product you can select from different states (fair, good, excellent) and prices to decide the one that best suits your needs.
Our opinion
Shipping
Rating: ⭐⭐⭐⭐ (remarkable)
Shipping is handled by the seller so delivery time and shipping costs may vary for each item. However, almost all products have free shipping and the average delivery time is 3 working days (excluding weekends and holidays).
If you place your order after 13:00h the delivery time is calculated from 08:00h the next day. The platform will provide you with the tracking number, so you can see where your order is going.
Shipments are usually made with well-known transportation companies such as FedEx and DHL, to name a few.
Returns
Rating: ⭐⭐⭐ (medium)
You have 30 days to return your Back Market products. The platform doesn't ask you for any explanations, but if you have had any problems with the product, you'll first have to talk to them to inform them through the "Contact Us" section.
All the details of the return system can be found here (for the US), here for the UK, and here for Ireland. As you will see returns are free of charge but can also be a bit cumbersome: you have to take photos, fill in forms and re-pack the product.
All this is necessary so that the seller can then manage the product received. Even so, we've lowered the score because the return of the money can be very slow. In some cases, it takes up to 1 month between the whole process.
Pricing
Rating: ⭐⭐⭐⭐⭐ (excellent)
Back Market is the best platform to buy quality refurbished products at a reasonable price. On other pages, you can find them cheaper but never with the guarantee and security that you'll find here.
Not only can you find the best brands, but you can also choose what level of reconditioning you want in order to select the product that best suits what you're looking for, always with the guarantee that it's a product that works.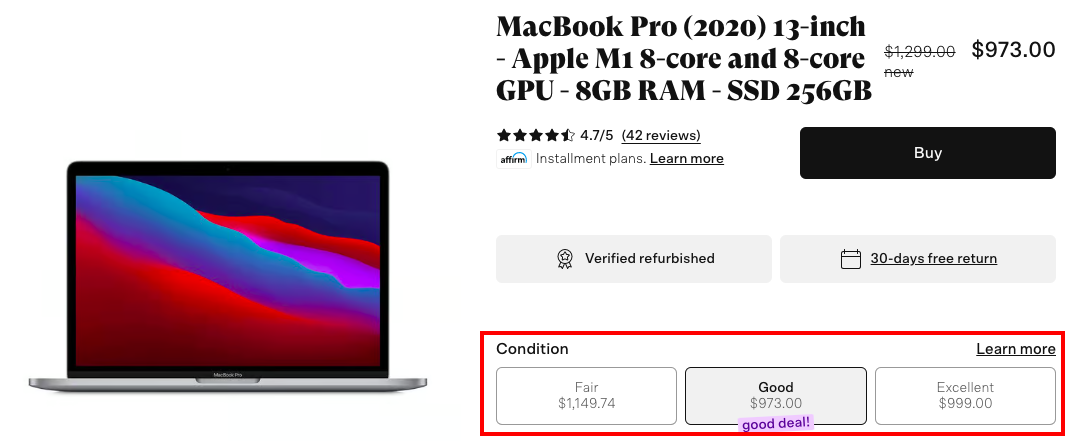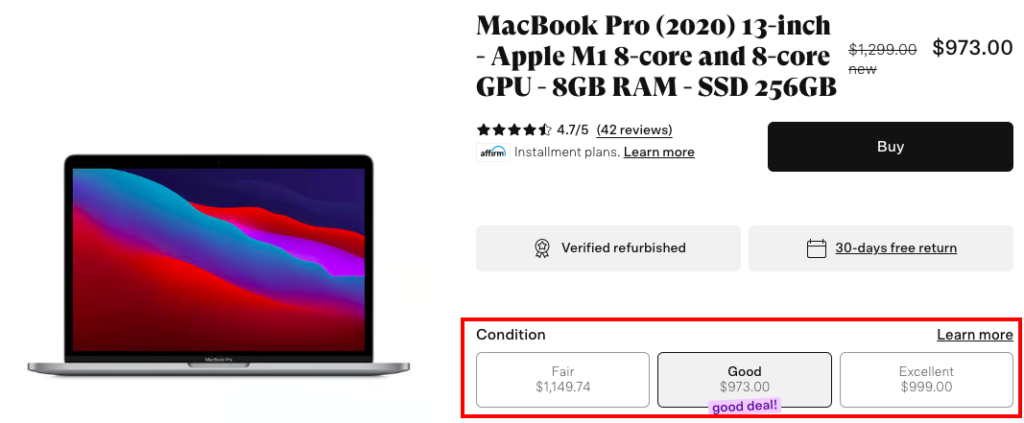 Besides, students get an additional 5% discount on the entire website. This offer is for students enrolled in colleges and universities in the United States, the United Kingdom, and Ireland. Although it can only be used once per year, it's perfect for back-to-school shopping.
Variety
Rating: ⭐⭐⭐⭐⭐ (excellent)
Many people think that in Back Market you can only find smartphones and computers; however, they also have many other product categories that include home appliances, beauty, and health, DIY, scooters, cameras, drones, consoles, TVs, speakers, and more!
You can buy products from leading brands such as Apple, Samsung, iRobot, Rowenta, Dyson, Polti, GHD, and many more. You just have to enter what you're looking for in the search engine of the page or select the category of the product you're interested in.
Warranty
Rating: ⭐⭐⭐⭐ (remarkable)
Back Market products have a 2-year warranty. It covers any malfunction except if the device is dropped/broken or has been attempted to be repaired by a third party. It's important to note that refurbished products aren't guaranteed waterproof because they have been opened for repair.
Payment methods
Rating: ⭐⭐⭐⭐⭐ (excellent)
It's a secure platform to make your purchases, and the Online Trust certificate guarantees that our data won't be stolen.
The available payment methods are:
Credit card (Visa or MasterCard)

PayPal

Apple Pay

Payment in installments with Affirm (for the United States) or Klarna (for the United Kingdom and Ireland)
You can find more information about payment methods on Back Market by clicking here.
Customer service
Rating: ⭐⭐⭐⭐ (remarkable)
As we have already said, Back Market not only acts as an intermediary in the purchase, but it also takes responsibility for having the buyer satisfied with their purchase. Therefore, it has excellent customer service that you can find through this link. Your inquiry will be answered within 24 hours.
If you have a problem with an order, the first step you should follow is to talk to the seller. Sellers are also evaluated by the type of attention they offer to buyers, so it's usually very easy to resolve your doubts. If they don't respond adequately, then you'll go directly to the platform.
Frequently Asked Questions
Below we'll answer some of the most common questions from buyers.
Does this site have a physical store?
No, Back Market is a marketplace. In short, it doesn't have a stock of products but it manages the purchase. That being said, don't trust supposed physical Back Market stores in any country, because they don't officially exist.
What is their phone number?
At the moment Back Market only has this option available for the United Kingdom; you can call them at +442033225575. If you're in the United States or Ireland, you can only contact them through customer service, using a form that you can access here. You will receive a response within 24 hours.
Can I sell on Back Market?
You can only sell on the platform if you're a professional with a repair shop. Private sellers don't have access to the sales system. 
You can see all the conditions to register as a seller on this link.
Are there sales on Back Market?
In Back Market, you can also find offers and promotions, such as Black Friday, when the platform offers discounts on its products and offers to prepare your holiday shopping. 
Still, you can find low prices all year round in its bargain section, so click here to see the best-discounted products.
Conclusion: Is it safe to buy here?
When buying online we always have some distrust, especially if we're going to buy a product that isn't new. Back Market offers refurbished electronic products, so you can save money. Thanks to its quality controls, you can rest assured that you're making a good purchase.
However, in businesses of such caliber, there can always be occasional problems. If you look on some social networks you will see some complaints; nonetheless, there are many other clients enjoying their purchase at an incredible price.
In any case, Back Market offers all the necessary guarantees to buy without unnecessary worries. If the product fails, you have 2 years warranty. And if you don't like what you've bought, you have a 30-day period available to return the product without explanation. Even so, it's worth checking the seller's rating before buying.