Beruby is becoming more and more popular thanks to the fact that it is not just a cashback platform: in addition to giving us money back on our purchases, it also allows us to earn money by watching videos, visiting websites, or participating in surveys.
All this sounds great, but is earning money with Beruby as easy as it seems?
If you are interested, read on because we are going to see if this cashback platform is really reliable and how you can make the most of it.
What is cashback?
Maybe all these terms are new to you, and you still don't know very well what cashback platforms are all about.
The way they work is quite simple: if you shop at Beruby's partner stores, they reimburse you a part of what you have spent.
This should not seem strange or suspicious to you, since the brands associated to the cashback platforms pay a commission for the users that they take from their page. Beruby then shares this commission with us users, and so we all win.

How can I earn money with Beruby?
On Beruby you have three ways to earn money:
Cashback for visiting websites, watching videos or taking surveys (here).
Inviting your friends (here).
Cashback for purchases
Beruby works with more than 1000 brands and stores of all kinds: clothing, technology, household items, leisure, food…
For example, if you plan to take a trip, it can be an opportunity to accumulate cashback thanks to the section dedicated to travel, in which there are pages as well known as Booking, Expedia, Rumbo…
Cashback for visiting sites, registering, and taking surveys
As a special feature, this cashback platform offers the possibility of earning money without having to spend it beforehand (here): you can earn cashback by interacting with websites, registering or taking surveys.
Some surveys or site registrations give quite a lot of cashback, but visiting sites does not usually pay very well and is not so worthwhile, especially if you do not have a lot of free time.
Invite your friends
As in most sites, inviting your friends is rewarded, but in the case of Beruby, it is not limited to a simple coupon: for each friend who registers with your invitation, you will always receive 50% of the cashback they earn for their actions and the purchases they make.
In addition, this referral system works on two levels, so you will also earn 50% of the cashback earned by your friends' referrals.
This means that if you manage to get a good portfolio of friends, you will be able to earn money thanks to them without having to do anything. You can copy your link to invite from here.
Undoubtedly, this is one of the things we like most about Beruby.
Install the Beruby extension
With the Chrome and Firefox extension, Beruby alerts you if you enter one of its partner stores to activate your cashback.
This way, you make sure that you will not lose any money, and you have the advantage of not having to check every time if the store works with Beruby.
Installing it is very easy by following the steps, and you can download it by clicking here.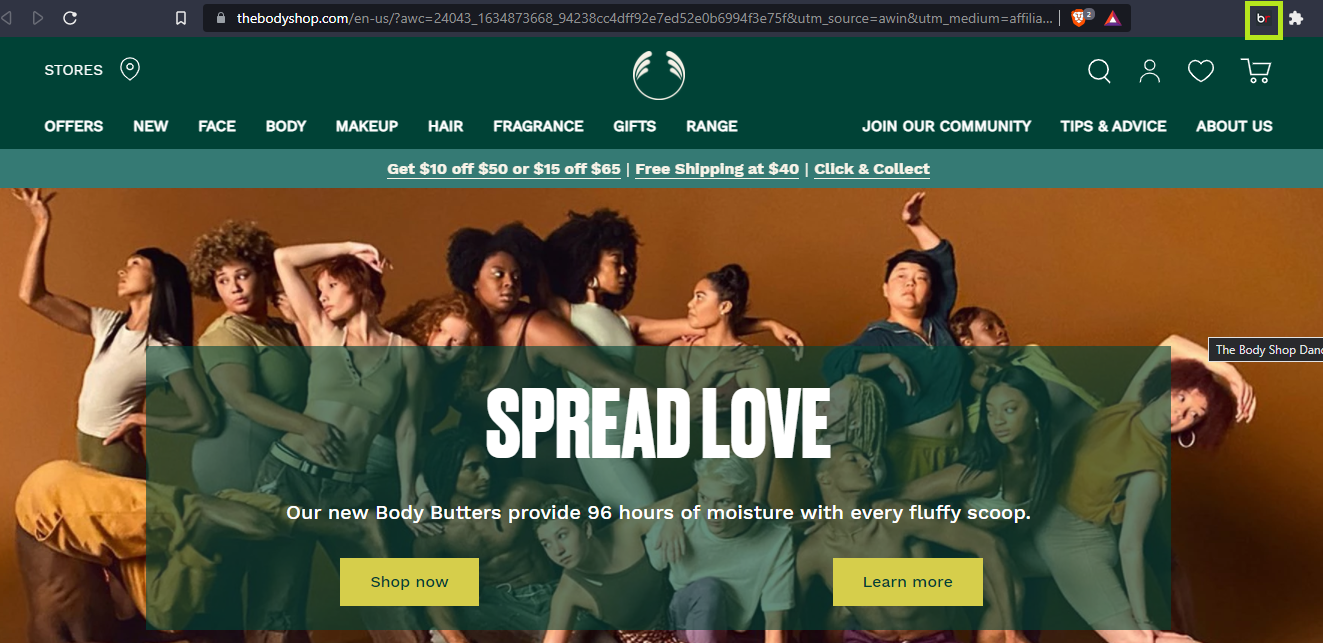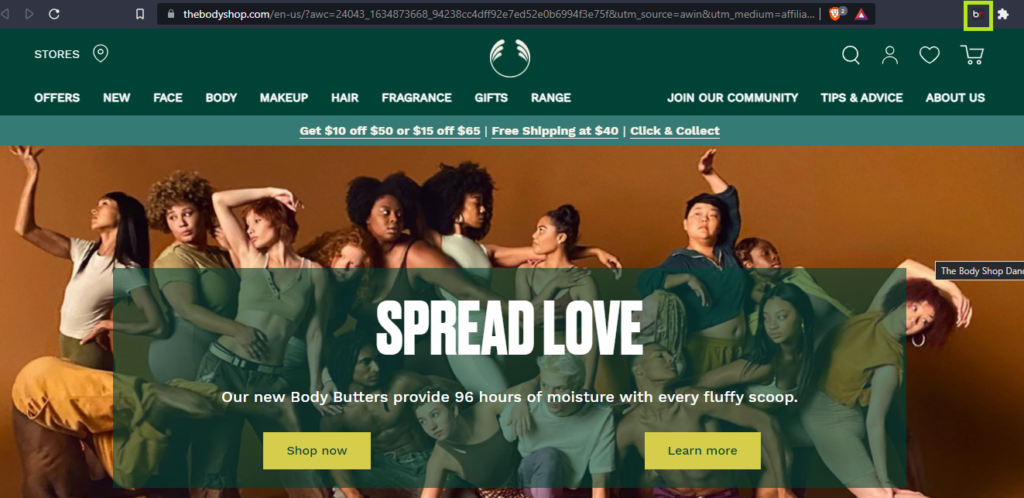 How to use Beruby
Let's see step by step everything you need to do to use Beruby correctly.
Register on the platform
In order to use Beruby you must first register here. You will receive $1 free for registering by verifying your mobile and your email, and $5 more for your first purchase.
After registering with your email or your Google or Facebook account, search for the store where you want to make your purchase.
Search and buy through Beruby
It's very important that you always make your purchases through Beruby, without getting caught up in browsing third-party sites along the way. This will ensure that you don't lose your cashback.
You can visit the store first to think about what you want, and when you have it clear, close it and open it again from Beruby to make your purchase normally.
In the store description, you will see what percentage you get back for each purchase. Note that once you have purchased, Beruby takes about 48 hours to refund you the money in "Balance to be confirmed".


The "balance to be confirmed" will become a real balance in 30 days.
When the store where you have purchased confirms that the transaction has been completed successfully, with no incidents or refunds, the balance will be confirmed, and you will be able to withdraw it to your bank or PayPal account.
You can check your balance here.
Normally, the confirmation is done after 30 days, although in the case of surveys or interactions with other sites, the verification time is much shorter and usually takes only a few days.
It is very important that you read the conditions of purchase that each store has in its file, as these vary, and you must comply with all of them to ensure that your cashback is verified and therefore, that you will receive the money back.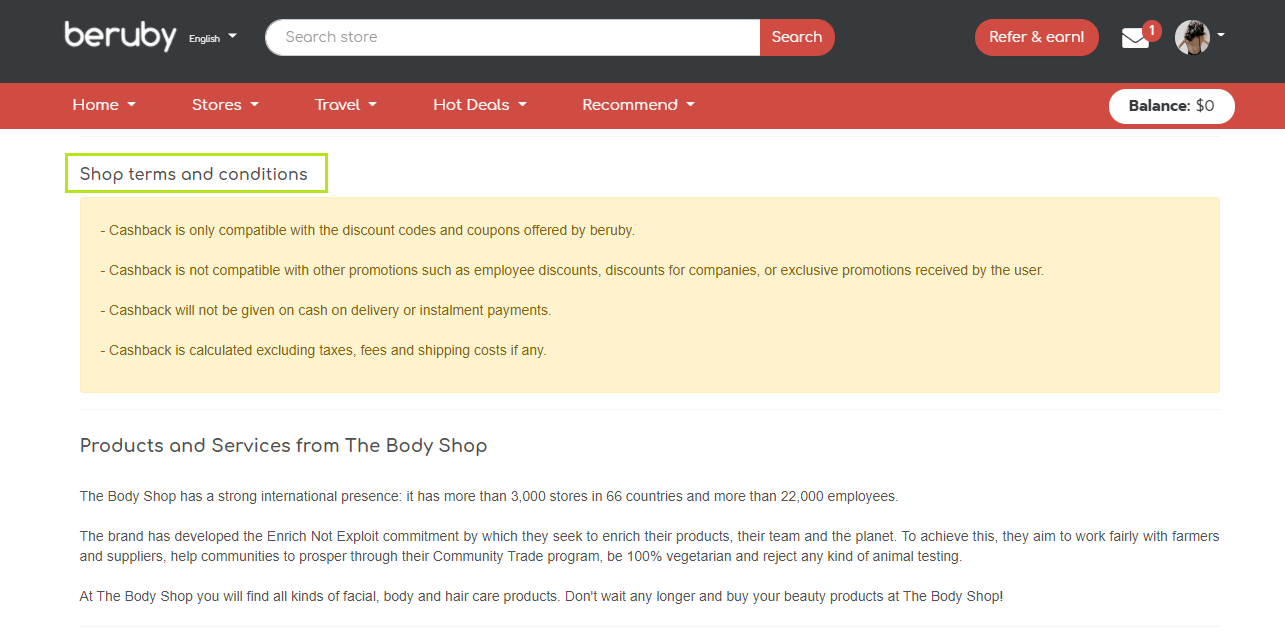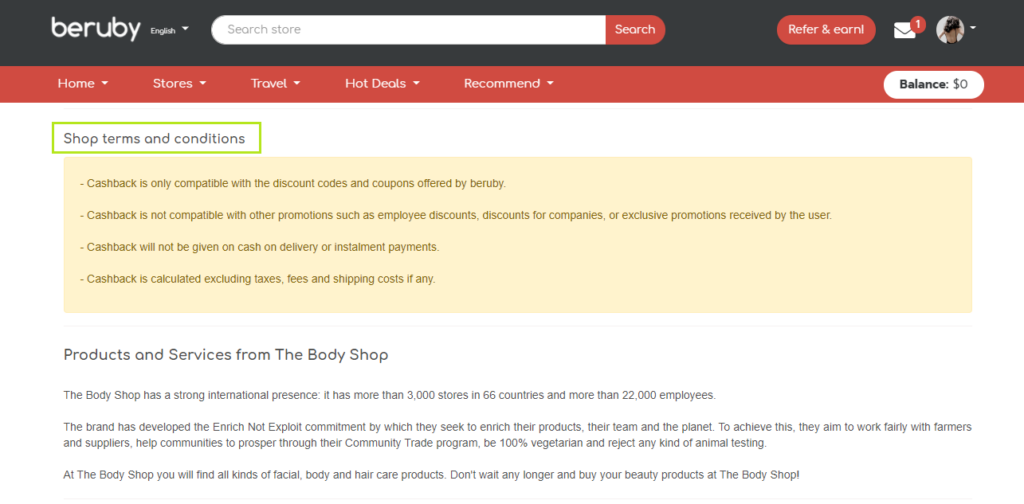 How to cash out your money
When your confirmed balance is verified and therefore converted into real money, you will be able to transfer it to your bank or PayPal account if you meet the following conditions:
For your first cashout: you will need to have a minimum balance of $10.
Subsequent cashouts: minimum $1 by PayPal and $5 by bank transfer.
It is not so difficult to meet the requirements, because just for registering and buying once, you get $6 in cashback.
To request the cashback you can click here.
My cashback does not appear: what did I do wrong?
Sometimes it can happen that for a purchase you made, your cashback does not appear in your account.
As you use Beruby, you will become more familiar with the mechanics you have to follow to make a purchase, but let's see what mistakes you should avoid when using this platform:
Not following the brand rules: Each store has different rules that you must read and comply with for your cashback to be verified. You can find these conditions on each store's page.
Using a browser that has an AdBlocker installed: To use Beruby you will have to uninstall it completely (it is not enough to deactivate it, as it does not allow the stores to check that you are coming through Beruby).
It is important that you have cookies enabled because it is what allows stores to check that you are buying through Beruby.
In certain stores, the use of coupons or discount codes is not compatible with cashback. You can check this in the shopping rules of the store.
Taking too long to make your purchase: As we have explained before, it is better to plan your purchase before using Beruby and once you have it clear, make it directly through their site.
If you buy from your mobile, always use the Beruby app so that it redirects you to the store's website. Do not use the apps of Beruby's partner stores directly, as the cashback will not be refunded correctly.
How to claim a purchase that has not generated cashback
If after 2 or 3 days you do not see the balance of a purchase you made, and you are convinced that you did everything correctly, you have the possibility to make a claim by filling out a form for Beruby to review your case.
You can open a claim by clicking here.
Another way to save money: exclusive Beruby discount codes
In Beruby stores you can also find brand discount codes and even some exclusive ones that you will only find on this platform.
Remember that some stores do not accept cashback if you have used a coupon or discount code in your purchase, so check the conditions of the store and choose the option that suits you best.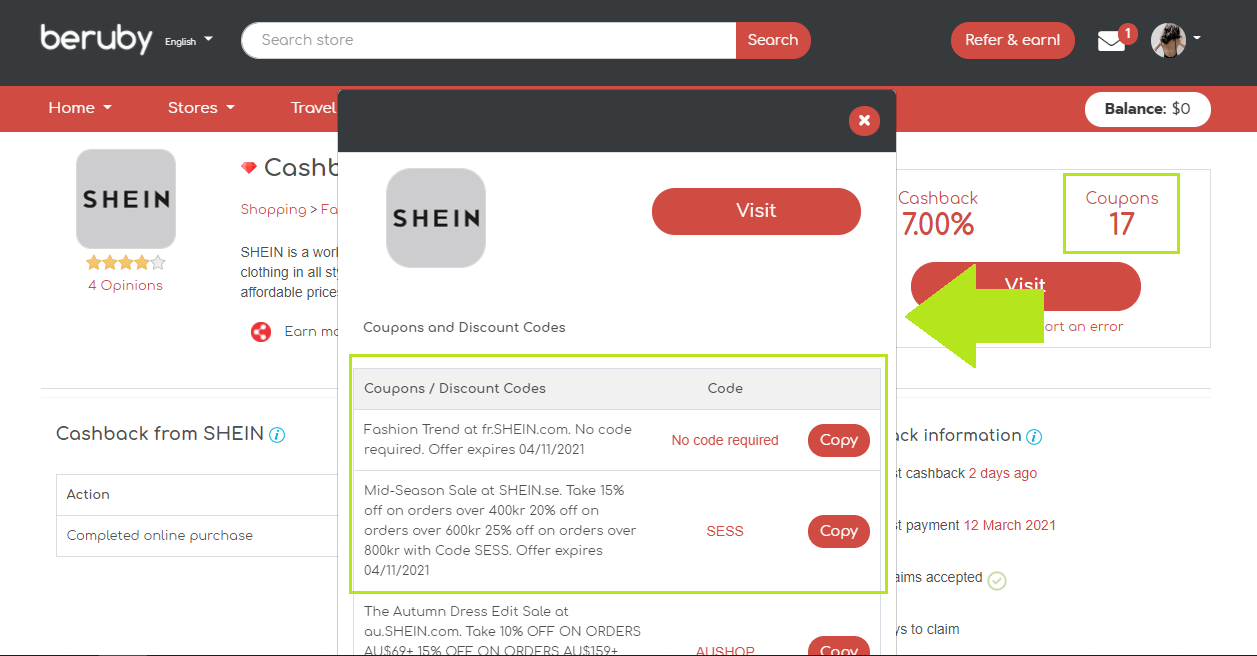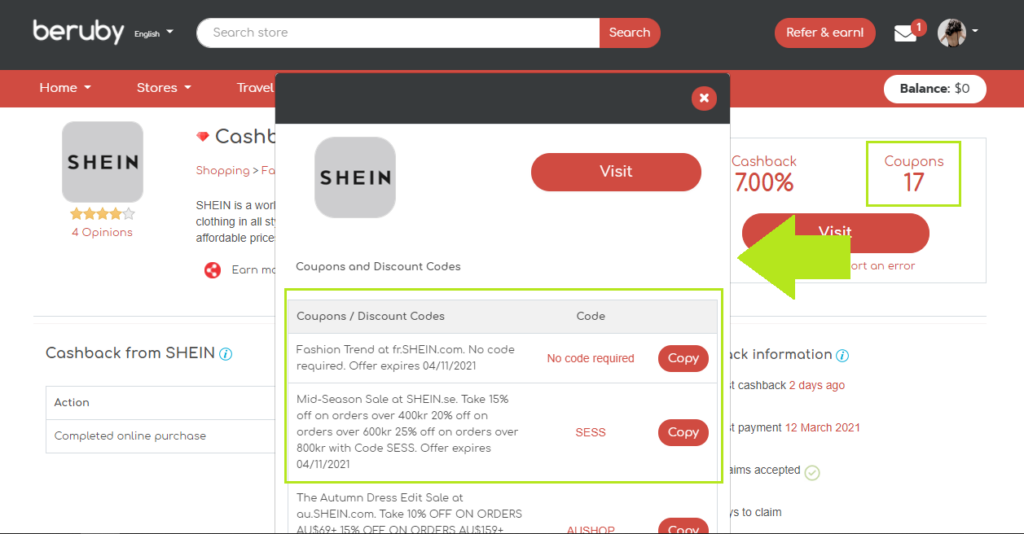 Opinions: is Beruby worth it?
Beruby is one of the most important and used platforms worldwide and, in our opinion, one of the most complete and reliable.
If you have never used a cashback platform, and you love shopping online, give Beruby a try because, apart from not costing you anything, it is very easy to use.
The fixed cashback percentage of some popular stores like Shein or Sephora is slightly higher than other cashback platforms and also, with their guest system you can make a lot of extra money.
The biggest downside, as with other cashback platforms, is the time it takes to convert the balance per confirmation into real balance.
Although it is a nuisance, this wait is necessary to verify that our purchase meets all the requirements for cashback, so there is little room for improvement.