People think that having your own home gym is a whim available to very few.
And it is true that some high-end brands such as Technogym, LifeFitness or NordicTrack manufacture fitness equipment for professionals that, whilst being very complete are in turn, very expensive.
But you know that from AlixBlog we always look for the best alternative for you to save as much money as possible, so in this case we will analyze the treadmills available on AliExpress, to see which ones are worth it.
Is it a good idea to buy a treadmill on AliExpress?
You already know that AliExpress is mainly characterized by two things:
Great variety of products and brands.
Unbeatable prices, to which you can also add various discount coupons (AliExpress and seller).
The only problem when buying these big items is usually the shipping and customs. However, as we'll see below, most treadmills have free shipping from European warehouses, so you can forget about that issue.
However, if you're located in a country without local shipping, you should calculate if the shipping and customs costs are worth the savings compared to buying from a local store.
How to find them: To find the best results, check out this search.
Types of treadmills available
Folding treadmills
These treadmills are ideal when you don't have a lot of space in your home: they fold up on themselves, parallel to the wall or floor, so they take up minimal space.
They weigh less than fixed treadmills and are easier to transport because they have built-in wheels.
Do not be afraid to buy this type of treadmill in case it is difficult to fold them: their system has improved a lot in recent times and doing it will not take you more than a minute or two.
Fixed treadmills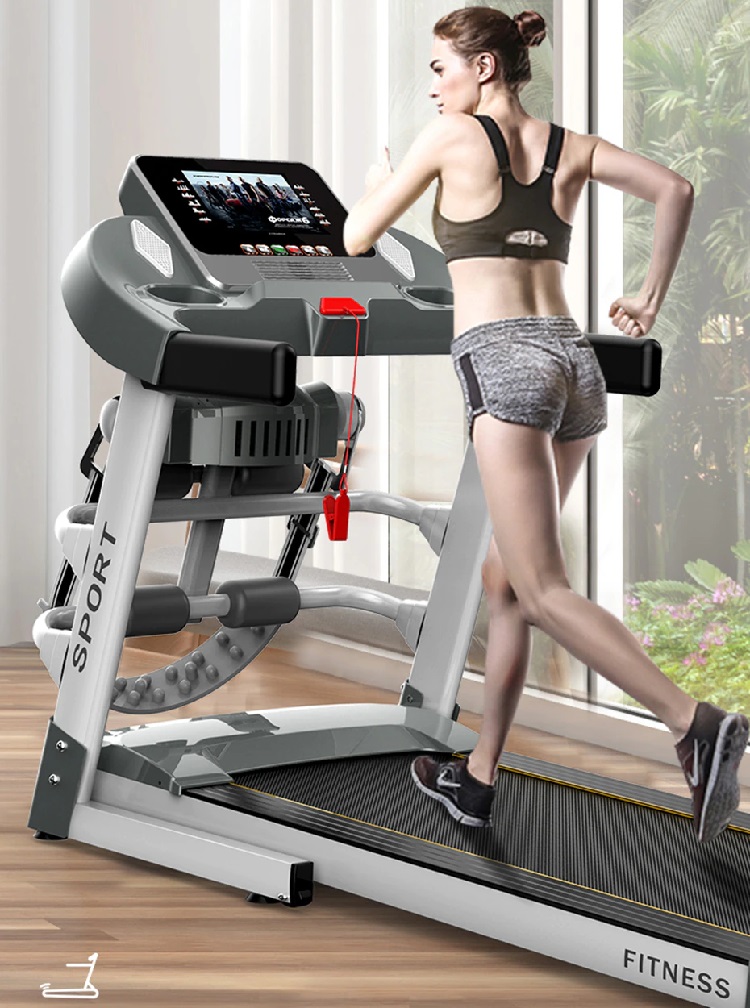 These are the typical gym treadmills: they cannot be folded for storage because they have a sturdier and heavier structure.
They are usually more resistant than folding treadmills, the treads are wider to offer more surface and comfort and also usually include more features and greater motor power.
Manual treadmills
The belts of these treadmills move only when you run or walk, as it does it only with the effort you make. Therefore, they are much more demanding and safer against falls, since they stop instantly (although many motor-driven treadmills also have a safety system against falls).
Another advantage of manual treadmills is that they are cheaper than motorized treadmills and you can place them anywhere in your home, taking into account that they do not require plugs. On the other hand, their structure is weaker and less resistant.
But before opting for this option, keep in mind that manual treadmills can resent the joints more than motorized ones, as it is necessary to exert more pressure to move.
Self-propelled treadmills (with motor)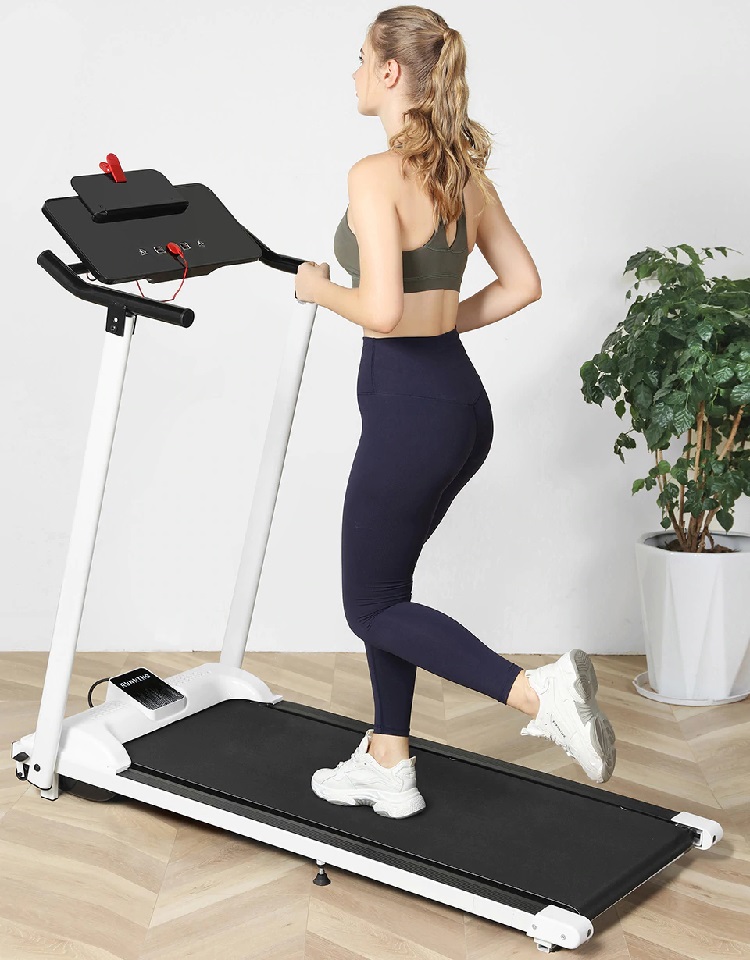 Mechanically driven treadmills are less demanding than manual ones, as they include a motor that provides a constant movement, depending on the speed we choose.
Despite being more expensive than the manual ones, they are much more popular, since they stress the joints less and include many more functions so that the user does not get bored.
Best Chinese treadmill brands on AliExpress
Here we leave a list with the best treadmill brands on AliExpress.
Remember that most of them have shipping from the European Union, so you will not have to worry about customs or taxes. In addition, in a few days you will receive it at home to start enjoying your workouts.
1. Xiaomi WalkingPad
Official store: Go to store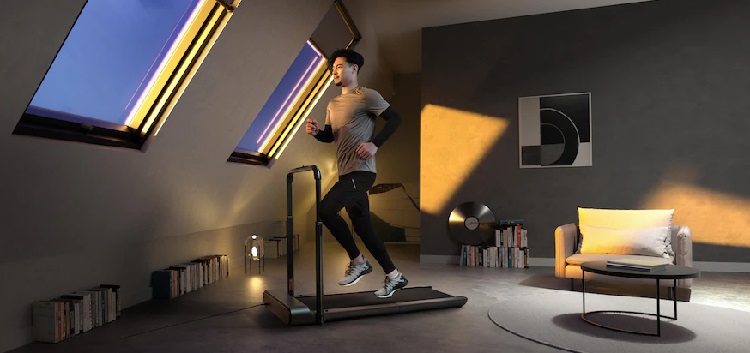 WalkingPad treadmills, belonging to the Xiaomi ecosystem, are some of the best-selling treadmills on AliExpress for their fantastic value for money, along with compact and stylish designs.
What's more, buyer reviews back this up: hundreds of positive ratings praising these machines, their good after-sales service and how great they are for walking or running around the house without taking up almost any space.
Their latest model costs just over €400 and includes the following features:
It is extremely foldable, taking up minimal space and being easily manipulated by a single person with the help of its wheels.
It includes a safety system that stops the belt, in case you fall.
Allows running up to a maximum of 10 km/h (sufficient for non-professional use)
Display at the bottom to control basic parameters such as time, speed, kilometers traveled…
In addition, WalkingPad has its own app, where you can indicate the model you use and record kilometers traveled, calories burned, speed and average speed.
2. HKMR
Official store: Go to store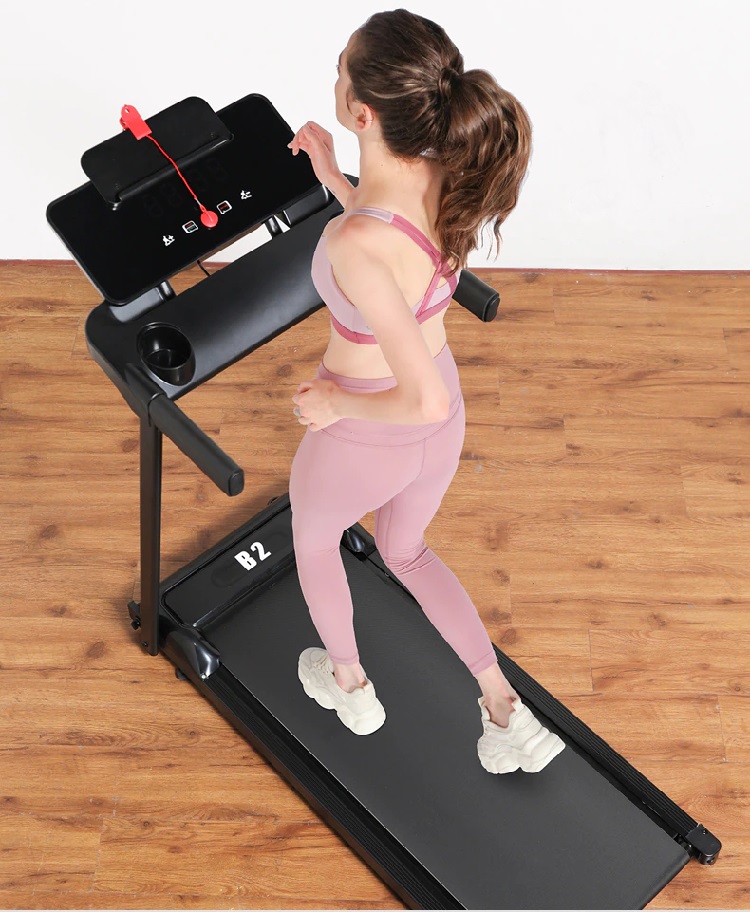 HKMR's folding treadmills are for non-professional use, with prices somewhat lower than those of WalkingPad and with features that are not negligible for their low prices.
The latest HKRM model reaches a maximum speed of 12 km/h, with LED display where you can monitor kilometers traveled, calories burned and speed. And all this for only €360.
Although this brand does not have as many sales as the WalkingPad, buyer reviews are also very positive and, from our point of view, it is a very interesting proposal.
3. WELLJION
Official store: Go to store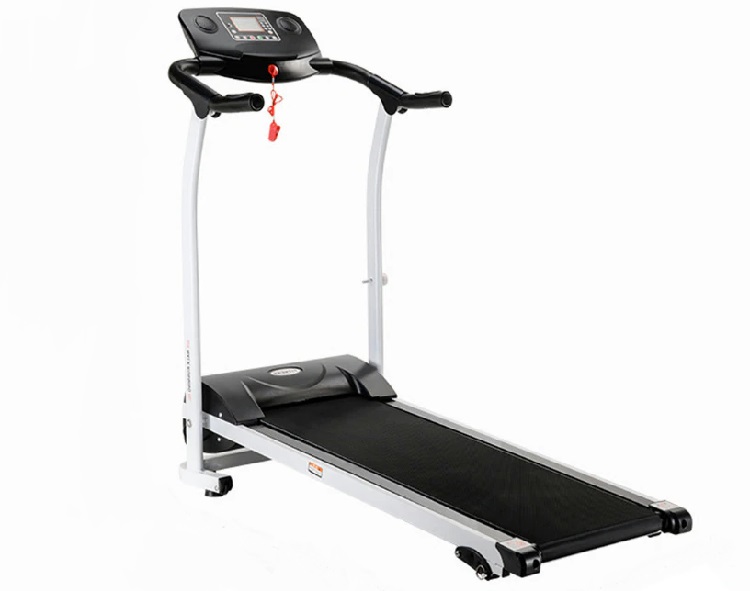 WELLJION is probably less well known than WalkingPad or HKRM, but their folding treadmills are much more complete than the previous ones, due to the functions incorporated in their latest models, which make them semi-professional machines:
Speed range 5 to 24 km/h.
Treadmill width 64 cm (more than enough).
LCD display with speed control, kilometers traveled, calories burned and heart rate monitor.
3 levels of incline adjustment.
Smooth depreciation stirrup.
With a price of about €500 (cheap, considering its features).
4. BESPORTBLE
Official distributor: Go to store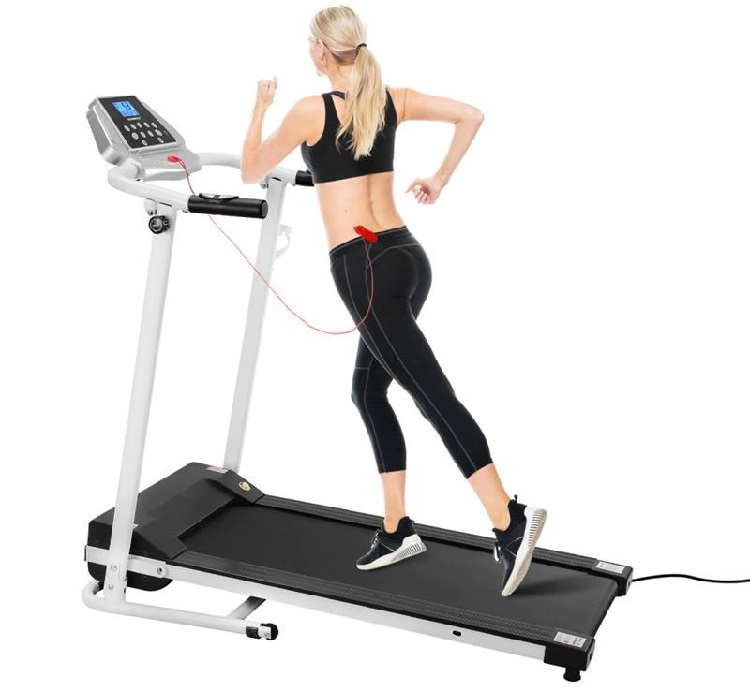 BESPORTBLE's folding treadmills are very similar in performance to those of WalkingPad and HKRM:
Maximum speed of 10 km/h.
LCD display with phone support and speed control, kilometers traveled and calories burned.
12 different training programs.
5. ECO-DE
Official store: Go to the store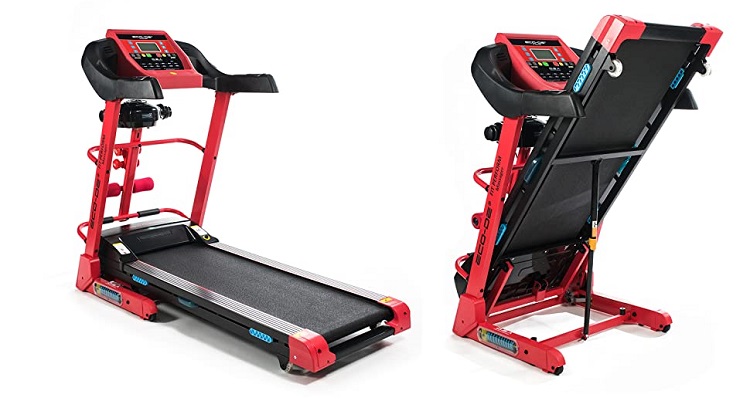 ECO-DE manufactures semi-professional treadmills with features and prices similar to WELLJION, although they also have more basic models for €315.
The semi-pro treadmills are intended for athletes looking to do much more intense HIIT workouts and who need more than a basic treadmill for home use.
6. Cecotec
Official distributor: Go to store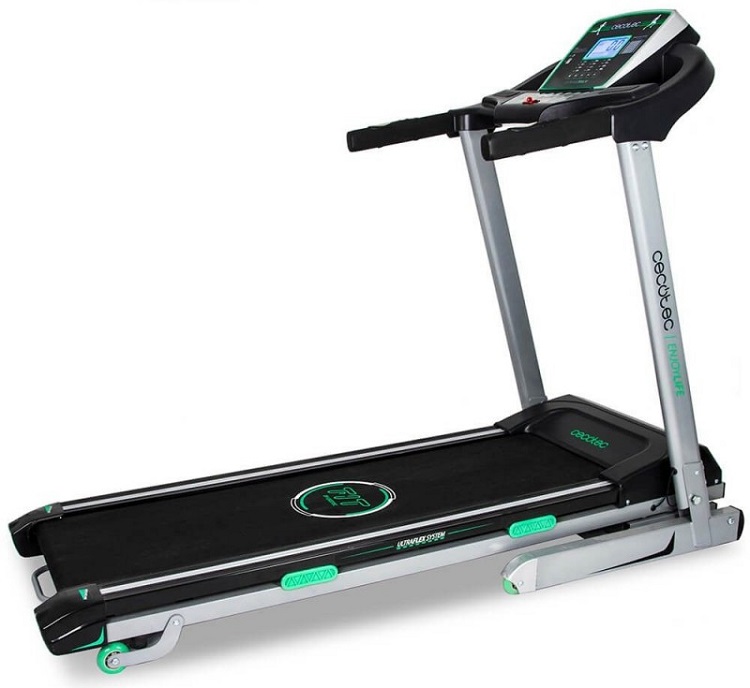 Although Cecotec is a Spanish brand, its products have become very popular in recent times, due to its variety of home appliances and electronic gadgets at very good prices and remarkable design.
The treadmills of this brand are for professional use and their prices, although higher than all the previous brands, are still very good compared to other high-end brands.
Some of their best models include:
3 hp motor (very powerful).
12 predefined training programs.
Adjustable incline.
Maximum speed of 18 km/h
LCD display with speed control, kilometers traveled, calories burned and heart rate meter.
Hydraulic automatic folding system.
What to consider when choosing a treadmill
If you're still doubtful and don't know which treadmill is right for you, here are some guidelines to help you make the right choice:
Treadmill width: If you are a corpulent person, it is better to opt for a wide treadmill, because if it is too narrow and you do not stand properly in the center, it is more likely that you can fall from it. The length in this case is not so important.
Recommended weight: If several people with different weights are going to use the treadmill, it is advised to check the maximum recommended weight that the treadmill can withstand.
Motor power and speed: For high intensity training (HIIT) it is advisable to opt for a power greater than 2 hp to be able to reach about 16-18 km/h, because otherwise it could fall a little short. Remember that the higher the motor capacity, the more resistance and power it will have. If you are looking for something for domestic use, without many pretensions, with a maximum speed of 10 km/h, then you have more than enough.
Tilt: Some treadmills offer the possibility of inclining to practice different workouts, generate greater resistance and burn more calories.
Training programs and connectivity: If you are looking to customize your workouts, training programs allow you to adapt them to your characteristics and running styles, without you having to be aware of the changes in the workout. There are also apps that can connect with your treadmill to exchange data on resistance, speed, incline…
Is treadmill running harmful?
Contrary to what many people think, running on a treadmill has many advantages over running outdoors: you can do it at any time regardless of the time, light or weather conditions.
There is a false belief that treadmills are harmful to joints. As a matter of fact, the impact on a treadmill is less than on asphalt or urban pavement (around town), although it is somewhat greater than on grass or dirt.
To avoid damaging the joints, it is essential to wear good shoes that cushion the impact and not to train for more than 45 minutes.
Is it necessary to run with a slight incline on the treadmill?
Many treadmills offer the option of incline for training. If you buy one of these treadmills, it is recommended that to make the treadmill conditions similar to those of the street, you should incline the treadmill with a slope of 1 to 3%. In this way you get a greater involvement of the posterior musculature and a higher energy expenditure (higher calorie burn).
However, be careful not to exceed a 4% incline if you are looking to improve your technique, as this could change it without realizing it and you could end up running with a bad posture that could lead to injury.
What if I buy a treadmill with shipping from China?
You may be attracted by the price and performance of a treadmill that only has shipping from China.
Keep in mind that because of the volume and weight of these items, it is very likely that they will be inspected by customs when they arrive in your country and you will have to pay the corresponding taxes.
AliExpress does not charge VAT when the product exceeds €150, so if you're reading this article and you're located in Europe, you will almost certainly have to assume the VAT and duties when you receive your package. With this, it is likely that you will not be able to afford the purchase.
If you're feeling unsure, we recommend that you talk to the seller and ask them about the guarantees they offer.