AliExpress is one of the best-known Chinese sales websites, mainly because of its reliability. You can purchase from any place in the world, with free (or very cheap) shipping, and that has made it a worldwide reference. Another advantage is that you can find almost anything, for instance, treadmills. Today we will talk about how to buy these at great prices. Treadmills often are sold at a very and, sometimes, unaffordable price, but we have found very nice deals on AliExpress.
Every day, more and more people decide to start working out at home, and buying a treadmill at a good price allows us to stay in shape and to exercise at any time, from the comfort of our own house and without worries about external conditions. We will walk you through the best treadmills, with excellent value for money, so you can set up your own gym at home with a little investment, regardless of the country you are from.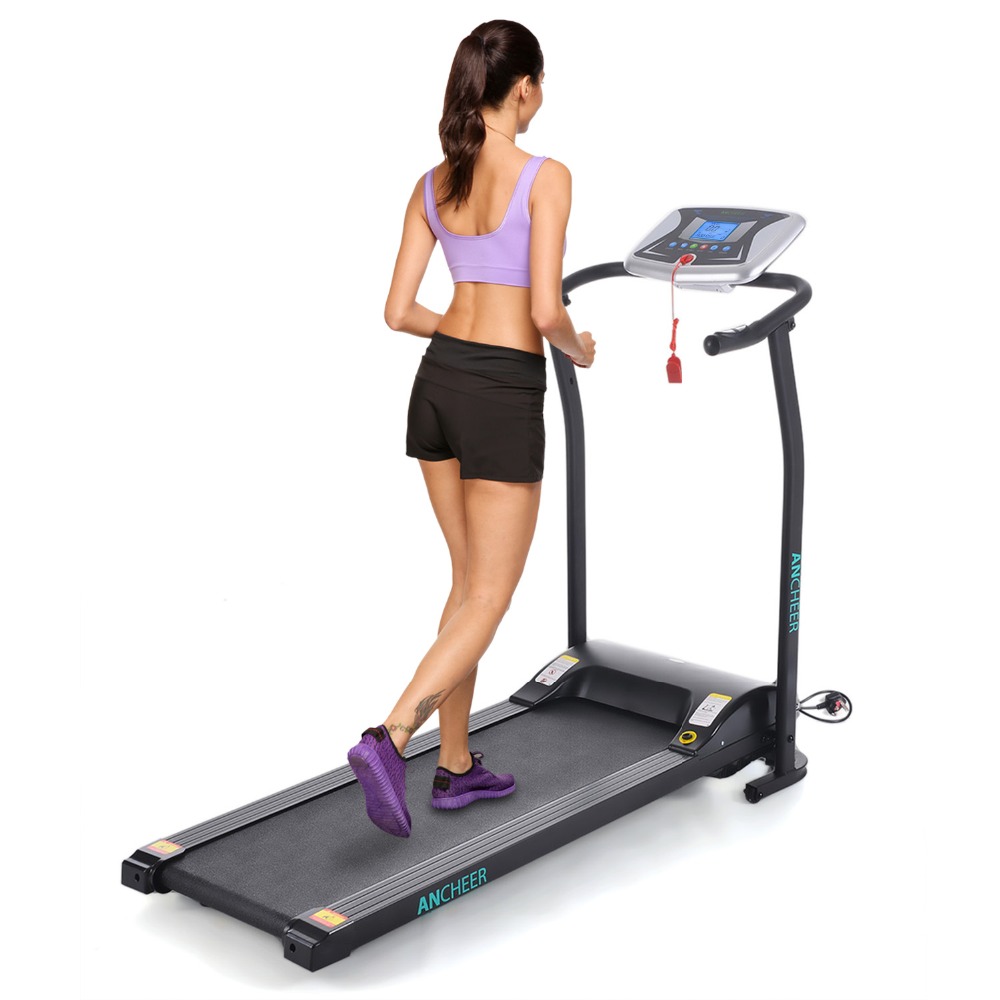 Reasons to purchase a treadmill for your home
Probably, some of you think that going for a run at the gym is better than filling up our houses with objects and equipment. But these machines a pretty functional. Long ago, there was this belief that running outdoors was way better, but there are several reasons that make having a treadmill at home is a great idea:
Comfort: You can run even when the weather is bad outside, and that makes it a great advantage. Besides, you will not have to travel to the gym, so you will have no excuse not to train.

Improve your technique: Treadmills allow you to control elevation, speed … Obviously, if you run outside you will have to face more factors such as wind and terrain, but treadmill training can be key to improving your technique.

It is safe and practical: Treadmills allow safe training, not only because you will avoid terrain that can affect your joints, but you can also run at any time at home safely.
Best treadmills brands available on AliExpress
Finding treadmills on AliExpress is very easy, you just have to click here to see them. Unlike other products, treadmills sellers specialize in the fitness area, which is an advantage, since they know their costumers and can give them better attention. Still, we will summarize our favorite treadmills, from the of the best Chinese brands of low-priced sports equipment.
Xiaomi Walkingpad Treadmill
For starters, one of the most popular Chinese brands in the world. Xiaomi began manufacturing mobile phones of great value for money, but little by little it has been expanding its product catalog, especially thanks to its alliances with other brands. Xiaomi treadmills, which you can find at this link, are an excellent option since it is a brand recognized for the great value for money of its products.
In this case, Xiaomi has its own treadmill brand, called Walkingpad. There are several different models, but they all share one particular feature: their size. These folding treadmills are ideal for home use as they allow you to exercise without taking up much space.
The best models offer wider space for walking, as well as an improved motor that provides more stability, more durability, and reduces noise. Thanks to its LEDs integrated at the front part, we can have some extra data about our activity, and it has an adaptative speed system. 
All Xiaomi treadmills can be folded to take up less space but we can also add a support bar to help you exercise. They incorporate a small knob to control speed. We can also configure our tape by connecting it to a mobile app. Multiple security systems are included, such as automatic shutdown or child protection systems.
It is important to look closely at the features of each Xiaomi treadmill since the biggest difference between them is the speed and the weight they can support. The cheapest ones only reach 3.7 mph, so they are not suitable for those who prefer to run, while the higher models not only reach 10 6.2 mph, but also support up to 242 pounds.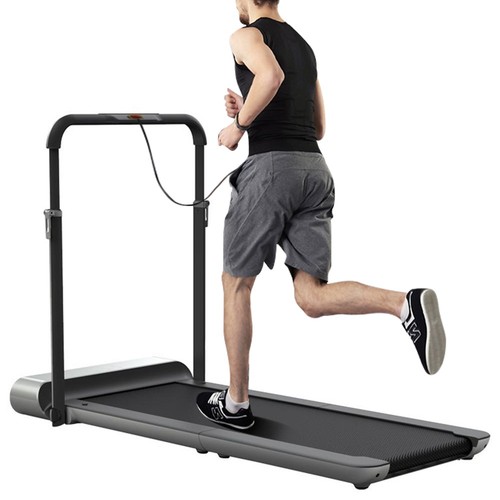 HKMR Treadmill
There are many stores with low-priced treadmills on AliExpress, but not all of them have the same advantages and conditions. The HKMR brand has customs-free shipping for some countries, for instance. Their treadmills are very simple and for domestic use, as you can see here.
Is one of the top sales models: foldable and compact, it is ideal for your home. It has a hydraulic system that absorbs impacts, and a high-quality belt with a highly supportive anti-slip diamond finish, which also prevents impact and reduces noise. Its motor is silent and can reach up to 6.2 mph with users up to 286 pounds. It has a control screen as well as a heart rate monitor function and can be easily stored thanks to its folding design.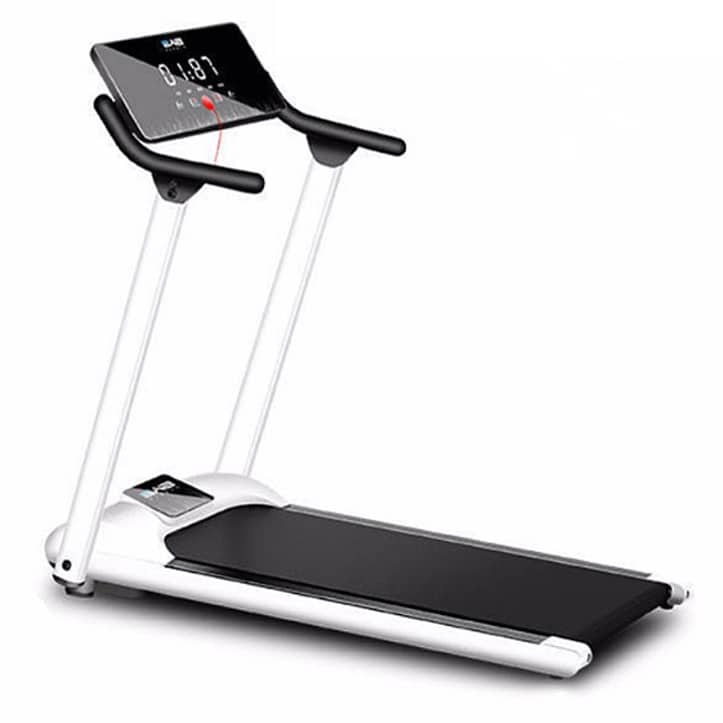 Other treadmills' brands
Here is a list of some other brands besides the ones that we previously mentioned. All of them manufacture treadmills that are well-known in the market.
BH Treadmills
Reebok Treadmills
Proform Treadmills
Matrix Treadmills
Technogym Treadmills
Nordictrack Treadmills
Types of treadmills that you can find on sale in AliExpress
Now you know some of the best Chinese treadmill brands and alternatives to the best-known brands. But not all treadmills are the same, so we are going to explain their characteristics, advantages, and disadvantages.
Folding treadmill
When we are looking for treadmills for domestic use, usually we find folding models. They have an advantage: that is, they can be easily stored. However, this system usually limits the speed and eliminates the possibility of adding inclination. Some also remove the support bar and front screen to make it even more compact.
Electric treadmill
Most of the treadmills on the market are electric, which means that they need to be connected to a power source so they can work. The electric motor is responsible for moving the belt, turning over the display, and raising up the treadmill automatically.
Non-electric or non-motorized treadmill
Also called a self-propelled treadmill, magnetic treadmill, or manual treadmill. It works without electricity, it starts up with our own energy. However, this makes the functions very limited: we aren't able to select the speed or inclination of the machine. The design was intended more for walking rather than running.
Professional treadmill
If we like to run regularly or we are preparing for a race, the use of our treadmill will not be the same as that of a person who wants to walk or run occasionally. We will need a professional treadmill with better damping systems, which reaches higher speeds or has the possibility of registering our heart rate. However, these treadmills are usually larger and much more expensive.
Things to consider before buying a treadmill
How to choose the best treadmill? It all depends on our needs and budget. We would have to think about what kind of use do we intend to give it and choose a treadmill with the appropriate features. Now we are going to give you some guidance on what to consider before making the purchase. 
Size
Unlike other exercise equipment, treadmills take up a lot of space, but there are small or folding treadmills that allow us to have a fitness machine in a reduced space. It is also relevant to pay attention to the dimensions of the walking belt since most compact models have one that is significantly reduced compared to a gym treadmill.
Speed
We already commented that in some treadmill models speed is very limited, sometimes the maximum is even below 6.2 mph, so this can be an issue if you are looking for a treadmill that allows you to run at a higher speed.
Weight
Walking or running on a treadmill is an excellent workout for losing weight, but not every treadmill is suited for people weighing over 220 pounds. If this is your case, make sure of this feature before ordering
Incline
The incline feature allows us to add some extra intensity to our workout. It is ideal for specific workouts or if we want to walk uphill. Unfortunately, some folding or cheap treadmills don't include this feature, or it is set only manually.
Accessories and connectivity
Although treadmills are simple machines, more and more accessories can be added to them, from USB connections and speakers to play music, to Bluetooth connection, Wi-Fi, or a large screen to watch movies. This will not affect the quality of your workouts but it will increase the price.
Price
We have gone a few treadmills models and compared them with high-end brands. On the links we provided, you will find the current prices of all the treadmills. Also, you will find below the price range according to their features.
Professional treadmills with the best accessories and connectivity can exceed US $1200. In AliExpress you can find some models from US $700 to $1200.
Treadmills for home use can be found between US $600 to $1200 on other platforms. On AliExpress, some models cost below $700.
Folding, compact or small treadmills are cheaper, they can cost less than US $600 and, on AliExpress, under $500.
Is it safe to buy a treadmill on AliExpress? Which guarantees do they offer? Is it easy to return the product if I am not satisfied?
If we are looking to buy a treadmill online, we will probably end up on websites like Amazon, eBay, or similar ones. But all these platforms will offer us running machines for almost professional use at unaffordable prices.
Only on platforms like AliExpress, we will be able to find some other brands and folding models, like Xiaomi's, with excellent value for money.
It is easier every time to buy on this online sales platform since many sellers offer free returns up to 15 days after purchase. But this possibility is not active in all countries, so we recommend you to look carefully at the conditions and to check our Claims, Disputes and Returns on AliExpress Guide.
Shipments to different countries. Costs and delivery time.
These fitness machines are usually quite large, so, logically, they involve additional shipping costs. However, many sellers offer to do so for a lower cost if you choose to use their proposed shipping method (it often takes a bit longer, but will save you a significant sum). Plus, they guarantee a refund if the item doesn't arrive on the promised date. On the other hand, you will likely have to do the corresponding customs management when the order arrives to your country, so we recommend that you make sure before how the procedure is. Often, the sellers themself can clarify some doubts if you are in a country where they ship regularly. However, it is worth making sure on your part with the customs office of your country.
Before making the purchase, you can see the available shipping methods, as well as the price and delivery time.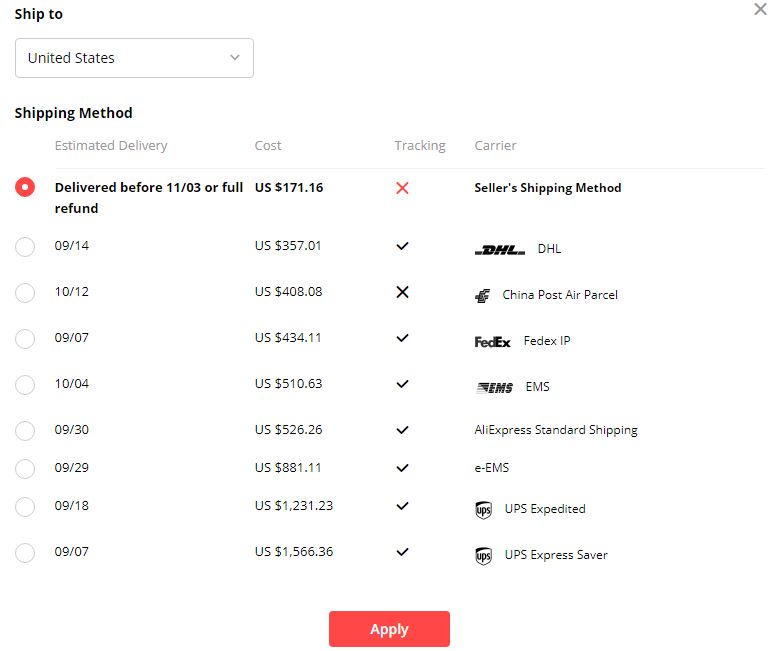 Some brands even include free shipping for some countries as they have a local warehouse in those locations.
Get your treadmill at the best price with offers and coupons
Now you know which treadmill to buy and how to choose the best one for your needs. Thanks to this product you can set up your own gym at home for very little money, and keep in shape with your preferred physical activity. To get offers and coupons, it is best to visit the AliExpress home page frequently and see which promotions are active. Through our blog, we also inform you of the latest offers and promotions to get coupons that will allow you to save even more money on your next purchases.
Although this time we went through different sellers and the most relevant treadmills brands, if you are looking for any other sports product on AliExpress we recommend you take a good look at the seller's score. If you do not know what you should look at, we recommend reading our Guide to find Reliable Sellers on AliExpress (Span.), which is part of our tutorial section.
What about you? Did you already buy your new treadmill on AliExpress? We would love to hear your opinion, so please leave us your comment below.