It's actually pretty easy to find big sizes online, but the clothes tend to be pretty outdated and not fashionable at all. In fact, for many women, finding modern and attractive clothes in a size 44 or 46 can be almost impossible. Most times, the options are reduced to specialized or boring sections of big mall's, with old-fashioned clothing.
Another problem with big sizes is that there aren't many outlet offers, so clothes can be quite expensive. So, if you are looking for cheap big sizes for both men and women, you should really consider AliExpress. In fact, the Chinese platform has all the latest fashion in big sizes for very affordable prices.
The best shops to buy big sizes in AliExpress
AliExpress has a wide selection of big sized clothes for both women and men: from dresses, to jackets, jeans, underwear, bras, bikinis, bathing suits, shirts, formal clothes and many more. You'll finally be able to expand and modernize your closet without breaking the bank!
Here is a small list of the best clothing shops in AliExpress that sell big sizes (they also offer wholesale):
NewConcept – This shop has great ratings (2 crowns) and a wide variety of dresses and offer big sizes for both women and men. You can find them in the section "N-Define Your Own Fashion".
Fashion Shopping Bar – 1 – This shop (3 diamonds) has a wide variety of big sizes for women. You can find them in the section called "S to XXXXL".
Sexy Garment Retail & Wholesale Store – This shop (2 diamonds) also has a special section (called Plus Size Dress) where you can find a lot of interesting and attractive items that are big sizes.
Important
Like always, we recommend you choose your shop taking into account the reputation (from 1 or 2 diamonds you can be sure the shop is 100% trustworthy), the rating and comments left by previous customers and the number of sales. And if you still have questions, just go ahead and contact the seller directly.
How to find your size in AliExpress
As you may already know, each country has its own sizes, so you should pay special attention when it comes to knowing which one is best suited for you. Most AliExpress shops use a conversion table, but you might not find the equivalent size for your country, just in case, here is a size conversion table: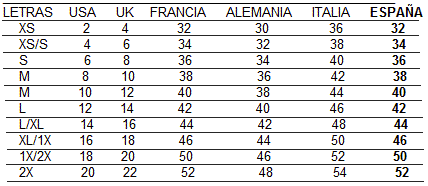 On the other hand, there are lot of sellers that give you exact measurements of the clothes:
Height / Chest / Waist / Hip
To find out your size, use a tape to measure your height, chest, waist or hip. 😉
How to I return an item that doesn't fit?
Every shop has its own return policy, so it's very important you check each shop's specific policy. As a general rule, the buyer can return the product by paying the shipping expenses or keep the product and talk to the seller about getting their money back. If product is completely different to how it was described in the page, the seller will return the money of your purchased item.
In any case, make sure you look closely at the sizes and take into account the difference between Chinese sizes and those of other countries. And, as we always say, make sure you contact the seller directly to ask any questions you might still have.
Update your closet now! Go to AliExpress.