---
List of 500+ TOP promotions for this Black Friday on AliExpress
---
As you know, AliExpress celebrates its great discounts of the year on Singles Day 11.11, which is now also called World Shopping Day. In the same way that many stores around the world have signed up to offer discounts on the famous November 11, AliExpress also offers discounts on Black Friday to give you one last chance to make discounted purchases before Christmas.
It's the last chance of the year to get gifts and products on AliExpress, with discounts that we won't see for a long time 😊 We already know everything that awaits us in these new sales: here is the main page of the promotion.
To start earning coupons applicable to your Black Friday purchases, you only have to visit the main page of the promotion, although below we are going to explain some tricks to get more interesting coupons, remember that if you have questions about how to use them in our Guide on discount coupons in AliExpress you have more information.
When does AliExpress Black Friday and Cyber ​​Monday start?
In previous years, AliExpress has advanced Black Friday to make a difference with other stores, but this year its Black Friday discount campaign will begin on November 23 at 0:00 PT and will end on November 27 at 11: 59 PM PT ⏰. Although it is possible that after that they will extend a discount in relation to the famous Cyber ​​Monday, we recommend not letting important purchases pass for the last minute since it is possible that the best offers will run out of stock soon. Check all the offers in this link.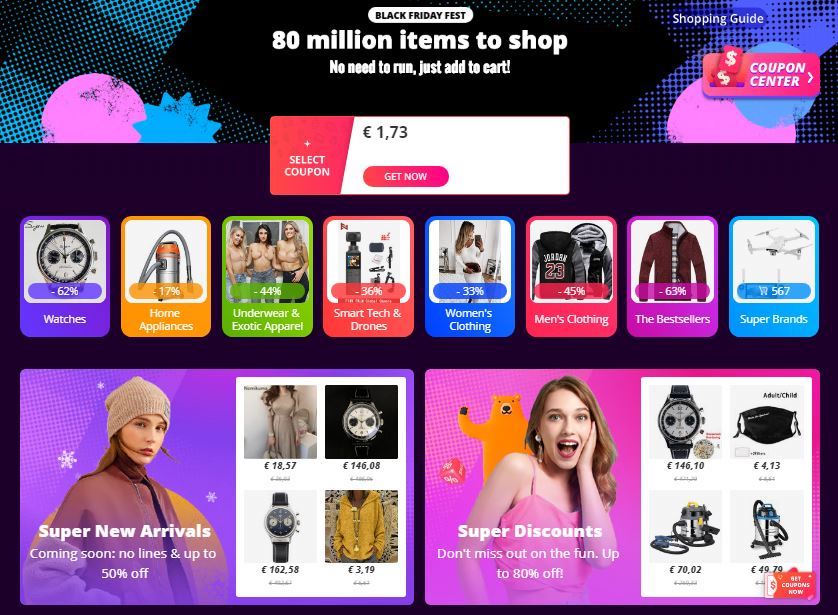 Before AliExpress Black Friday: prepare for discounts
One of the advantages of these promotions is that we can prepare ourselves, getting coupons, and signing the best bargains in advance. Just entering a few days before we can get discounts that will be very useful for the day of the promotion. From November 18 we can already find all the products that will be on sale by clicking here.
First step: get coupons for Black Friday
From that date until the start of the Black Friday discount week, we will be able to get coupons and coins through the AliExpress main page and its mobile application. It's easy, you just have to add products to your basket to get coins, visit the Black Friday promotion page and click on the floating selection coupons or access the promotion coupon center from this link.
And through the AliExpress mobile application, we will find new games that will reward us with coupons and coins. Just look at the main page of the application and you will see the new games, which will reward you with direct discounts on products or discount coupons for AliExpress.
Second step: invite your friends and get more discounts
For some time now, you can have a prize for inviting friends to buy on AliExpress. The platform offers discount coupons for you and your friends, so everyone wins. But this year we will still get more discount coupons if we invite them to shop on Black Friday.
Also, if you are new, you will also find welcome coupons to start shopping on this discounted platform. You just have to access the main AliExpress page, it will detect that you are not registered and will offer you a discount coupon for your first purchases.
Third step: start picking discounts and add them to the cart
Black Friday discounts are now available and so you don't forget anything, it's best to start adding discounted products to your cart. Click here to see all the discounts or look in the following categories where we will find a selection of the best Black Friday bargains:
Discounted brands – AliExpress offers discounts on featured brands and best-selling products from Xiaomi, Deko, iLife, Amazfit, Rockbros…
Special offers by category – You will find all the discounts separated by categories such as electronics, DIY, toys, security…
Shipment in 3-7 days (within Europe) – Discounted products in stores with warehouses in Europe and without customs within the entire European area.
These are the best special offers and discounts for Black Friday on AliExpress
The outstanding offers and brands for this Black Friday are very similar to those of 11.11 as you can see in this link. You will find a lot of coupons of all kinds and surely many more will appear during the sales through AliExpress social networks. So that you do not miss the most interesting, we leave below our favorite categories and the best brands with discounts.
Best electronics brands
AliExpress electronics products are impressive. You will find leading Chinese brands as well as recognized international brands. You can find all the offers by clicking here but we will review our favorites
Xiaomi products – This incredible brand has smart bracelets, earphones, vacuum robots… It is one of the best brands of electronics there are.
Speakers and headphones – In this shopping festival, we will find low-priced high-quality headphones and speakers of recognized brands as Anker, JBL, QCY. You can even the well-known Airpods from Apple with discounts.
Smartwatch – Besides Amazfit (one of Xiaomi's brands), you will also find smartwatches from Haylou, Samsung, or Honor with big discounts.
TVs – Now we can find discounted TVs from brands like Samsung, LG, or Xiaomi at very special prices.
Projectors – The best brands with discounted projectors for this Black Friday are  Xiaomi, Alston and AUN.
Games – We can find Nintendo consoles, retro consoles, or accessories for consoles.
Smartphones and accessories
If the time has come to change your mobile phone, the brands that you will find in AliExpress are among the best on the market and have an impressive value for money. No wonder each promotion has so many sales. You can find the best mobile phones, but also cases, chargers, and other accessories on sale from this link. But if you want our advice, bet on these brands (which will be on sale during Black Friday):
Xiaomi – It is one of the best brands, reliable and with a lot of experience, competing with top-level brands like Samsung or Apple but with incredibly low prices.
OnePlus – Although less known, the quality of their phones is impressive and those who test a OnePlus hardly change brands.
Realme – A more recent brand but that has come on the market to compete with Xiaomi thanks to its excellent phones with great value for money.
Apple – You can also find original Apple phones thanks to authorized stores and are on sale this Black Friday.
Pocophone – This Xiaomi sub-brand was born to compete with its low prices and features that satisfy the average user.
Low-priced home appliances
More and more people are choosing quality Chinese brands for their everyday home appliances. We can get very cheap robot vacuum cleaners, razors, or toothbrushes thanks to the discounts on household appliances that you can see here. If you want to get it right, bet on one of these products:
Toys for the kids
Christmas is approaching, and if you haven't had time to buy your Christmas gifts on 11.11, don't let the opportunity pass with these Black Friday toy deals (better opt for products with local delivery to make sure you will receive them on time) Here are some interesting ideas:
Educational toys – You can find a wide variety of Montessori educational toys at incredibly low prices.
Disney Toys – There are Disney authorized stores on AliExpress. You can find toys from Funko Pop, Marvel, and many more.
Building Blocks – There is a wide variety of very cheap kids building block sets, but low-priced Chinese legos are also catching on lately.
Trendy toys – The toys of your favorite characters are also on AliExpress: Superthings, Paw Patrol, Super Mario …
Drones and remote control toys – There is a wide variety of remote control toy stores on AliExpress and this Black Friday is the best time to buy at them.
Bricolage, DIY, lighting, and furniture for your home
If you like bricolage and home improvement, this Black Friday you can get great discounts on the best brands of bricolage and tools on AliExpress, from popular brands with high-quality products. Find it all by clicking here.
Tools – Special offers on bricolage tools from Deko, Prostormer, or Wosai to improve your home.
Lighting – Both indoor lamps, outdoor lights or lamps or LED bulbs to lower the consumption of your home. Get it all with discounts on this Black Friday.
Furniture – There are more and more furniture brands on AliExpress. Gaming chairs are very popular to create your own home office.
Clothes and discounted accessories
It is a good occasion to buy clothes and accessories to renew your wardrobe. You can also find special clothes for special occasions for the whole family. There are special offers in various categories:
Some featured brands and discounts
At AlixBlog, we are fans of brands, and there are many that are worthwhile in AliExpress for the excellent value for money of their products. Here are our best recommendations for this Black Friday with exclusive offers:
Don't miss these exclusive discount coupons for Black Friday
The best thing about these discount campaigns are the coupons, because they allow you to save money even on products that are not included in the promotion 💸. For this promotion, we will find three types of coupons, which are cumulative:
Seller coupons: They are offered by each store and have a minimal amount.
AliExpress coupons: They are used for all products (whether they are from the Black Friday campaign or not) and also have a minimum amount.
Selected coupons: They can only be applied in stores that accept them and with a minimum amount.
Discount codes: They are applied when paying and are equivalent to AliExpress coupons.
The best way to get all these discounts is to visit the AliExpress Coupon Center within the Black Friday campaign, and in the Promotion Guide they also explain other tricks to get coupons. Another way to get coupons is to visit the stores of your favorite retailers and brands. But there are also two ways you may not know how to get coupons:
Welcome coupons: If it's your first time shopping on AliExpress, you can get coupons and make good use of these sales even more.
Register your friends and win: Those of you who have friends who are not yet registered on AliExpress are in luck: if they register, you will get coupons.
As you can see, we are already prepared to make the last Christmas purchases this Black Friday, we do not want to miss the opportunity to get exclusive discounts. But remember that not all sellers are completely honest, so it is better to always check the buyer's score well, in our Guide on Finding reliable sellers we explain the best way to review this information, and if you want to know more tips and tricks to buy safely on this website, visit our tutorials.