The Pandora bracelet is a basic jewelry item that is also one of the most versatile: it allows us to exchange charms to our liking and wear a different jewel for every occasion.
But the high price of this brand has also made it become one of the most cloned jewelry by other manufacturers that offer the same quality at a much lower price.
On AliExpress, you can find a lot of clones of the Pandora bracelet. But in the same way, they have very different qualities that it's important to know how to differentiate them, and here we explain how.
Remember: In this article we talk about clones, not replica or fakes. Clones are totally legal, since they do not copy logos or distinctive signs of the brand.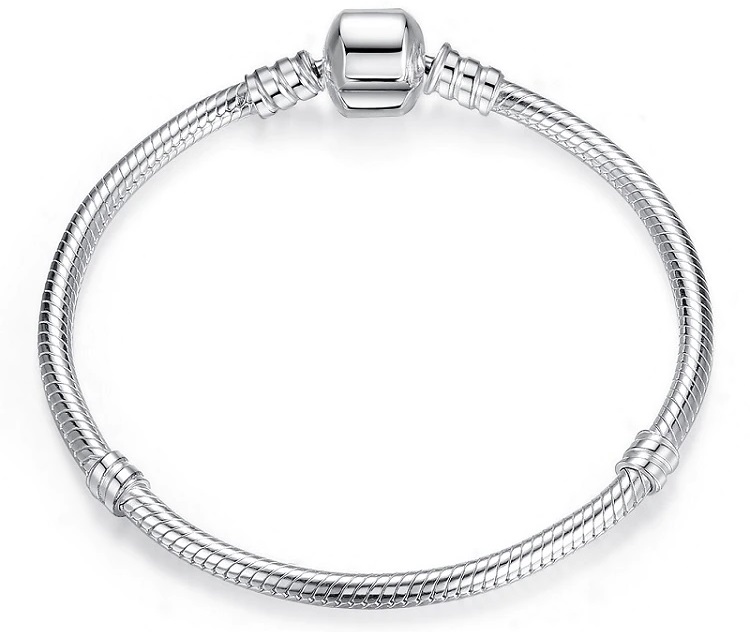 Where to buy sterling silver Pandora style bracelets?
How to find: Find the best sterling silver Pandora bracelets here.
On AliExpress you also have available original Pandora bracelets, although its price is similar to other stores and probably not what you are looking for.
In general, what is more abundant are the clones that you can find in a very wide price range depending on their material.
You may be initially attracted by the low prices of some of these clones, but if you really want to get a durable piece of jewelry, we recommend that you always buy genuine sterling silver.
Look for reputable stores
On AliExpress you have many trusted stores like Bamoer, ELESHE, WOSTU, BISAER… where you can buy genuine, sterling silver Pandora bracelet clones and charms.
If you want to know more about these brands and our opinion on them, you can read this article where we explain everything you should know.
How to make sure you buy sterling silver
Let's see what you should look for to know that you are buying a Pandora bracelet made of genuine sterling silver.
Price
The prices of silver bracelets are higher than those of costume jewelry.
Generally you can find them from $10, although some sellers offer models from as little as $5 and others raise the price up to $25-30.
You may wonder how is it possible that the price varies so much from one seller to another if both bracelets are sterling silver. This is probably due to the purity of the silver that composes it, the weight of the bracelet (grams of silver) or that the bracelet really only has a silver plating.
If you find a bracelet of $5 you should suspect that it's not really genuine silver.
Below we explain more tricks to differentiate the authentic sterling silver, but to help you out a bit, a good silver bracelet can be found from $15-20.
Check the material in the item description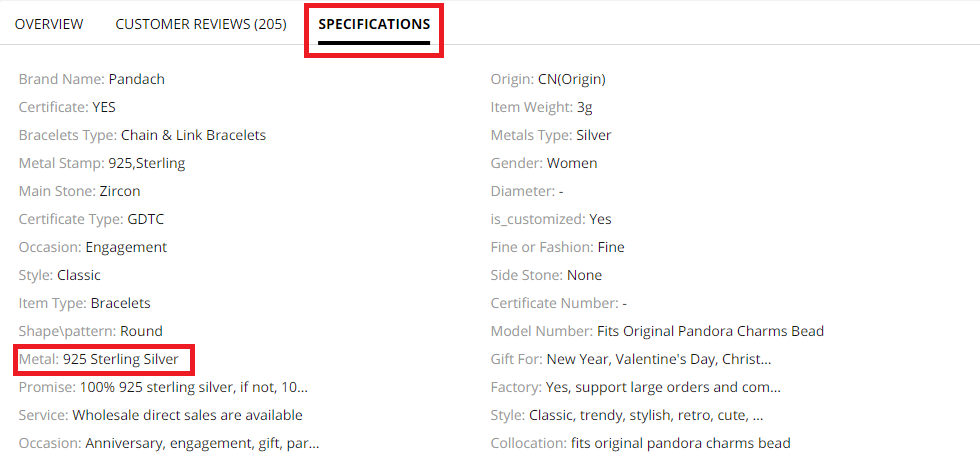 It is important when looking for a silver bracelet, that you read in the details of the article the material that composes it to cover your back against a possible dispute.
In this tab. you can check that the bracelet is really silver and also know other characteristics such as weight, the type of material of the stones (if the model has them), if it has a certificate…
Beware, because many sellers include in the title of the product the keyword "silver" when the product details indicate that the material is another one of lesser value. If you do not pay attention to this, you could lose the dispute when you claim to AliExpress.
Identify the silver stamp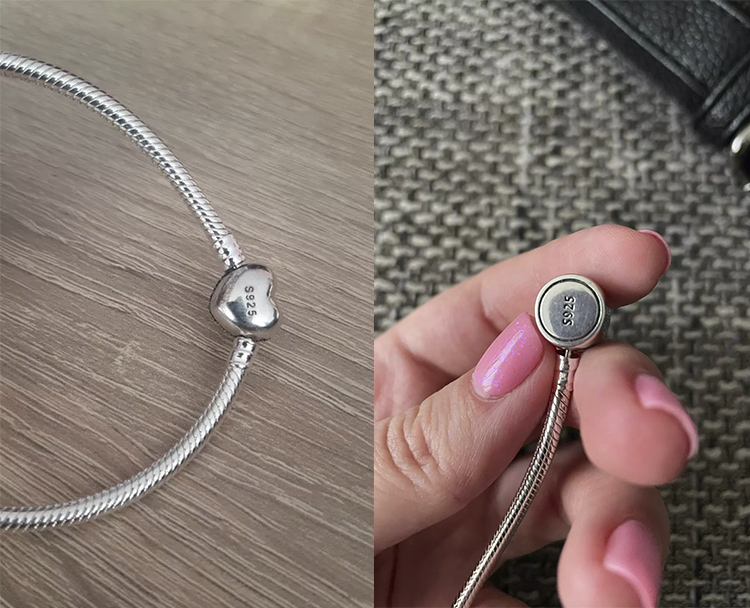 Once you receive your bracelet, you can visually identify the silver hallmark with the code S925 or 925. This engraving on the jewel indicates that its purity is of the highest quality.
This is a guarantee of the type of silver you have purchased and in some models it is located on the inside of the clasp.
Certificate of quality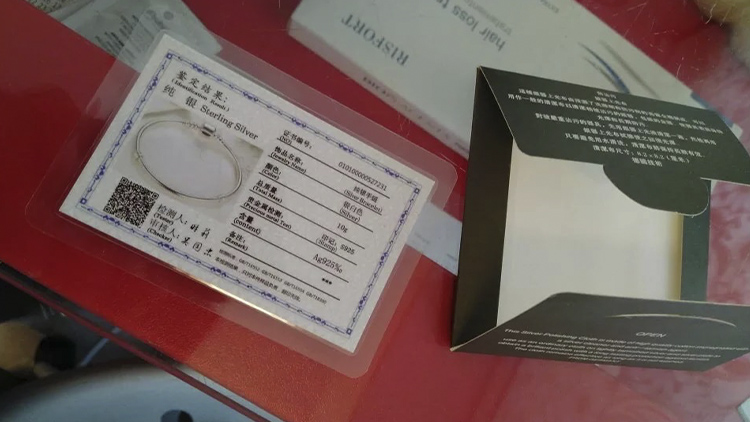 Some sellers also include a quality certificate,  with the bracelet,  indicating the type of silver used.
Do the magnet test
If you're not sure whether you have received a bracelet made of silver or another metal with a simple plating, you can do the following trick: take a magnet and hold it close to the bracelet. If the bracelet does not offer magnetism, it is genuine silver.
This will help you to make sure that you have not been sold a bracelet of another material, but you will not be able to check the quality of the silver the bracelet is composed of.
Jewelry odor
Silver does not give off any kind of odor, so if you smell a metallic odor, it is probably not silver.
Read buyer's reviews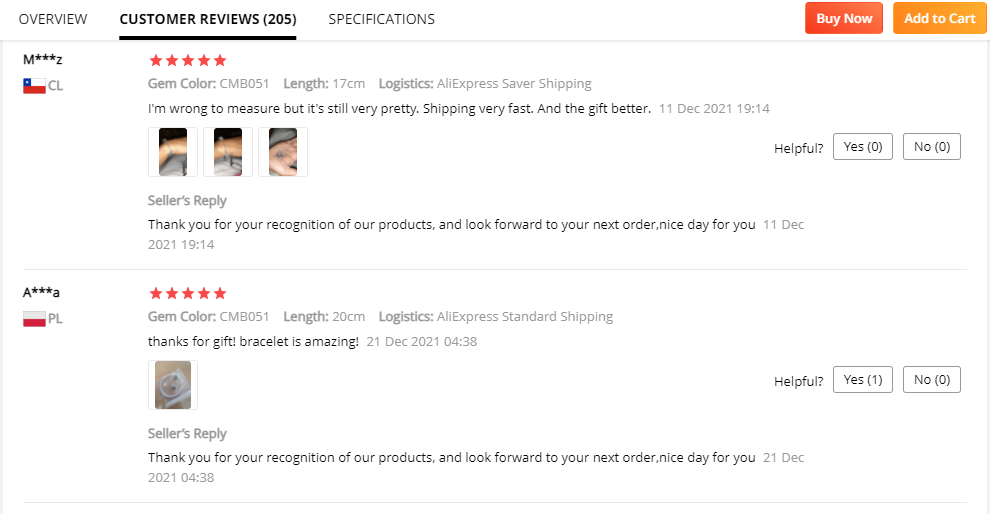 If you want to make sure there are no surprises, it is best to look for bracelets that have sales and reviews from other buyers already, just so you can be sure of what you'll receive.
By buying from the trusted stores listed above (Bamoer, ELESHE, WOSTU, BISAER…), you will not fail in your choice.
Wait a few days before confirming that you have received it
As you know, silver does not stain the skin when you wear it, so put on the bracelet for a few days before confirming that you have received it. This way, you can check that it does not get ugly or stain your skin green.
And, be careful, because sometimes silver can blacken or darken a little when stored or in contact with the skin. This can happen because of the acidity of the skin, or because you didn't have it stored properly. However, this does not mean that the bracelet is not silver: if you clean it with a chamois or a clot and it returns to its original state, you can be calm.