The best gaming chairs are characterized by being extremely comfortable and offering great lumbar support. Each one of its components is meant to be ergonomic and resistant. They are very different from office chairs since they are conceived to be used for long periods, and their design is much more sporty.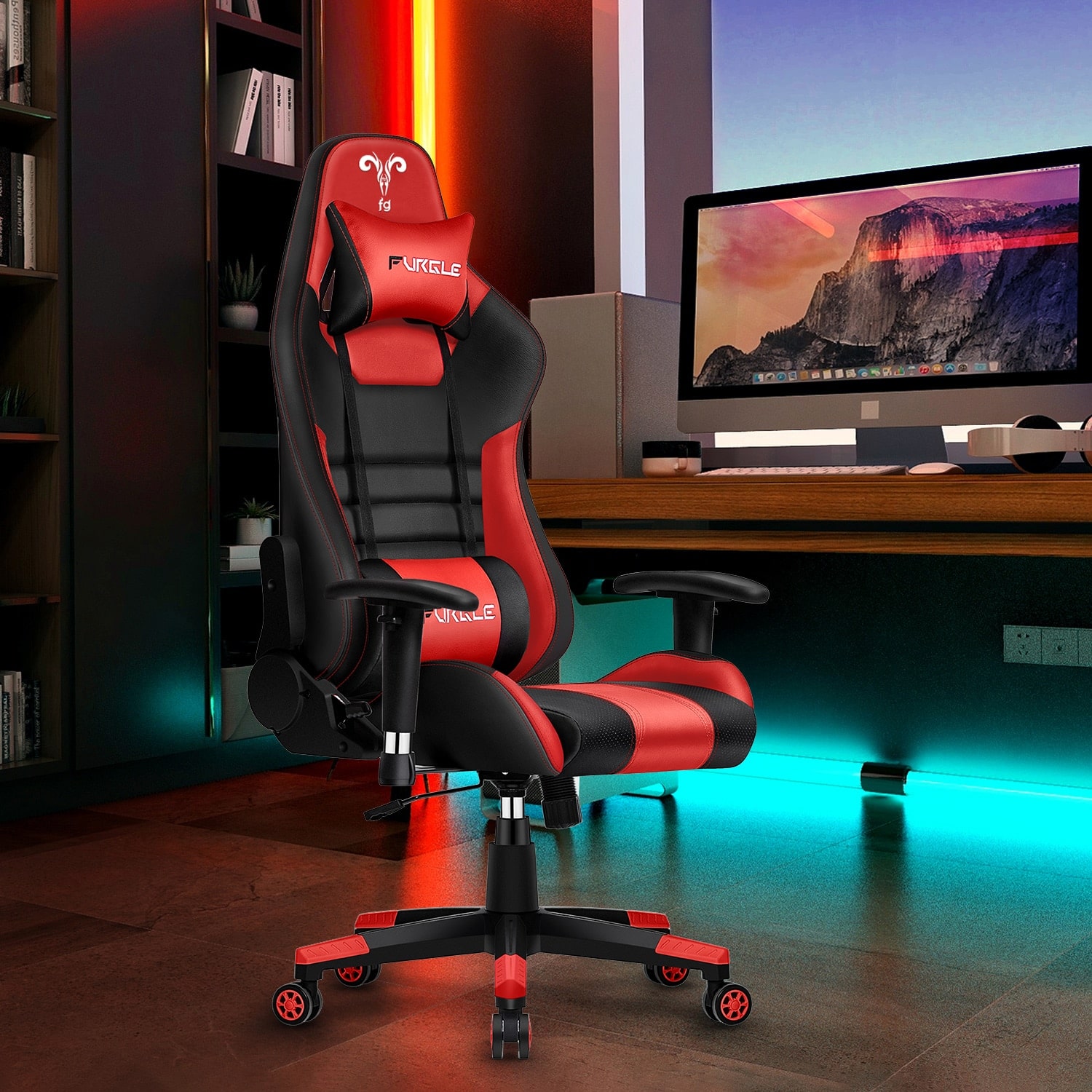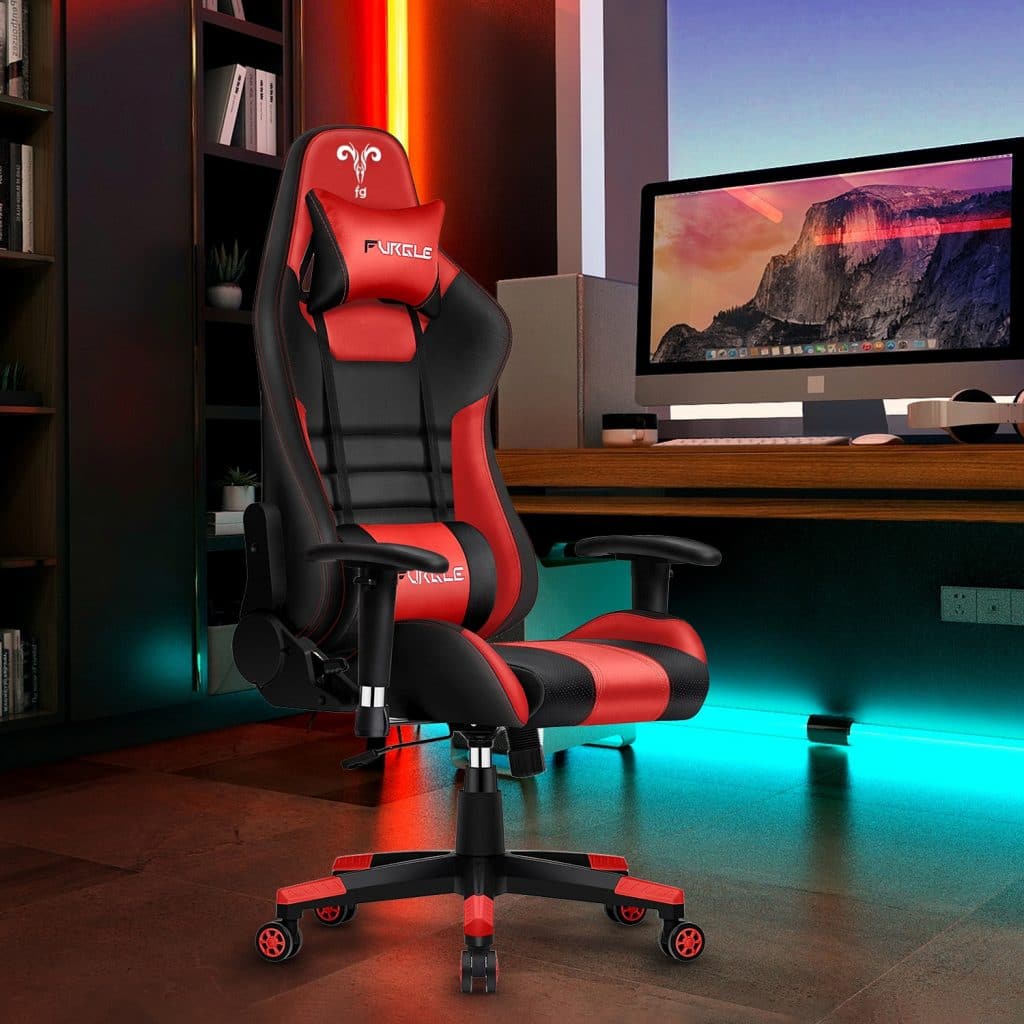 Best low-priced gaming chair brands available on AliExpress
A gaming chair is probably the most important complement for any gamer since spending hours sitting will take its toll if they are not in a comfortable chair. On AliExpress, there are many stores specialized in gaming products, so you will find a wide variety of gaming chairs on sale, as you can see here. These Chinese brands specialized in chairs offer good value for money, and they are a great alternative to Drift, Newskill or DX Racer gaming chairs.
1 – Furgle gaming chairs
Furgle brand is one of the best alternatives to Drift, Newskill or Dx Racer gaming chairs. Their chairs are great value for money and their sporty yet understated style makes them a good alternative to the usual office chairs. You can find them at a very low price in this link.
They have a very reasonable price but they do not lack quality. The outer lining is made of breathable, easy-to-clean, and scratch-resistant synthetic leather. It has a steel structure that resists up to 330 pounds. Its high-density foam has passed an impact test with 100,000 repetitions and its structure a resistance test of 120,000 times.
The chair bases are unibody style, made of strong and durable nylon. They are totally ergonomic: height-adjustable armrests, lumbar and cervical cushion, comfortable seat, and quality gas piston. They can be tilted up to 180 degrees.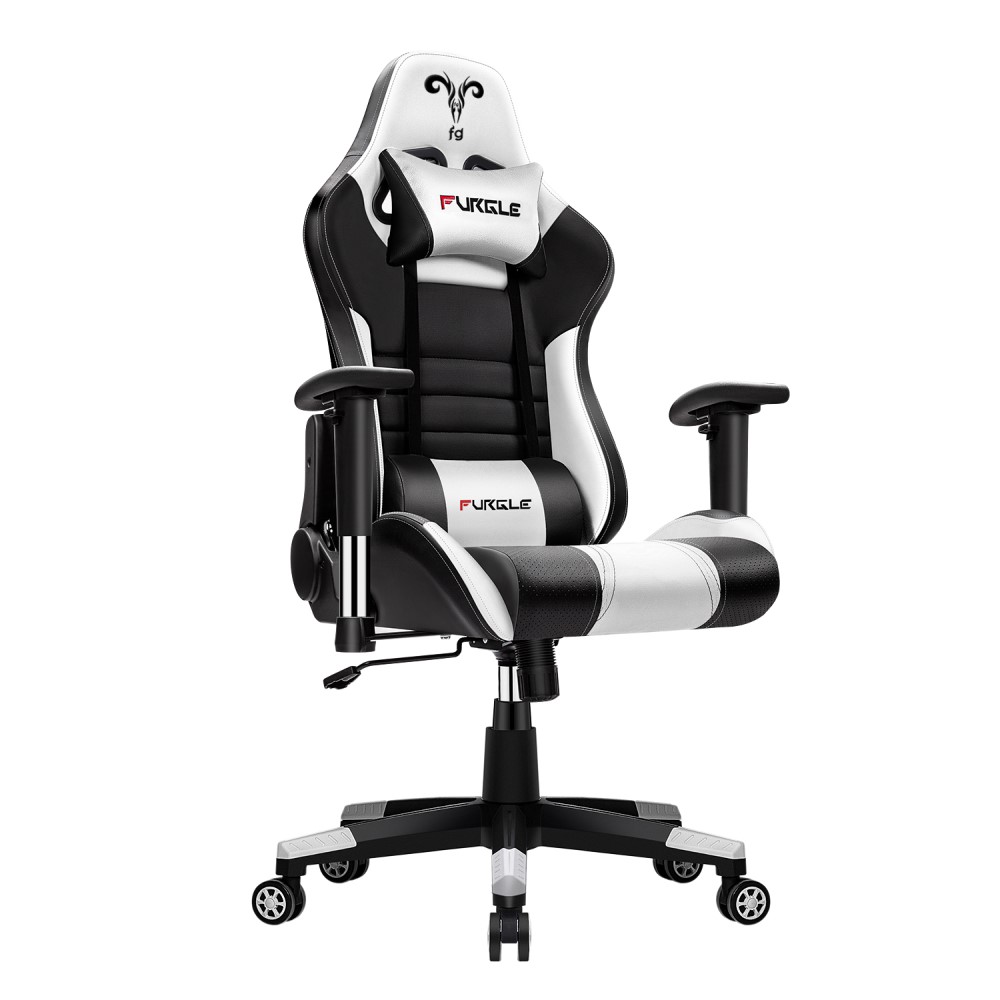 2 – DNF gaming chairs
If you are looking for reclining gaming chairs with footrests, DNF  has some very economic models that you can find by clicking here. They are somewhat more expensive than the previous ones but they have very good features and interesting details that make us compare it with the DX racer gaming chairs.
As you can see, their chairs are larger, we could almost compare them to a game armchair. They are also suitable for people with a high weight since, in the best-selling models, their base can support up to 770 pounds. These models have recliners up to 170º and a footrest, ideal for taking a quick nap. But its arms are fixed, for better comfort when changing the angle.
Their components are of very high quality, such as its synthetic leather finish, its seat with high-density foam subjected to 80,000 pressure tests, SGS certified gas piston … There is also a wide variety of colors: you can find them in blue, yellow, white…
3 – Warm House low-priced gaming chairs
Warm House store specializes in low-priced gaming chairs, they are even cheaper than f36 gaming chairs. Another important advantage is that they have a wide variety, with great value for money. You can see all their gaming chairs at this link.
The cheapest gaming chairs of this brand are characterized by having fixed arms, a leather finish with a breathable central part, and a seat with high-density foam. You can adjust the height, and they hold up to 330 pounds. These types of chairs can be reclined slightly and although they are more comfortable than many office chairs in the same price range, they are less ergonomic than other more expensive gaming chairs.
If you have a bit more budget, I recommend their higher-end models, which are much more similar to higher quality gaming chairs such as Drift or Newskill. They have an ergonomic design, with adjustable arms in 2 directions, a reclining backrest up to 135º, metal structure, breathable and water-resistant leather covering … Some also have cushions (lumbar and cervical) and footrest.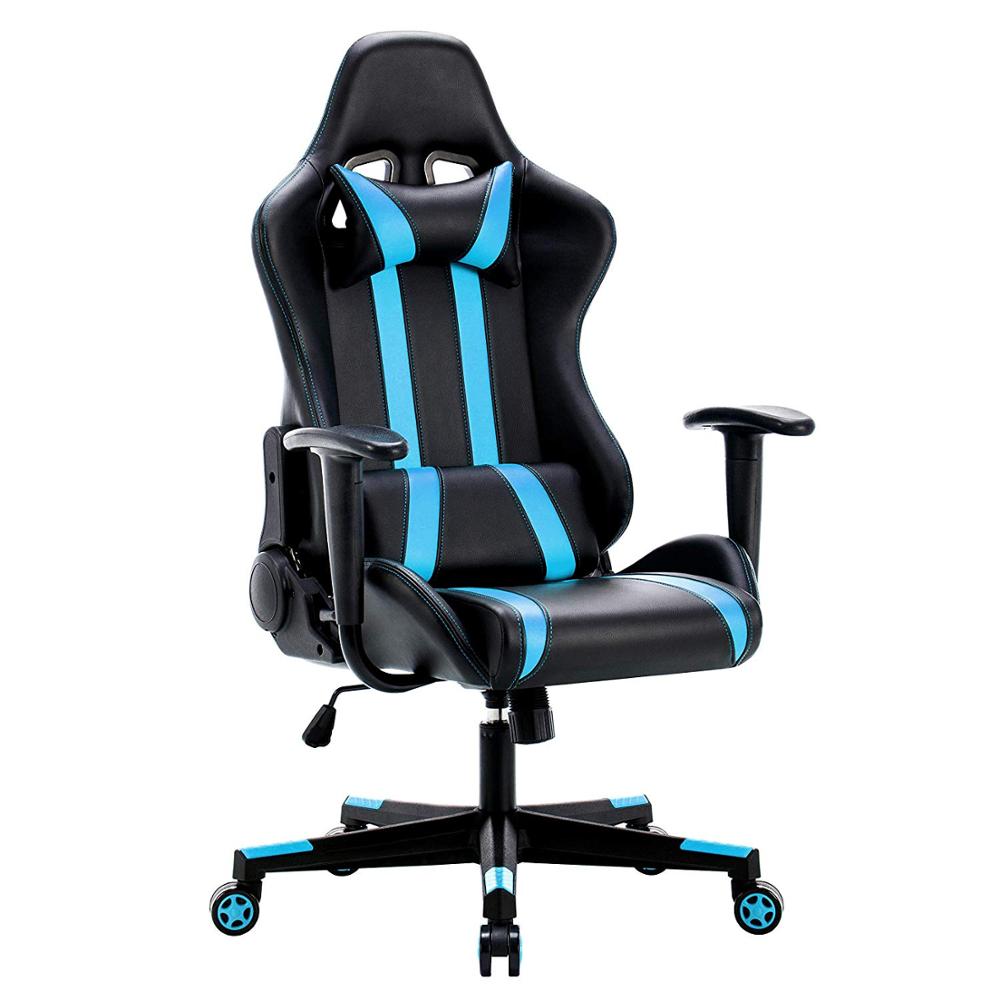 4 – Doersupp gaming chairs
Although they have fewer models, we like Doersupp because you can find gaming chairs with the best features for very little money. They also have a warehouse in France and the United States to send faster shipments. You will find all their chairs by clicking here.
Unlike other brands, even for very little money, you can get a sports-style gaming chair in different colors, with a reclining backrest up to 155º and retractable footrest, so that you can adopt the most appropriate posture according to your activity. It is made of a mixture of leather and elastic fabric. There are several different chairs, with adjustable or fixed arms, depending on the model.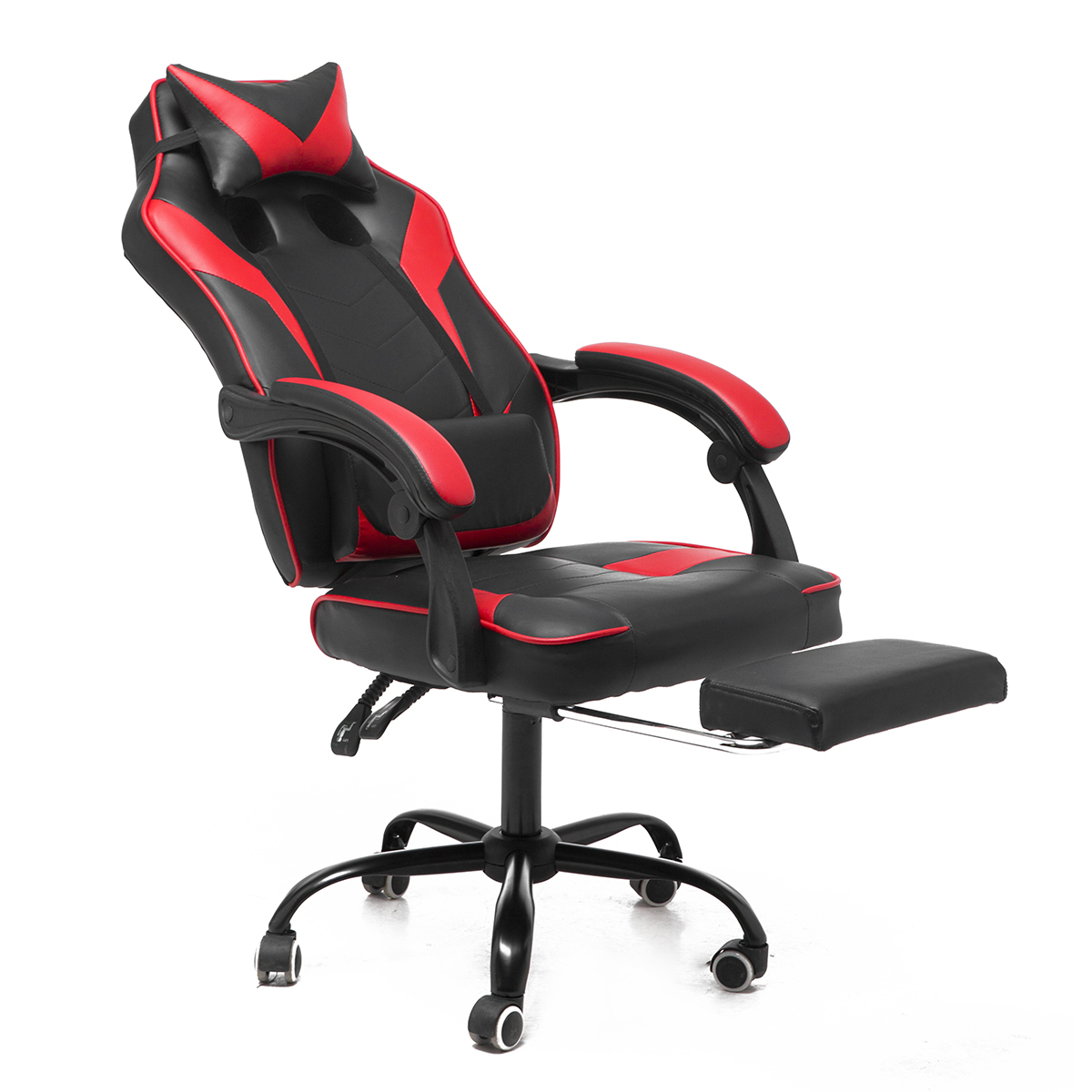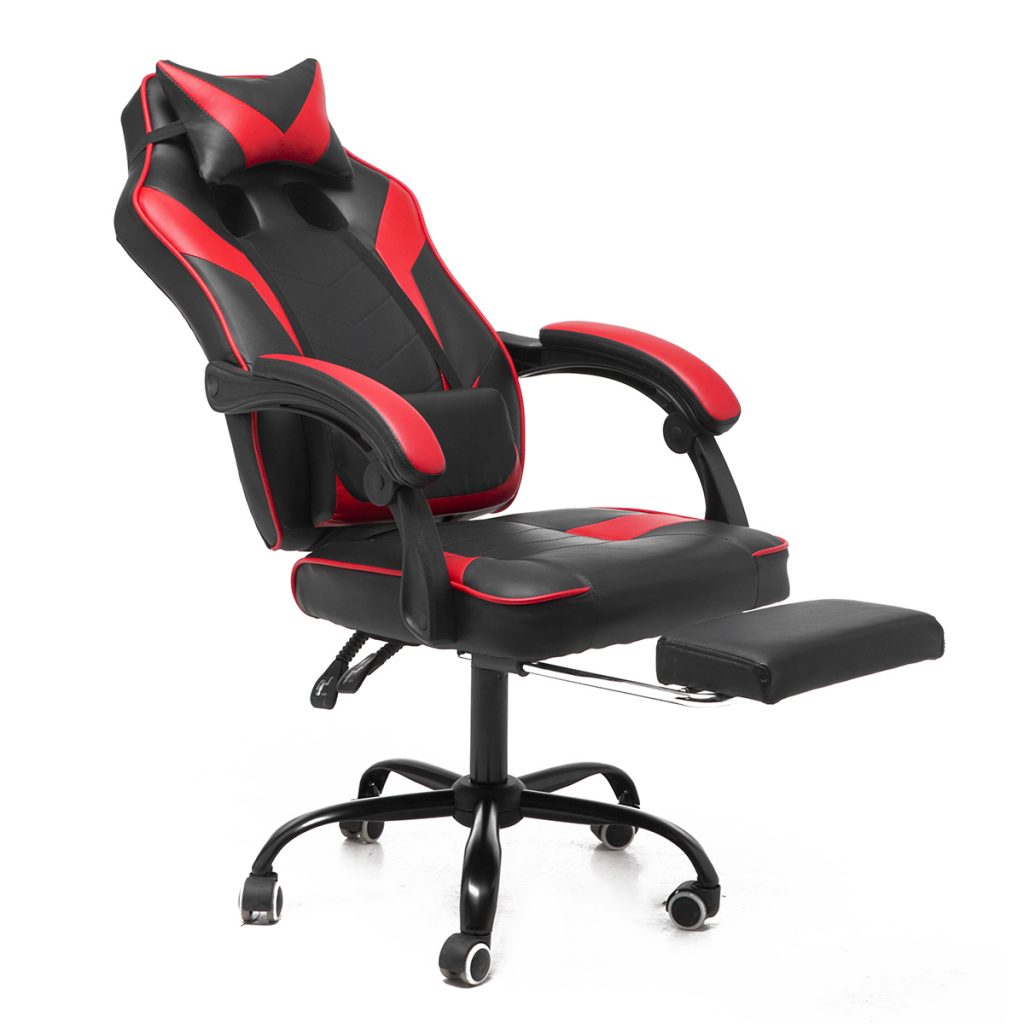 Other gaming chairs brands
On AliExpress, in addition to Chinese economic gaming chairs, you can also find other international brands. Here are the links to these popular gaming chairs, although more expensive than the previous ones:
Types of gaming chairs available on AliExpress
There are different gaming chairs, not only because of the difference in the quality of their manufacture but also because of the characteristics or accessories they include. Next, we will explain the pros and cons of each kind, and what you should take into account.
Reclining gaming chairs
The best gaming chairs can recline, some up to 180 degrees, so that you can adapt the backrest inclination according to your needs: 90º to play or work, 110º to watch movies, 125º to read, or 180º to sleep or rest. A reclining gaming chair is ideal to rest in long games, but the downside is its price since they are more expensive.
Gaming chairs with footrest
When we are playing, we want to be very comfortable, that's why many gaming chairs include footrests so that in addition to reclining we can also have our feet stretched out. Turn your chair into a kind of armchair so you can play for hours. Besides, when we recline, the lumbar area will be more supported if we use footrests.
Fabric gaming chairs
Most gaming chairs are made of synthetic leather, which makes them very comfortable, but over time the leather wears out, can break or discolor and in summer they are very hot. Fabric is much more resistant and breathable. Besides, this material is cheaper and fabric gaming chairs are a good option to save money, although they are difficult to clean.
Gaming chairs for children
Lots of children play videogames, and they also love sporty designs. So a children's gaming chair is an ideal accessory. It is essential to look for a special model for children as it will adapt better to their weight and height.
Wheel-less gaming chairs
Gaming chairs have wheels to easily move from one place to another. But if you are going to play with your console in a fixed place, you may not be interested in having wheels. Therefore, there are also gaming chairs without wheels or gaming armchairs.
RGB gaming chairs
Many chairs have very curious accessories, but one of the most striking is the lighting. There are gaming chairs with RGB lighting that can change color. Is a very attractive chair for those who want an outstanding effect. However, for this lighting to work it has to be plugged into a power bank, although it is discreetly stored under the seat.
Aspects to consider before buying a gamer chair
So you have everything in consideration before buying your gaming chair, below you will find some important factors. These features are important and determine the quality and comfort of your gaming chair.
Materials
The chair's manufacture must be of high quality. The leather or fabric used must be resistant to use, easy to clean, and breathable, this is determined by the quality and thickness of the material. The structure of the chair has to be resistant and light, that is the reason why the best chairs are made of steel; and it is important to look at the weight that the chair supports to see if it is compatible, especially for people with high weight. The padding of the chair must be of high density to offer maximum comfort: usually, they're made of high-density foam, foam composites, or latex.
Lumbar support
Maintaining a poor posture for many hours leads to severe back pain. That is why the back must be well supported on the chair. Gaming chairs are famous for providing good lumbar support. The backrest should have the proper curve so that the lower part of the back is supported. The height of the backrest should be high enough to cover our back to shoulder height, better if it also has support for the head, and can be reclined to adjust the inclination to different activities.
Armrests
The armrests should allow you to support elbows or forearms without effort, generate a 90-degree angle, and be at the height of the desk, so it is best if they are adjustable in height. To better fit, some models can be adjusted in 3 directions: in height and both directions in the horizontal plane.
Height adjustment
The seat must also be height-adjustable so that our legs generate a 90º angle and both feet can rest on the ground. Most chairs are adjusted to a standard height but if we are very tall or very short we will have to look at the maximum and minimum height to which it can be adjusted.
Wheels
Wheels are our point of contact with the ground. Carpet floors can use hard wheels, while ceramic or parquet floors need rubber or nylon coated wheels to avoid scratching and damaging the floor. They shouldn't make a lot of noise; for instance, wheels with metal axles with bearing are silent, and also make the movement very smooth. Some chairs use casters with brakes so that you can lock the chair temporarily.
Colors
Some people look for a certain aesthetic in their chair. Pink gaming chairs, white gaming chairs or blue gaming chairs are very popular. We have already said that the quality of the covering material is very important, but especially if the chair is not black, as it will wear out with use.
Extras and accesories
Most manufacturers include cushions for gaming chairs, one for the lower back and one for the head. But some brands also offer other accessories such as covers, tables built into the chair itself, or RGB-type chair lighting. Even so, these accessories, which normally are purchased separately, are not usually in high demand.
Price
You have reached our guide looking for economic gaming chairs, and we have shown you the best brands on AliExpress. But if you want to know what the difference in price is between the chairs you just saw and the most famous ones on the market, here is a range of prices for gamer chairs:
Drift or Newskill gaming chairs cost between US $170 and $480
DX Racer gaming chairs cost between US $240 and $830.
Low-priced gaming chairs on AliExpress are from US$ 90.
Is it safe to buy a gaming chair on AliExpress? Which guarantees do they offer? Is it easy to return them in case I am not satisfied?
Gaming chairs are mainly bought online, although more and more gaming chairs can be found at physical stores. But if you are looking for gaming chairs on Amazon, for instance, you will only find famous brands that are very expensive. But thanks to AliExpress, we can buy economic and high-quality gaming chairs.
This platform has a great buyer protection policy, which has improved in recent years. Now, a refund is made if the product does not arrive at the agreed time or has any damage. There is also a possibility of free returns up to 15 days after receipt, although the latter is not active in all countries at the moment. You can find more information in our Claims, Disputes and Returns on AliExpress Guide.
Get your gamer chair at the best price with special offers and coupons.
Now you know which gaming chairs to buy. If you want to know how to save even more money on your AliExpress purchases, in addition to frequently looking at the AliExpress main page, we also recommend visiting our blog. We are always up to date with the latest news, the best special offers and discount coupons launched by the platform. Also, if you have questions about how to buy on this platform, we have a section with tutorials where we solve your most frequent doubts.
What about you? Have you already decided to buy your low-priced gaming chair on AliExpress? We would love to know your opinion, so please feel free to leave your comments below.