Is there any greater satisfaction than knowing that you're buying something extremely cheap?
If you're one of those people who love to buy cheap stuff without having to leave your house, don't miss this article where we show you two ways to get items for $1 or less on our favorite shopping platforms: AliExpress and Shopee.
And with free shipping!
How to buy things for less than $1 and free shipping on AliExpress?
First, we'll tell you how you can get thousands of products for less than $1 on the platform of the Asian giant, AliExpress.
Everyone knows AliExpress, but not everyone knows how to make the most of the opportunities offered by this marketplace.
Maybe now you are a little disappointed, thinking that AliExpress has raised its prices a lot in recent times and is no longer worth buying there as much as before, but nothing could be further from the truth: on AliExpress you can still get many things for $1 or less.
Let's see.
Filter by price and free shipping
If you already know what you want, you can type it directly in the AliExpress search bar, but if you prefer to search randomly, go to all "Product categories" (here) and select any of the categories available.


When you do any search, you will see how at the top of the page appears a bar with different options: in "Price" type a range from 0.1 to 1.00, check the box "Free shipping" and to make the searches appear from the lowest to the highest price, click on "Sort by: Price".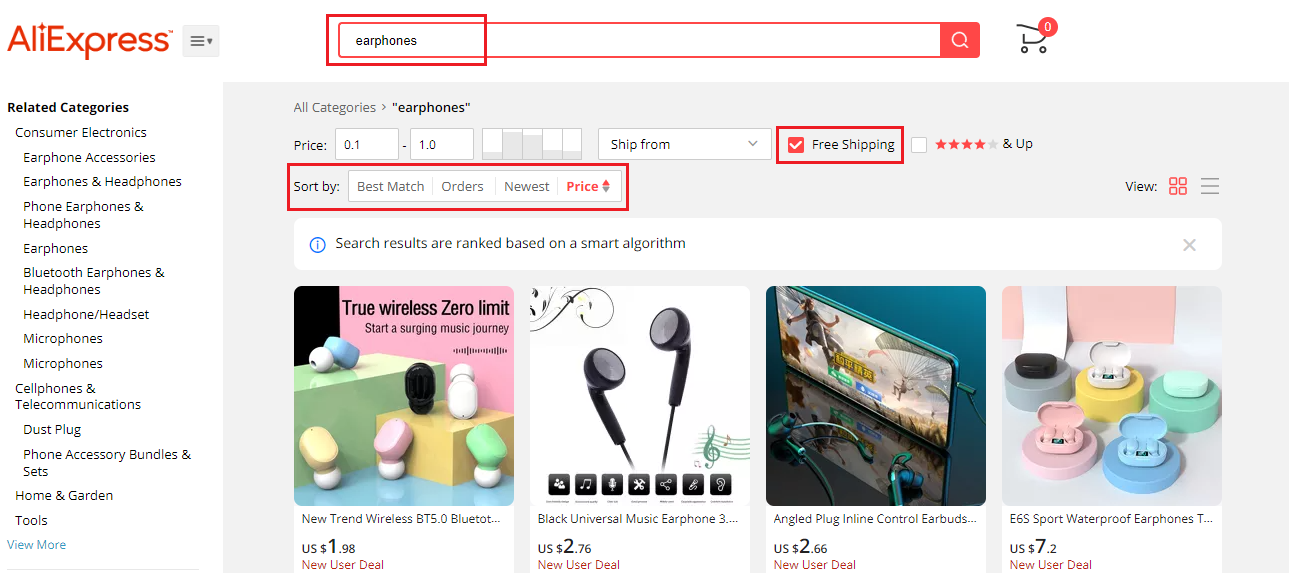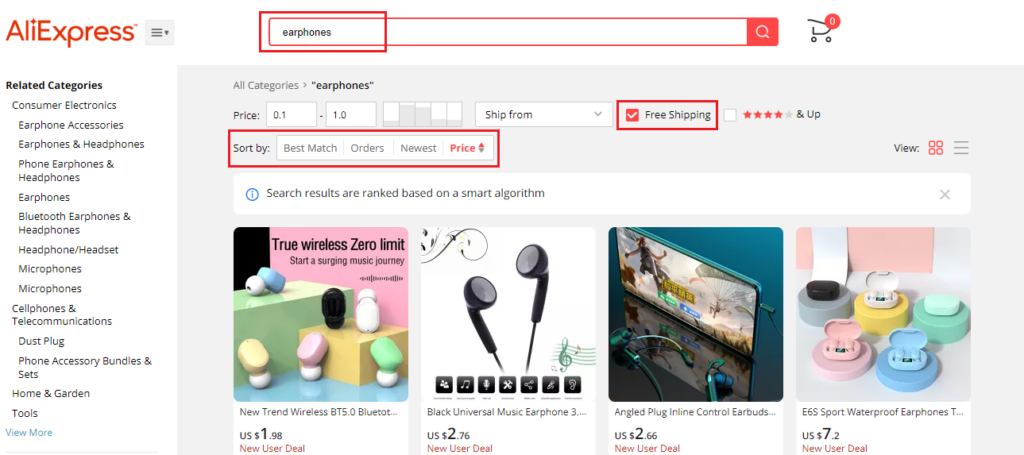 As you will see, you will see a lot of products to choose from for very few cents.
If you want, you can still narrow your search further by better describing the item in the search bar and repeating the same process again. For example, instead of looking in the "Electronics" category, you can directly type "Earphones" in the search bar.
How to buy things for less than $1 and free shipping on Shopee?
Shopee has quickly become one of our favorite stores to buy cheap products and best of all, all items have free and certified shipping, whatever their value.
Still don't know this platform? Read our review article about Shopee, and we will help you get a discount coupon on your first purchase.
Flash deals for $1
One of the things that attract people the most about this marketplace, is the daily flash offers for less than $1 that you can find by clicking here.
These products are discounted for a certain time and have a limited number of units. Usually, the best offers end quickly, so if you find something interesting, it's better to hurry before you run out of it.
Although within the flash offers you can find products a little more expensive (not much), if you prefer, you can filter directly to show you only the items of $1, by clicking on "Daily offers at $1").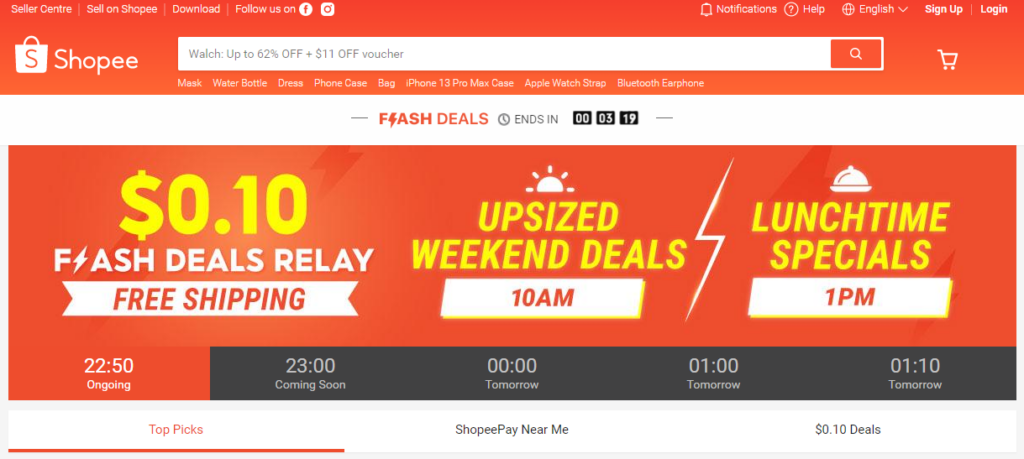 Remember that this is not the original price of the products, but because they are on sale, you can find very interesting (and cheap) products.
Filter by price
As on AliExpress, on Shopee you can also directly filter the searches so that they appear only for $1 or less.
To do this, you can type directly in the search bar that you want or select a section of the website's product category.
On the left side of the page, you will see the "Price Range" of the search filter: type from 0.1 to 1 and click "Apply".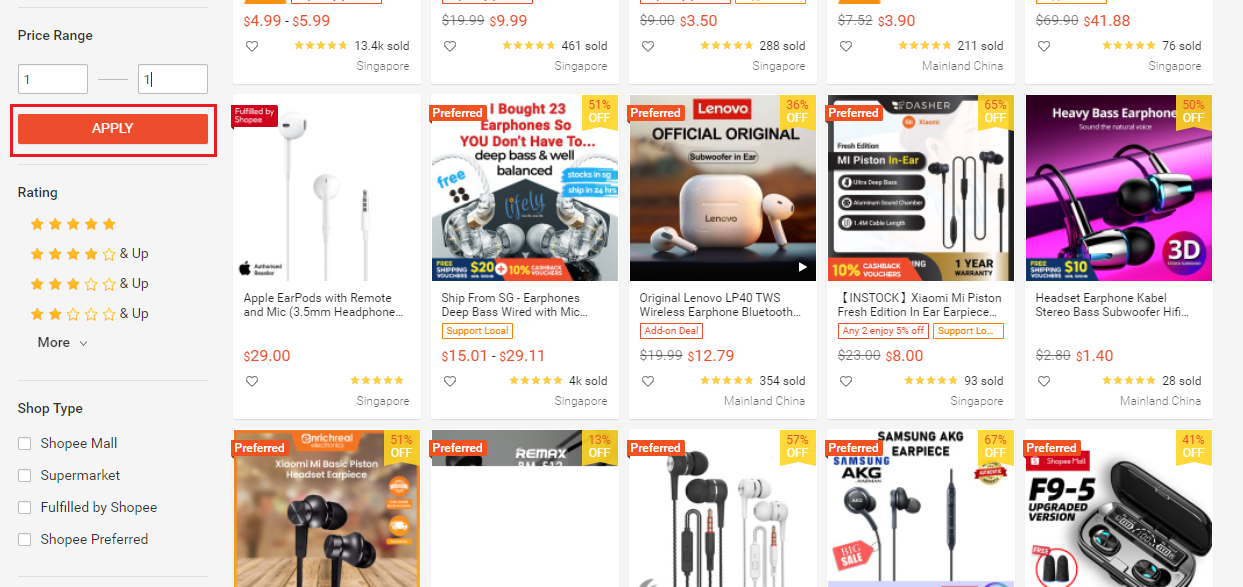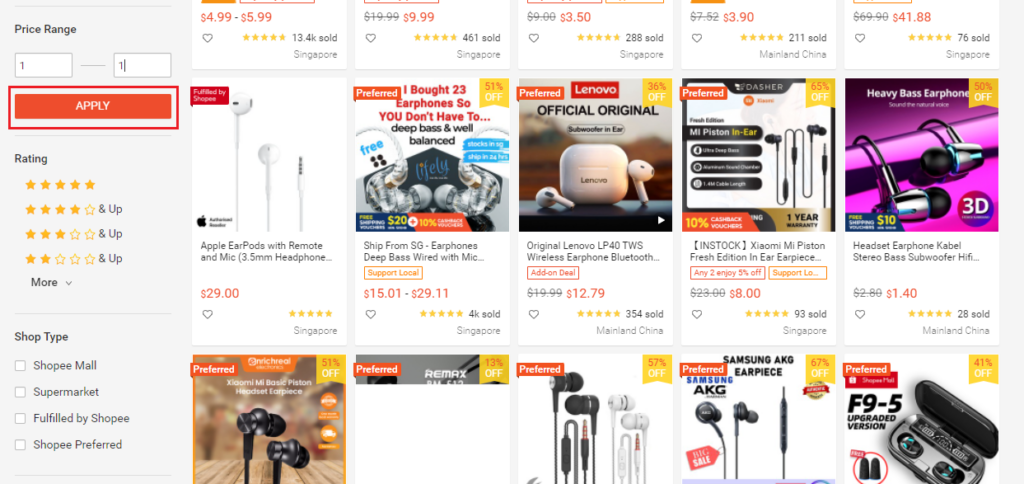 Now you can have a good time picking what you like the most from Shopee.
Which site is more worthwhile, AliExpress or Shopee?
On both platforms, you can find very interesting items and there are always sellers who promote their products and offer very good discounts that can go unnoticed if you don't limit the price of your searches. Even so, you will have to have a little patience until you find something that really interests you or that is worth it.
That's why Shopee's flash sales are a unique opportunity to quickly locate products for $1 at a much higher value.
In short, if you like bargains, but don't want to waste much time, Shopee has flash sales every day, and they're a unique opportunity to get new things without your pockets suffering (click here to go to the site).