The online store Chic Me is becoming increasingly popular, especially in social media, where it already has millions of followers. Just like Shein, it specializes in women's clothing and accessories, and if you don't know it yet you can access it by clicking here.
Now, we are going to explain you our shopping experience and opinions about this store.
Warning: with this trick you can get unlimited Shein coupons. Click here to find out more.
What is Chic Me?
Chic Me is a Chinese website part of the IvyRose group that has been selling clothes since 2015, but recently started shipping them anywhere in the world. The shipping cost is with very cheap or even free from a certain amount of purchase.
Its motto is "Best Shopping Deals" and it specializes in sexy, casual and elegant clothing, although the best sellers are lingerie and shoes.
In addition in Chic Me there are no size problems, since it has the Chic Me Curve & Plus collection, specializing in large sizes.
We can highlight a few things about Chic Me:
It sells daring and cheap clothes.
Its catalog is almost infinite, with new clothes every day.
There are almost always discounts or coupons to save money.
It has many facilities to pay in installments.
They often compare it to Shein or AliExpress but, although it is true that they have things in common, Chic Me is specialized in elegant, sexy and daring clothes for women. In addition, considering it isn't well known internationally, they have interesting prices to attract and maintain customers.
Chic Me reviews
Before buying it is important to know the site well, so here is a review of the most important aspects of Chic Me.
Payment
Rating: ⭐⭐⭐⭐⭐ (excellent)
In Chic Me we can use the most common methods of payment for online purchases: accepts VISA, Mastercard, Maestro, American Express… But you can also pay with PayPal, which makes it even safer. You have more details of their payment methods in this link.
You can also defer your payments as it has Klarna and Afterpay. You can pay your purchase in three months interest free, the first payment will be made right after the purchase and the remaining two are made automatically every 30 days. All you need is a credit or debit card.
Shipping
Rating: ⭐⭐⭐⭐ (passed)
The shipping method will vary depending of your country, however, you should receive your order within 7-25 business days from the date you've placed it.
United States
*Free Standard Shipping On Orders Over $79.00
| | | |
| --- | --- | --- |
| Shipping Method | Shipping Time | Costs |
| Standard Shipping | 13-15 business days | $7.99 |
| Express Shipping | 4-6 business days | $22 |
Canada
*Free Standard Shipping On Orders Over $79.00
| | | |
| --- | --- | --- |
| Shipping Method | Shipping Time | Costs |
| Standard Shipping | 11-16 business days | $11.99 |
| Express Shipping | 6-11 business days | $24 |
United Kingdom
*Free Shipping Order Over £59
| | | |
| --- | --- | --- |
| Shipping Method | Shipping Time | Costs |
| Standard Shipping | 6-8 business days | $8.99 |
| Express Shipping | 4-6 business days | $25 |
Australia
*Free Standard Shipping On Orders Over $79.00
| | | |
| --- | --- | --- |
| Shipping Method | Shipping Time | Costs |
| Standard Shipping | 8-13 business days | $10.99 |
Please note that, before being shipped, the order needs 3 to 7 working days to be prepared. You have more information here.
Sizes and quality
Rating: ⭐⭐⭐⭐⭐ (excellent)
This is one of Chic Me's strong points: their sizes are similar to the ones we have in the West and there is a great variety, especially in large sizes.
You will see that on the web the sizes work in a similar way to other stores like Shein and AliExpress: the seller shows a table of measurements that you must compare with your body.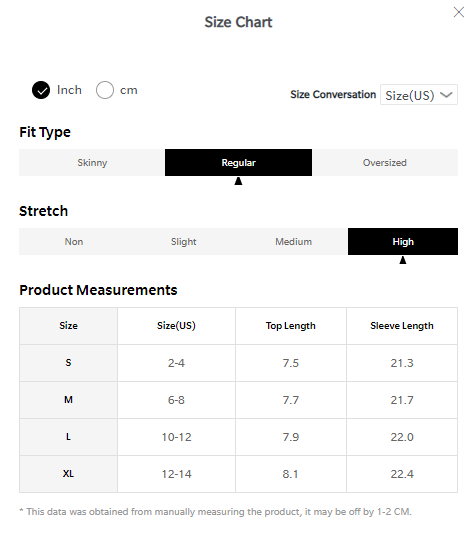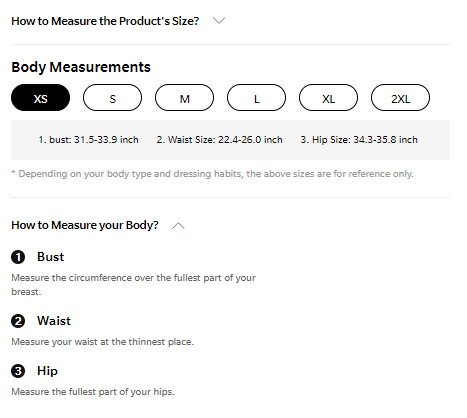 The quality of their products is also very good, especially in their star products such as shoes and lingerie: buyers are very satisfied with the good finishes of the garments.
Although, as in any other online clothing store, in Chic Me it is very important to look at the comments and reviews of other buyers that you will find in the product description.

Warning: with this trick you can get unlimited Shein coupons. Click here to find out more.
Returns and refunds
Rating: ⭐⭐⭐⭐ (approved)
We can return the products within the first 30 calendar days after receiving them. However, shipping costs are at our expense unless the garment is defective or the order is damaged. If shipping is more expensive than the garment, Chic Me will make us a proposal without having to return the products.
The refund money will be sent to us by the same payment method we used. In the case of PayPal the refund will take 24 hours and with credit card it will take between 7 and 15 working days. Remember that swimsuits, lingerie, bodysuits, swimsuits, jewelry and accessories cannot be returned. You have all the details in this link.
In short, Chic Me returns and refunds work in a very similar way to AliExpress, however, the latter offers free returns on some of its products. In addition, in case of any problem, we will not have an intermediary since we are buying directly from a store (although payment by PayPal always gives us security).
Contact and customer service
Rating: ⭐⭐⭐⭐ (remarkable)
Something we particularly liked about Chic Me is that it has several contact methods, as you can see here.
Live chat: from 1 am to 6 am and from 9 am to 12 pm (America EST).
WhatsApp message: you can send a message through this platform and it will be answered within 24 hours.
Phone: we can also contact via +1323237395419 during the same chat hours except Mondays, Saturdays and holidays.
How to buy on Chic Me
As we have already said, those who are used to AliExpress or Shein will not have any difficulty to shop at Chic Me. You simply have to register from this link, search for the product you are most interested in and add it to your cart.
Customs
ChicMe does not collect fees for any costs other than the products we sell and shipping. in some unique cases, it is possible your local post office may request additional fees for customs, taxes or VATs. If you have any questions regarding such fees, please contact your local post office.
Discounts and coupons
If you want to shop for the best price on this site, just stop by the Chic Me homepage and look for the featured promotions on the site. Every week there are deals like three items for $29.99, products under $13.99 and stuff like that.
In addition, they also have special events where you can get discount coupons directly on your purchases or games to win free gifts, whether it's free shipping cards, featured products or points.
Points Program
To reward the loyalty of their most loyal shoppers, Chic Me has a points program that can then be used as discounts on purchases (yes, just like Shein points). Every 100 points we will have 1 USD discount and points can be used for 50% of the purchase (not including shipping costs).
You can see in detail your points from this link or through the mobile app.
You can earn points with the following actions:
Verifying your email: 100 points.
Buying: 1 point for every dollar spent when confirming the order.
Make suggestions: 200 points through the "suggestions and errors report".
Review your purchases: 10 points for making a comment, double if it includes a photo.
Participate in the c-log section of the app: 100 points for uploading photos or videos of your purchases.
We also recommend checking the mobile application on a daily basis, since temporary marketing campaigns may include activities to earn extra points.
How to track orders
Once the order is shipped, we will receive an e-mail notification with the tracking number of the shipment. To track your order just go to your account, click on "Order Tracking" and choose the order. Then click on "Tracking".
We can also track through external applications such as Parcels, Aftership or postal ninja using the tracking number provided. Click here for more information on how to track your order.

What happens if a product is out of stock?
The site itself warns us in this link that in some cases it is possible that there is no stock of what we have purchased. Although it rarely happens, if it does, you will be notified to replace the items for others or to receive a refund.
And if you are missing an item when you receive the package, Chic Me has most likely split the order into several packages.
Is it safe?
Yes, in our opinion Chic Me is a totally safe site. It has been selling clothes for several years, has all the security protocols and has many satisfied buyers, especially in America, but it is reliable whether you buy from the United States, Canada, Australia, the UK or anywhere else in the world.
In addition, it allows you to pay with PayPal, which virtually eliminates all risk.
See Chic Me's specials of the day
Warning: with this trick you can get unlimited Shein coupons. Click here to find out more.