Lately, more and more people are interested in buying on DHgate, an international marketplace of Chinese origin with very good offers.
Since some of you have asked us for our opinion, today we will explain the main features of this platform, how it works and what you need to know to buy safely.
What is DHgate and how does it work?
DHgate is an online sales platform of Chinese origin  that has been selling for around 17 years, and counting. Although it is quite similar to AliExpress, it has some very interesting differences.
In recent years, it has become popular as an alternative to AliExpress to buy replicas, and though it is true that it costs less to find soccer or basketball jerseys and shoes, they are also eliminating them from their page.
It is still a very interesting platform. These are the main advantages and products you can find:
Very cheap private label products and popular Chinese brands.
A secure platform to make your purchases.
Dropshipping section to create your e-commerce.
Discounts for wholesale purchases with minimum purchase amount on certain products.
Daily deals and lower prices than other Chinese sites.
Own selection of sellers with superior quality.
Local warehouses with 3-day delivery for many countries.
It has specialized in selling technology products from Chinese brands such as Xiaomi, and also, clothing and sporting goods.
However, they've been selling more and more clothing and accessories for men and women.
DHgate vs AliExpress: which one is better?
Both pages are international sales platforms with a totally secure purchasing system. Undoubtedly, the main difference is that on AliExpress you can find everything, not only clothes, but also other products that can not be found so easily, such as: as spare parts, electronic components and much more. In DHgate we do not find so much variety.
AliExpress is one of the largest sales platforms at the level of Amazon. Thus, it has many advantages: very fast shipping at a reduced price, combined shipping to reduce costs, high quality Chinese brands, local warehouses, agreements with shipping companies, easy payment of VAT… However, this has also caused AliExpress to raise its prices slightly.
Although we give many tricks to lower prices and find bargains on AliExpress, sometimes you can find better deals and discounts on DHgate.
In addition, their dropshipping section is very useful for setting up online businesses without stock.
DHgate reviews
It is impossible to give a general opinion about DHgate so let's go point by point:
Payment
Rating: ⭐⭐⭐⭐ (outstanding)
At DHgate you can pay with Visa, Mastercard or American Express credit or debit cards, which are the most common and secure methods of online shopping. And if you are an Apple user, you can also pay with Apple Pay.
You can also use other local payment methods depending on your country such as OXXO, Ebanx, ideal or SPE and other secure virtual payments such as Skrill 1-tap, Sofort or trustly. You have all the information about payment methods here.
However, PayPal payment is not accepted, and although DHgate has secure payment certificates, we know that many of you like to use the PayPal platform to manage your purchases, so that's why we removed one point.
Shipping
Rating: ⭐⭐⭐⭐⭐ (excellent)
One of DHgate's strengths is that they offer free or very cheap shipping on most of their products. This type of cheap shipping can be ordinary or certified and arrives by post, just like on AliExpress. In the product description, you will be able to deploy the shipping section to see what types it offers.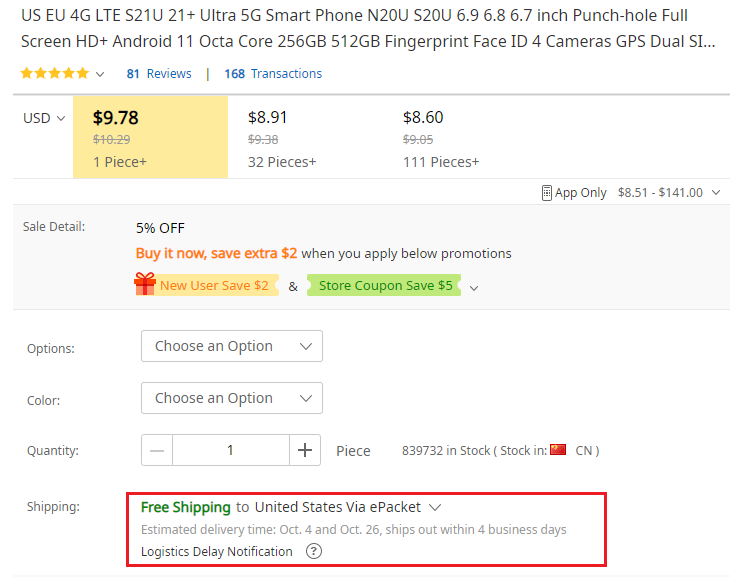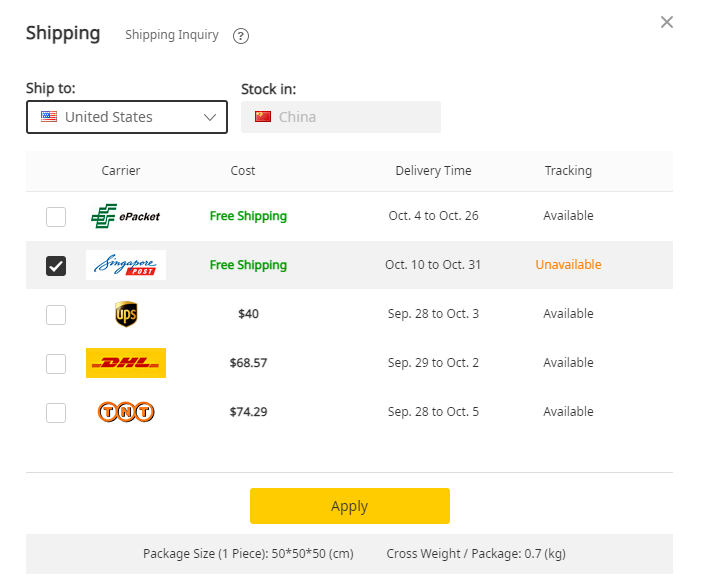 You can also choose to ship via private couriers such as DHL, EMS or TNT, but they are more expensive and usually have high customs costs associated with them, so we do not recommend them unless you are in a hurry.
If you need more information, DHgate's customer service center has compiled the most frequently asked questions about their shipments, which you can access from this link.
Sizes and variety
Rating: ⭐⭐⭐⭐ (remarkable)
DHgate certainly doesn't fall short when it comes to product variety. Even though we have already said that it can't compete with AliExpress, the variety of DHgate is still quite very good: you can find almost everything from electronics to clothing.
If you are interested in buying clothes, you should keep in mind that in the end they are Chinese manufacturers so the sizes may be different from those you use in your country. Fortunately in the product description you can find a table of measures which can help you choose.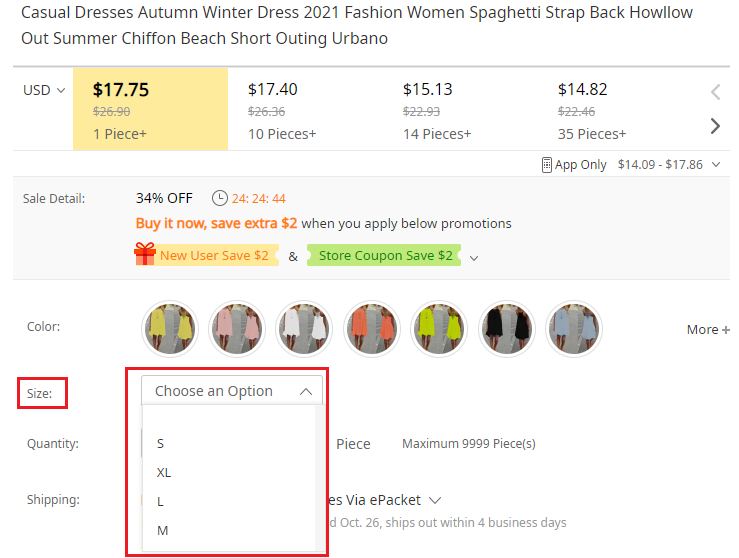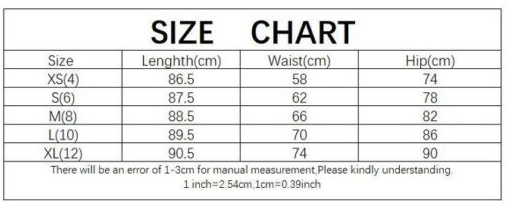 In case you have any doubts, always contact the seller.
Returns and refunds
Rating: ⭐⭐⭐⭐ (remarkable)
The system is similar to AliExpress': in case you have any problem, you can open a dispute. If that's the case, you have up to 10 days after receiving the order or confirming it. DHgate buyer protection promises to refund us if:
The item is not delivered or does not correspond to the description.
If it has not been received within the time limit.
When you open the dispute, you will first hear back from the seller and if you do not reach an agreement, you can escalate it to DHgate for them to intervene.
Now, if you want to return your purchase because you do not like it, you will have to pay for the shipping, and that may not be worth it. It is always better to ask for a refund if the product is not as expected.
You can find more information about DHgate's buyer protection here.
Contact and customer service
Rating: ⭐⭐⭐⭐⭐ (excellent)
Unlike other sites, DHgate has surprised us with great customer service. You can contact them by clicking on this link and they will offer you different ways of contact:
Online chat with automatic response available 24h a day 7 days a week.
Social networking through Facebook.
Message with response within 24 hours.
Although the preferred language is English, do not worry because you can use a translator to communicate with them.
Remember that many times you will be able to solve your problems simply by talking to the seller. To do this, you just have to access your order and look for the "Contact Now" button.
If you have a question before making a purchase, you can also contact the seller from the item page.
DHgate Buying Guide
VAT and customs at DHgate
Although in most countries of the world there are no customs problems when ordering with DHgate, if you live in Europe, you must know that there is a new customs regulation whereby the low value amount is eliminated and all packages outside the EU must pay taxes.
Luckily, DHgate has the IOSS system so on orders under 150€ they pay VAT at origin, so your package will arrive free of surcharges and paperwork, and there is no risk of being stopped by customs.
For orders over 150€, however, you will have to manage the corresponding duties and taxes when it arrives in the destination country.
Three-day delivery with local warehousing
DHgate also has sellers with warehouses outside China, which is ideal for expensive products as you will avoid problems with customs. To find these products just click here, but you can also filter your search by selecting the country of origin or access the "3-day delivery" section of the app.


Dropshipping with DHgate
Chinese platforms are ideal for creating an online store without investment or stock. DHgate has created a section called MyyShop where you can find:
Selected and verified sellers for dropshipping from different fields.
Products ready to be shipped from warehouse in US or EU.
Good refund conditions (up to 100% refund if not as expected).
If you are interested you can see all the products and how it works from this link.


Daily deals and discounts
If you want to get the best price on your DHgate purchases, just log in regularly to the famous marketplace, because every day there are new offers.
In the flash offers section you can find selected products with a special discount for a limited time. Just log in here to see all the offers or look for the "Flash Deals" section that you will find both from your mobile and from your computer.
In addition, there are also special events with interesting discounts, not only for Christmas, Black Friday or in summer. At any time of the year you can find offers on DHgate products or on the brands sold by the site.
Through the mobile application you can also access discounted products through the "Super Deals" section where you will find products for less than $10 with free shipping.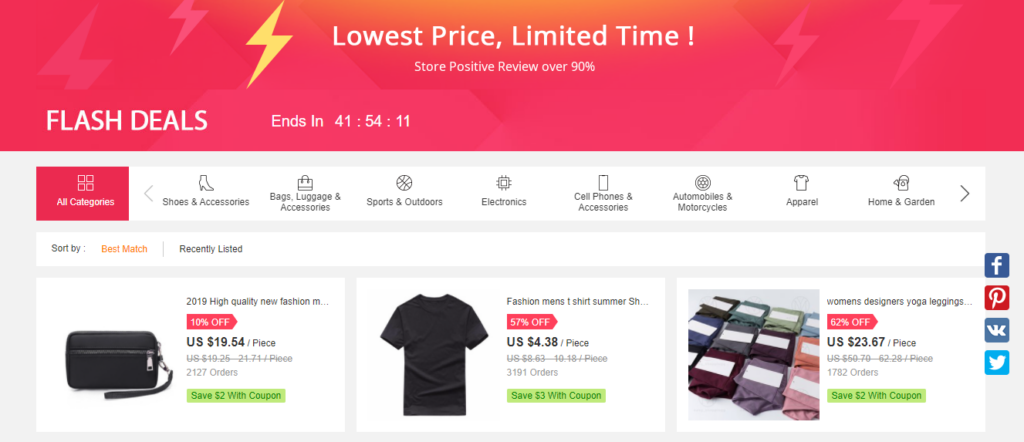 Is DHgate reliable?
Yes, and it's not because we're telling you about it. DHgate actually has hundreds of thousands of satisfied customers.
Although it is a less known site than AliExpress, it also has its advantages such as lower prices and a very interesting product offer. As it works as an intermediary between buyer and seller, our money is protected. But as in any other online sales site it is important to look at the product description and check the opinions of other buyers.
We also recommend you to check the buyer protection policy of the platform, which explains more extensively why buying on DHgate is reliable: payment protection, money refund if the product is not as expected, symbols of trust within the page, security protocols in navigation…
It's all at this link.

Five hacks to save money at DHgate
Before you start shopping, we'll tell you five ways to further lower the final price of your purchases.
DHgate Partner
DHgate has a partner program. Even if you buy very little, it's easy to earn points and take advantage of their benefits, which in addition to coupons and discounts include:
Package inspection by DHgate before shipping.
Access to the DHInsiders section (VIP exclusive) with discounted products.
Birthday gifts.
VIP pricing.
Enhanced customer service.
To become a member and upgrade your membership level you need to earn points, which you can earn by shopping, leaving a comment on your purchase when you receive it, making frequent purchases… You can see your DHgate membership level and all the details of the program by clicking here.

Request free samples or super offers
DHgate has a free trial center very similar to Shein or AliExpress, where we can get free samples, but at the moment it is only available for US buyers. Meanwhile, the rest of us can take advantage of the super deals section where we will find products under $10 with free shipping.
You can access it from the DHgate mobile app.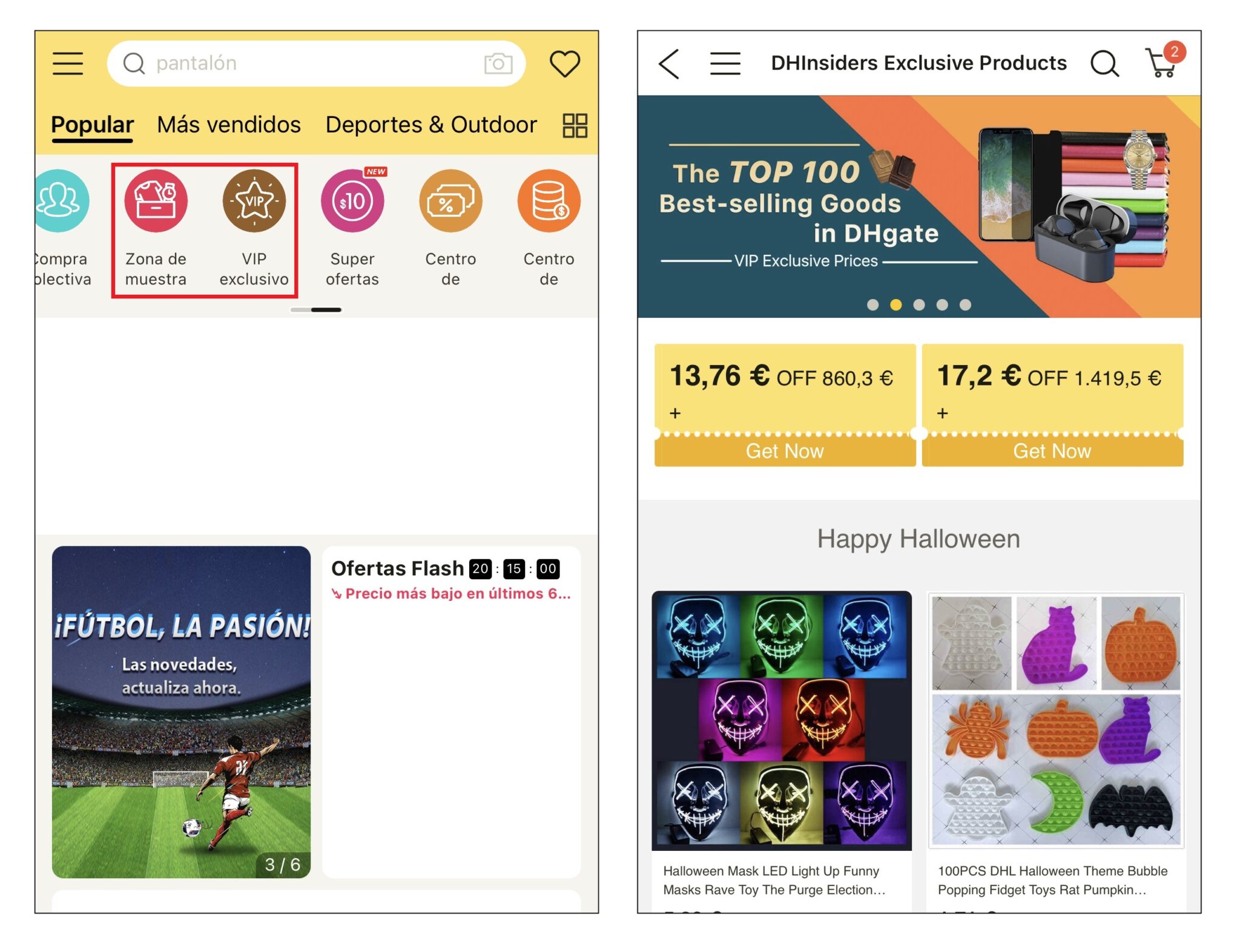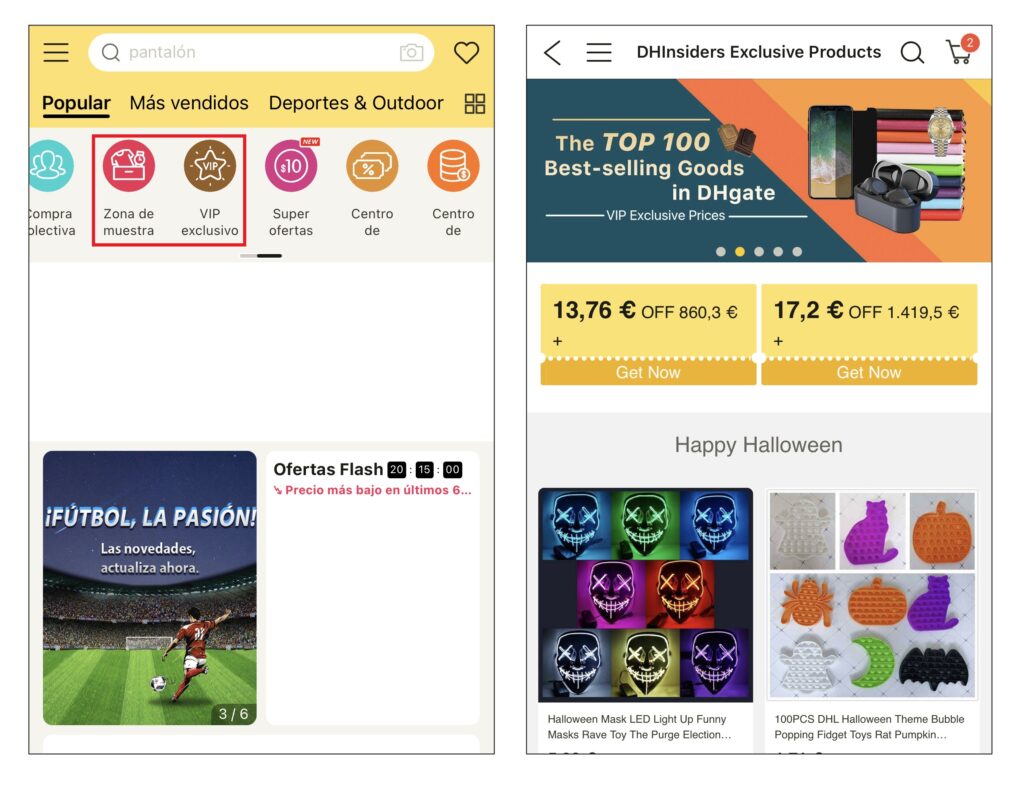 Coupon and Coin Center
You can get coupons very easily in DHgate's coupon center, where you can see which vendors are currently offering coupons. Access it directly from this link.
To see which coupons you have activated in your account, just go to your profile and go to the "Coupons" section or simply click here.


You can also redeem coins for coupons. To get them, the best way is to enter the coin center that you will find on the main page of the DHgate application, where you can see how to earn coins and get coupons in exchange.
The easiest way is to access it from the main page of the application or directly from this link.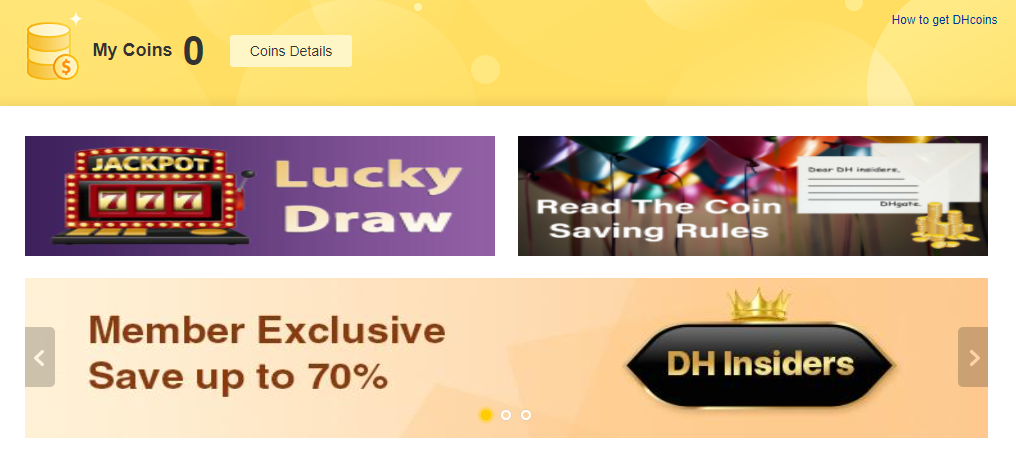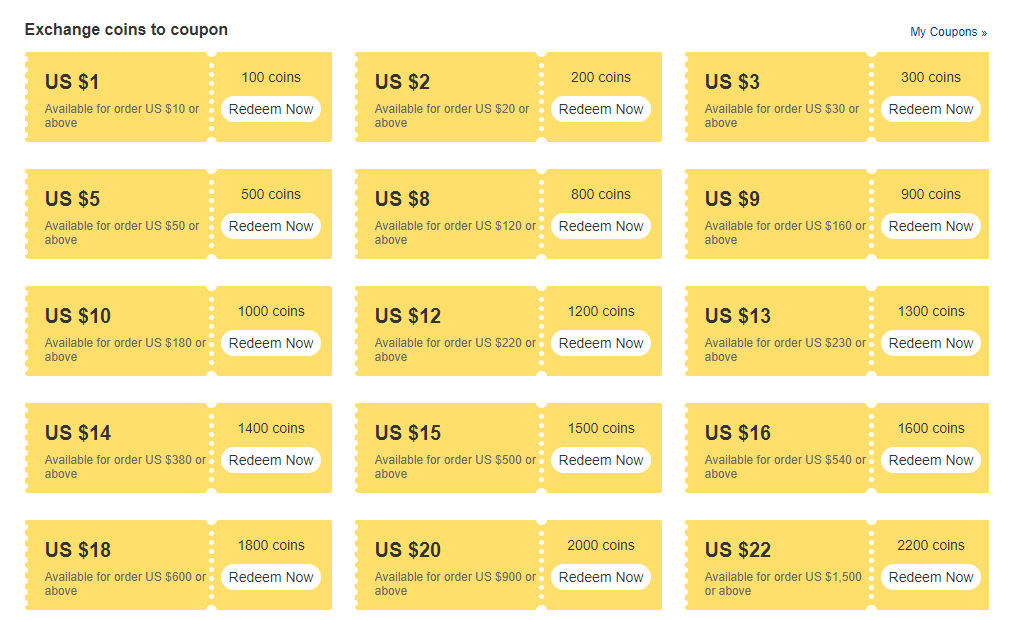 Invite friends
If you invite your friends to shop at DHgate, you can get discount coupons.
Just log in to your profile on the mobile app, look for the "Earn Coupons" section and share the coupon with your friends. Each friend who accesses DHgate through your link will earn you points to reach 100% and get the coupon.
Each user can only help you once per task and three times per day. You will get one coupon per minimum purchase amount with an expiration of seven days after you receive it.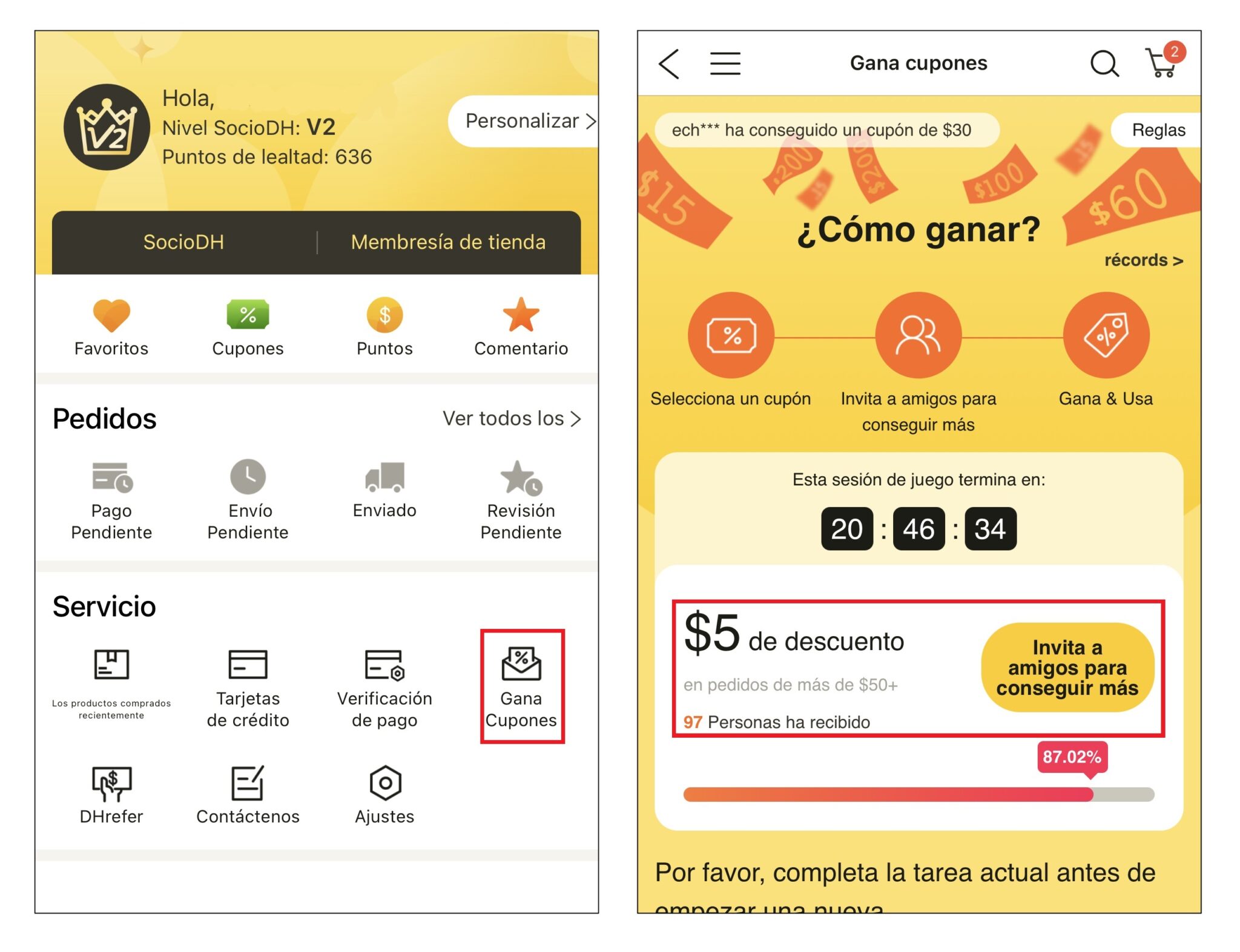 Group buying
If you want to shop with friends on DHgate you can also benefit from a small discount. Just access the collective buying section of the app. You will see the products that can benefit from group buying and how many buyers you need to reach that price.
Start a group buy by completing the payment, share the group buy with your friends or wait for other users to join. If you get them to buy in less than 48 hours you will get your product at a discount, and if you don't, you will get your money back.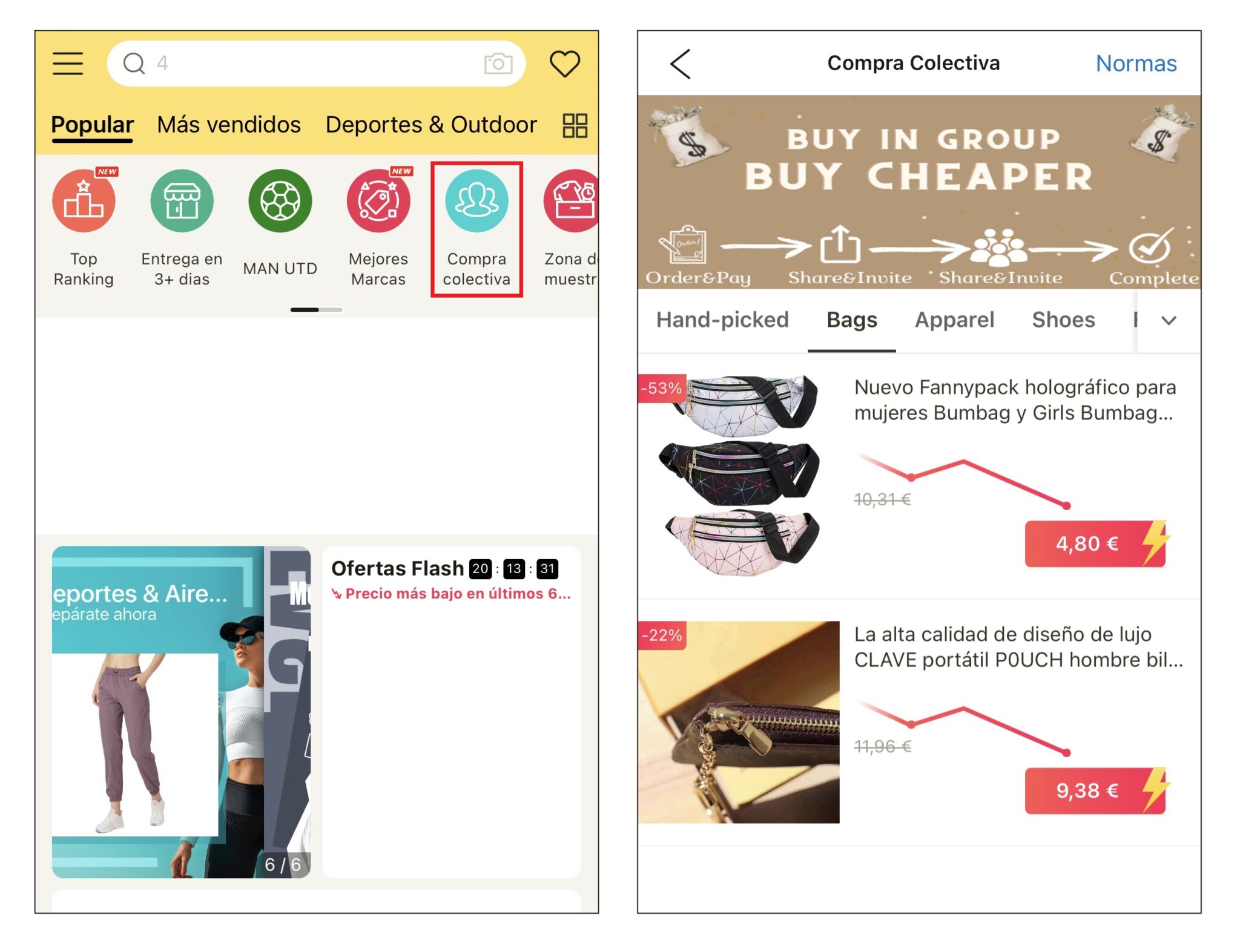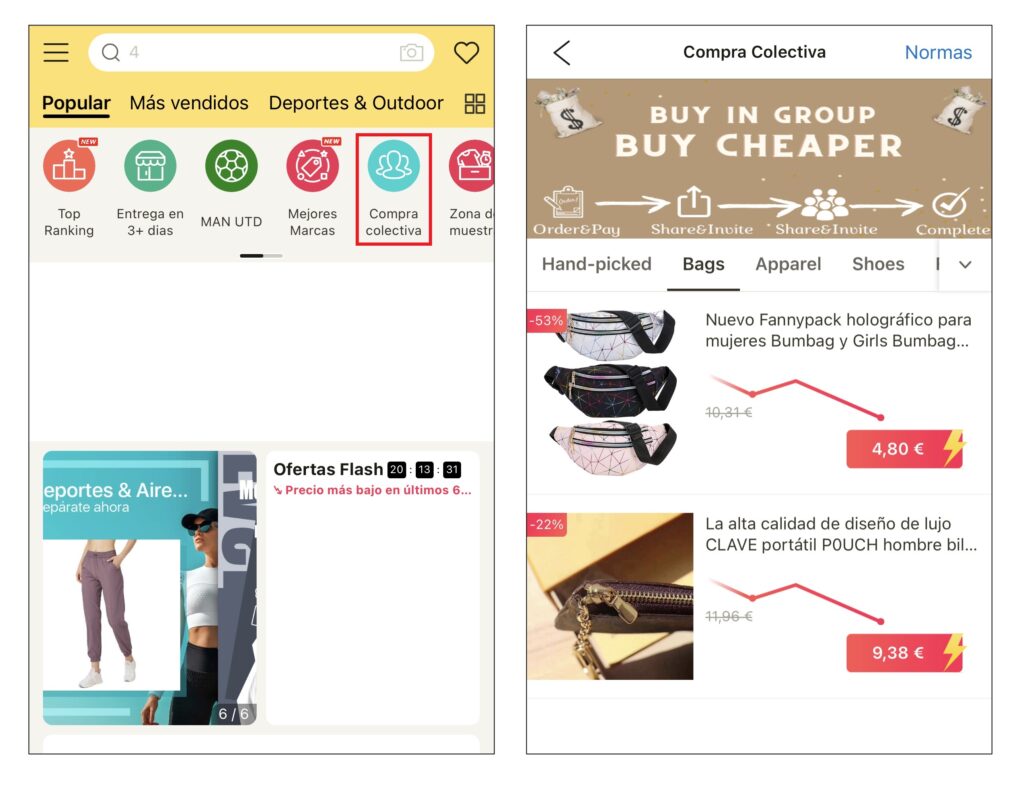 Please note that once the group buy is started, it cannot be cancelled. It will only be cancelled if you don't get enough buyers.