Who doesn't want a pair Dior sunglasses? Dior So Real, Technologic, Mohotani, Zeli, Abstract, or Wildly among other models, they are all great…and expensive.
On the other hand, AliExpress sellers offer some very cheap sunglasses that look just as good. You can find models for both men and women 30 times cheaper that originals!
These sunglasses aren't Dior replicas, they are great quality white label brands. Customers seem to be very happy with their quality and with their price. Can you imagine getting a pair for 10€ when originals can go for 300€? Yes, dear readers, we are talking about one of the biggest bargains in AliExpress. Let's find them :).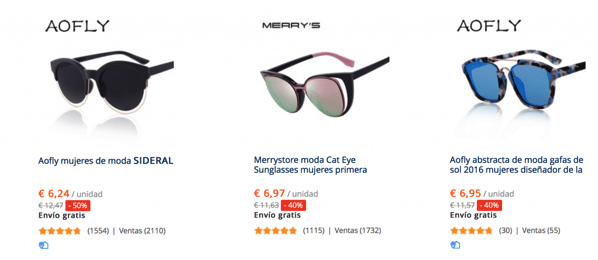 How to find Dior style vintage sunglasses in AliExpress (watch out with replicas)
Dior, founded by the now deceased French designer Christian Dior, is one the of the most famous luxury brands (handbags, sunglasses, jewelry…) of the last century, with tons of celebrities making them their choice of sunglasses. There is a few ways to find them through the AliExpress search tab, let's take a look.
There aren't any originals in AliExpress and white label ones are hard to find. So here are some very well rated shops where you can find similar models.
The best shops to find vintage glasses in AliExpress
To make sure you are making a safe purchase, here are six of the best rated sellers. Next to the shop (you can click on the link to see their glasses) you can see the shop's rating. Remember, from best to worst: crowns, diamonds and medals.
Did you find any other shops with positive reviews? Do you know another seller offering Dior style sunglasses? Tell us about it.
Are you looking for a specific style? Other models inspired by Dior for sale in AliExpress
If you are looking for a specific style, you are in luck. Chinese sellers have it all and offer tons of models. Among them, you can find "cat eye sunglasses" like the ones Rihanna uses. They are very fashionable and are known for their exclusivity and eccentricity. This model rethinks the traditional design completely by adding frames on the top section. You can find tons of them in all kinds of colors in AliExpress. Another celebrity you might have seen wearing them? none other than Olivia Palermo.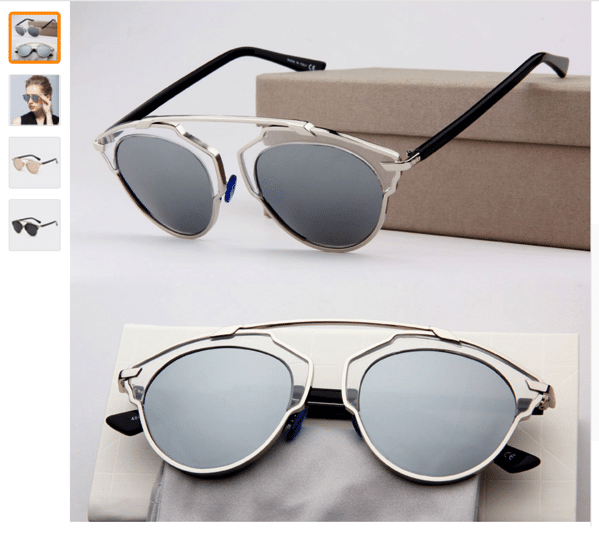 Let's keep talking about famous people, this time superheroes. Tony Stark, more commonly known as Iron Man, can also be seen sporting Dior glasses, the Technologic, which can also be found in AliExpress. Don't miss out, you can get them for 10€ and free shipping!
But these aren't the only famous people wearing Dior… Lolawolf (Lenny Kravitz's daughter), Lupita Nyong'o, Kendall Jenner, Chiara Ferragni, Emma Roberts or even Anna Dello Russo can be seen wearing them on a sunny day. Let's take a look at the best acronyms to find these models (remember, there's not replicas):
What about the quality of these sunglasses? Check the product description for UV 400 protection
The thing to keep in mind when you are getting cheap sunglasses is, they are never going to be like a pair that cost 300 euros. Nevertheless, Chinese brands in AliExpress tend to be very good quality.
Make sure you pick a good seller and the glasses you choose offer good sun protection. Your eyes are super important. If you find a seller that doesn't mention protection UV 400 in the product description, make sure you ask them directly what kind of protection the glasses have.

In any case, do make sure you choose a good seller to avoid any problems with your purchase.
If you follow the steps we mentioned above, you shouldn't have to worry about it, AliExpress has some pretty good offers, so chances are, you will find what the glasses you are looking for.