How to access the Dropshipping Center: you can easily access it by installing the AliExpress Dropshipping Center Chrome Extension or clicking here.
The AliExpress platform is known for having millions of products at very low prices. That's why creating an online business through dropshipping is still a good option. However, finding products worth selling and reliable sellers is the challenge.
Everything will be easier with the new dropshipping center that AliExpress has launched, which you can access through this link. In addition to finding featured products for dropshipping, you will also be able to get sales information. We explain more below.
What is dropshipping?
Dropshipping is a system that allows us to sell products (usually online) without having stock. The supplier sends it directly to the customer, which saves costs and time. It has become increasingly common to see online stores created through dropshipping products.
Although there are many wholesalers that can offer dropshipping service, we find that AliExpress is the easiest way to get started, as it's an easy-to-understand platform. The only problem it had, so far, was finding reliable sellers who could do this process.
Just any AliExpress seller isn't enough for dropshipping. Ideally, you must hide the seller's data both on the outside and inside the package. Some sellers even offer the possibility to customize the product or the packaging.
What is the AliExpress Dropshipping Center?
Until now, to find suppliers who could dropship we had to spend a lot of time looking through AliExpress stores for sellers who agreed to use this system. But besides finding a seller that dropships, it's also important to see if their products have good reviews and sales.
That's why AliExpress has created the DS Center: A center where you can find all the tools you need to start selling products with dropshipping: selection of featured products, product search, data analysis, and more.
To access it you just need to log into your AliExpress account through your computer and look under the "Dropshipping Center" section. You can also access it by clicking here. 
These are the great advantages it offers:
Product recommendations
The AliExpress DS Center is designed to improve your skills as a seller. Thanks to the platform's algorithm, you can find the best products to sell. First, you'll have to select the country where you're going to sell the products, and then you'll see what sells best in your region.
You can filter the search through multiple parameters: category, keyword, free shipping, videos, and local stock, among other options. We can also go to the "Top Selection" tab where the platform will offer us a selection of products with imminent growth potential.
You can also search for products by image search or by sorting the results by price, rating, or sales.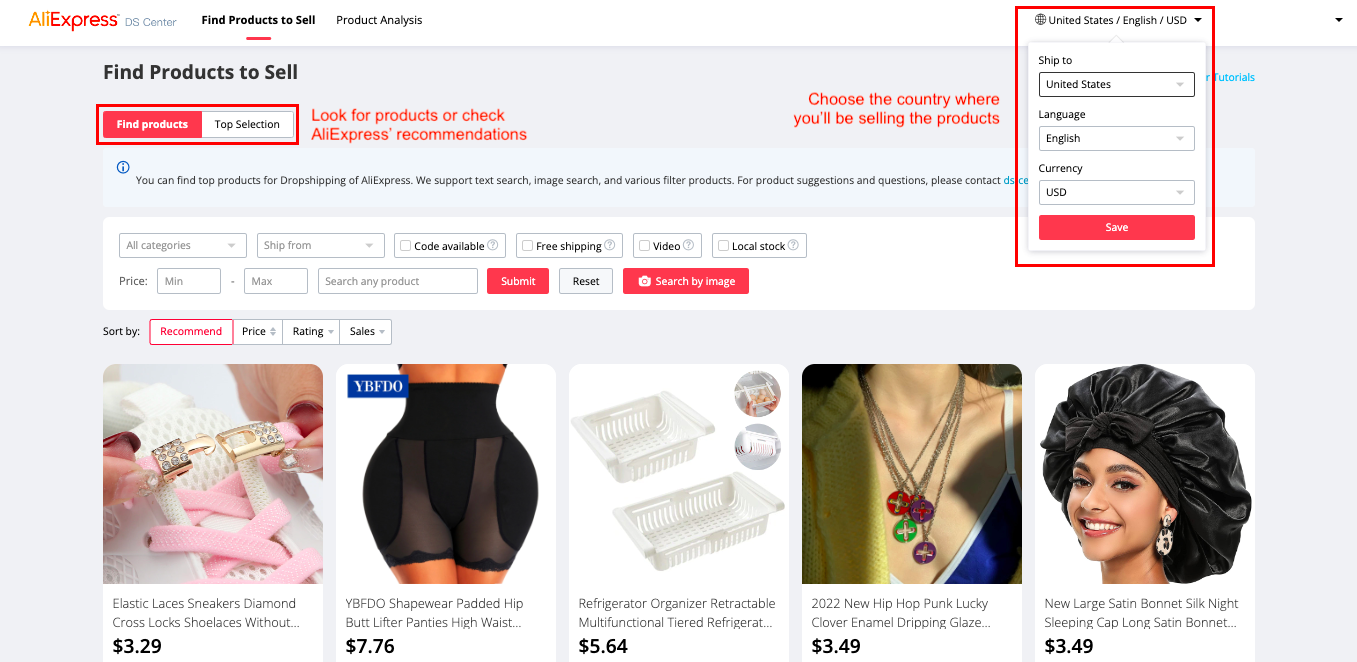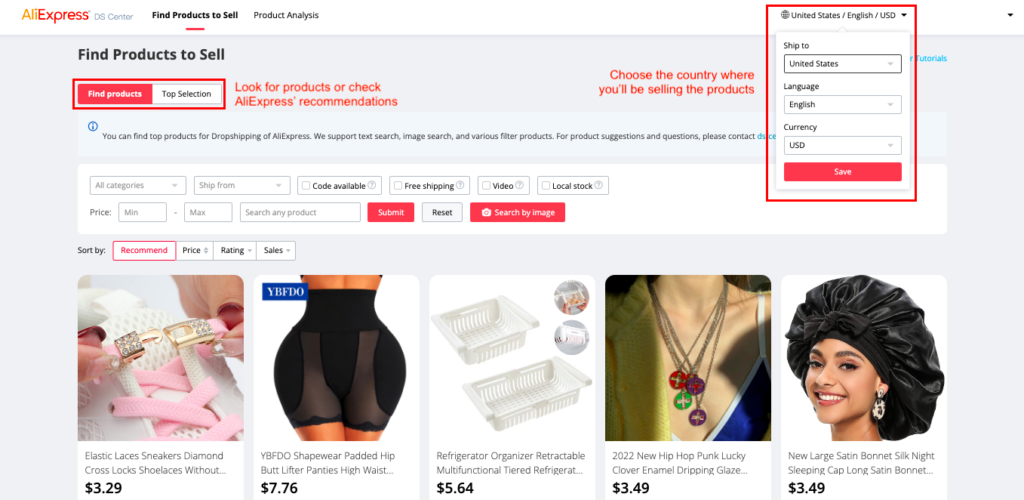 Product analysis
Another advantage of the AliExpress dropshipping center is that they provide users with a tool to analyze the products they want to sell. This is very helpful when it comes to deciding the best option for your business.
Just add the URL of the product you're interested in and AliExpress will show you a list of similar products for you to compare price, shipping cost, number of sales, shipping, and seller rating.
You can also see other interesting product data through the search tool we just talked about. If you hover your mouse over the different products you can see the growth of the product in the last 7 days and the ratings of other buyers.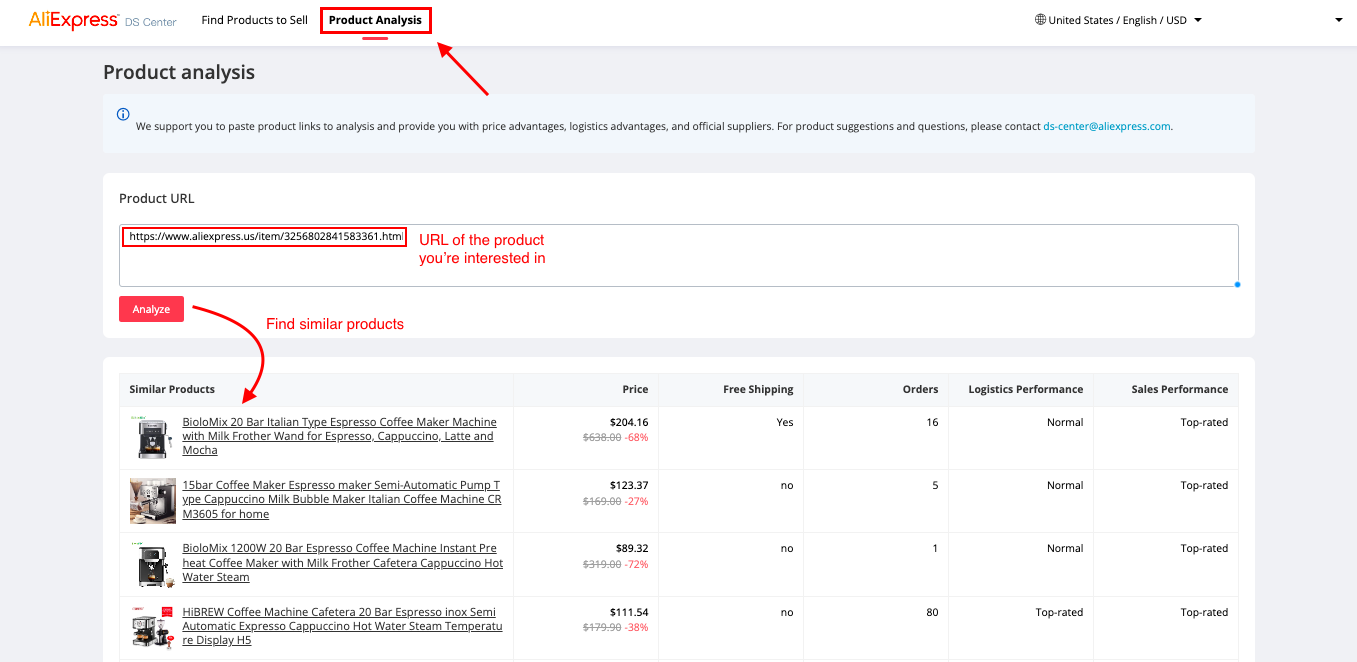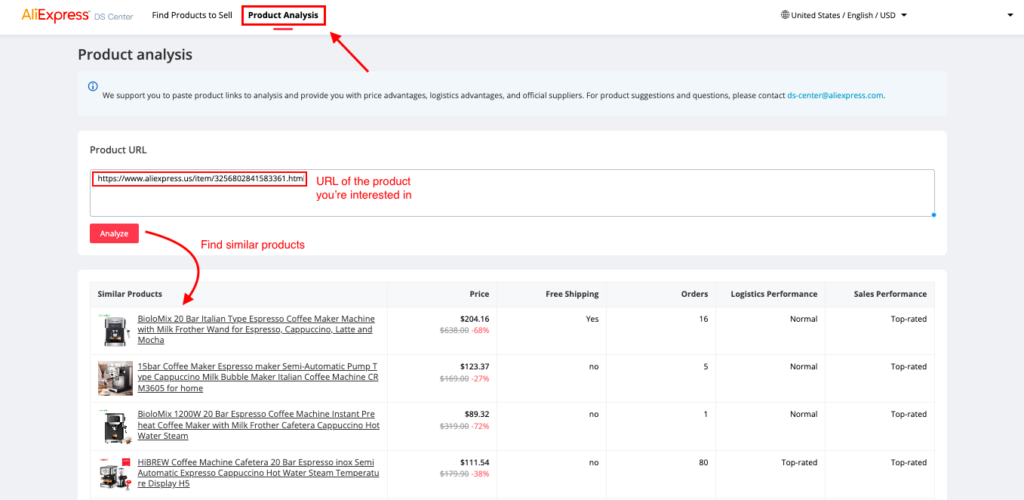 Finding reliable sellers
To find reliable sellers of a specific AliExpress product, you'll have to follow the same steps as when analyzing a product. Copy the URL in the "Product Analysis" section, and then you'll see a list of similar products from other stores.
If you are still not sure which product you want to sell, filter the product search through "Find Products to Sell". Hover your mouse over each product to review the seller's rating on whether the product is as described, the communication with the seller, and the shipping speed.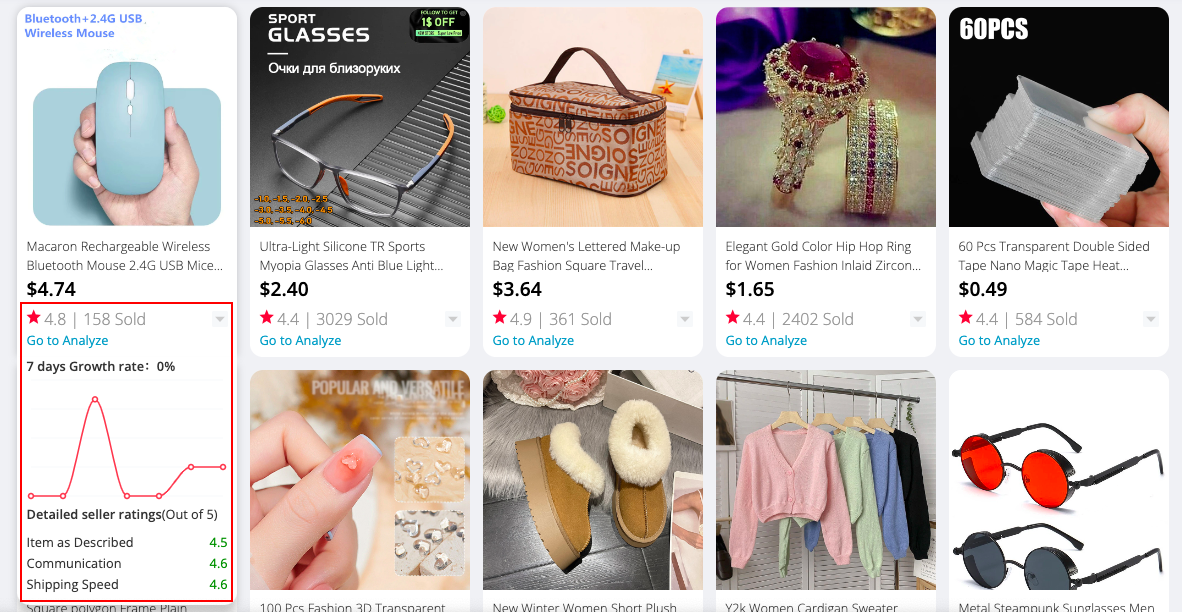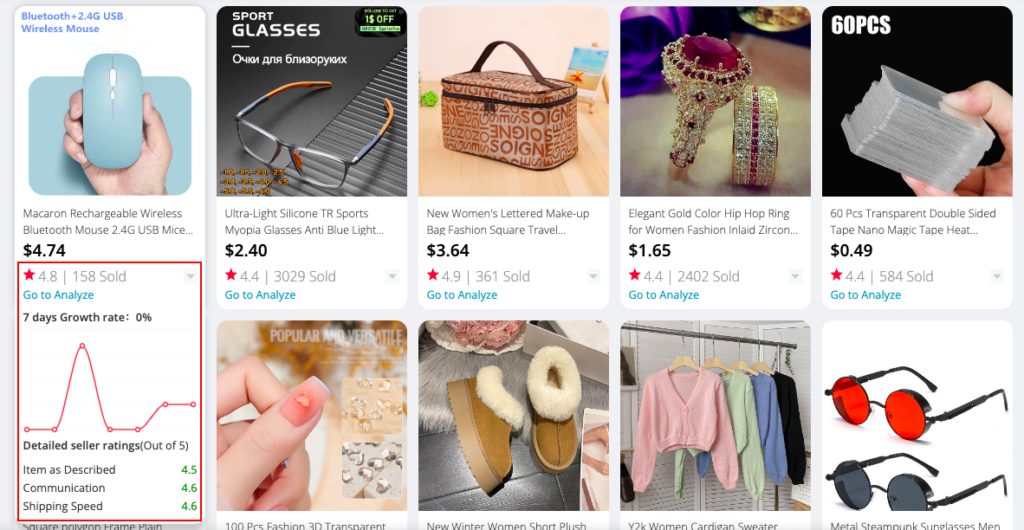 How to increase your dropshipping margin
Main article: Letyshops review
When selling through dropshipping there are many hidden fees: web maintenance, extensions, domains, etc.; so it's always a good idea to save as much money as you can. On AliExpress there are occasional discount coupons, but what we've found works best is to save money with Letyshops.
This is a cashback platform that gives you back part of what you are spending on your purchases, not only on AliExpress but also on more than 3,000 online stores. You can get back up to 5% and also benefit from special promotions where the number of cashback increases.
Just access AliExpress from this link. Now, if you prefer not to miss a single discount, it's best to use their extension. It allows you to apply the cashback without having to go through their platform and with the assurance that you won't lose your money (you can install it here).
AliExpress DS Center: Is it worth it?
After analyzing the AliExpress Dropshipping Center, we think it can be a good tool for those people who are thinking about selling AliExpress products and are also looking for products on the rise. Even so, we must mention that many more tools are needed to discover a good market niche.
But this is a free tool and the information is transparent, so it's already more complete than other eCommerce offers since they tend to be more private when it comes to providing data on the most sold products on their platforms.
We invite you to access the AliExpress dropshipping center from this link and take a look. It's also worth changing your location to check out more products with good sales numbers to help you catch new ideas for your business.