Urban mobility is changing and it will be increasingly common to use a scooter or bicycle to move around the city. Cars are going to be in the background as municipalities increasingly facilitate circulation in ecological methods of transport.
Although the Xiaomi scooter is the most famous, there are cheaper scooters or with superior features and most are of Chinese origin, that is why AliExpress is one of the best pages to find low-priced scooters. Read on to find out which are the best options according to your needs.
Scooter or bicycle: which is the best option?
If you are thinking of buying a scooter, you may have doubts about whether it is better to buy a bicycle. Without a doubt, bicycles are more popular, almost all of us have used one so we already know how they work. If you want to move around the city easily, the best option is a folding bicycle, preferably electric. However, they are quite expensive.
The great advantage of scooters is that they are very low-priced: you cam find them for less than half the price of a folding bike. As they are electric, we will not get tired during the journey. And if the rain catches us, we will only have to fold it to get on public transport, it will not be a burden because they are light.
Cheap and professional electric scooters on AliExpress. Which are the best brands?
In this online sales platform we can find specialized and economic brands of scooters, so when buying a new scooter it is worth taking a look at the different options. We are going to focus on electric scooters for adults, specially designed to move around the city. We will guide you through our favorite brands, but you can find more by clicking here.
Xiaomi Electric Scooter
The Xiaomi scooter is undoubtedly the king of scooters. Its Xiaomi M365 model is one of the best sellers. This brand is famous for the good value for money of its products, so when choosing a scooter, many have opted for this brand over other less popular ones.
Their best-selling model is the Xiaomi M365 and M365 Pro and they can be easily found on AliExpress in this link. They are ideal for urban environments because they are very solid, also, they fold up taking up little space, and have a range of up to 28 mi.
Xiaomi scooters can be controlled from the mobile application and the Pro version includes a practical screen to view useful information for driving. Its speed is limited to 15 mph, as many countries require a license plate if the speed is higher.
They are scooters with 8.5 "wheels and eABS regenerative braking. Among their negative points we could say that it is difficult for them to function on steep slopes (they go up if the slope is of up to 20%), they support a load of up to 220 pounds and their wheels tend to puncture, especially if they are not properly inflated.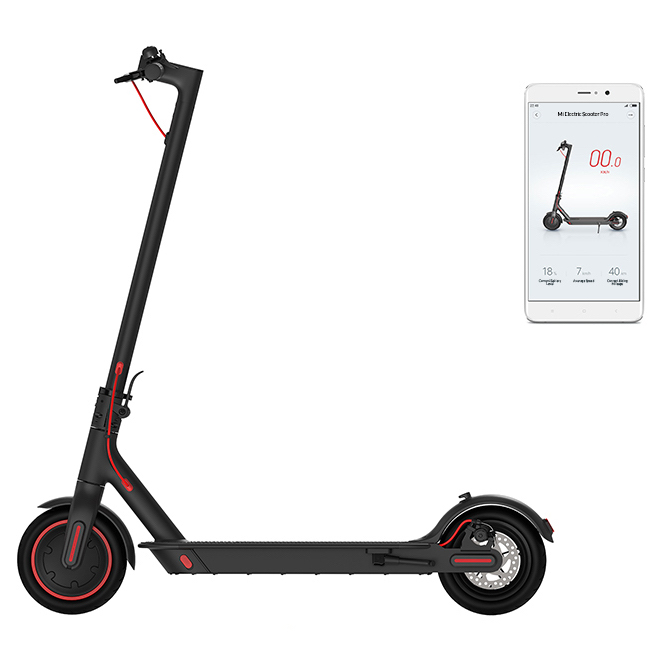 Ruima Electric Scooter
But there is life beyond Xiaomi. In fact, among the best-selling scooters on AliExpress, we find very interesting models such as Ruima scooters, which have an urban style very similar to Xiaomi but with some very interesting new features.
Ruima electric scooters, which you can find here, incorporate all the improvements that we hope to see in Xiaomi scooters, such as a shock-absorbing double suspension, or a folding handlebar to easily store your scooter.
These scooters are more powerful than those of Xiaomi, they can withstand a maximum load of 224 pounds, and their autonomy increases to 35 mi., with a maximum speed of 28 mph. The engine is more powerful and it shows on the slopes. You will be able to see all the data through the LCD screen.
Although it is little known globally compared to the great rival that Xiaomi represents, this brand is making a niche for itself among scooter fans since it has all the advantages of Xiaomi (foldable, light, easily transportable …) but its improvements allow a comfortable ride.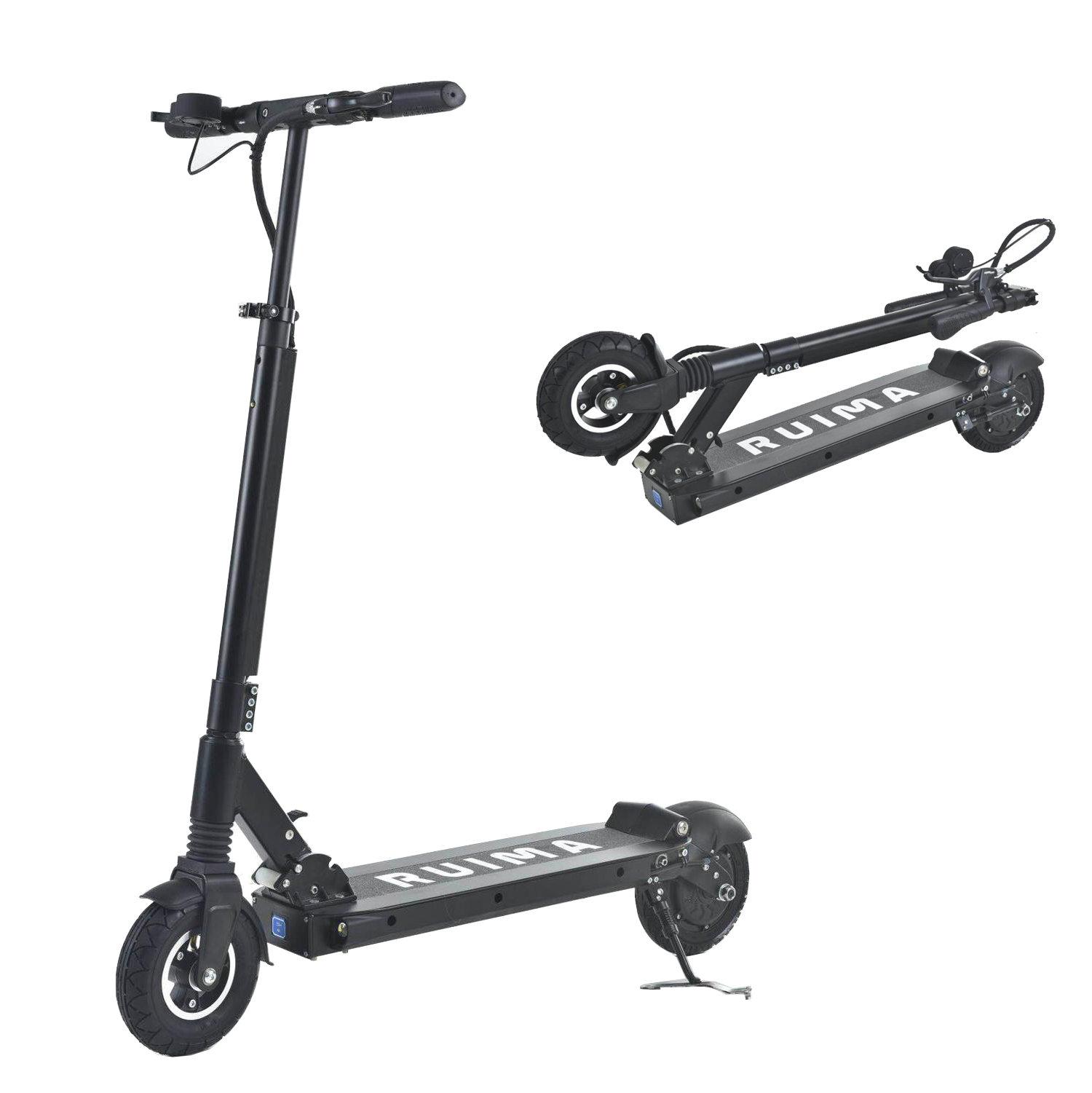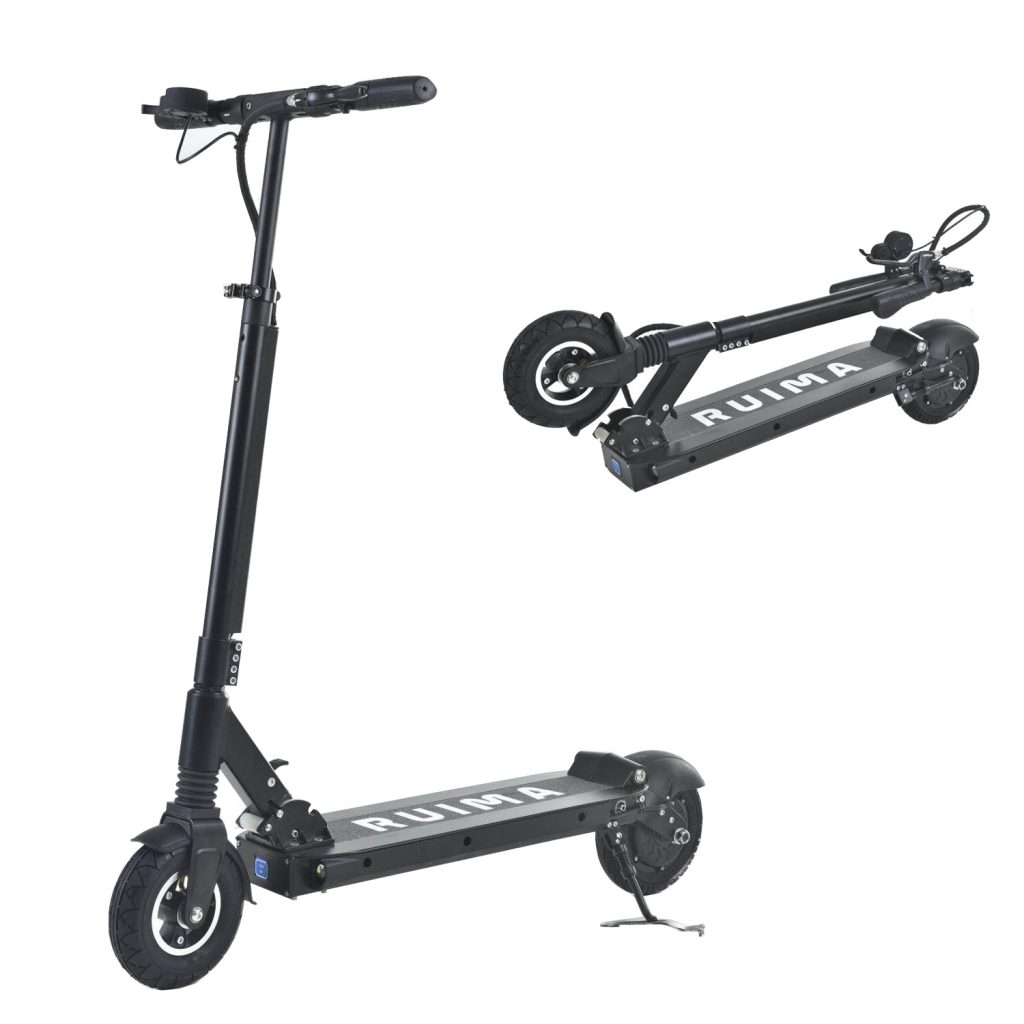 Kugoo Electric Scooter
If you want a low-priced and reliable alternative to Xiaomi scooters, Kugoo electric scooters are a good option. This brand specializes in urban scooters to move easily around the city. They have a very reasonable price. You can find them here, although they also have an official store on AliExpress that you can access through this link.
You can find compact models ideal for use in the city. They have very similar characteristics to those of Xiaomi, even their engine is more powerful and can reach 18.5 mph or support a load of up to 260 pounds. They also have a powerful front light, solid wheels, and front shock absorber.
You can also find professional electric scooters. In this case, you will find personal mobility vehicles with powerful engines, 10″ wheels that exceed 18.5 mph, and have superior autonomy. But above all, they will surprise you with their ability to climb hills and their double suspension system.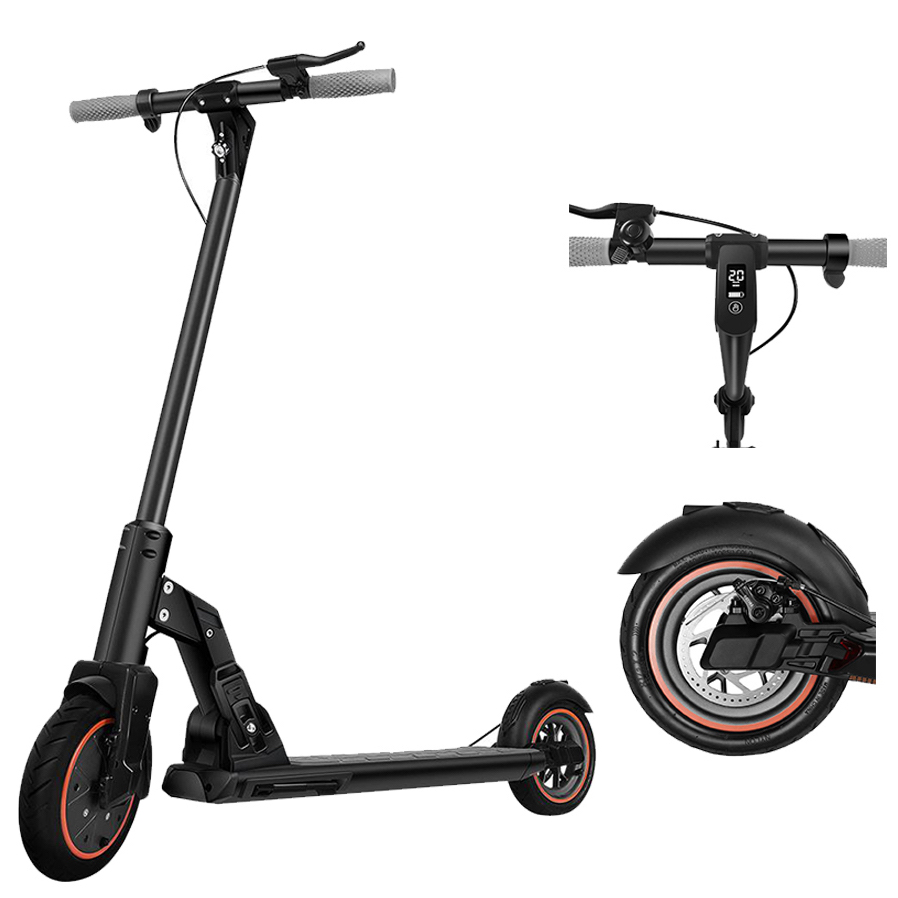 Janobike Electric Scooter
If you are looking for a professional sports scooter with features that meet your needs, in addition to those of Kugoo you also have other options such as the Janobike brand electric scooters that you can find at this link.
These are powerful scooters. We could say that they are practically like electric motorcycles but cheaper. Their powerful motor allows them to reach a speed of more than 40 mph, so it is important that you look beforehand at the regulations of your country in relation to this type of scooter and take precautions before using it.
Obviously, when a scooter reaches these speeds it needs to have better features than the previous ones. Their braking system is based on double oil brakes at the rear and front, they also have a double motor and good damping system. They can withstand a maximum load of 440 pounds, overcome slopes of up to 35º and their autonomy is 50 mi.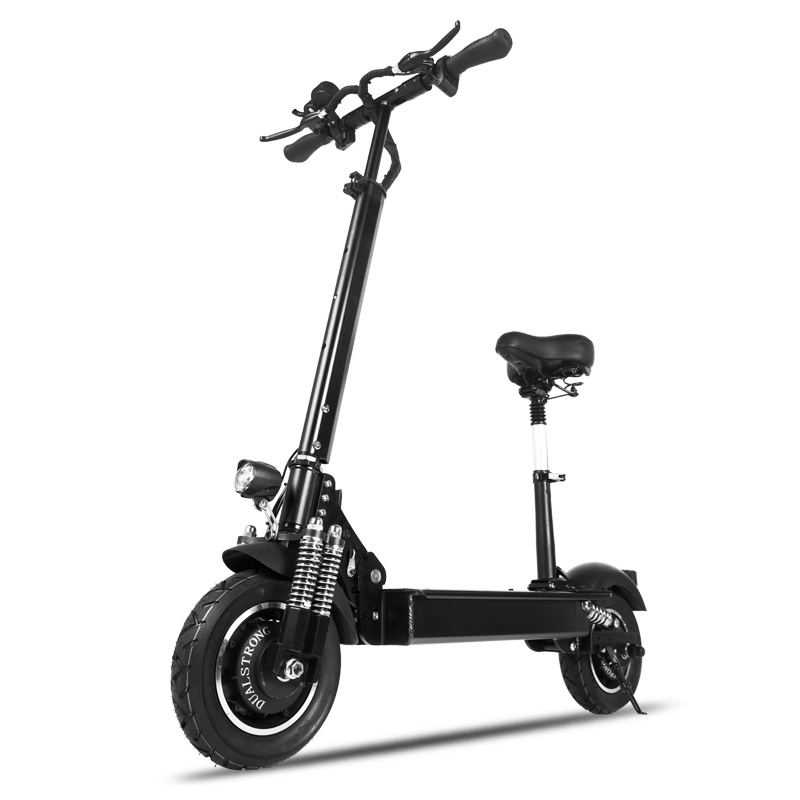 Kaabo Electric Scooter
If you are looking for a sporty, powerful, and compact scooter, Kaabo has some models that may interest you. You can find them by clicking here. As you can see, at first glance they seem very light but they have all the power you need to get the most out of your scooter.
You can choose between hydraulic and semi-hydraulic brakes. They have a 1,000 W double motor with a total power of 2,000 W. With this type of motor, your scooters can reach 40 mph since they have no speed limit.
Thanks to their large capacity battery, they can reach 62 mi. of autonomy depending on the model. For your safety, they have hydraulic braking and shock absorption system for a comfortable and stable ride. They also have great quality finishes.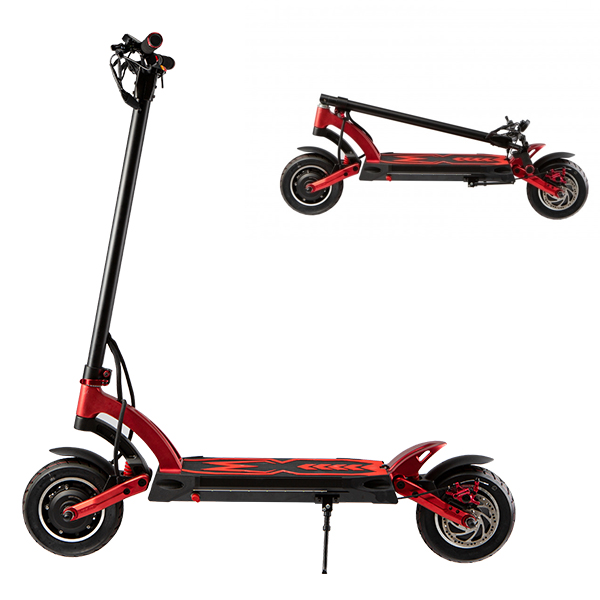 FAQ about electric scooters
Before buying a scooter, it is normal to have questions, since it is an important decision in which we are going to invest an important amount of money. We will answer the most frequently asked questions so that you can correctly choose your next electric scooter
Is it better to install solid wheels to avoid punctures?
If you have been researching about electric scooters, surely you have come across a fairly common comment, and that is that the wheels can easily puncture, which is why many people choose to change the standard wheels for solid wheels.
However, unless the scooter you buy has a good damping system, it is better to leave the wheels that come with the scooter. To avoid punctures it will be enough to control the pressure of the wheels, for that we recommend purchasing a portable electric inflator like the ones you can find here.
On my journey I have steep slopes, how do they behave on climbs?
If you have steep slopes on your journey, we recommend purchasing a more powerful scooter such as those of the brand Kugoo or Janobike, since urban-style scooters such as Xiaomi can only work on slopes of up to 20º.
Are there any driving regulations on scooters?
Each city and country applies its own regulations for circulation and use of scooters. Before acquiring one it is important that you look at which regulations apply in your city and thus take into account what the limitations will be.
What kind of maintenance does an electric scooter need?
So that your scooter is like the first day it does not need much maintenance. The main thing, as we have already said, is to check that the wheels have the correct pressure level and charge the battery so as not to get stranded in the middle of the journey.
Can the scooter be used in the rain?
Most scooters can handle splashing water, but it is not recommended to use them if it's raining, as the wheels can slip. However, most scooters fold easily so in case of need you can return by public transport.
Is it easy to use a scooter?
Using a scooter is much easier than you think. You just have to get on top, impulse yourself and press the accelerator to continue driving. In a while you will have gotten used to the scooter and you will have more and more control over it.
Are bumps very noticeable when riding a scooter?
Street style scooters like the Xiaomi scooter have a very simple damping system, so when riding it is easy to notice the bumps. If you are going to drive on very uneven terrain and it is not an urban environment, we recommend looking at scooters with off-road wheels.
Our recommendation: is it worth buying an electric scooter?
Without a doubt, electric scooters are a revolution. They have a fairly reasonable price and make an ecological and fast method of transport available to anyone, which allows us to move freely around the city. Therefore, we do recommend buying an electric scooter.
Although bikes are still a great option, they take up more space and electric bikes are quite expensive, making a scooter a good option. It makes your life much simpler, since they can be folded and that makes it very easy to store them in the trunk or at home.
If you have questions about how AliExpress works, in our blog, in addition to helping you with our recommendations, we also have a section with tutorials where you will find the best tricks and tips to buy on this online sales platform.
What about you? Are you thinking of buying an electric scooter? We would love to know your opinion, so don't hesitate and leave your comments below.