Farfetch is a well-known online store specializing in high fashion and luxury fashion.
This, among other things, has aroused the curiosity of many of you about the store: Is it reliable? Are they original products?
Today we are going to tell you everything we know about the site and how it works so that you can draw your own conclusions and decide to buy.
What is Farfetch and how does it work?
Farfetch was born in 2007 attacking the luxury fashion segment. It does not have any physical store, it is just an intermediary platform where customers come into contact with designers and brands.
What's more, Farfetch doesn't even have warehouses: when you buy a product from the site, it is sent directly by the seller, who can be located anywhere in the world. For example, if you decide to buy an item from Jacquemus, it will be shipped from the brand's warehouses in Paris.
Apart from that, its operation has no mystery: you browse, select, and make the purchase you want to make. It's as simple as that.
Selected brands
Here is a selection of some of the luxury brands you can find on Farfetch:
You can find all these names (and many more) in one place: Farfetch.
Reviews about Farfetch
Below we will discuss some of the most important aspects of Farfetch:
Variety
Rating: ⭐⭐⭐⭐⭐ (excellent)
Farfetch's catalog is very diverse, where you can find all kinds of classic products and the latest fashion trends.
There are currently more than 1000 boutiques and partner brands from all over the world selling their products on Farfetch. There are hundreds of products distributed in different categories such as bags, pants, shirts, dresses, shoes, sneakers….
And the variety does not discriminate between gender or age, as the children's and men's categories are as complete as the women's ones.
Pricing
Rating: ⭐⭐⭐⭐ (pass)
Some of the products sold on Farfetch are from luxury brands, the most well-known in the world, and they are obviously expensive. This is not a surprise.
However, the store also has a presence of brands that are more accessible to a larger number of buyers, such as Adidas or Nike. That makes the price range very wide, at Farfetch you will find items under $100 and over $5,000.
Farfetch has two sections that need to be analyzed in relation to their prices:
There is a Pre-owned section: in this one it is important to check the price, as sometimes it can be similar to buying it brand new.
There is a Sale section; in which products are added daily, with more than 10,000 right now. You can find products with discounts of up to 50%. You can enter to see the sales from here.
To access the sales before anyone else you can subscribe to the store's newsletter from the bottom of the home page.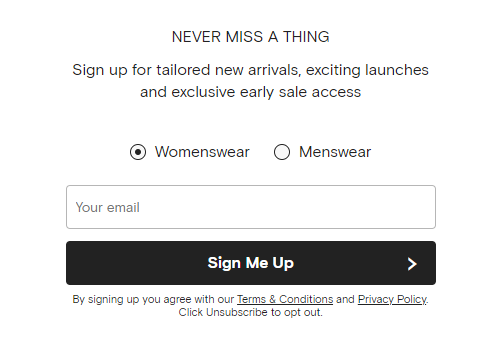 Shipping
Rating: ⭐⭐⭐⭐ (remarkable)
It depends a lot on the area you are located in and where the product is coming from so it is best to check the options you have available at the time you are in your shopping cart.
In any case, Farfetch offers three different types of shipping:
Express for most of Europe and the United States: products are delivered between 2 and 4 days after purchase. For the rest of the world, the products are delivered within 3-7 days. The cost of the service is higher.
Standard: products are delivered 2 to 6 days after purchase. There is a selection of products in the Pre-order section that give you this type of delivery free of charge.
Same day delivery and F90 delivery service, although this is only available in some cities.
The cost of shipping depends on the courier services they are sent on and the brand or boutique you are buying from. This is an aspect that the store could improve, establishing a guide of costs and delivery times by country and brand to better inform the customer.
In principle there are no major inconveniences when it comes to shipments that are made from one country to another that is very close. This situation changes when there is an ocean of separation and delivery times can be longer than they should be.
Shipping costs are also a bit high so we recommend taking advantage of this:
The free shipping possibilities whenever Farfetch offers them.
The Flat Shipping Fee, which is cheaper than usual and allows you to receive several products from different parts of the world as if it were a single shipment. To access this, you must reach a minimum amount that depends on your country (in the case of the United States it's of $250).
Mobile application
Rating: ⭐⭐⭐⭐ (remarkable)
The Farfetch app has a nice interface that allows you to browse through the different categories easily. It works in the same way as the web version, so you'll have no hassle shopping on the go.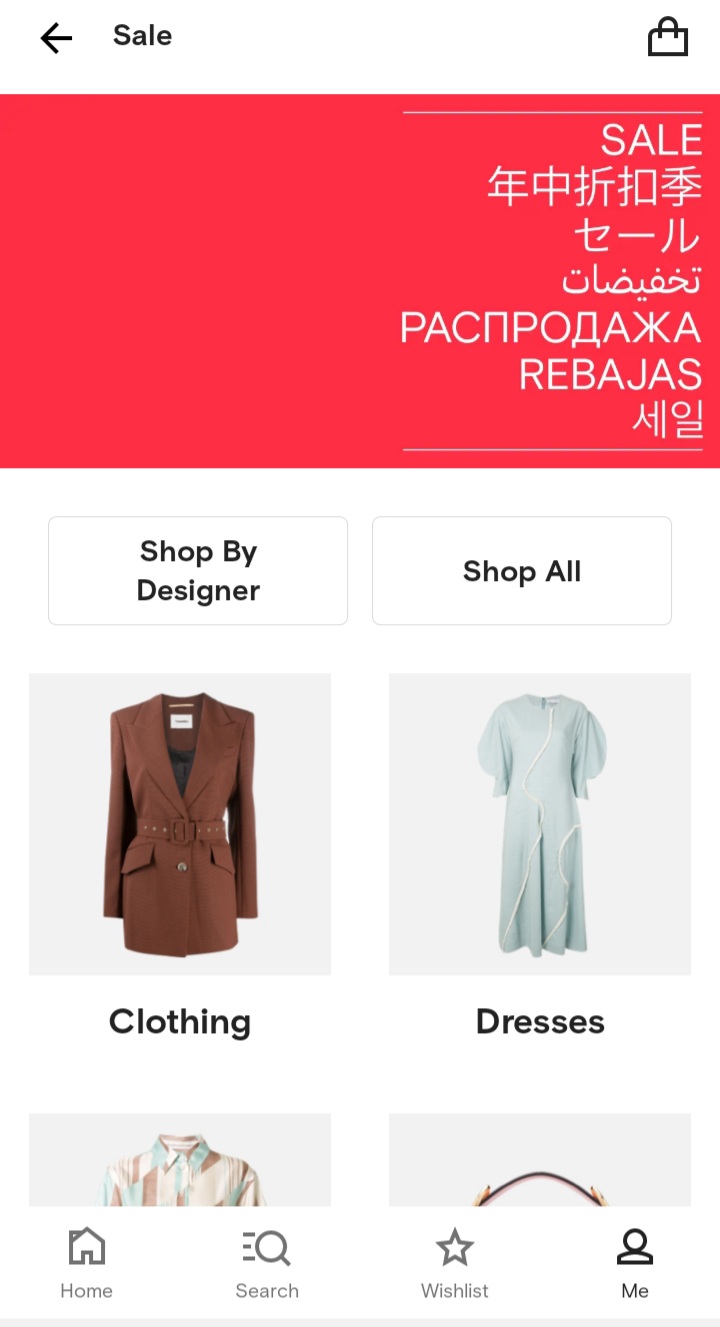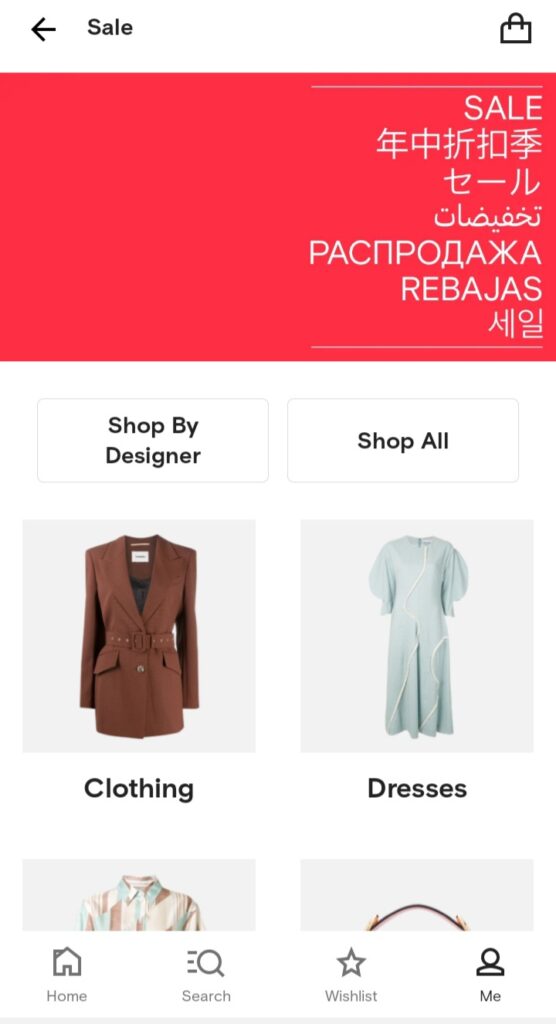 It has no other features but with active notifications you can find out about sales and site news immediately.
It is available for both Android and Apple devices. You can download it from AppleStore or PlayStore, enter your email here to get the download link or scan the QR Code.
Warranties
Rating: ⭐⭐⭐⭐⭐ (excellent)
This is a noteworthy aspect of the store. As they are still just an intermediary, Farfetch's added value is to ensure that the store's users will be satisfied with their purchase. That's why they offer a good refund and product return policy, regardless of which boutiques you shop at.
If the products you receive do not match their description or arrive damaged, you will need to contact Farfetch to initiate a return.
You will be allowed to make returns within 14 days of delivery and get your money back. It is therefore recommended that you try the product as soon as it arrives so that you don't have any major problems later. To initiate the return process, please contact our customer service department.
Customer service
Rating: ⭐⭐⭐ (pass)
Farfetch has several communication channels:
Email: customerservice@farfetch.com
Through phone number: +1 646 791 3768 (Available Monday to Friday 8am-11pm EST, and Saturday to Sunday 9am-9pm EST)
Despite this, buyers note that responses to their queries and questions are often delayed, especially when it comes to cancelled purchases. They always respond but sometimes it is not within 24 hours of sending the message, which is what they claim on their page.
Farfetch only works as an intermediary and has no relation with the lack of stock of the stores or problems with couriers/customers, but it is still an aspect to improve so that users feel more protected when shopping there.
If your doubts are general (types of shipments, payment methods, etc) you may find the answer in the FAQ section of the store. Visiting this section may save you the time it takes to communicate with the store.
Quality
Rating: ⭐⭐⭐⭐⭐ (excellent)
The store follows very high standards when recruiting its partners: they must meet several requirements related to product quality, security of purchase and speed of delivery.
That is why only the big brands are able to meet these parameters, thus ensuring that the products are of the highest quality.
Whether you already know the brand you want to buy or you want to try one you don't know, you can rest assured. If a boutique or brand joined Farfetch it means that the quality of their products is 100% reliable.
On the other hand, many of you may wonder if the items found there are authentic and we must tell you that of that there is no doubt. There are no replicas in this store.
Customer reviews
Rating: ⭐⭐⭐⭐ (remarkable)
Farfetch has around 80% excellent ratings from its shoppers, which puts it in a good place compared to other companies in the industry.
Customers are generally satisfied with the purchases they make, although this should not be a surprise considering the brands present, it is a good indication of the store's reliability.
The store's Loyalty Program is also positively valued. With it, you level up when you shop and get benefits such as discounts and gifts.


To learn more about this program click here.
The issue that raises the most complaints is cancelled purchases. Sometimes it happens that you buy a product and days later the brand contacts you to tell you that it is no longer available.
There is no problem with refunding the money in those cases but they could keep the available stock updated so as not to offer customers products that are not available. This would save problems for the brand, Farfetch and the customer.
Conclusion
The store is reliable and the products are original. If those were your main issues to decide if to buy here, you can relax and do it because it is very likely that you won't have any inconveniences. The company has been around for more than 10 years and there is no reason to doubt it.
But does it have room for improvement? Yes, of course it does. In principle, we believe that the improvements could be related to the customer service they offer. Although it is sometimes the fault of the boutiques, Farfetch must assume its role as an intermediary during the entire shopping process.
If you are interested in Farfetch, maybe it's because you have no problem with spending such sums of money, but we still recommend you to check the sales from time to time as interesting opportunities arise.