Fender started making guitars in the 40's and ever since, it has become one of the best known brands for both electric guitars and bass guitars, with record breaking sales.
It's known for models such as Telecaster or Stratocasters. Models that have inspired Chinese guitar producers to make their own which may be cheaper, but are still great quality.
Does it still make sense to get second hand Fender?
Not really… Let's be honest, it's not going to sound exactly like an American Fender, but if you are looking for a pretty good guitar (you might want to change a few pieces), why spend all that money on a second hand guitar, when you can get a new one for less? Just take a look at some of the prices in AliExpress, here.
How to find Fender style guitars in AliExpress
If you are looking for Fender style guitars keep in mind that you won't always get good results for "fender guitar". In fact you will tons of results for parts and other products along with the guitars. Furthermore, because they aren't original, sellers can't use the word Fender in their description. 🙂
This being said, using the name of models seems to be more acceptable, so if you are looking for a Telecaster style guitar, all you have to do is type the name in the search tab.
You can do the same for other models:
The most important thing is…
Sorting results by sales. Why? Because this is the best way to tell if the guitar is good quality or not. In any case,  keep in mind that these guitars are super famous worldwide, so there are tons of similar models. Furthermore, you can really find some incredible prices.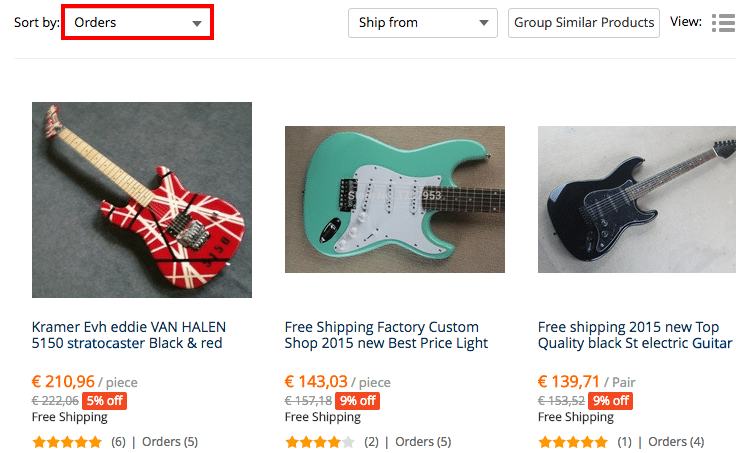 And if you prefer Gibson guitars, take a look in AliExpress, or our AlixGuide to find Gibson guitars online.
The best shops to purchase Fender guitars in AliExpress
Taking into account sales, we've found some shops with good prices and quality. Furthermore, Chinese sellers usually offer free shipping.
This being said remember that guitars are bulky items. Some bloggers have told us they've had to pay 30-35€ for customs, while others have received it without any extra charges. In any case, make sure you choose a seller you can trust. These are some of the ones we'd use:
Unlike other shops, there aren't any top rated shops offering Fender guitar. Nevertheless these are still great ratings so quality shouldn't be an issue. But again, remember to check the sales. Having any doubts? Contact the seller.
Why is it a bad idea to purchase a product from a seller with no reputation?
It could happen: You found a Fender style guitar you like, such as a Fender Telecaster or Stratocaster, in a shop that has no reputation or sales. There is a few reasons for this (like the shop still being fairly new), but you still might want to be a careful more wary about it.
The way we see it, with one diamond onwards the shop can be considered very good, but there are some with fewer rating that can still give you good results. Why? Well they might just be new to the platform, so customers haven't had time to rate their products yet. However, sellers without reputation are the usually offering replicas.
Did you decide to get one? Want to tell us about it? Leave us a comment, we love hearing from you guys. Also, you might want to take a look at our guide on how to find music instruments in AliExpress.