Shopping on AliExpress is quite intuitive. But if you don't know how to use the discount coupons in this platform, don't worry! Below, we'll review how to use them, combine them and save more money on your purchases.
In our guide to AliExpress coupons, we also explain where you can find them and what types of coupons there are.
AliExpress Coupons
These coupons are applied to the shopping cart. They're usually discounts that are obtained by exchanging coins for coupons or simply as a gift from AliExpress. Therefore, for them to work you only have to reach a minimum purchase amount, as indicated in the conditions of the coupon.
How to use them
To use this coupon, just click on "Claim now". Add the products to the shopping cart. If the coupon is active, and you meet the conditions of the coupon, the money will be subtracted from the basket automatically.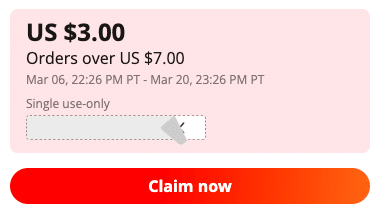 If you see that the discount coupon is not added, it's either expired or you don't meet the conditions for the discount to be applied.
You can combine them with seller coupons and direct coin discounts. But that's not the case with promotional codes, which we're going to tell you about now.
AliExpress coupon restrictions
There are some coupons that only work if certain conditions are met. Check the coupon description and see if any of these restrictions are listed:
Can only be used on the first order

Only works with selected items

Only suitable for certain countries and/or shipping methods

Can only be applied if you buy in the app
Promotional codes
These are the most popular. It's the typical discount that is added to the shopping cart through a code. It applies to all products, but you must also meet some conditions such as minimum purchase amount.
Some sellers also have their own promotional codes that are only valid when shopping in their stores. These usually involve having to reach a certain amount in the basket to be able to use them.
How to use it
It's easy. Once you have the code, you just need to add your favorite products to the cart. To use it, all you have to do is enter the discount code before checking out.


Promotional codes work the same way, you have to copy the code and add it to the shopping cart. It'll only work if you meet the conditions indicated by the seller.
Why doesn't the AliExpress code work?
If it doesn't work, there may be several reasons:
You haven't reached the minimum purchase amount. Check the conditions.

The discount code has limited units and is already sold out.

The code you have entered is invalid, misspelled, or doesn't exist.

You have already used it in another order.

There are other restrictions.
Seller coupons
The coupons or seller codes only work for the products of a specific store. They always have a minimum purchase amount, and it's very common that the seller has several coupons for different amounts. In that case, choose the one that is closest to what you plan to buy.
Sellers also offer other (non-coupon) discounts such as:
Direct discount for reaching a certain purchase amount.

Additional discount for buying more than 1 unit of the same product.

Seller promotional codes.
All these discounts are compatible: you can use them together with seller or AliExpress coupons and save even more money.
How to use them
You just need to get your coupon from the seller. On the page of the product you are interested in AliExpress informs you if the store offers discount coupons, for what value and what is the minimum amount.
And if you've already added your products to the cart, and you don't want to go looking one by one, from the cart itself you can check if the seller has coupons. Just click on "Get discount".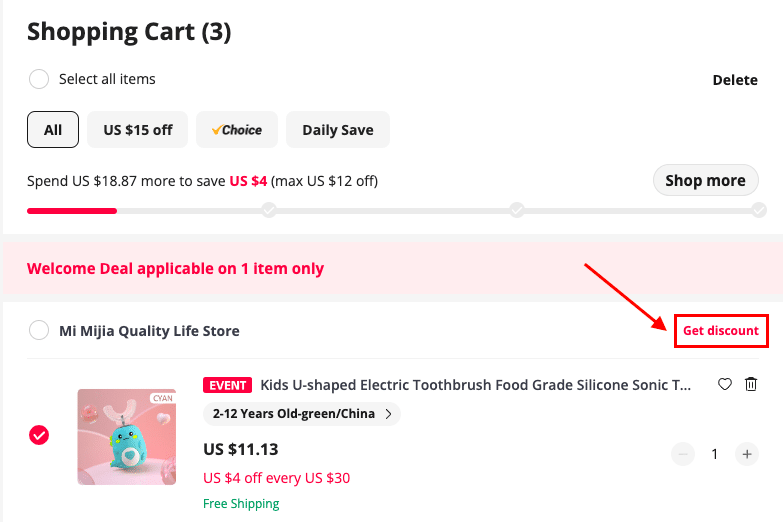 In both cases, it's important that you click on the "Collect" button in order to save the coupon in your account. You can add as many coupons as you are interested in, there's no limit.
The coupon is automatically activated when you check out your cart, as long as you meet the minimum purchase amount. If you're paying for products in your cart from different sellers, don't worry, the discounts will be added automatically.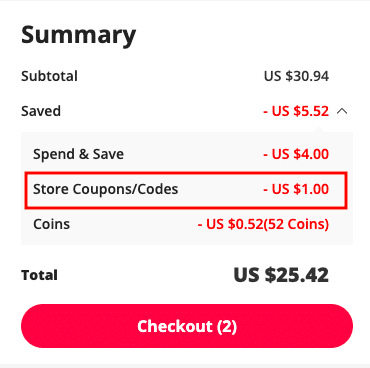 Restrictions on seller coupons
These coupons also have certain conditions. Most commonly, you have to reach a minimum amount on your purchase.
But keep in mind that you can only use one merchant coupon per purchase. If you're going to spend a lot of money in the same store, it may be useful to split it into several payments and thus, be able to apply several coupons.
Sometimes there are other restrictions, such as the coupon only being activated when buying products selected by the seller.
How to use other coupons and discounts
There are other discounts that allow you to save money. These are applied directly to the cart without adding codes or collecting coupons.
AliExpress Coins
AliExpress coins can be exchanged for coupons, but they're also a direct discount in our cart. However, not all products support discounts with coins and only some sellers offer this option.
You don't have to do anything to use your coins, you'll simply see an additional discount in your cart if you can use them. This allows us to save a few cents easily.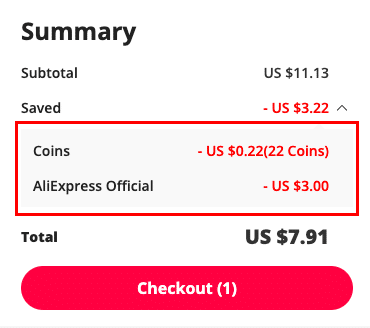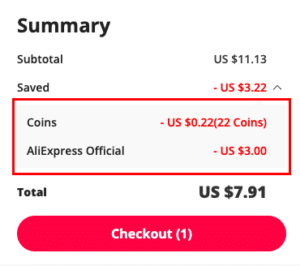 Shop and save
This is a selection of products where we apply a direct discount if we reach a minimum amount.
Many sellers offer this type of additional discount, and it's also common to see these discounts in AliExpress promotions. In the latter case, we can mix products from several stores.
What to do to get more discounts?
Using the coupons and codes offered at AliExpress is very easy. To get the most savings it's best to check the main page of the platform to see the promotions and look for discount codes.