AliExpress is one of the most famous online stores due to its cheap products. However, you can save even more money by using cashback.
The first step is to register with Letyshops by clicking here.
Here's how it works and the steps you need to take to get your money back.
What is Letyshops, and how does it work?
The term cashback refers to money back. In this case, we're talking about platforms that give you back part of what you've spent in an online store, just for buying through their link.
For stores, this is a way to build customer loyalty through a small incentive. Meanwhile, shoppers can save money on their purchases, so everyone wins.
Letyshops is one of the most popular cashback platforms. It allows you to recover money from your purchases in more than 3,000 online stores and using it is very simple: you just need to register and access any store you want from their link, so they can register the purchase.
The money accumulates in your Letyshops account, and you can transfer it to your bank account to use as you wish.
How much will I save on AliExpress by shopping at Letyshops?
The AliExpress cashback percentage through Letyshops is up to 5%. Sometimes this amount can increase to 15-20% on special promotions. There is also a selection of products called "Hot Products" that offer 40% cashback as you can see in this link.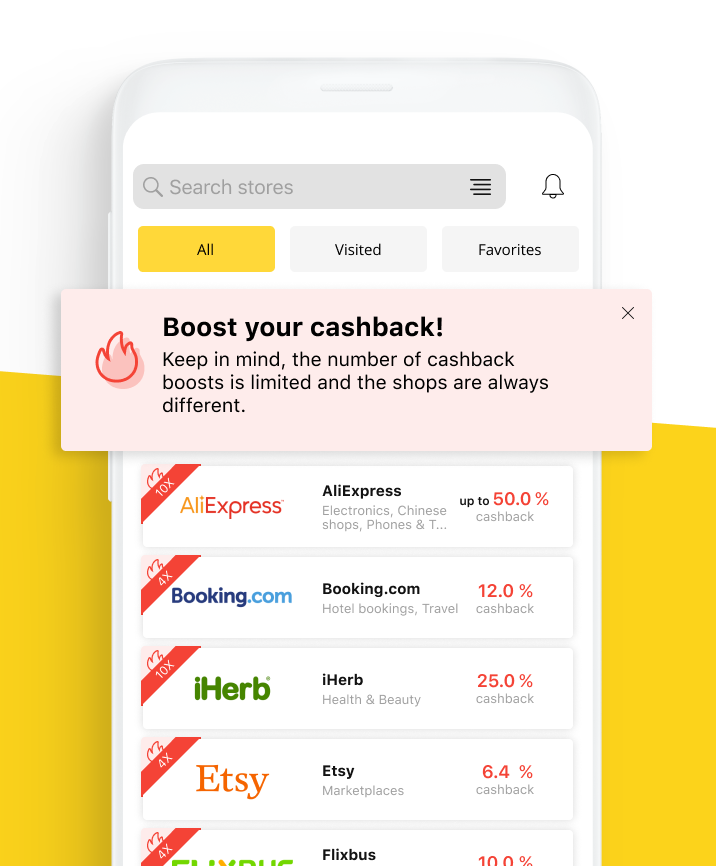 The more cashback you receive at Letyshops, the higher your rate is since the platform has several levels. The maximum cashback amount for AliExpress is $40 per purchase.
The amount varies according to the type of product:
5% for accessories, mobile phones, clothing, interior items, or garden accessories.

1% on all other category products and non-affiliated products.

0% in stores that don't have cashback (see the list of stores

here

).
If you want to know how much cashback you'll receive for your AliExpress purchase, the first thing you have to do is look at the product category. If it's not within the categories "Accessories, cell phones, clothing, interior items or garden accessories", it will be directly 1%. But if it's within that category, you have to check if it's affiliated or not.


Check the cashback rate
There is an easier way to find out if the product you want has cashback and what is the amount. You just have to access the AliExpress page of Letyshops by clicking on this link and pasting the AliExpress product link. The tool will tell you what the cashback percentage is.
How to use Letyshops on AliExpress
Register at Letyshops
Since the cashback money arrives in your Letyshops account, the first step that you have to follow is to register on the platform. Just click here and sign up with your email or use a quick sign-up method like Facebook or Google.
When you register, Letyshops will ask you for some information such as your country and currency.
Access AliExpress from Letyshops
Now that you're registered on Letyshops (and AliExpress), the only thing left for you to do is buy what you want. To do this you have to access AliExpress from the cashback platform. You can do it from this link or search for AliExpress in the search engine.

Once you're on the page, click on "Go to store". This way Letyshops will be able to register your purchase on AliExpress and calculate the cashback. Then you will be able to make your purchases normally.


Remember that the balance won't appear immediately in your account. It'll take 5 days for the money to appear as pending. It's confirmed between 75 and 120 days after the purchase. Although it may seem like a long time, this period includes the reception of the order, confirmation, and possible claims.
Using the extension from the web version
The best way to avoid losing your cashback is to buy through your computer. The Letyshops extension allows you to check that the cashback is active. It's compatible with Google Chrome and Opera browsers, you can download it from this link.
Once it's installed we recommend you set it up, so you'll see the extension icon in the top right corner of the browser. When you enter a Letyshops cashback store the icon will turn green.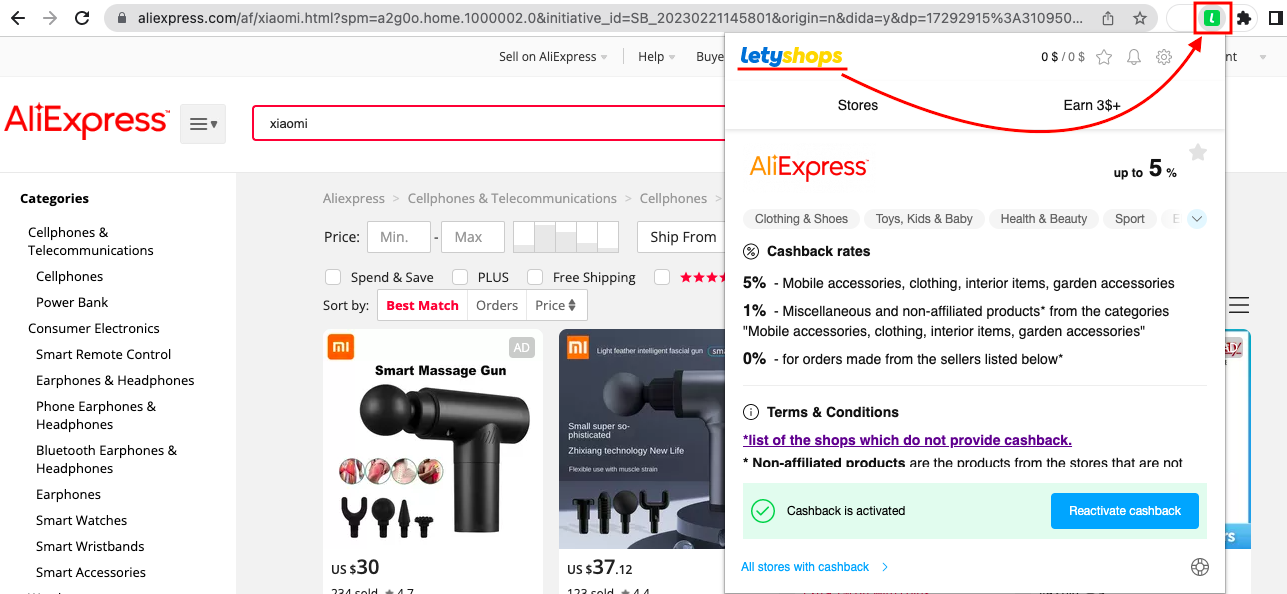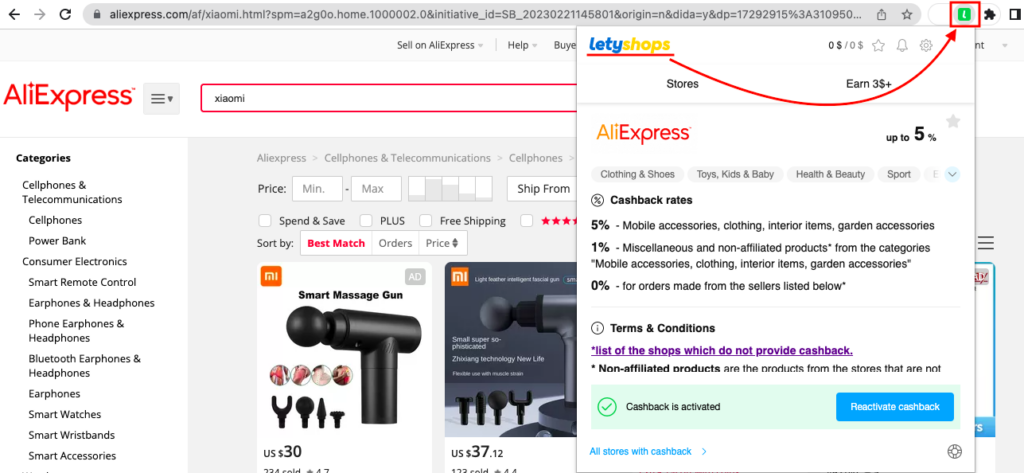 If the icon is in red, it means that you don't have the cashback activated. Click on it to activate it following the instructions.
Use the app from your smartphone
If you prefer to shop from your mobile through the AliExpress app, the first thing you need to do is install the Letyshops app and log in to your account.
Then, search for the AliExpress store using the search engine and access the store. Search for the products you are interested in and make your purchase as usual. Remember that at checkout the icon must be green to receive your cashback.
How to withdraw money
Once your balance is confirmed you can withdraw it through this link, by clicking on "Withdraw funds".
The minimum amount to transfer is $1. You can use PayPal or a bank transfer to receive your money. If you use PayPal, the transaction will take up to 10 working days. Now, if you withdraw your money through a bank transfer, it will only take 1 to 3 working days for you to get your money.
Tips to avoid losing your cashback
Most users confirm that Letyshops cashback works great when shopping on AliExpress. However, in some cases, it can fail. 
Follow these tips to avoid losing your money:
Use the Letyshops extension to find out if your cashback is activated and not lose your money.

It's better to buy from your computer. If you do it from the mobile app, first you have to enter the Letyshops app and from there go to AliExpress.

Cashback is applied to the price of the product excluding VAT, taxes, or shipping costs.

If you leave the order waiting for payment for more than 3 days, the cashback will be canceled.

You won't receive cashback if the items were added to the cart or wishlist before opening Letyshops.

It's better to have thought about what you're going to buy. If you start browsing AliExpress and checking different stores it's possible that your cashback will be lost.