These winter boots are incredibly popular, so much so that tons of online websites have them…but, where can I find the cheapest ones? Today, we are going to show you how to find them in AliExpress specifically, where you can find the cheapest rain boots on the market. Then, at the end of the article, we'll also be taking about other online shops with discounts and offers for these boots.
Weather you are looking for boots for women, men or for kids, this guide will help you find the best deals. If you are looking for cheap rain boots, don't worry, here at AlixBlog we got you covered. We'll be looking both at white label Hunter style boots in AliExpress and originals in other online shops. We will also take a look at the best sellers, how to determine your shoe size, give you some tricks to find trustworthy sellers and finally we will also be showing you how to tell the difference between Hunter boots and replicas.

Cheap Hunter boots in AliExpress, are they originals or replicas?
Hunter boots, created by the traditional British brand 150 years ago, are the referent when it comes to rain boots. In fact, the Hunter company is known for its innovation and modern design which protects the wearer in all kinds of weather and terrain conditions.
Unfortunately, there aren't many original Hunter boots in AliExpress. So before you take a look in the platform make sure you know how to tell the difference between a replica and an original…You don't want to end up with a super expensive replica. Don't be disheartened, AliExpress also offers plenty of great Hunter style boots, and we are going to show you just how to find them.
Personally, I would give up looking for Hunter and get some white label rain boots, which are super easy to find in AliExpress. The first thing you need to do is go to the global AliExpress page (very important). Then, click on one of the following searches to get thousands of results (it's really that easy :)).
Once you do this, you will get loads of results for original Hunter boots, white brand and maybe even replicas. Now, comes the hard part, how to tell them apart.
Originals or replicas?
Here is some advice to help you tell the difference between cheap original Hunter boots and replicas.
Hunter originals used to be very easy to tell apart. Nowadays it's becoming increasingly harder, as sellers use false advertising in the description of their products. This being said, in theory, if the seller says their product is original and if it turns out to be fake, they can get into a lot of trouble with both AliExpress and the law. In fact, if you purchase a product claiming to be original when it's not, they will have to give you back the money.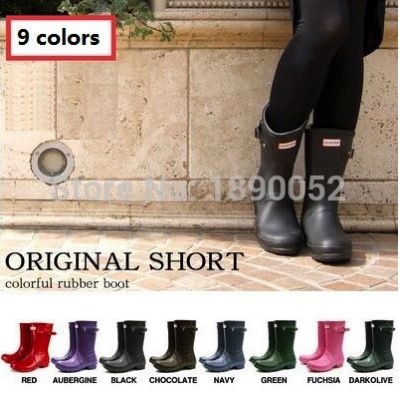 Nevertheless, our advice is that you always contact the sellers directly via chat whenever you aren't sure if the product is original or a replica. Here's an example:
As you can see the ones on the left are original, while the ones on the middle and the right are white labels. Even if it says in the picture that the boots are original, contact the seller, they might turn out to be super expensive replicas instead cheap Hunter originals. So make sure to ask the seller before you make any purchase in AliExpress!
An even easier way to tell the difference, careful with the logo!
As you can see in the results, some boots have a variation of the original logo. If you see a modified or erased logo, you can be pretty sure it's either a replica or a white label brand.
Careful, there has been cases of people purchasing Hunter style rain boots (white label ones) in AliExpress with a different logo in the pictures, just to find out later when they get them that they are in fact replicas with the Hunter logo. So, do make sure you contact the seller and them if the product is white label (you also might want ask for pictures).
How to find a trustworthy seller
Once you have done all this, all you have to do is scroll through the pages to find the product you like best. Take into account reviews of both the shop and product. To know exactly what to do, take a look at our article on how to find a trustworthy seller in AliExpress.
Another helpful thing to do is check the size charts provided by sellers in the product page. Keep in mind that size many vary depending on the shop. Sizes are almost always described in the American size so, if you don't know what your size is, check the conversion table shown bellow (remember that W is for woman and M is for man). And, if you need more information, take a look at our guide on AliExpress sizes.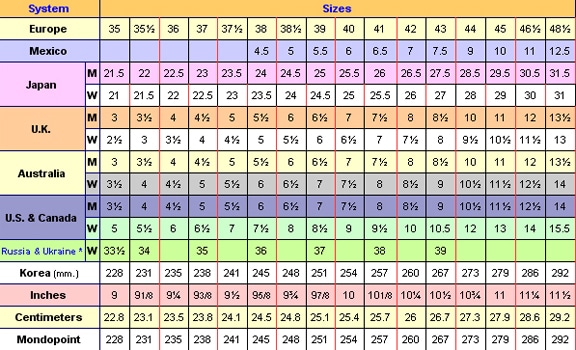 Chinese Hunter style rain boots: brands and shops
Rain Angel Store: this shop has been on the platform for 3 years and has a wide range of shoes and boots. Among them you can find a few Hunter style rain boots.
Dancing Shoe Store: another good AliExpress shop. They also have a wide range of cheap rain boots.
Free shipping?
Just to give you an idea of how important free shipping is, the official Hunter website only offers it if you make a purchase for more than 100€. However, in AliExpress, 95% of the sellers – almost all of them – offer free shipping, and considering they are sending their products from China, you are saving a ton of money.
Prices for Hunter style rain boots in AliExpress and other shops
As a general rule, if you purchase them from AliExpress, you will be saving money. We've proven this more than once, but let's take a look at some examples. On the official Hunter website you aren't going to get a pair for less than 100-150€, even when they are on sale, you won't get them for less than 85-90€.
This is not the case in AliExpress. Chinese sellers have a wide range of Hunter style and original Hunter rain boots at incredible prices available in tons of colors. You can find them for 30 or 50 euros… but never for 100€!
Hunter boots in Amazon and eBay
Another alternative you might want to check out is other online platforms. Amazon and eBay both offer pretty good discounts.
Amazon…
Amazon has some pretty good offers, but their stock is limited, so you might not find your size. Even so, take a look at the catalogue for Hunter boots on Amazon and if you do find the model you want, know that you will get the boots much sooner than you would in AliExpress.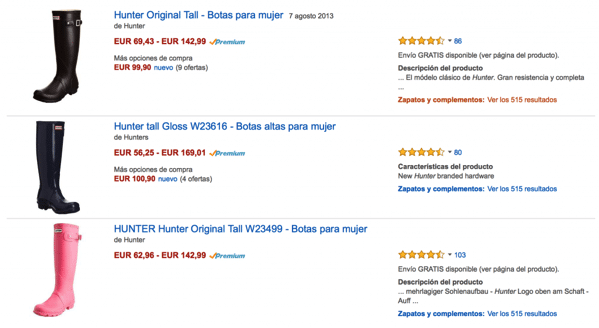 eBay…
eBay also has some pretty good discounts, but you have to pay more attention when shopping. They have a lot of second hand products, so make sure to filter products to only see new boots. Click on this link to go to a filtered search of Hunter on eBay.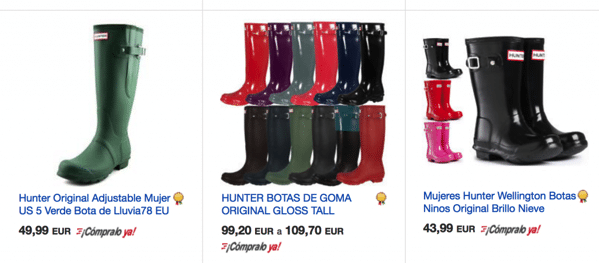 Another thing you need to keep in mind are replicas. eBay has quite a few of them, so follow the same steps you would in AliExpress :).
Other rain boot brands available in AliExpress
Many of you have asked us about other brands, be it original brands or white label. So without further a do, here is how to do it: click on the key words and take a look around the virtual catalogue we prepared for you.
If you want Frozen, Aigle, Meduse or Croc boots just click on the previous links. The first two links are for white label brands.
Go to AliExpress