Being able to permanently remove body hair is the dream of many women. Without a doubt, the best system to permanently eliminate hair is the laser, but it is an expensive system and in many cases, it's even painful. Many alternatives are also effective and more affordable, today we are going to talk about one of them: IPL hair removal.
IPL hair removal or photoepilation is one of the most effective, economical, and comfortable systems to make hair disappear permanently. There is a wide variety of IPL epilators on the market to help you epilate at home comfortably, but they are still quite expensive compared to traditional methods. Luckily, in AliExpress we can find very cheap and high-quality IPL epilators, if you want to know how to find them, keep reading.
About IPL hair removal
IPL hair removal machines feature a Xenon lamp that emits pulsed light in high-energy flashes. Those high-energy pulses heat and destroy hair at the roots. By weakening the follicle, it delays hair growth and in the long run we will be able to permanently eliminate hair.
Without any doubt, these machines do not have the same power and calibration systems as professional medical machines. So, it is better to be realistic: getting to eliminate 100% of hair permanently can be difficult, but we will begin to see a weakening in the hair from the first session, and it will also take longer to grow.
Intense pulsed light hair removal has its advantages
As we have already said, although they are similar, the laser is more effective since its shots have a greater intensity and smaller diameter, while IPL hair removal acts in a larger area and with less intensity. You can get an idea of ​​the difference between the two machines in the image below.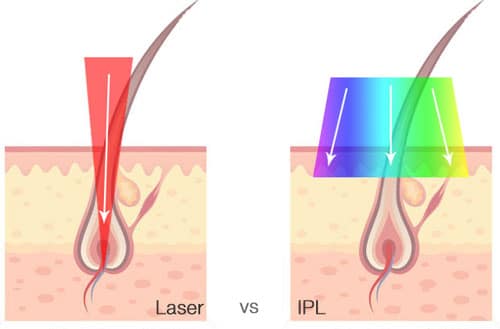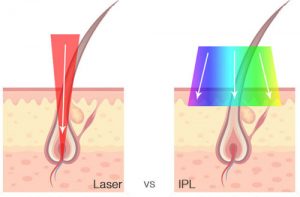 But we must not detract from IPL hair removal. It has many advantages that other systems cannot offer:
It is more affordable.
It is less painful than other methods such as lasers.
It is effective on a large number of skin colors and hair types, unlike certain laser machines.
It can be used comfortably at home with complete peace of mind and without appointments.
Types of hair and skin on which photoepilation can be used
The pulsed light acts on the melanin contained in the hair, so this depilation system has better results on hair in the growth phase and in people with dark hair. Besides, if we have a light skin tone we will achieve better results since the contrast will be greater. Therefore, this method of hair removal may not be effective on very light hair or dark skin, since in both cases the effect of the machine on the melanin of the hair will be very weak.
Tips and recommendations before using an IPL epilator
To begin with, before using the pulsed light epilator we will have to shave. This will cause the heat to act directly on the follicle instead of burning the long hairs and reducing effectiveness. The skin should be clean (without deodorant, creams, or makeup) and preferably cool since the hair root will better absorb light if it is cold.
Pulsed light hair removal acts on the melanin of the hair follicle, so we recommend that you avoid applying pulsed light on moles, which are actually an accumulation of cells loaded with melanin.
This hair removal can be used on sensitive areas such as facial hair or groin. I recommend that you take special care when applying the machine to facial hair since it is a very hormonal area and the heat can cause inactive follicles to be activated by heat. For this reason, it is highly recommended to apply cold cloths or even frozen bags immediately after passing the machine through them. We also recommend waxing these most sensitive areas first (face, armpits, groin …) as the machine will heat up with use.
How to find low-priced IPL machines on AliExpress
With a simple search like this one, you will find many IPL machines on AliExpress. You will notice all the positive feedback on the comments and the detailed description of the products, so there is no doubt about what we are buying. You can easily find some of the best models by clicking here.
One of the best sellers is the IPL BabyAnne epilator. It can be used anywhere on the body and the same seller includes some simple instructions on times of use: in the first stage, the first 3 weeks, we will use it twice a week. In the second stage, we will use it once a week for 2 weeks, and finally, we will continue to use it every two weeks. The manufacturer promises a reduction of up to 80% of the hair, visible from the sixth week of treatment.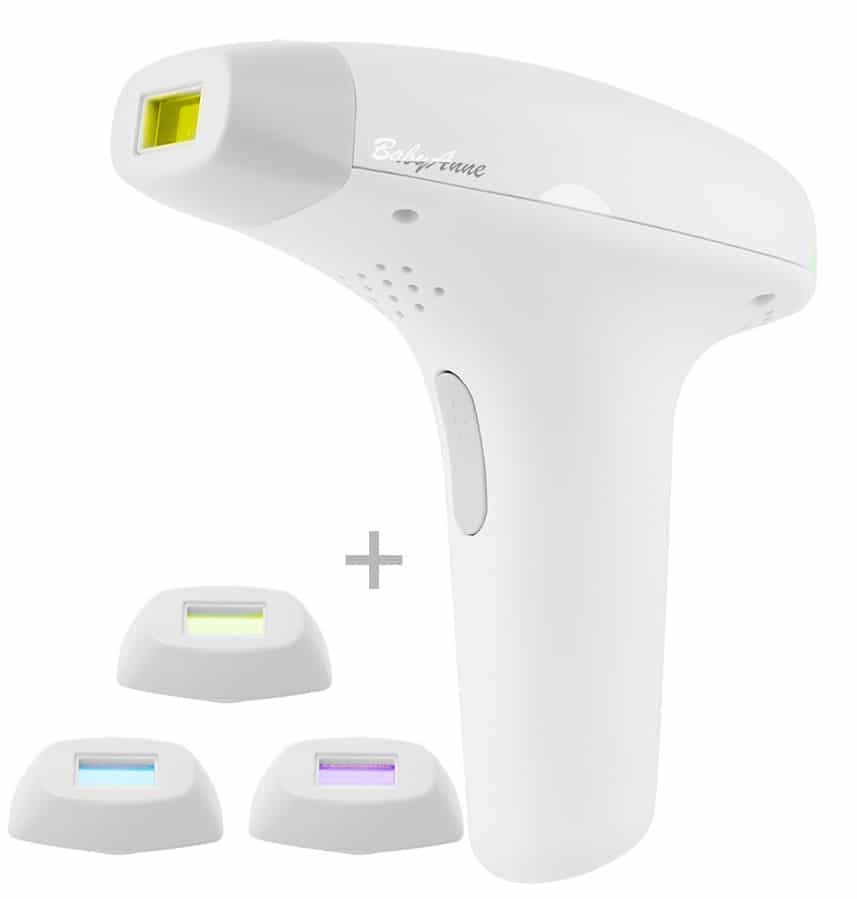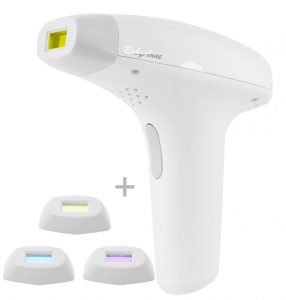 The machine includes 5 levels, ideal for adjusting it according to the area to be treated, and its useful life is 120,000 pulsations. Finally, its screen is 4 cm2 so we will be able to wax in less time. It incorporates 3 interchangeable heads for different uses (photo rejuvenation, acne, and hair removal). You can see in the product's profile that it has been sold a lot, as well as all the positive comments of different buyers.
My tip to save even more on AliExpress
As you can see, there are many vendors who have this type of machine to perform IPL hair removal at home. It is best to buy from a good seller who already has several sales in the ad, and we will have to check the buyer's opinions to make sure if the description really resembles de product. If not, it's better to find another seller. The price is also important since it varies a lot, even for the exact same product.
Tips before buying on AliExpress
If you still do not know AliExpress, or if you have recently discovered this famous online sales page, I recommend reading our Essential Buyers Guide for AliExpress, where you will find everything you need to know to buy safely. Also, remember that in AlixBlog we have a section with tutorials where you can find a wide variety of guides to help you make better purchases on AliExpress.
What about you? Have you bought an IPL epilator on AliExpress? We would love to know about your experience on this platform, so please don't hesitate and leave us a comment below.