Without any doubt, Apple's AirPods headphones have revolutionized the market, with impressive sound quality. However, for those who do not want to spend almost 300 euros or do not have an Apple phone, there are excellent alternatives on AliExpress. In the following article, we are going to talk about JBL's TWS wireless headphones, a popular brand for its sound quality.
Features of JBL's TWS headphones, with Harman technology
JBL has become a benchmark when it comes to sound. Their economic speakers triumph among AliExpress buyers, and they are at the height of the most prestigious brands such as Sennheiser, Bose, or Sony. However, JBL has a lower price. We are going to analyze their best models and their characteristics, although you can also see them all here.
JBL TUNE 220TWS: Lightweight earbuds
For starters, one of the latest launches of the brand. These are the TWS earbuds most similar to AirPods, with their original button shape with an elongated pole. They have 12 mm drivers, and their "Pure Bass" sound technology creates a more intense and precise sound in the bass.
They use a new generation of Bluetooth 5.0 chip to achieve better sound quality, less lag, low battery consumption, and a more stable connection. You can use your headphones up to 15 meters from the device. Another excellent feature is their autonomy, up to 3 hours for each charge, for a total of 20 hours of use, thanks to their transport and charging box.
They can be controlled easily from the touch control panel, built into the headset. They are very light and also water-resistant, so they can be used for sports. However, the only negative point is that they do not have active noise cancellation technology. You can find them in 6 different colors in this link.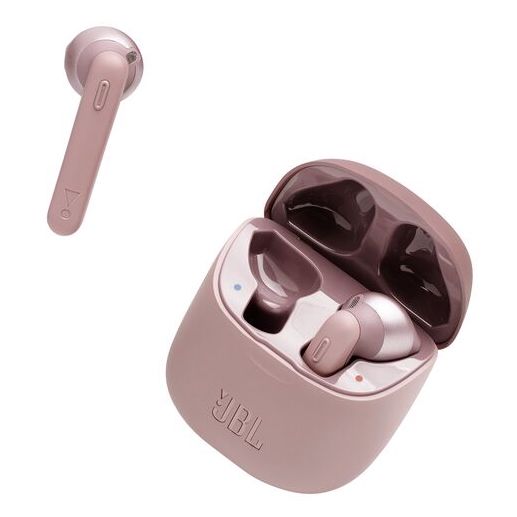 JBL Endurance Peak: Sports water-resistant headphones
Many athletes prefer other safer headphones, such as Powerbeats, which are held behind the ear with their flexible hook. JBL Endurance Peak headphones are a good alternative, and, unlike the Beats, they have a comfortable charging box to provide you with up to 28 hours of autonomy, 4 hours of continuous playback on a single charge.
Besides, they are easily controlled without the need to go to your phone, since they are activated or deactivated automatically when you place them on or remove them from your ear thanks to their PowerHook technology. They are waterproof with an IPX7 category so you can use them to train without worry. They have a bluetooth 4.2 connection and can be found by clicking here.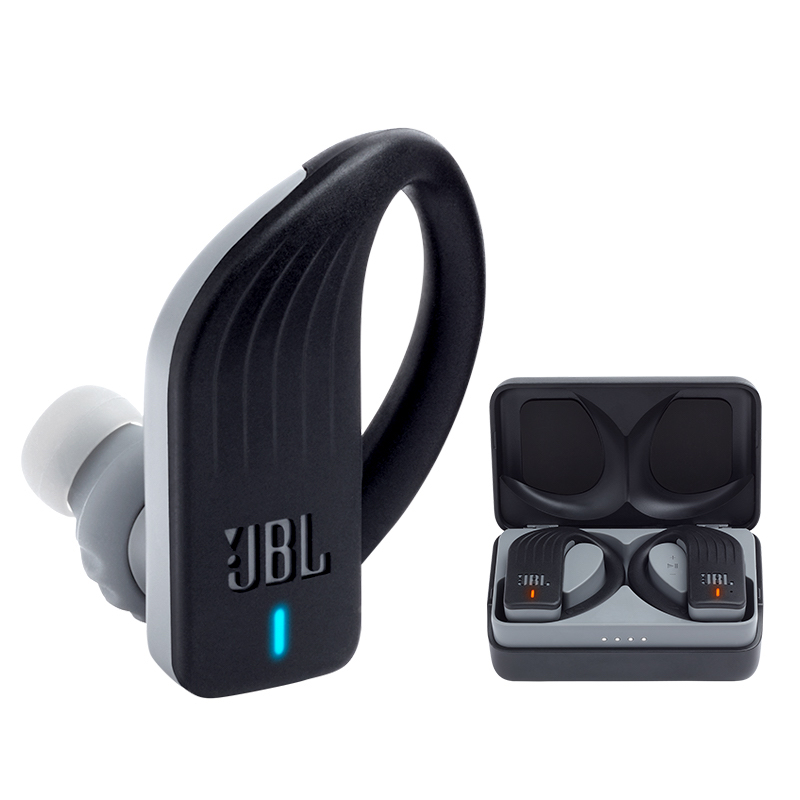 JBL T280: Lightweight in-ear earphones
One of the best-selling JBL TWS headphones are the JBL T280, they are very versatile headphones that, thanks to their Bluetooth 5.0 connection, allow us to enjoy stable and high-speed sound. We can listen to music for up to 4 hours without interruptions and the case provides 16 more hours, with a total of 20 hours of autonomy.
They can be controlled remotely thanks to their touch control panel built into the headset and their IPX5 sweat resistance makes them a sports-friendly headset. But the best thing is its sound quality. They can be found in 4 different colors here.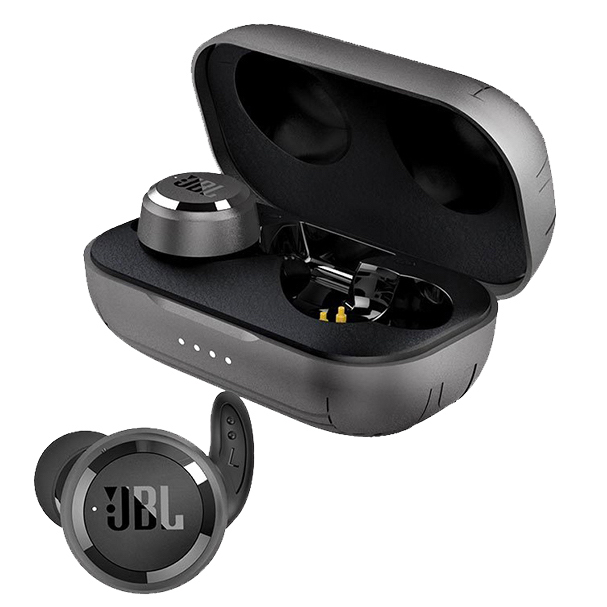 JBL REFLECT FLOW: TWS Sports Headphones
JBL Reflect Flow are specially designed for sports. They are wireless and thanks to their waterproof IPX7 approval you can use them even for your most intense workouts. You can even swim with them!, because they support up to a meter under water.
But something very important when practicing sports is not to completely disconnect from your environment, that is why these headphones have bionic and talkthru technology that allow you to talk with your training partners, while their AmbientAware technology allows you to listen to your environment to avoid accidents.
Their design is very ergonomic, conceived to provide maximum comfort and allow using the phone in a hands-free mode, thanks to the voice assistants. For those who train frequently, autonomy is also important, that is why this model has up to 30 hours of autonomy, 10 hours for each charge. You can find them by clicking here.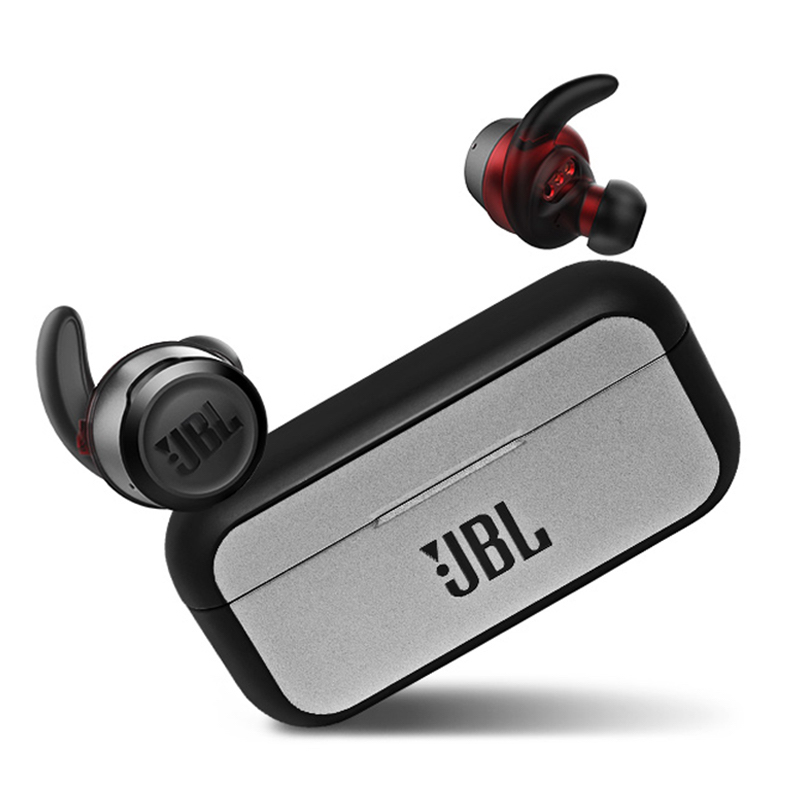 JBL Under Armour TWS: 
Minimalist wireless headphones
But if you want to make a difference regarding your workouts, this version of JBL headphones in collaboration with Under Armor will surely please you, as it is one of the most famous brands in terms of sportswear at the moment. However, they are very similar to the previous ones in terms of characteristics: waterproof with IPX7 category, bionic technology, talkthru and AmbientAware so as not to disconnect from your environment.
An advantage they have over Reflect headphones is that they are lighter and have a more attractive design, with an aluminum-finished charging case with the Under Armor symbol. Besides, their design has been created to stay on the ear even running at full speed, with a hook piece.
Nevertheless, they have 4.2 wireless connection and the autonomy drops to 5 hours per charge, with a total of 25 hours of playback. The sound has been improved for sports, the bass is more intense so that you are motivated while you train. You can find them in this link.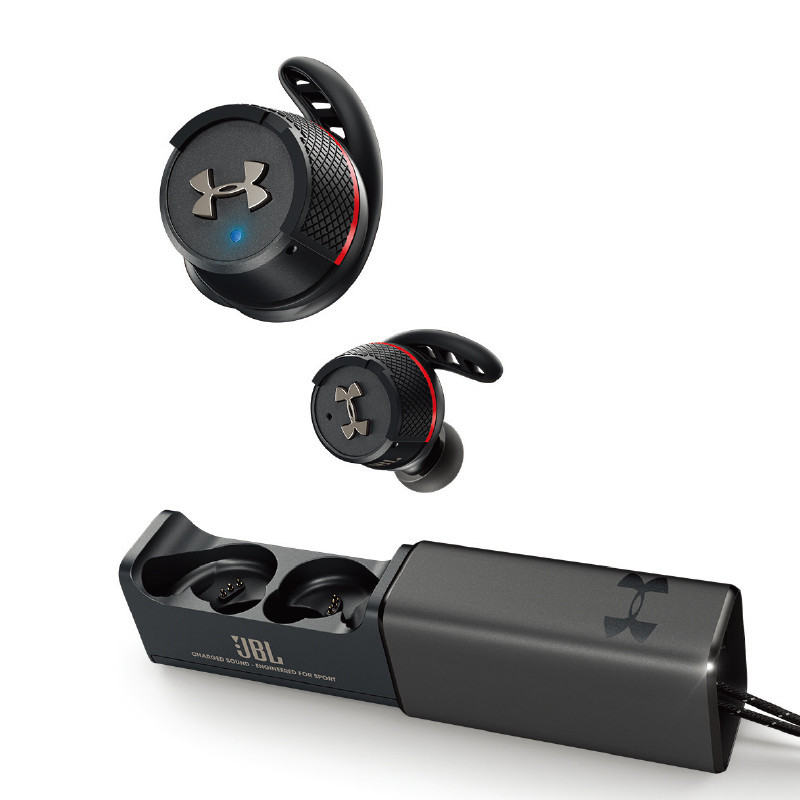 Our opinion about wireless JBL headphones on AliExpress
As you can see, JBL headphones have some very interesting features, especially the sports models. However, a negative point is its price, higher than other headphones that we have already reviewed on our blog. But JBL is a trusted brand that always delivers impressive sound quality, and now you can find them at a better price on AliExpress.
If you have any doubts about how to buy on this online sales platform, in AlixBlog, in addition to analyzing the best brands and the latest launches, we also have a section with tutorials where we explain the best tricks and tips to buy safely. If you are a new user of this page, we recommend reading our Essential Buyers Guide for AliExpress, in which we explain how to buy from scratch with total security.
What about you? What do you think of these wireless headphones from JBL? We would love to know your opinion, so please do not hesitate and leave your comments below.