Just recently I realized I was in need of a new pair of jeans, so the first thing I did was to go to the AliExpress jeans category to see what I could find. After trying to look a few brands, such as Levis, Lee, Diesel, dSquared, Armani, Dockers, Pepe Jeans, Abercrombie… (the best know brands), I have so bad news: there aren't many original jeans brands in AliExpress.
This being said, my search was not in vain, AliExpress offers plenty Chinese jeans for a third of what you would spend on originals. They almost never cost more than 20€. But if you are set on getting a pair of originals, you can always try looking on Amazon.
But first let's go to AliExpress…
Are there any original jeans in AliExpress?
Recently, many brands have started using AliExpress to sell their products, sadly, a few of them still haven't discovered this platform. Nevertheless you can always try taking a look for yourself in the global version of AliExpress.
Check if they have a brand
One of two things can happen
1 – You try typing Levis, Pepe Jeans or similar and DON'T find anything

The reason for this is that AliExpress is working hard to get rid of sellers offering replicas, so if they are aware of replicas being sold, they block their name from the search tab.
2 – You find replicas of branded jeans
Replicas are very easy to tell apart from originals. Sellers themselves will give you plenty of clues. As a general rule, if they don't include this Guaranteed Authenticity icon, you can be pretty sure it's a replica.

The ultimate trick to spot original jeans
Compare prices and use your common sense. You aren't going to find original Levis 505 jeans for 20€.
To avoid replica products, just ignore jeans that go for less than 40-50€. Don't worry, you can find them cheaper on Amazon. They may not be significantly cheaper, but you can still get them for 15-20€ less than usual.

And if you have free shipping, all you have to do is sit back and wait 2 or three weeks to get this product.
An alternative: cheap Chinese jean brands
Other than the quickly disappearing replicas, AliExpress also offers plenty of Chinese brand jeans that don't go for more than 20€, with really good sales and ratings. Here you have the three most popular brands:
What's up with Chinese sizes?
How do I know what jeans size I have in AliExpress?
Finding you size can be complicated and frustrating if you don't know what you are looking for. Depending on the seller, sizes may vary greatly. That's why you should never make assumptions and check these things:
Check the equivalence chart provided by the seller; you can find it at the middle of the product page. They usually offer conversion charts and the exact measurements of each size.

Check the seller's reputation and the ratings given by customers. If they are positive you can be sure the shop is offering normal sizes.

Read comments by previous customers. If there is any problem with clothes size, customers will recommend a size smaller or larger.
Amazon: original brands and free 24h shipping
These are two of the advantages of this platform, so needless to say the product is going to be cheaper.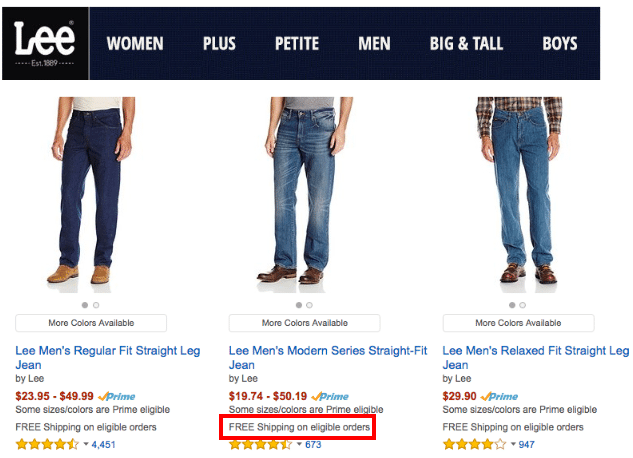 All you have to do is make sure the cheap jeans you choose says "FREE shipping" in the description of the article.
Go to the jeans catalogue on Amazon

(Levis, Lee, Diesel, dSquared, Armani, Dockers, Pepe Jeans, Abercrombie…)
You can also get the product within 24h if you sign up for the 'Amazon Prime' service. It's definitely worth it if you have an Amazon addiction like I do. For a yearly fee you can get free shipping the next day. Or, if you don't want to pay for the service, all you have to do is cancel the subscription right after you make your purchase.
If this sounds good, you can sign up for the service here.
More doubts? We can help!
If you have any other doubts about size, shipping, brands or any other aspect related to jeans, be sure to leave us a comment, we'll be happy to help.