Resorting to cashback platforms to save money is becoming more and more common, and no wonder: without asking for anything in return, they allow us to recover part of the money we have spent.
That's why today we're going to talk about one of the best-known cashbacks, Letyshops, which has almost 4,000 different stores.
Is it really reliable and is it worth using it for our purchases?
Let's have a look.
How does a cashback platform work?
Cashback platforms advertise online stores to their users, i.e. us. When we buy from these online stores through the cashback platform's link, the platform receives a commission that it then shares with us.
Therefore, for each purchase you make through Letyshops, you will receive a fixed percentage of money as a reward, which is indicated in the section that each brand has on its website (you can see them here).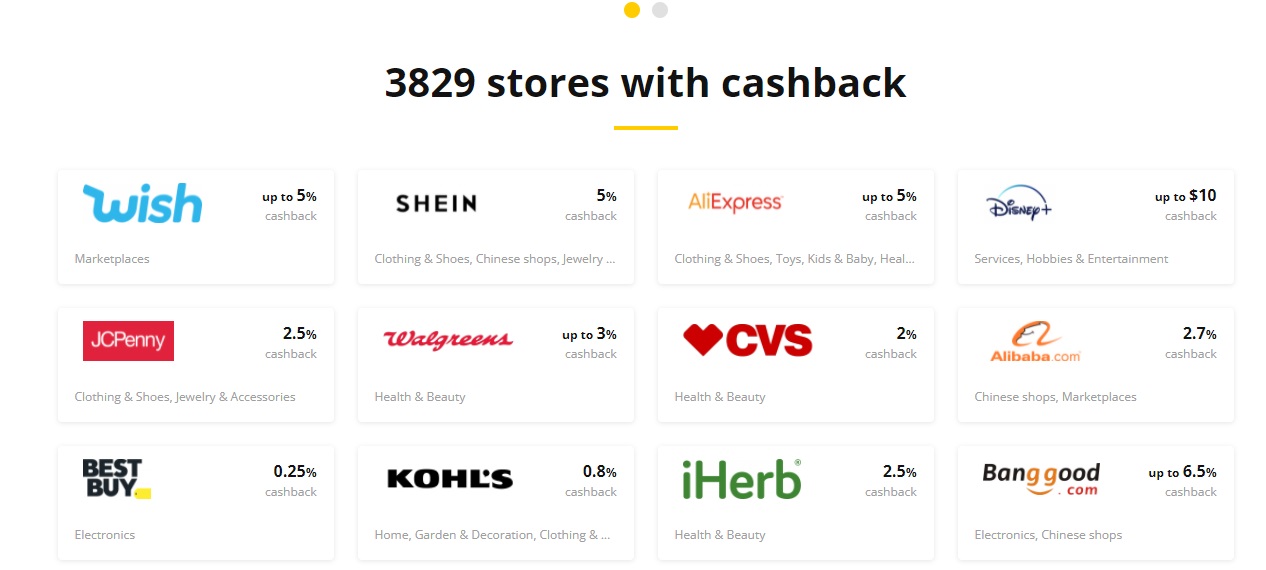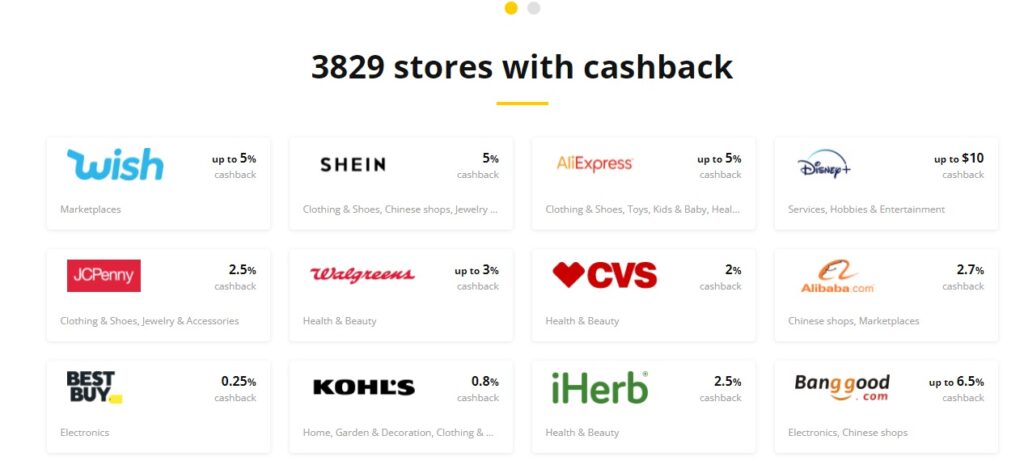 In addition, Letyshops offers daily so-called "Extended cashback": on a selection of stores they multiply the fixed cashback percentage by up to five times.
Thus, stores like Shein or AliExpress, have a cashback of 25% or more, when usually their cashback percentage is 5%.
Related article: How Letyshop works with Shein
The truth is that these discounts are very tempting, but they are limited and you can only use them on one purchase.
How to use Letyshops
Remember to have cashback activated
One of the things you need to be clear about when using Letyshops, is that you should always make your purchase immediately after visiting Letyshops.
If you visit Letyshops, browse for a while on other sites and then make the purchase, you run the risk of losing the cashback.
For example, if you want to shop at Shein and you first go to Letyshops to be redirected to Shein, but then you start reading blogs and then go back to the tab where you have Shein open, your cashback may have been deactivated. If that happens, even if you complete the purchase successfully, there will be no record that you have purchased through Letyshops and you will not get your money back.
In short, when we talk about "Cashback activated" it means that you have previously accessed the store through the Letyshops website or app.
Install the Letyshops extension
If you usually shop from your computer, a trick to make 100% sure that your cashback is activated is to download the Letyshops extension (you can do it here).
This extension, available for Chrome and Opera, works like a traffic light in your browser bar:
Yellow-black icon: Stays this color when you are not using Letyshops.
Green icon: Cashback successfully activated
Red icon: Something has gone wrong and cashback has not been activated. Click on the icon and follow the instructions.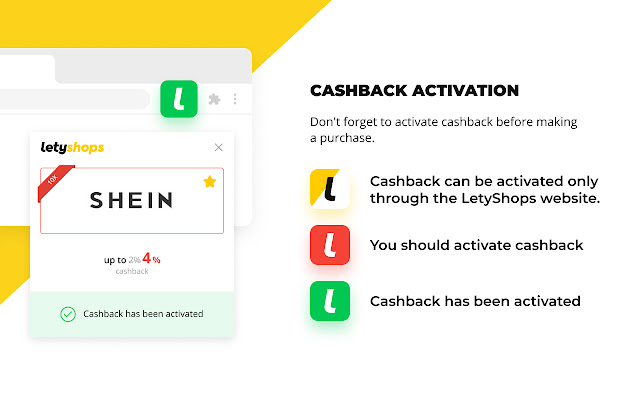 In addition, when you have the extension on your computer, if you enter any online store associated with Letyshops, a notice will appear on the top right side of the screen warning you to activate your cashback.
This is very convenient when you do your shopping, so you don't have to check every time if a store is associated with Letyshops or not.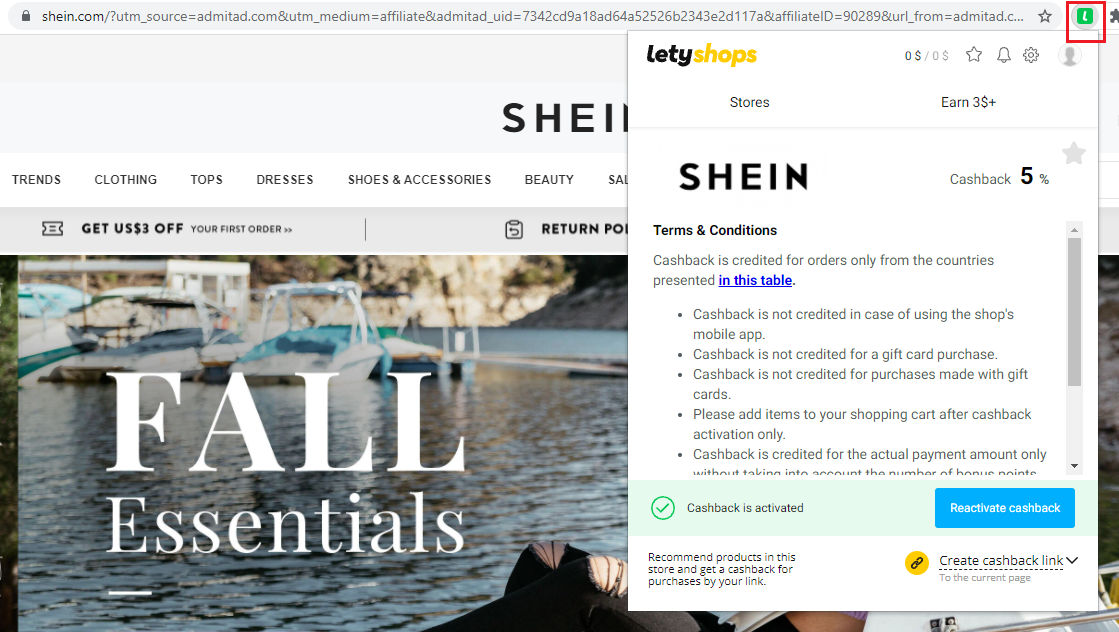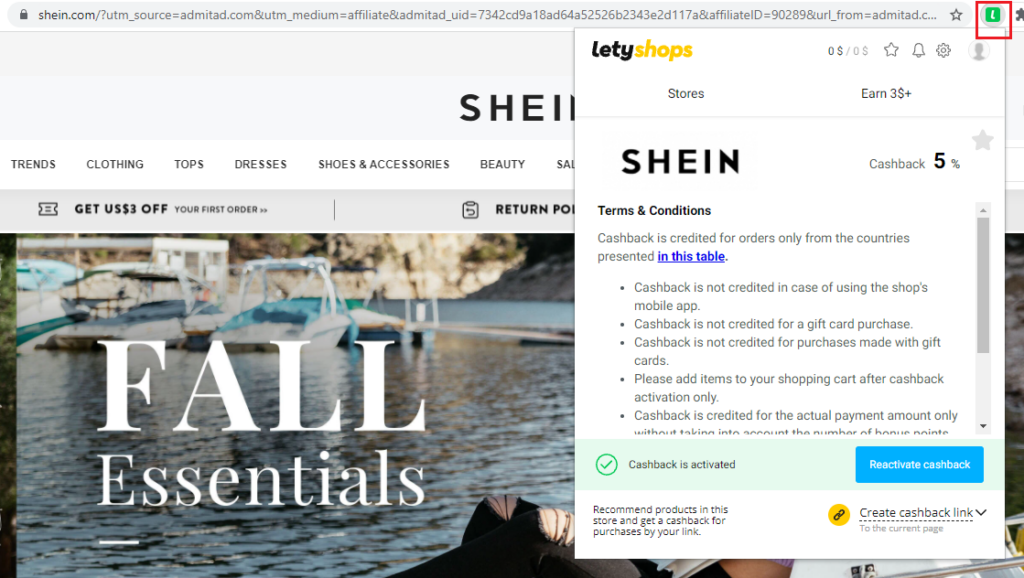 Important: Please note that if you make your purchase from the Letyshops app with your smartphone, the green or red icon will appear directly at the top of the store to which you have been redirected.
However, in order to activate your cashback correctly, it is essential that you always enter the Letyshops application first and from there you are redirected to the web version of the store.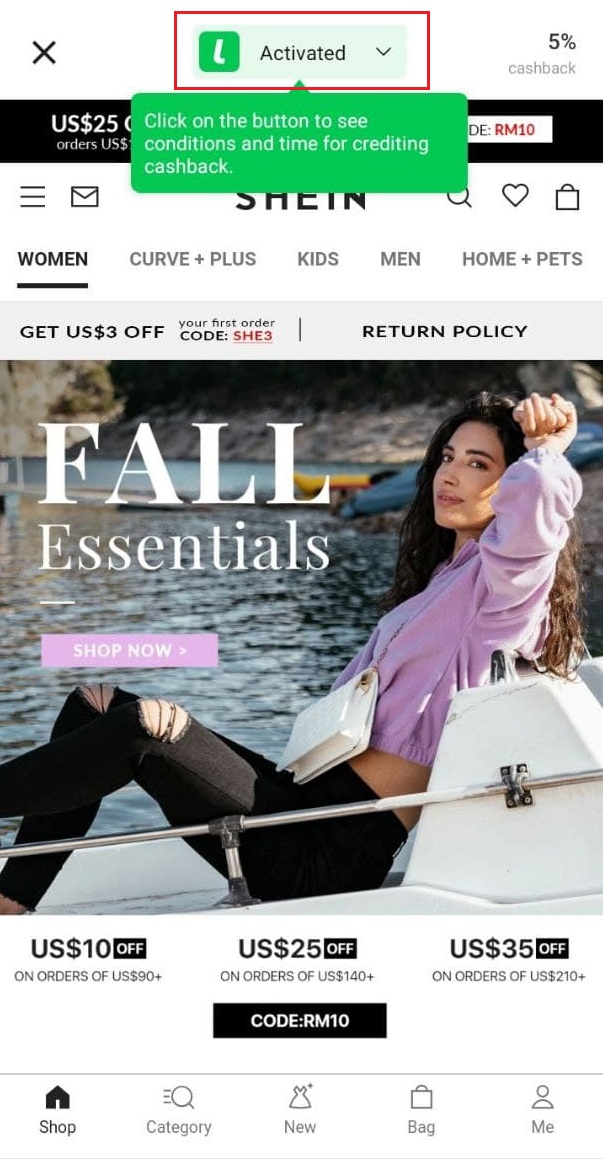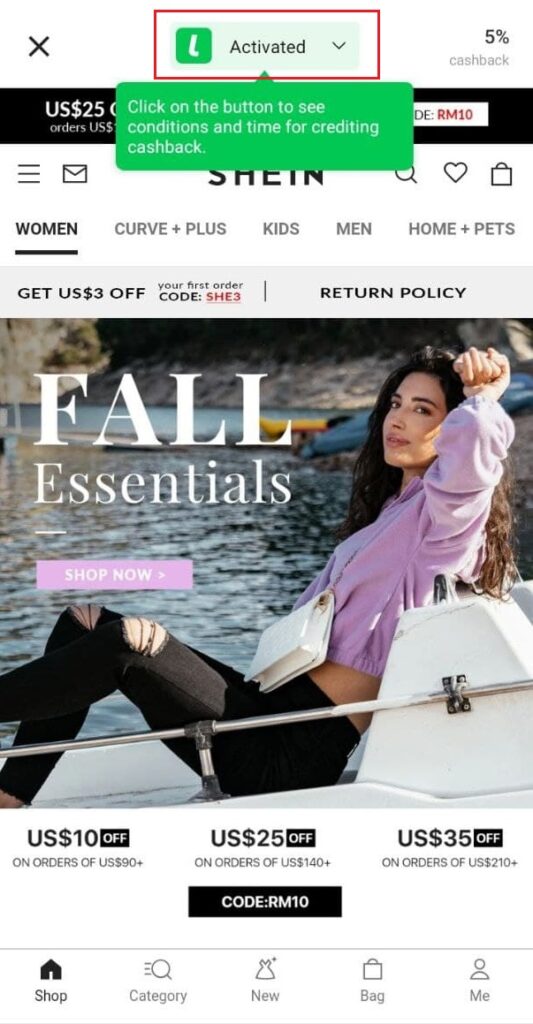 Steps to follow to use Letyshops
Once you have registered on the Letyshops website (here), with your email address or your Facebook or Google account, you can search on the home page or in the search bar for the online store you are most interested in.
Click on it to see the purchase conditions of each store.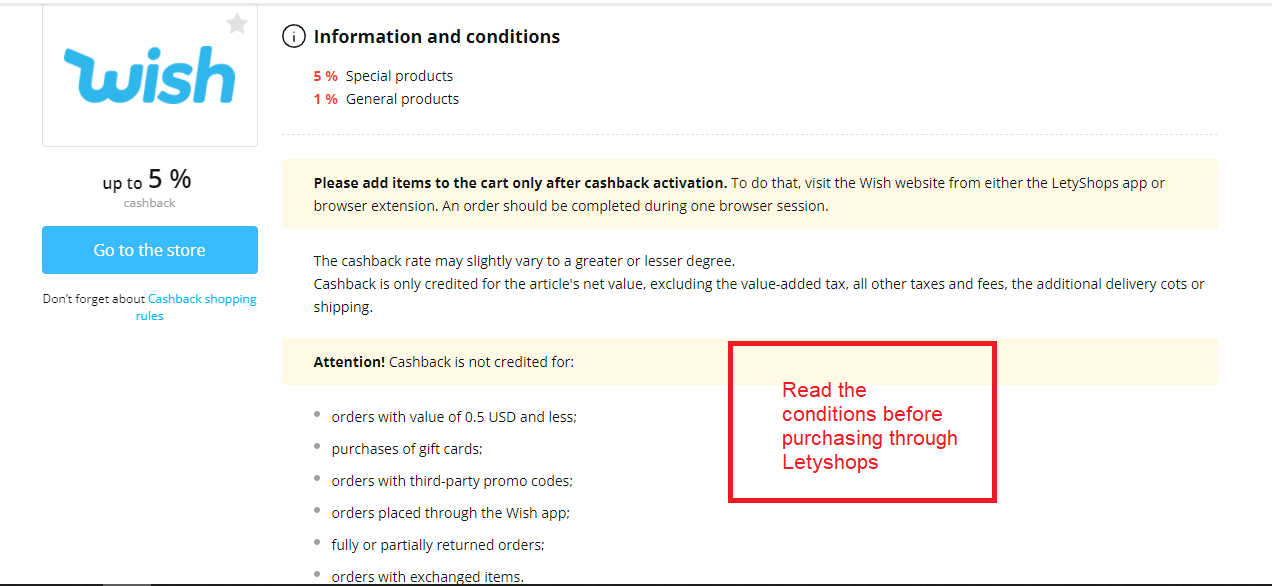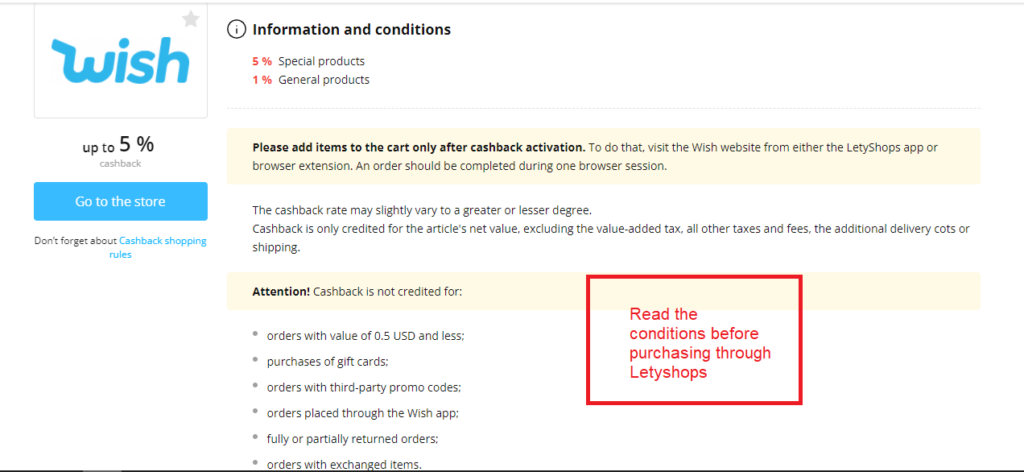 Each store offers a different cashback percentage and rules, and you need to read and comply with them when making your purchase.
For example, some stores like AliExpress do not allow you to add your purchase from the wishlist and not all of their items are included in the cashback. You can check which items are included by pasting the product link on Letyshops.
Click on "Go to the store" and make your purchase as normal, making sure the Letyshops icon is green.


Keep in mind that the accumulated cashback balance will not appear immediately in your profile: it usually takes a couple of hours to be reflected as "Pending credits". You can check your balance here.
What do you mean by "Pending"?
Well, until your order arrives at home and you confirm that you have received it without any incident, the store will not give Letyshops the go-ahead (cashback verified) and therefore Letyshops will not convert this "pending credit" into a real balance.
The average verification time according to Letyshops varies between 60 and 120 days, but don't worry, because it usually takes much less time to get your money back. The average is about one month.

How to withdraw your balance
When your cashback is verified, you can transfer it to your bank account via your credit card or Paypal from here.
Just click on "Withdraw funds" (as long as your balance is over $1), fill in the form with your bank details and confirm the transaction.
Within 1 to 3 business days you will receive the money in your account. It's as easy as that.
Tips to avoid losing your cashback
Remember that the most important thing when using this platform is to take into account the following points:
It is better to make your purchases from the web version. The official store apps, on the other hand, are more problematic.
Install the Letyshops extension (here): this extension is very visual and will allow you to always check that your cashback is properly activated.
It is recommended that you add your purchase to the cart when you enter the store from Letyshops and make the payment after checking that the cashback is still activated.
If you are shopping on a site where you are not yet registered, register and leave your session logged in. Then go to Letyshops and log in to the store from there.
Use Letyshops when you already know what you are going to buy, to make the transaction as fast as possible. You can have your purchase saved in your wishlist, but check the store rules to make sure that adding your purchase from the wishlist is allowed (e.g. AliExpress does not allow it).
Why did I lose my cashback?
You should always read the rules of each store to make sure you comply with the purchase conditions.
If you are still sure that you have done everything correctly, you can submit a claim for your lost cashback by clicking here.
Don't forget to explain your case in detail and attach a screenshot of the store, showing the amount paid, the status and the content of the order, for them to review your case.
Letyshops is as interested to get you the money as you are in receiving your cashback, as they also receive a commission from the store you buy from. So be sure that they will do everything necessary to clarify your doubts and resolve your issue.
How to earn more money?
Invite your friends
Letyshops also rewards you for inviting your friends: for each friend who registers, you will get a 5€ voucher for you and another one for him.
However, you will have to wait for the confirmation of the cashback of your friend's purchases to receive the bonus.
Click here and copy the link to send to your friends.
Loyalty program
In Letyshops there are three levels of membership: as you use the platform for your purchases, you will move up the levels and get more benefits on your cashback:
Letybronze: for $10+ accumulated cashback, you get 10% more than the base cashback rate.
Letysilver: for $50+ accumulated cashback, you get 20% more of the base cashback rate.
Letygold: for $150+ accumulated cashback, you get 30% more than the base cashback rate.
Be careful because the percentage is on the base rate, this means that if the cashback rate of the store is 5%, being a Letybronze member, you get 5,5%.
You can also transfer your balance to your bank account whenever you want, as it does not affect anything to go up a level.
Opinions: Is Letyshops reliable?
Based on our experience and that of many users of the platform, we can say that Letyshops is completely reliable and worth using most of the time.
It is true that the cashback offered by some stores is very small, but if you get used to shopping through Letyshops, at the end of the month you will surely have saved more than you expected and you may even get a free purchase.
And, undoubtedly, what we like most about this platform are the extended cashbacks that appear daily: there are some very good discounts, although in some stores like AliExpress they are not valid for all items.
However, the worst thing about Letyshops is probably the time it takes to verify the outstanding balance in real balance, although it is logical that they do not risk and leave such a large margin to check that everything has gone well before paying you.