There is no doubt that its balance between design and quality-price has made Shein one of the stores of the moment.
First step: register at Letyshops by clicking here.
But what if we told you that you can save even more on your purchases at Shein?
With Letyshops cashback it's possible and today we'll explain how.
Warning: with this trick you can get unlimited Shein coupons. Click here to find out more.
What is Letyshops?
Letyshops is an online cashback platform that works with almost four thousand different stores, including some as well known as AliExpress, Booking, Wish or Shein.
The way it works is very simple: you make your purchase through Letyshops and they then give you back a fixed percentage of the money you have spent.
For this, it is important that you are clear about the concept of "activated cashback": they will only give you money back if you first enter Shein from the Letyshops website or from their app and correctly follow all the steps that we explain below.
Once your cashback has been verified, the money is credited to your Letyshops account in the form of a balance that you can then transfer to your bank account.
How much cashback will Letyshops give me for shopping at Shein?
Letyshops always gives you 5% back on your purchase and, from time to time, also offers very succulent promotions in which it extends this cashback up to 20-25% or even 30%.
These special offers are usually on the main Letyshops homepage and are limited to a single purchase, with a maximum amount of cashback and a maximum number of users that can use it.
Still, they are very worthwhile discounts and if you have a pending purchase, don't hesitate to use them before they run out.


How to use Letyshops at Shein
Register at Letyshops
The first thing you have to do is to register at Letyshops (from here) with your data and email or directly with your Facebook or Google account.
Obviously, you will also have to be registered on the Shein website.
If you are browsing from your computer: install the Letyshops extension
If you are going to make your purchase from your computer, it is recommended that you install the Letyshops browser extension (here). Please note that it is only available for Chrome and Opera.
With the extension, you are 100% sure that your cashback is always active and you don't need to log in every time to the Letyshops website to activate the cashback. But remember that this is only if you are shopping from your computer.
How to know if cashback is activated with the extension?
By looking at the color of the icon: normally you will see it in its original color (yellow and black) but when you go shopping on Letyshops and access one of its brands' websites, it will turn green.
If you enter the Shein website through Letyshops, a small window will appear on the top right of Letyshops, with a notice that your cashback is going to be activated and then the icon will appear in green.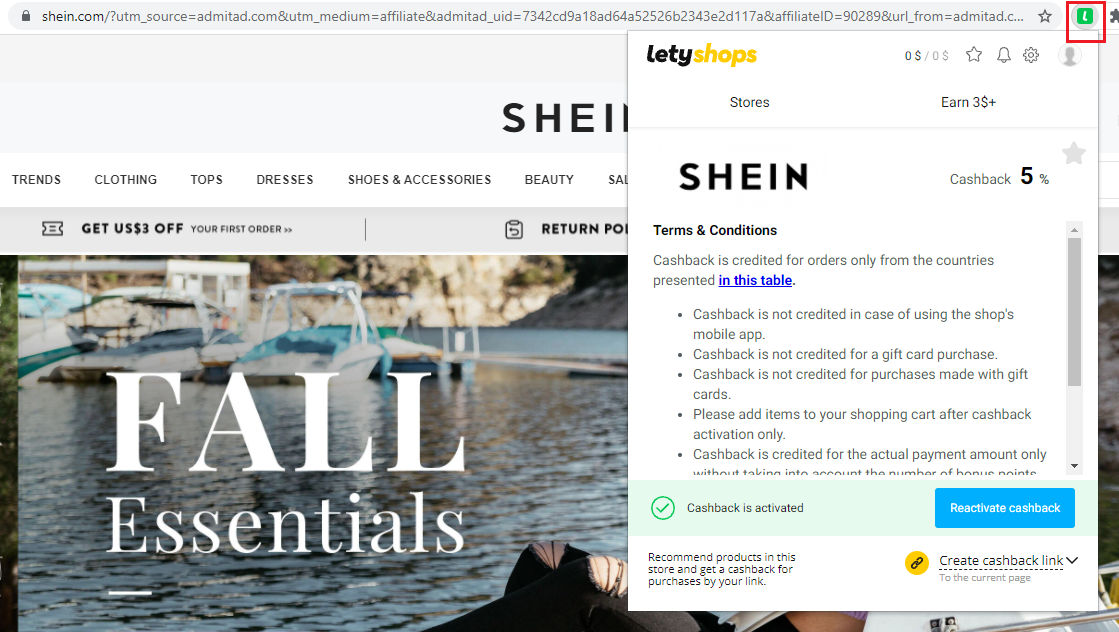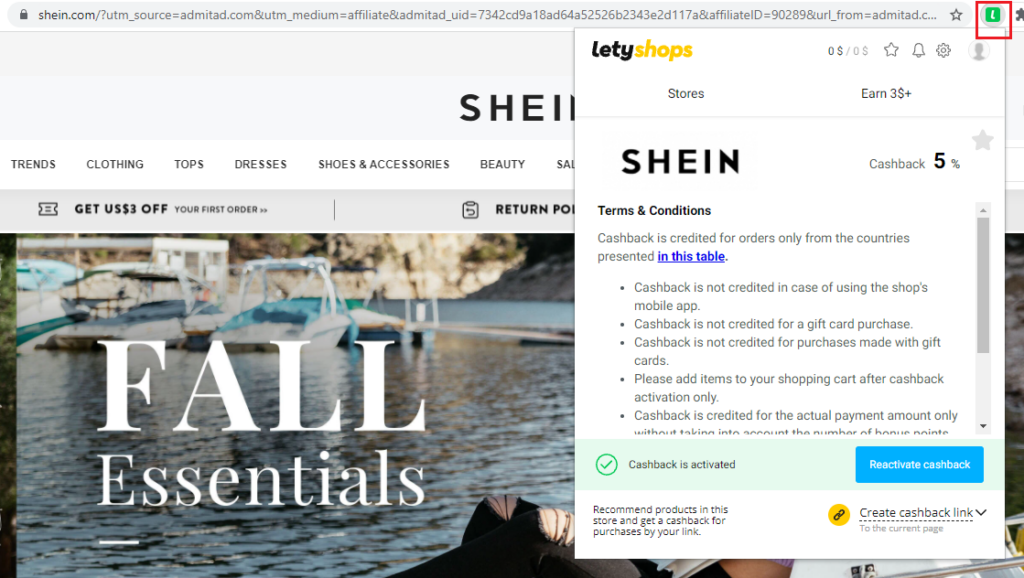 Be careful because if the icon is red, it means that your cashback is not activated, so click on it and follow the instructions to activate it.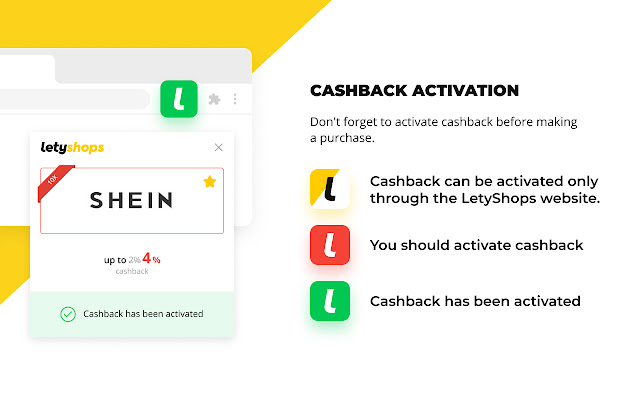 Having the extension installed in your browser is very practical when you do your shopping from your computer, as Letyshops notifies you if you enter a store with cashback available and so you don't have to check every time if the store is affiliated to Letyshops or not.
Warning: with this trick you can get unlimited Shein coupons. Click here to find out more.
Attention: if you make your purchases from the Letyshops app, you won't have to do any of this. It is important that you first log in to the app, which will redirect you to the store. There you will see the green icon at the top.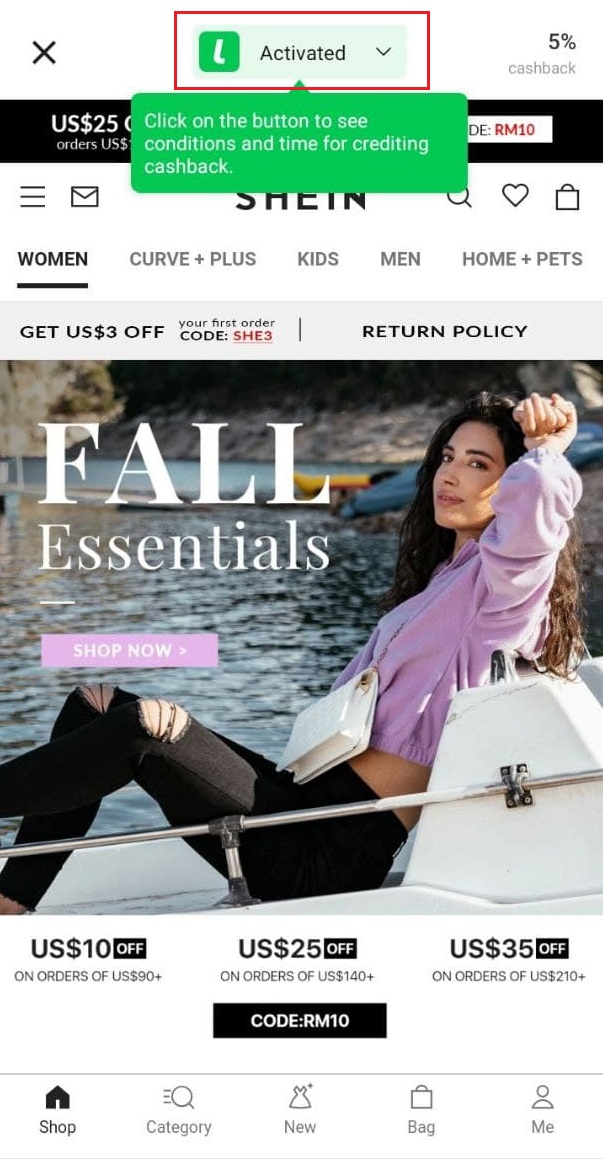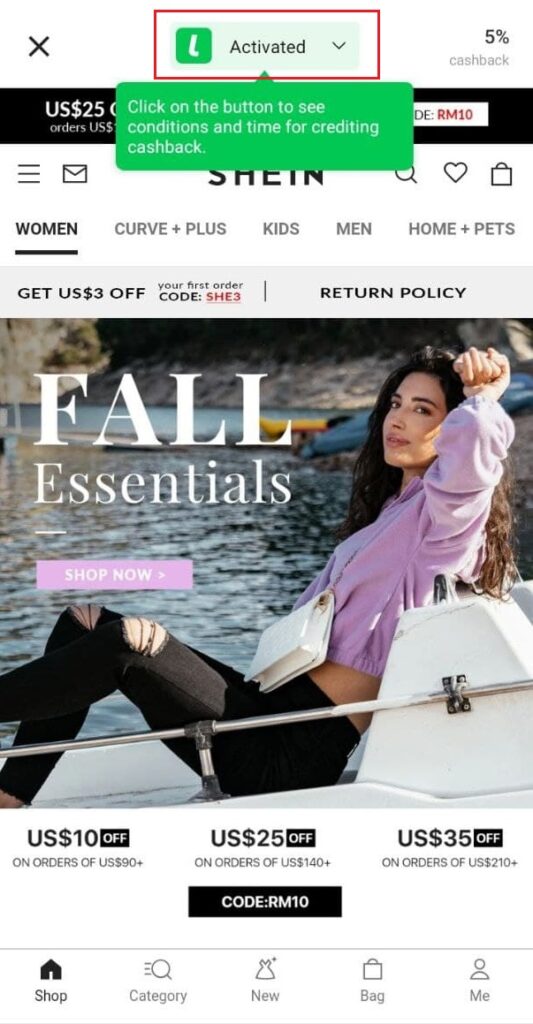 Search for Shein's store on Letyshops
Once registered, on the main page of the site, you can search the catalog for the brand you are interested in or type it directly in the search bar at the top of the page.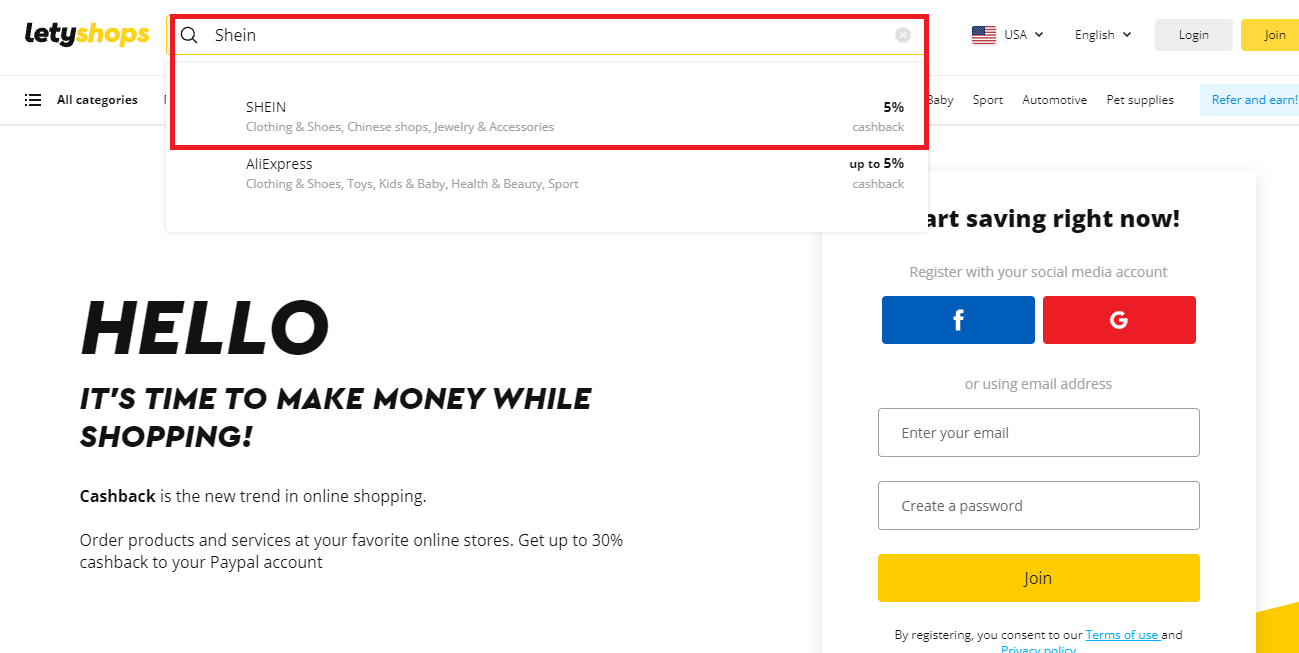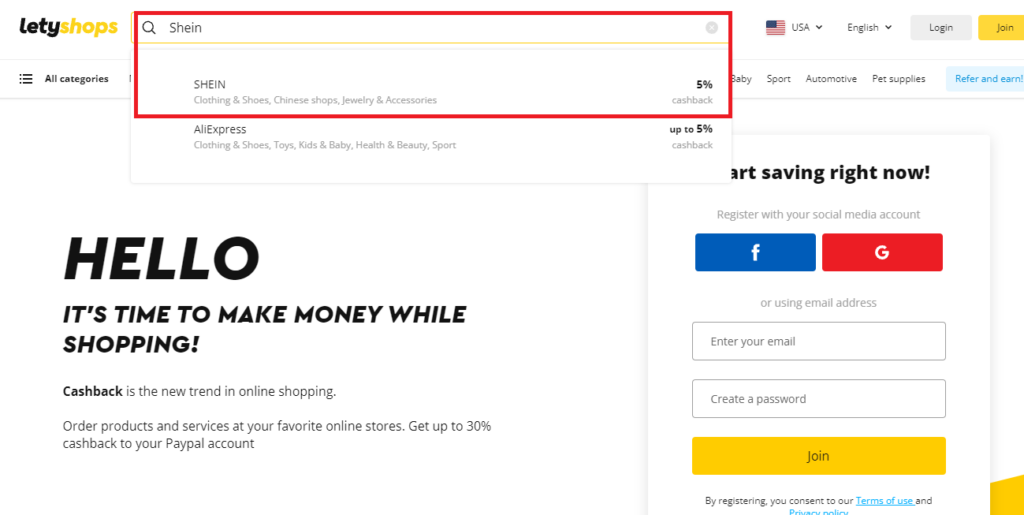 One of Shein's shopping conditions is that the cashback is not valid for gift card purchases or purchases made with a gift card.
Another important point is that Shein cashback is not valid if you make the purchase directly from the Shein app: first, you will have to go to the Letyshop app and from there you will be redirected to the mobile version of Shein (in that case, it will be valid).
Now that the Shein purchase conditions are clear, click on "Go to the store" to go to their website.


Important: only add your purchase to the cart once your cashback is activated, i.e. once the Letyshops icon is green.
After making your purchase on Shein as usual, you can close both pages.
Please note that the balance you have just accumulated will not appear on Letyshops right away. It usually won't show up on your Letyshops profile until a few hours or a day after the purchase, and will show up as "Pending" credit.
You can check your balance directly here.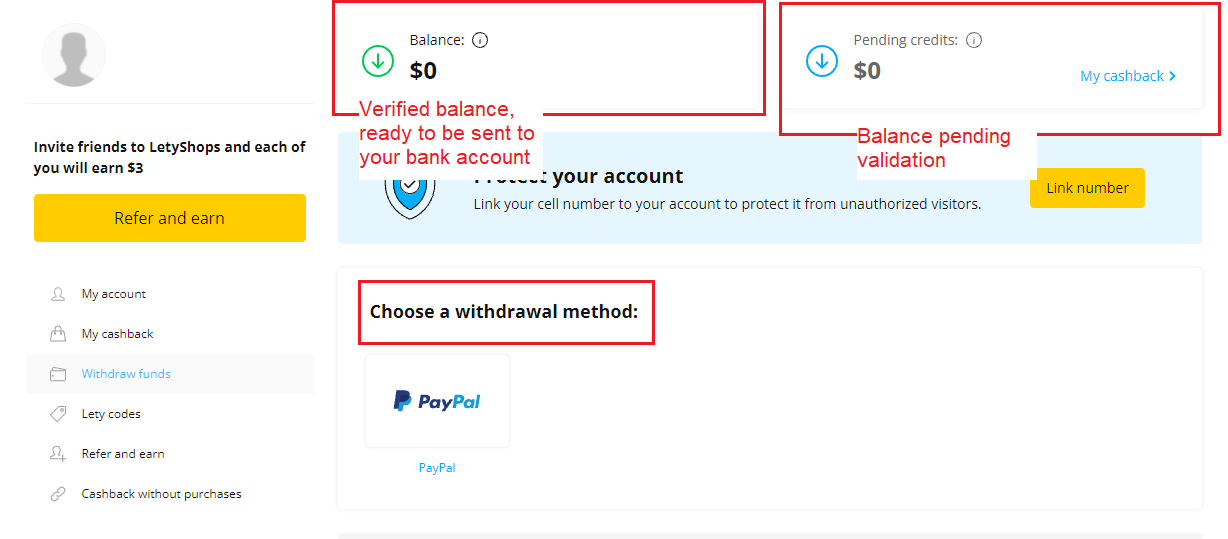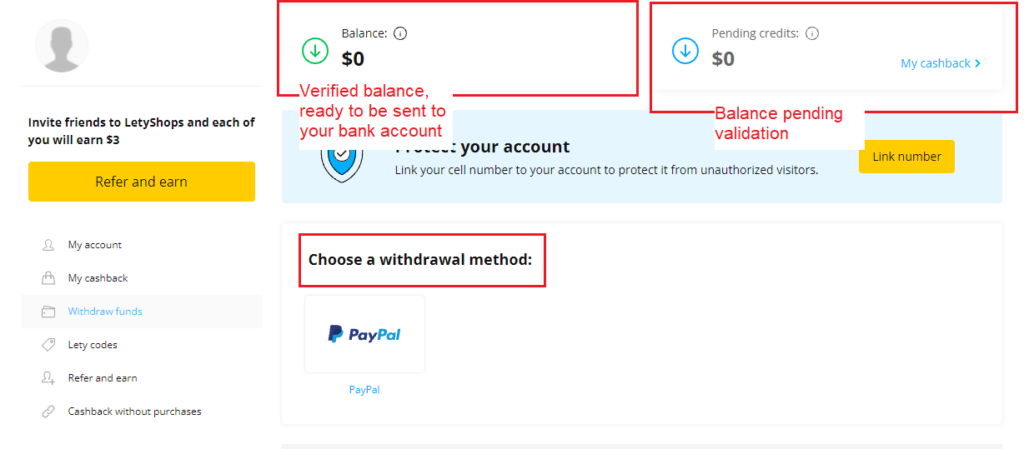 This "Pending" balance still has to be credited by Letyshops to become a real balance in your account.
The average waiting time for cashback that the site tells us is 60 days, with a maximum of 120 days.
This is because you will have to wait for your Shein order to arrive at home and confirm it without any issues (such as a possible refund), for Letyshops to make the cashback effective.
Try not to be too impatient because it doesn't usually take more than a month and, although the process may seem a little long, sooner or later it always arrives.
How to withdraw money
If you already have your balance confirmed, you can withdraw your money by clicking here and clicking on "Withdraw funds", as long as your balance to be transferred is at least $1.
You have two ways to do it: through Paypal or by bank transfer and in both cases, you must fill in the form with your details and confirm "Withdraw funds".
And that's all: within 1 to 3 business days you will receive your money in your bank account.
What to keep in mind to avoid losing your cashback from Shein
Sometimes you may fail to receive your cashback and you may not understand what happened or what you did wrong, so here are a couple of tips to avoid this from happening to you:
It is recommended that you make your purchases from your computer. If you want to do it from your cell phone, it is very important that you first enter the Letyshops app and then the Shein web-mobile version will open (which is very similar to the Shein app). Remember that there is NO cashback buying from the Shein app.
Install the Letyshops extension to make 100% sure your cashback is not lost.
Add your purchase to the cart and checkout only when cashback is activated (green icon).
Log in to Shein first and then go to the Letyshops page to log back in to Shein from there, always making sure you have the extension marked in green, so that the cashback is processed correctly.
It's best to already have your purchase thought out and saved in the Shein wishlist and then just add it to the cart and pay for it.
Warning: with this trick you can get unlimited Shein coupons. Click here to find out more.