There are tons of different brands when it comes to makeup brushes and this number only increases when you also count Chinese producers. That's why we've created this updated guide to find the best models and prices in AliExpress (take a look at a preview here).
The best ones are probably the 'SIGMA style' ones (it's one of the best rated), but don't forget the other white label brand alternatives to brands such as Zoeva, NARS, MAC, Bobbi Brown, Urban Decay, Dior, Chanel or Eco Tools…. In other words, there are tons of cheap makeup brushes. Don't know which one to choose? Here's what we think.
Cheap alternatives to makeup brushes by Zoeva, NARS, MAC, Urban Decay….
Let's talk about the different makeup brushes you can find in AliExpress. There's quite a few, so to get you started you can take a look here (the category of makeup brushes sorted by sales), but we will be talking about all the different types you can find.
According to hair: synthetic or natural
Makeup brushes can be made out of natural or synthetic hair, but you probably will find some that have both kinds. Let me tell you how to find one of the two kinds specifically:
Brushes with natural goat hair
Natural hair brushes are the best ones for powder products. As you can imagine, they are a little more expensive than synthetic hair ones, but you can still find them a lot more cheaper than in your usual shop.

Keep in mind that even if they are in this category, they might not all be made out of natural hair. To make sure, check the product description, in the section "Product specifications", and look at the material of the brush:

You can see all the goat hair brushes by CLICKING HERE.
Synthetic hair brushes
Synthetic hair brushes are usually used for fluids as they are more resistant. Remember you can also check the material of the product by checking the product specifications:

You can find them all HERE.
According to handle: wood, plastic or metal
There isn't much to explain here and, to be honest, it won't make much of a difference in the results no matter which you one you choose: the three most popular materials for makeup brushes handles are wood, plastic and metal.
According bristle shape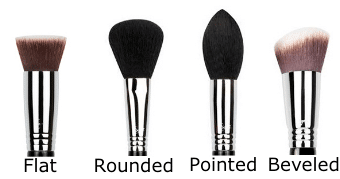 Image via
There are four kinds of shapes:
Flat: perfect for powder and bases, both fluid and compact.

Round: Ideal for powders and areas that require more precision, such as the cheeks.

Pointed: for even more precision areas, such as the "V" area.

Beveled: for peculiar shaped areas of the face.
In any case, most sellers in AliExpress offer cheap kits of makeup brushes, instead of individual units, so you won't have to choose.
So, what should I buy? A professional kit or a cheaper one?
Fortunately, professional makeup kits in AliExpress are a lot cheaper than other online and physical shops. You won't find brands such as Zoeva, NARS, MAC, Bobbi Brown, Urban Decay, Dior, Chanel, Eco Tools or others, but you will find tons of Chinese white label brands.
This doesn't mean they are less quality: far away are the days of "Chinese" being a synonym of cheap quality, especially in AliExpress, where, if you follow the good reviews, you can get some incredible products….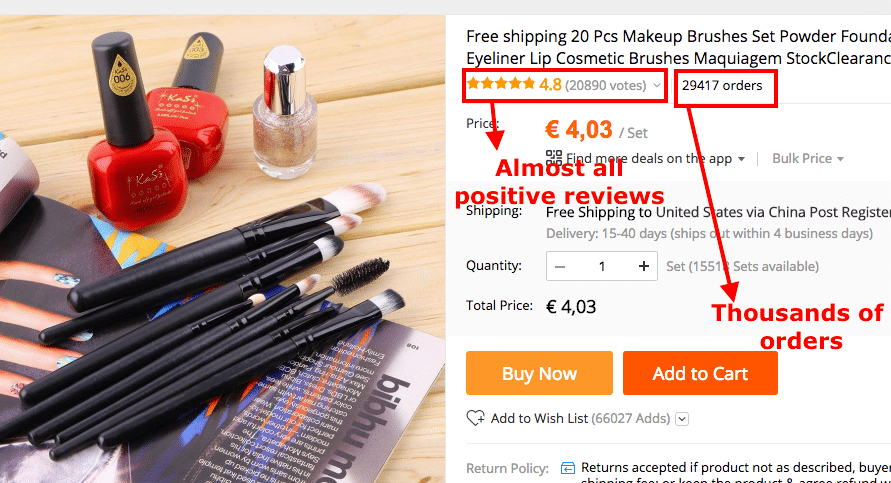 And avoid other not so reliable ones: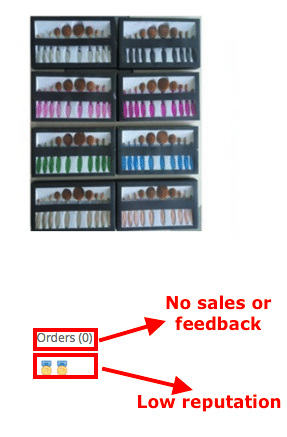 You can find the top selling professional makeup brush sets HERE.
Bonus: Cheap makeup sponges like Beautyblender ones
One of the top selling products in AliExpress are the makeup sponges inspired by the Beautyblender ones.
In case you haven't heard about them yet, they are a one-in-all tools for both professional and personal use. They kind of look like an egg:

Among the advantages of this makeup tool is the fact that, unlike traditional sponges, it doesn't absorb a lot of product and thanks to it's curved shape, it doesn't leave any lines. Furthermore you can control the coverage depending on how humid it is.
These Beauty Blender makeup sponges go for 20 to 30€, but in AliExpress you can find some Chinese equivalents for less than 50 cents!
You can find them HERE.
Top 3 shops to purchase makeup brushes in AliExpress
These are the top three shops to buy cheap makeup brushes. Their reputation is excellent, go take a look. And if you don't care about brand names, this is a great way to save some money.
There are a lot more sellers offering makeup brushes, but these three are especially good. Remember that you will receive your product in a month more or less. So, what are you waiting for?