New to AliExpress? Well, you're in luck because our beloved Chinese online store gives welcome coupons to new users.
All you have to do is go to this page and click on "Get It Now".

If this link doesn't work for you, try logging in here and see if a window with a warning like these ones appears.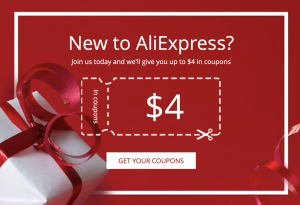 On the date we are updating this article (after 11/11/2018), the coupon is no longer worth $100 but $4, but maybe when you read this the coupon will be bigger again.
In the following article we'll explain how these coupons work for new users and other tricks so you don't have to be a rookie and save as much as possible on AliExpress.
What are welcome coupons and how to use them
Welcome coupons are either a $4 coupon or a pack of 5 coupons that add up to $100 and are only for new AliExpress accounts. To get them, just go to the AliExpress page we told you about or this one and wait for AliExpress to detect in your browser that you haven't opened an account before. If so, a pop-up window will appear offering you these welcome coupons.
We click on the window and it will take us to the next page, where you may be asked to fill in a captcha, we get registered in that same page, and that's it. A new page will appear with the coupons, for example if you signed up when the promotion was "100$", on that page you will see 5 coupons of different values that AliExpress offers us to buy on their page:
A $2 coupon for purchases of $5 or more.
An $8 coupon for purchases of $120 or more.
A $10 coupon for purchases of $150 or more.
A $30 coupon for purchases of $450 or more.
A $50 coupon for purchases of $750 or more.
(Indeed, there is a trick and it is that there are several coupons for different purchases with minimal spending.)
The positive side is that these coupons are not from a particular store but "AliExpress" coupons, so they can be used in any store and on any product on the page, you just have to add the products you are going to buy to the basket and when you go to the payment page, they will apply automatically if you reach the minimum purchase amount.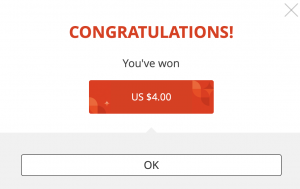 You can only apply one coupon per purchase, so if you buy something worth $130 and something worth $10, it is better to pay separately, so in your purchase of $130 the coupon of $8 will apply and $10 one,  the coupon of $2 will be applied. In addition, they have a validity period of about 10 days from the moment we register.
How to combine multiple discounts and save more money
These coupons are not the only ones offered by AliExpress. In fact there are many ways to keep saving on AliExpress and the best way is to combine several of the coupons offered by AliExpress. As mentioned above, "AliExpress coupons" cannot be combined with other "AliExpress coupons", but they can be combined with other coupons. That's why we're going to look at the 3 different kinds of coupons that exist and which ones you can combine the with welcome coupons:
AliExpress coupons: An example of these are the welcome coupons. They are coupons that can be used for any shop and on any AliExpress product. All you have to do is make sure that your basket reaches the minimum purchase amount marked on the coupon itself.
Seller coupons: The sellers themselves can offer small discounts if you spend a minimum in their store.
Selection Coupons: These are general coupons (if we have a selection coupon we can apply it in different stores) but to apply it, you will have to reach a minimum amount in the store that accepts them. We have an article dedicated exclusively to AliExpress Selection Coupons where we explain how they work in detail.
Where can I see all my coupons?
To see the coupons you currently have, just go to your account and look for the section "my coupons".
Update: by clicking here you should be able to access directly.
You have 3 tabs for the 3 types of coupons we talked about. If the coupon appears in red, it means that it is still active and can be used, if it is grey, it means that the coupon has already expired.
.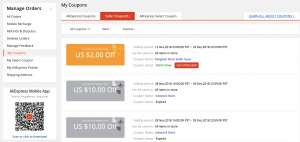 How can I see the seller and selection coupons?
The AliExpress coupons are valid for the entire basket and all AliExpress products, all you have to do is reach the minimum amount. But that's another topic we explain in our main article about Coupons in AliExpress (which, by the way, we've also just updated so I highly recommend it).
More tips and tricks in our blog
This article is part of our tutorial section, where you will find many more tips and tricks to buy safely in AliExpress and save money. If you are just starting to buy from AliExpress I recommend you to go through our Essential Buyers Guide for AliExpress, where we explain what it is and how to buy. And remember that in our blog you will also find the best reviews on cheap products worth purchasing in AliExpress.
What about you? Have you been able to use these AliExpress new user coupons? We'd love to hear your opinion so make sure you leave a comment bellow with your experience.