Hello! Today we are going to talk about how and where to get the best Oakley sunglasses online. With this easy guide, you can find the best deals on top selling models such as the Oakley Oil Rig, the Frogskins and, of course, the RadarLock for cyclists. We've all seen how great they look on people like Valentino Rossi or Fernando Alonso and thought I want a pair of Oakley too! Well, we are going to show you how to find them for 20€ or 30€ cheaper than you would at an official store.
I personally like Oakley because they make sunglasses for all kinds of sports (snowboard or skiing, etc.) and occasions. It fact, the brand has released more than 600 different models and is known for both their quality and price. They also have a military collection and some more classic models.
No matter how you look at it, Oakley glasses are pretty cool. It's no surprise they've become so popular worldwide, both online and in regular stores. Each day Amazon has more offers for them. When it comes to AliExpress, we haven't been able to find any originals at the moment, but there are a few affordable similar white label brands you might also want to check out.
What do I do if I can't find any Oakley in AliExpress?
Truth is, you probably won't be able to find any. AliExpress is a giant Chinese bazar that offers original products, but you are also going to run into a few cheap replicas. In an effort to avoid these last ones, the platform has taken certain measures. Therefore, in the specific case of Oakley sunglass you aren't going to find anything by using the brand name.

The reason for this is simple: all the Oakley models you find in AliExpress are replicas of originals, copies made by a different Chinese manufacturers with cheaper materials. They go for about 10 to 30€, that's a lot less than quality sunglasses.
The up side to this is the recent change in policy is that we will probably be able to find Oakley originals in AliExpress pretty soon. In fact, every day there seems to be more and more original products. To find them, all you have to do is look for the Guaranteed Authenticity icon next to the description. Furthermore, if they feature it and turn out to be a replica, the seller will have to reimburse you up to double the price you originally paid.

You shouldn't have much trouble distinguishing originals in AliExpress, but if you can't find a specific product, you can always try looking on other platforms. Let's see how!
My advice
My advice is that you try looking for Oakley on Amazon, they have tons of original products. We've been checking for replicas but, rest assured, Amazon only sells original Oakley. They have all kinds of models and prices and you can have them in less than 24 hours.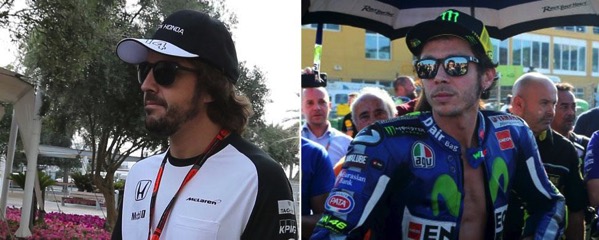 Speaking about specific models, you can try looking for them by their name in AliExpress, you won't find originals (the reals ones will go for more than 50€) but you might just find a pair similar to the Oakley Holbrook worn by Fernando Alsonso, or Valentino Rossi's Frogskins, or even the Jawbone. You can tell I have a thing for polarized glasses, can't you?
What about the quality of the Oakley sunglasses?
The quality of these glasses tends to be very good, but it will depend a lot on the seller and their reputation. Therefore, make sure you always check the seller and the reviews left by previous customers before you make a purchase. This goes for both and AliExpress and Amazon, as they also have external sellers offering good deals.
When it comes to Amazon try filtering results by price. They tend to show results for their products first so if you don't, you might miss out on a better offer by an external seller.
To be honest, it never hurt anyone to spend 5 to 10 more minutes checking to make sure you are making a good purchase, it's the same thing you would do if you were shopping in AliExpress.
Original OAKLEY sunglasses in Amazon
Amazon is a great alternative to optical stores or the Oakley website, but do make sure you check reviews by previous customers. This will give you a better idea what to expect. Also, you can find out how long shipping takes and other important information about the product.
Just look at these Amazon reviews: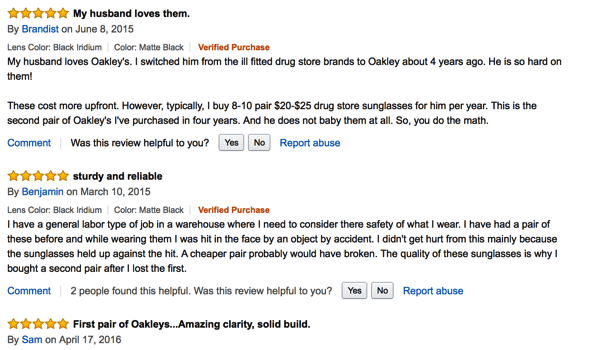 Free 24 shipping?
One of the biggest advantages of Amazon over outlets like eBay or even AliExpress is that you can get free 24 shipping. All you have to do is sign up for 'Amazon Prime' before purchasing your Oakley sunglasses. You have a 30 day trial, so if you don't want to pay the annual fee just unsubscribe before the trial ends.
AliExpress shipping takes 15 days, but their shipping is always free. Just the other day I got myself a pair of Ray Ban from AliExpress and had absolutely no trouble with the shipment.
Originals seem too expensive? Here is another option.
Aofly, a Chinese alternative
As I was looking for Oakley sunglasses, I found another brand: Aofly. They have thousands of sales, they look just like Oakley and are so much cheaper.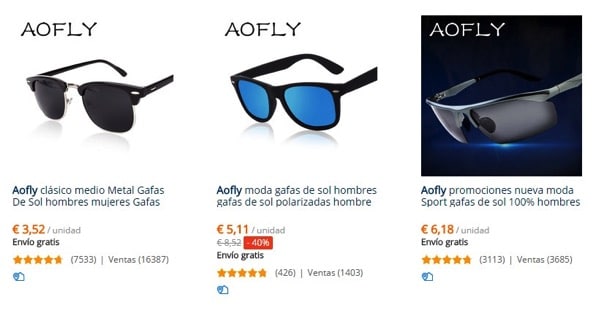 As you can see, these prices are dreamy. Thankfully they have tons of sales so as long as you check customers reviews you can be sure they are a good purchase. Even so, if you don't want to risk it, they have an exclusive seller with great reputation you can get them from:
Before purchasing you favorite Oakley…
If you are still having any doubts or would like to share your own experience, please leave us a comment, we love hearing from you guys.