To get the most out of your iPad, the Apple Pencil is essential: this stylus allows you to transform the tablet into a canvas or a notebook where you can work quickly and efficiently without dying trying.
The problem (as with almost everything from Apple) is that its price is not cheap at all and if you've just shelled out good money to buy an iPad, you may not want to keep spending even more on accessories.
That's why we've been doing some research to bring you an alternative that you'll love in every way: the Apple Pencil clones that you can buy on AliExpress (they're very cheap).
Let's take a look at them.
How to find them: to find the best-selling Apple Pencil clones, go through this search.
How to find cheap alternatives to the Apple Pencil?
Surely you have already noticed that AliExpress has drastically changed its policy of permissiveness in terms of counterfeits, so now it's very difficult to find fakes.
Despite this rule, on the platform, you have many Apple Pencil clones available. These devices are completely legal, since, although they copy design and features, they don't include logos and distinctive signs of Apple, so they're not considered counterfeits.
By looking at this search you can see that in addition to clones, you can also find original Apple Pencils, although their price isn't the real price.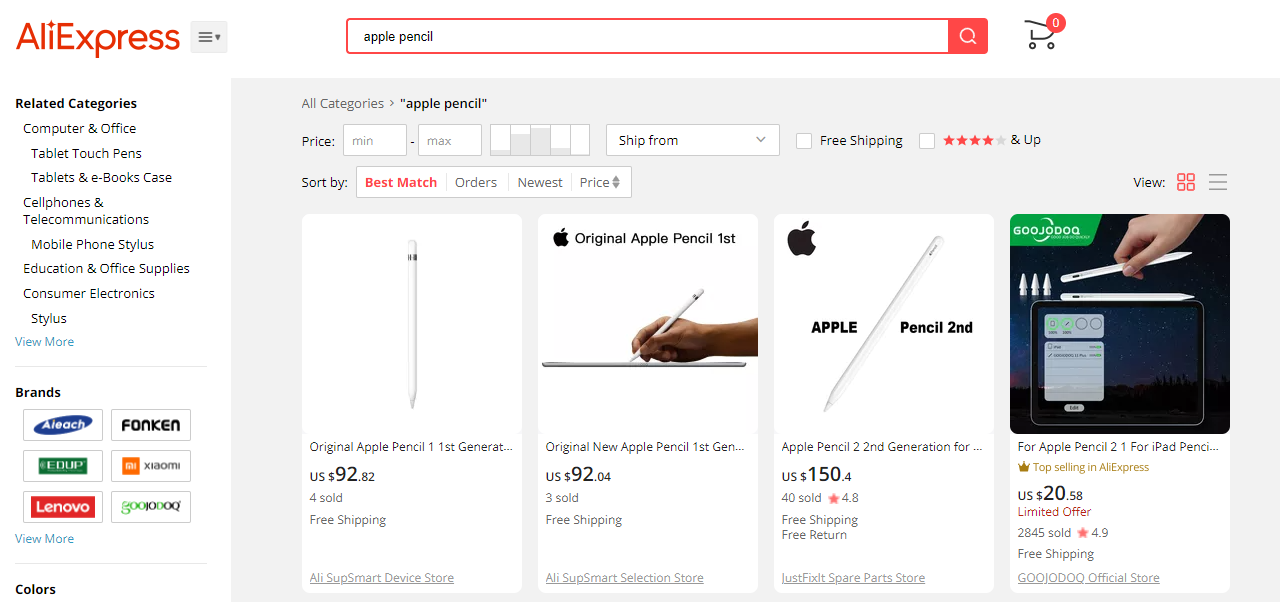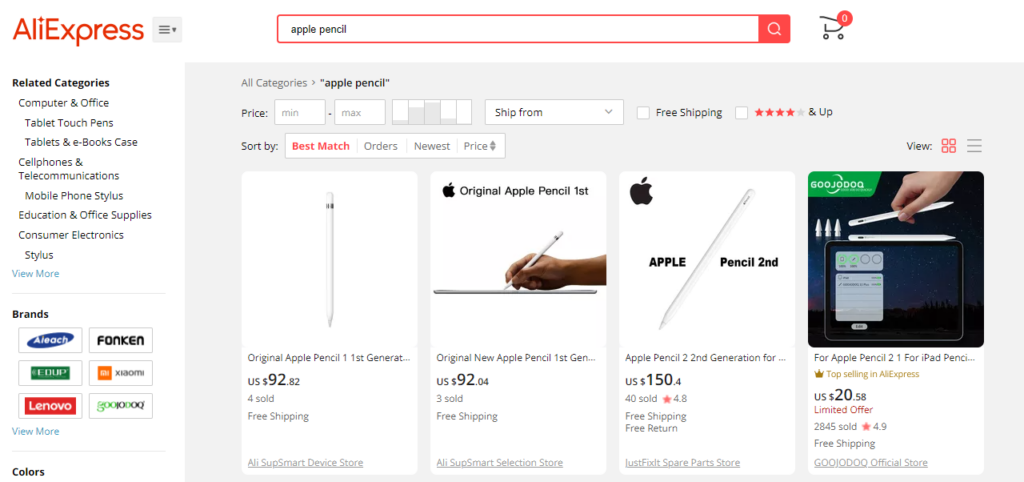 Although you have many cheap options to choose from, you should always pay attention to the characteristics of the clone, so that the material and design are as similar as possible to the Apple Pencil.
It's also very important that before buying, you make sure that the pencil is compatible with your iPad model.
Do these Apple Pencil clones work well?
As cheap as these clones are, it's normal that before spending your money on them, you wonder if they really look like an Apple Pencil or if you're going to have problems using them. But, rest assured. We explain why you can trust these Apple Pencil clones:
Easy operation
The truth is that the operation of these clones, like the original, is very simple and does not need any recommendations.
If for some reason when you get the pencil, it doesn't connect to the iPad, just try to charge it to its full battery and restart it: you will see how then it connects right away.
Extremely similar material and design
Most of these clones successfully copy the design of the Apple Pencil and like these, they are made of aluminum and silicone.
Note that the latest model of the Apple Pencil is charged by attaching the device magnetically to the side of the iPad and in the case of the clones, they are usually charged like the 1st generation: via the lighting port.
Do you want it for writing or drawing?
On AliExpress you can find two types of clones. On one hand, you have the low-end ones, which cost just over €10 and are ideal if you're looking to write or make simple drawings and diagrams.
On the other hand, if you're looking for a pencil for drawing, editing with Photoshop, Illustrator, or something else on a more professional level, we recommend that you invest a little more in this accessory and make sure it includes a pressure sensor to work more accurately.
Good battery life
Although some buyers complain about the battery life of these clones, the truth is that the autonomy of the original is not one of its strong points either: while the average autonomy of an Apple Pencil clone is 10h, the original does not usually last more than 12h.
But don't worry, if you are very absent-minded and easily forget to charge your devices, by plugging it in for a couple of minutes you will easily have 1h of work ahead of you.
Best iPad compatible pens
As we have already seen, on AliExpress you have many clones, although if you want to make sure you are making a good purchase, it's best to look directly at the specialized brands that we are going to show you below.
Although some don't imitate their design to perfection, their features are the most similar to those of the Apple Pencil (which in this case is the most important thing).
Baseus
Official store: Go to the store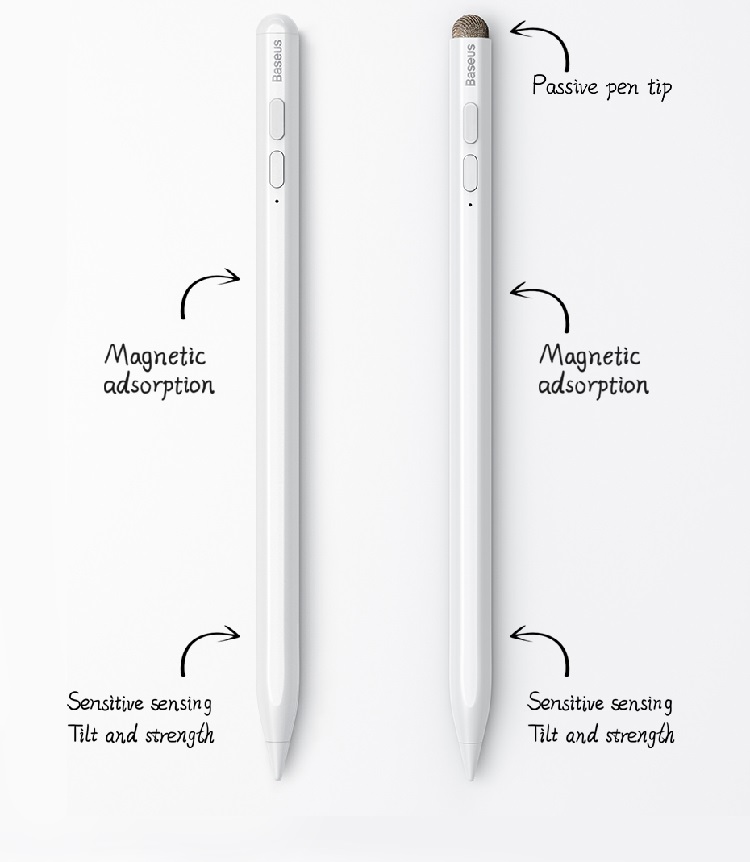 To speak of Baseus is to speak of quality.
Undoubtedly, this reputation has been earned over time, demonstrating that their products, in addition to having very affordable prices, have great features and good durability.
Although the digital pencil of this brand does not copy the design of the Apple Pencil in detail, its features are very similar and are at the height of this high-end accessory, but cost 70% less.
The latest Baseus model includes palm rejection, so you can rest your hand on the iPad screen without interfering with your work.
It also includes pressure control on the tip to make different strokes when drawing and has very good autonomy.
For all these reasons, this stylus is one of our favorite options if you are looking to invest in a good device for drawing, editing, and writing.
AIEACH
Official store: Go to the store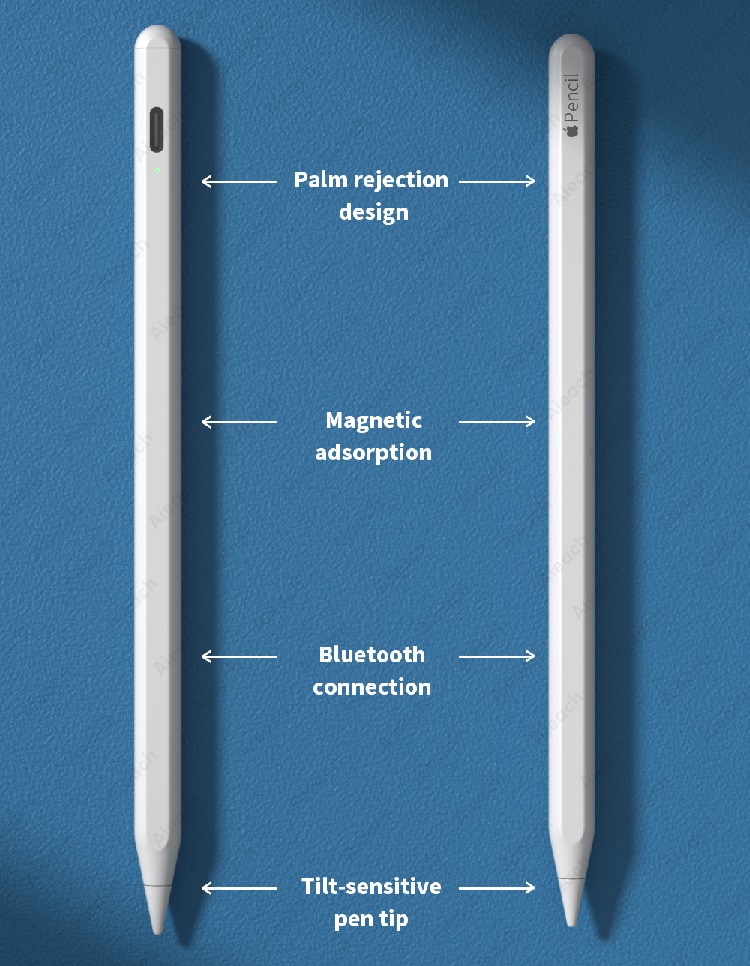 Another great alternative to the Apple Pencil is the Aieach stylus: design almost identical to Apple's, palm rejection, wireless charging case, pressure control on the tip, an autonomy of 30 h…
A very complete stylus with very good ratings that have made it a bestseller on AliExpress.
This brand also has tips available for your pencil: depending on your drawing preferences, you can use harder or softer tips to make it glide more easily across the screen of your iPad.
Aieach's Apple Pencil clone is so good that even its tips are compatible with the original stylus.
FONKEN
Official store: Go to the store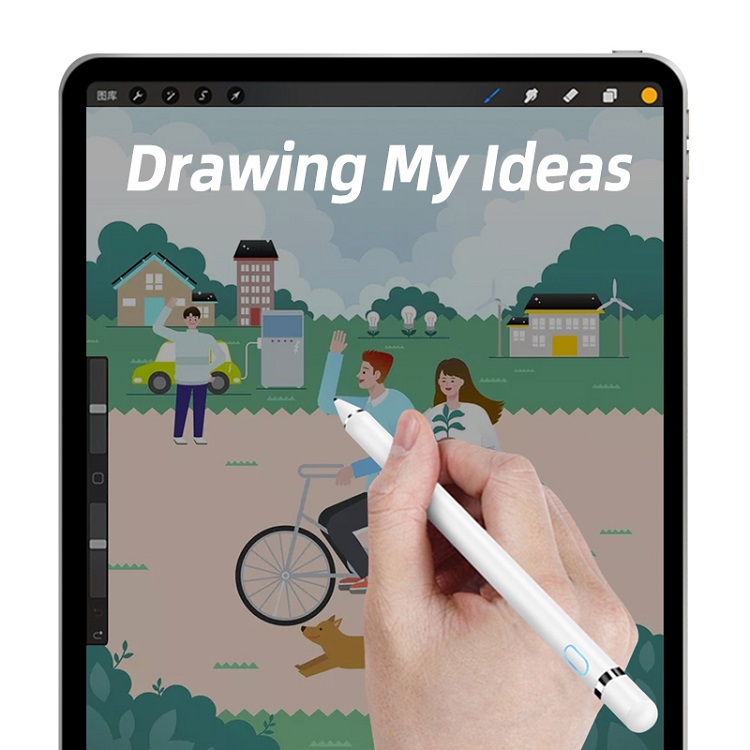 Fonken has clones identical to the 1st generation Apple Pencil for a very cheap price.
Although it has a little short autonomy (about 8 hours of continuous use), if you want a simple pencil that allows you to get started in the world of digital drawing, you should keep an eye on this brand.
GOOJODOQ
Official store: Go to the store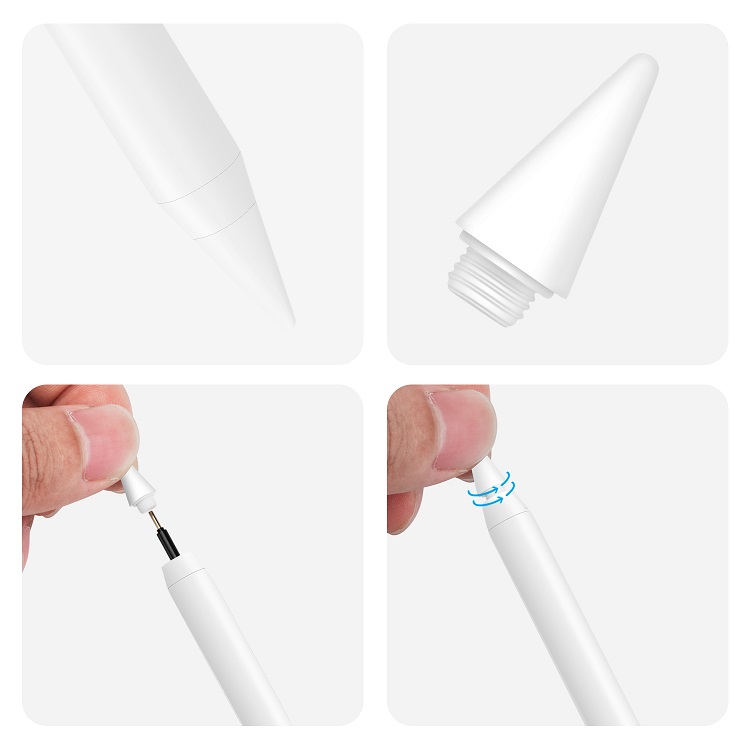 GOOJODOQ pens are succeeding on AliExpress for many reasons: very cheap price, a very similar design to the Apple Pencil and good features. It includes palm rejection and great precision for thin and thick strokes. Besides, you won't have a problem with delays when writing (something that is very uncomfortable when it happens).
Good news: it's compatible with all iPad models from 2018 to present.
ANMONE
Official store: Go to the store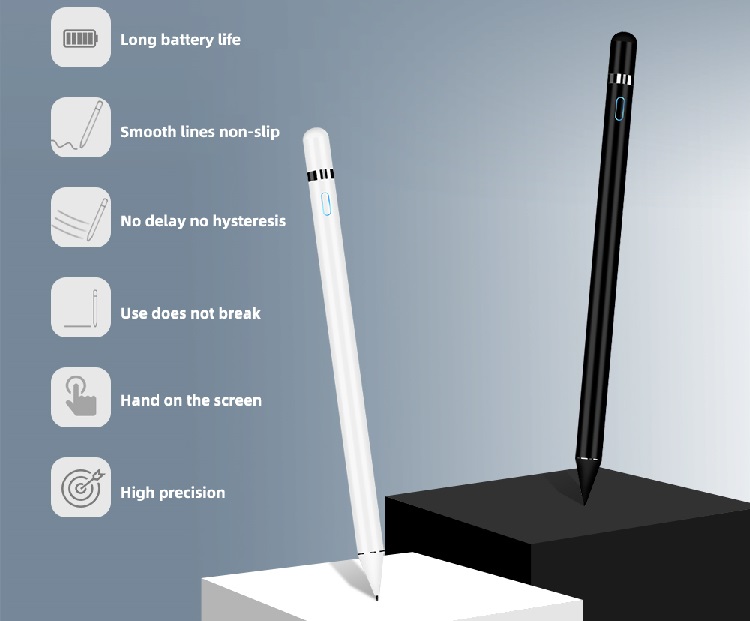 ANMONE is one of the longest-lived brands on AliExpress that has very cheap electronic gadgets and very acceptable value for money.
As with GOOJODOQ, if you're looking forward to a digital pen, but don't want to spend a lot of money, at ANMONE you have many interesting options that you should value.
VUUV
Official store: Go to the store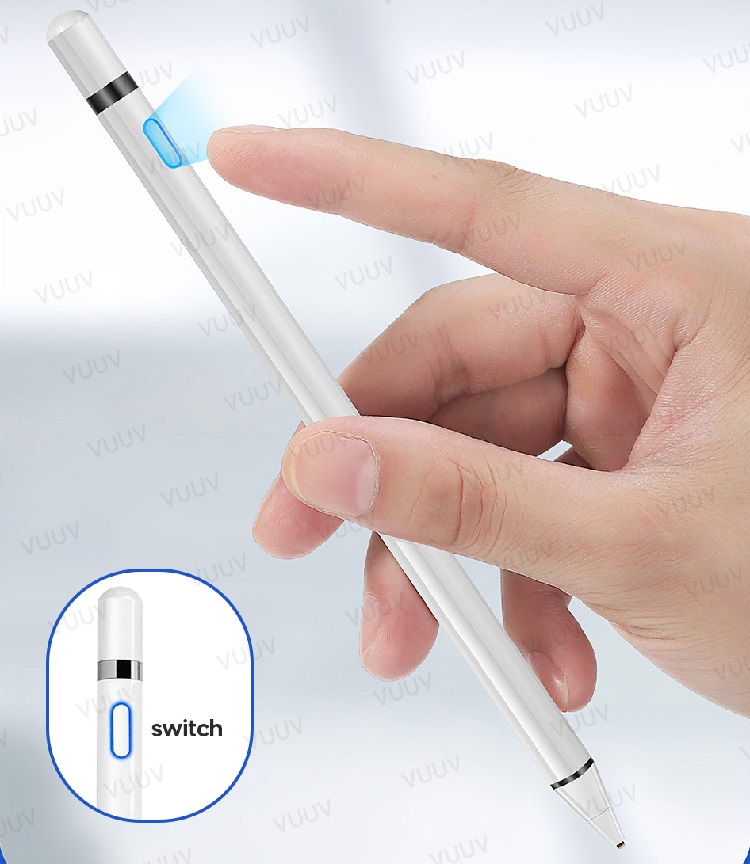 Can you imagine buying an Apple Pencil clone for less than €10? Well, in VUUV you have several models from a very low price and that have thousands of sales.
If you're also thinking of giving it as a gift, this brand seems a great option for having a very wide range of prices, with many sales and very good ratings from buyers.
Paperlike Alternatives
If you are one of those people who like to draw on paper, but you're aware of how important it is to keep up with trends, you have to know that you don't have to get used to drawing on a glossy iPad screen: on AliExpress you can find rough screen protectors that mimic the texture of paper by clicking here.
These protectors decrease a bit the sharpness of the image, so if you also use your iPad to watch movies and series, don't worry: there are magnetic removable options so you can place the protector whenever you feel like it (click here).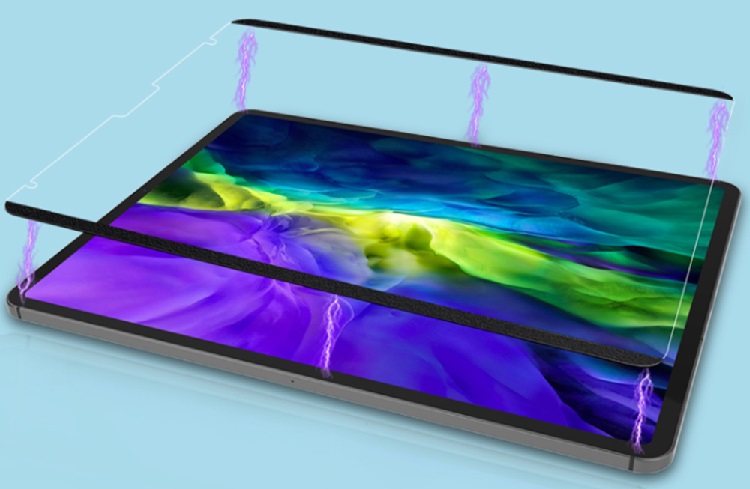 Always check the compatibility of the stylus with your iPad
Always remember to check that the stylus you are buying is compatible with Apple.
Many reputable brands such as Xiaomi, Lenovo, and Gaomon also have many stylus models, but unfortunately, they're not compatible with the iPad.
So, are they worth it?
The original Apple Pencil has a rather disproportionate price for what you're really buying. And if in AliExpress you can find alternatives with very good features by paying only a third of what the original would cost, why would you pay more?
In addition, you also have very cheap options (from €10) that are ideal for testing whether you like this accessory or not, or for when you need to perform simple tasks.
In short, in AliExpress you have thousands of very good options that suit all budgets, but before buying anything, you should evaluate well according to your needs.