Lately, prefabricated houses are really competing against conventional constructions for many reasons: they are cheaper, their assembly is faster and they are more energy efficient, which saves on air conditioning.
Have you ever thought about buying one of these houses in China through AliExpress or Alibaba and you don't know how to do it? You probably also wonder about shipping and customs, don't you?
In this guide, we explain everything you need to know about importing a module or prefabricated house.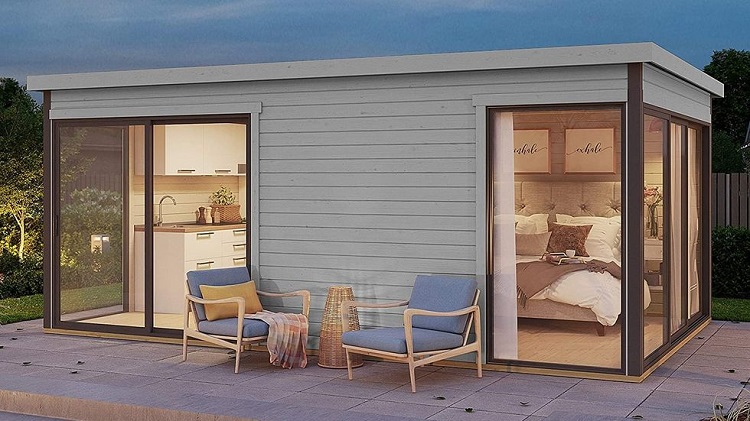 Is it worth buying a prefabricated house from China?
In Europe, the average price of a conventional new house is more than €1,000/m2. Prefabricated houses that you can buy through a local company, although cheaper, are around €600-700/m2 (these prices keeping in mind that the quality of the materials they're made of is pretty average).
Considering these prices, deciding to buy a house can be very dizzying. That is why a very interesting alternative are the prefabricated houses that we can import from China: with base prices around €100/m2, they make the dream of having a country house much more affordable.
And, although you can buy standard house models, many sellers have fully customizable options. You can even send them a floor plan or freehand sketch for advice and guidance on your final proposal.
In addition, most sellers offer discounts for buying several units, so if your idea is to buy these houses to start a business, it can still be more profitable to do it in China.
On the other hand, the main disadvantage is that shipping from China is expensive and there are still no sellers with local shipping.
Where to buy these houses?
How to find them: To find the best results on AliExpress go through this search and on Alibaba do this other one.
These types of houses are available on both AliExpress and Alibaba. However, Alibaba's catalog is much more varied.
And, yes, although Alibaba is a wholesale-oriented website, you can buy a single unit.
In addition, on Alibaba you also find them classified according to their use: hotel, private home, warehouse, office, portable toilets…

Steps you should follow to buy a prefabricated house in China
Let's see what you have to do to buy one of these houses.
Ask several sellers
Obviously, you should start by comparing prices and asking the sellers what their houses include. It's important that you are clear on the following:
Does the house include toilets, kitchen furniture, carpentry, electrical installation…? Some sellers include in their houses kitchen furniture, toilets or other extras that can increase the price of the house. Analyze if it's worth got you to assume a greater expense now, or if you simply prefer to finish the house when you receive it. Never take anything for granted: ask for a list of everything that is included.
Does the house need a foundation? This is important to know if you're dealing with a mobile prefabricated house (it does not need a foundation) or a modular prefabricated house (it does). Generally, the regulations for houses that do not need a foundation are more lax, since in many countries they are not considered real estate. This will depend on the country you're located in, so obviously, you should make sure beforehand.
What is the shipping price? In AliExpress shipping prices are already indicated on each product, however, that's not the case on Alibaba, so you have to ask the seller the price for transport to the port that suits you. These houses are always shipped by sea from China to the port of your choice.
Shipping time? This will depend on each seller and whether you buy a standard or custom model. Normally, shipping time is between 4-7 weeks.
Are all materials included? Be careful because some sellers do not provide you with all the materials to build your house from start to finish. This can happen especially in prefabricated houses made up of steel structure and concrete panels, as sometimes they only include the steel structure without the concrete panels, which is the heaviest part.
Payment terms? When it comes to a custom home, some sellers ask for a down payment of 30% of the budget to start manufacturing it. This is totally normal and is the same as what you would be asked for if you were buying a house in your country.
Payment method
Once you know which prefabricated house you want, you will have to proceed to do the payment. As these houses are expensive and credit cards usually have limits, Alibaba and AliExpress sellers usually accept payment by bank transfer or PayPal. We always recommend the latter option because it gives you extra protection.
But keep in mind that no matter what payment method you choose, you should always pay through AliExpress, Alibaba or whatever store. Never accept if the seller offers you to pay outside the platform.
The seller will send you the documentation that you have to present to customs
When the seller sends the house from the port of China, they will indicate the date of arrival and will send you all the documentation that you have to submit to customs: invoice, declaration of value, shipment contents, tax data of the exporter/importer…
All the customs clearance procedure will be done at the port itself through the customs agent assigned to you, who will contact you when they receive the shipment.
Remember that taxes are not included in your purchase, so depending on the country you are in, you will have to pay a particular percentage.
The transport from the port to your parcel is not included
You have to know that the transport from the port to where you want to locate the house is not included, so you will have to hire a transport company or rent a vehicle to transport it.
If you find the whole process of customs clearance and transport of the goods complicated, there are companies specialized in customs clearance solutions such as Clearcust, Logisber or other similar companies, where you can ask for a quote to take care of all the paperwork and transport of the house.
The assembly of the house also runs on your account
This type of housing is characterized by a simple assembly and although it may not be necessary to hire specialized labor, you should keep in mind that it is essential to have assembly and cutting tools to do it. Normally, sellers include an assembly video where you can assess the difficulty involved.
It is likely that, although you will not need specialized labor for the assembly, you will need it for the installation of plumbing, electricity, heating or air conditioning of the house. Your parcel must have a sewage system (public or through the installation of a septic tank) and the possibility of connecting to the electricity grid (or look for alternatives such as solar panels or other renewable energies).
Do I need a permit to place a prefabricated house on a lot?
It is important that before buying one of these houses, you check what type of prefabricated house it is (with or without foundation) and the qualification of the land where you want to install it (urban, developable or rustic) to avoid possible penalties.
Therefore, we have to differentiate between a mobile prefabricated house, which does not need a foundation and is usually composed of one or several simple modules, and prefabricated modular houses with more complex structures that do need a foundation.
Mobile home: laxer regulations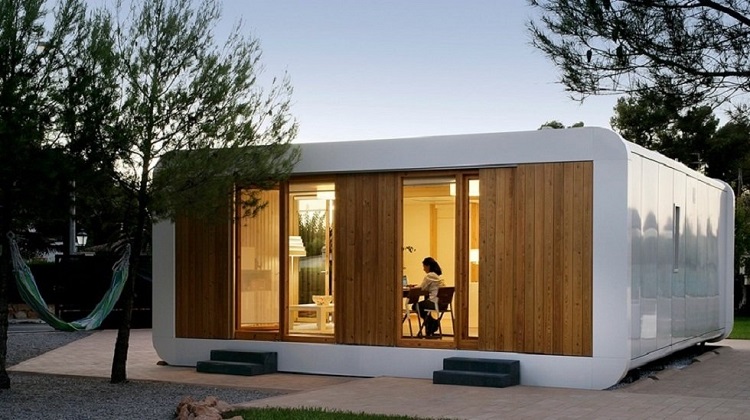 In Europe, mobile homes (see examples here) are usually not considered real estate, like for example a caravan.
Despite this, and contrary to what many believe, they do need a planning permission, so we recommend that you check with your local council to make sure what procedures you need to carry out.
Fixed prefabricated house: same permits and licenses as a traditional building

On the other hand, prefabricated houses with foundations (you can see examples here) must take into account the laws of your country when it comes to buildings, like any other traditional construction house.
Therefore, you will need the same permits and licenses as in any other new construction and a project approved by the architects' association. In addition, this type of houses also need a certificate of habitability that you can request in your town hall.
Consult the land qualification where you want to place it
Depending on your country of residence, you can easily check out in the electronic headquarters of the cadastre the type of land where you want to place your house by entering the data or the cadastral reference.
In theory, when it comes to Europe, prefabricated houses can only be placed on urban land (land with all the necessary services on which it is allowed to build). Although there are exceptions within each autonomous community, in which it is also allowed to do so on developable or rustic land as long as they meet a number of conditions.
What happens if I place a prefabricated house without a permit?
If you do this, you face possible sanctions from the administration whether it is urban or rustic land.
In some countries, illegal buildings have a few years statute of limitations and although in the past it was a very common practice and many people preferred to take the risk, nowadays satellite monitoring makes it easier to detect them.