Keeping regular control of our health is very important, mostly if we practice sports or have any disease. Luckily, there are more and more affordable and reliable household appliances. One of the newest and currently sought after is the oximeter, a small device that allows calculating the level of oxygen saturation in the blood. This information is very important for professional athletes, but also for patients with diseases that affect the respiratory system.
Oximeters have become an extra tool for detecting one of the symptoms of coronavirus. COVID-19 affects the respiratory tract, therefore, it reduces the level of oxygen in the blood. Oximeters are very useful, not only for people in risk groups but for anyone since if the disease is not detected on time, it can cause us to suffer hypoxia (shortness of breath without warning). Even so, having a low oxygen level in the blood (approximately below 93%) is not a confirmation of having coronavirus, but still, using these devices is a good way to control our health, whether or not we have this disease.
How does an oximeter work?
An oximeter is a small device that is placed on the fingertip and measures the oxygen saturation of the blood. It does so employing LED light emitters that send impulses through our skin. Blood has a different wave absorption depending on whether or not it is oxygenated, so oxygen level can be measured effectively without a blood sample. To work properly, nail polish should not be worn when using it. Take into account that a person without pathologies must have more than 95% oxygen in the blood, though this level varies throughout the day. We should always check with our doctor for the results before worrying.
Best oximeters on AliExpress
Oximeters are commonly sold in pharmacies and other commercial establishments but can be found much cheaper on AliExpress. This page not only sells clothing, accessories, or technology, it also has stores specializing in health care devices. More and more people choose to buy on this page thanks to its great value for money.
You can check some cheap oximeters on AliExpress by clicking here. As you will see, it is a product in high demand, that is why we would like to walk you through the best ones so that you do not waste time comparing the different models.
1 – ARSTN Oximeters
This brand is one of the most popular ones. Basically, they only sell oximeters, although with several different models. Some of their models are best sellers on the platform since they have a good value for money and great precision in data collection. You can find them all at this link.
One of their best-selling models stands out for having a LED or OLED screen. Besides measuring oxygen in the blood and pulse, they can also record data or emit sounds to warn us. Although their models are ideal for children from 4 years old, they also have pediatric oximeters for babies. And if you want to record your data on your mobile, you can also find oximeters with Bluetooth.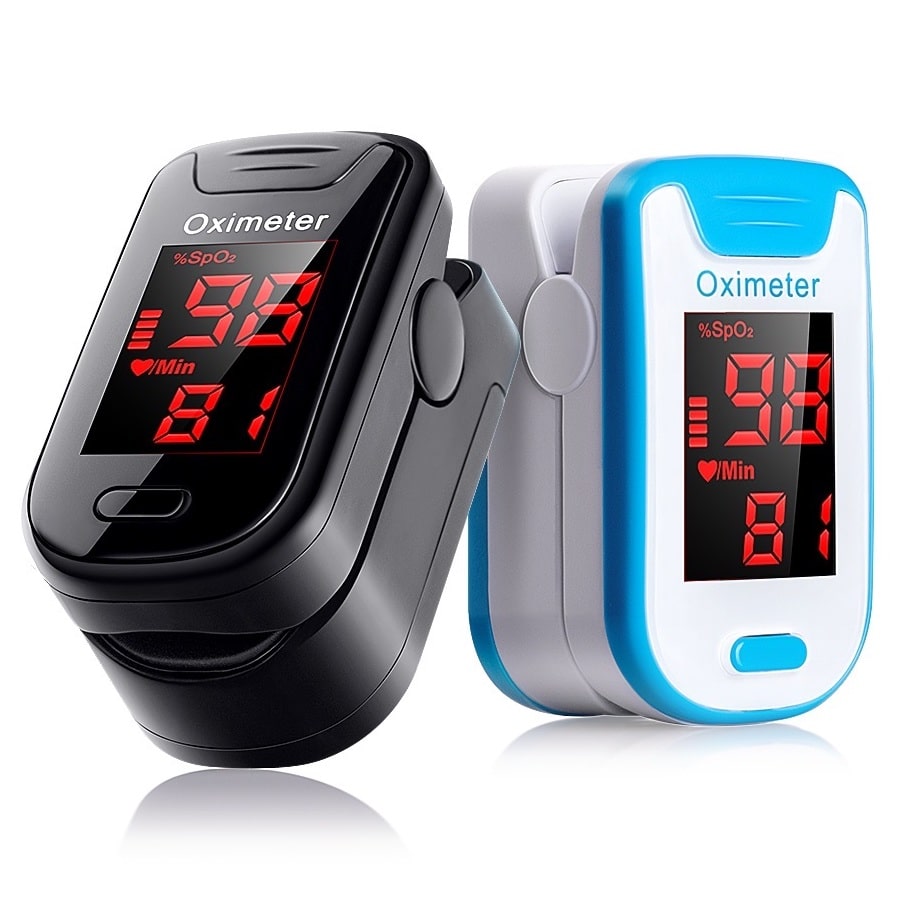 But we mainly recommend this brand if you are looking for a professional oximeter since they have some models with more advanced technology that allow you to change the probe to fit the finger of babies, children, adults, or even pets. They can show other values ​​such as the perfusion index or the temperature measured through the sensor. Some can be synced to your phone to keep track of measurements.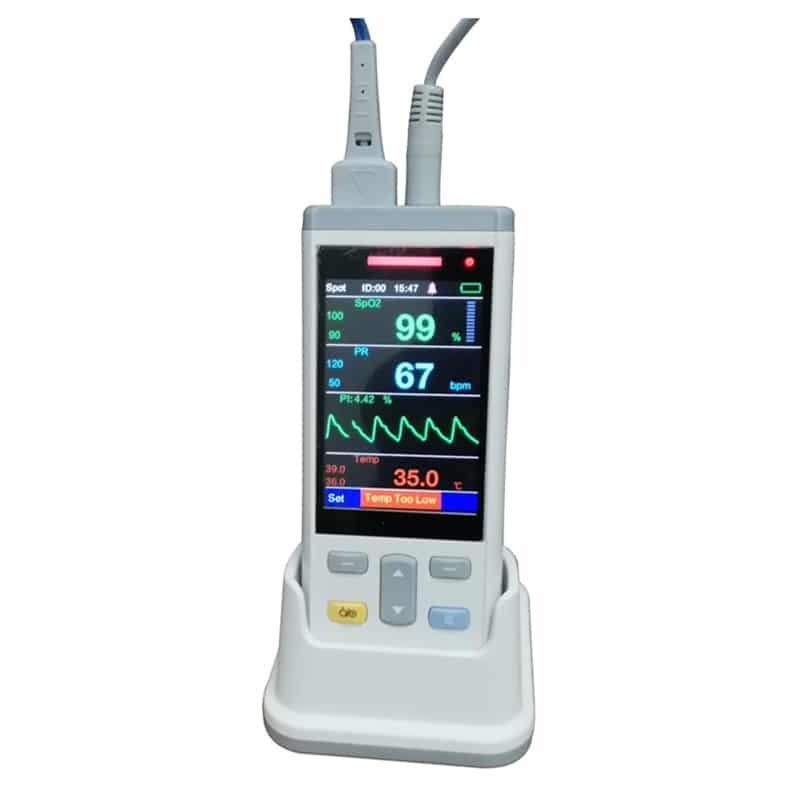 2 – Yongrow Oximeters
The Yongrow brand has been selling on this platform for more than seven years and specializes in medical products, with a professional service, the possibility of dropshipping and fast shipping in less than 24 hours. You can buy oximeters per unit or in a pack with several devices. You can see them all by clicking here.
Their oximeters measure the oxygen level in the blood and the pulse rate with the conventional finger system. They use CFL technology and reduce light interference to achieve the best measurement accuracy. For a small difference in the price, you can find some oximeters with built-in batteries that can be charged via USB-C to avoid wasting batteries. Their oximeters have international certificates (CE, TUV, FDA, ROHS …), so they are a guarantee of quality.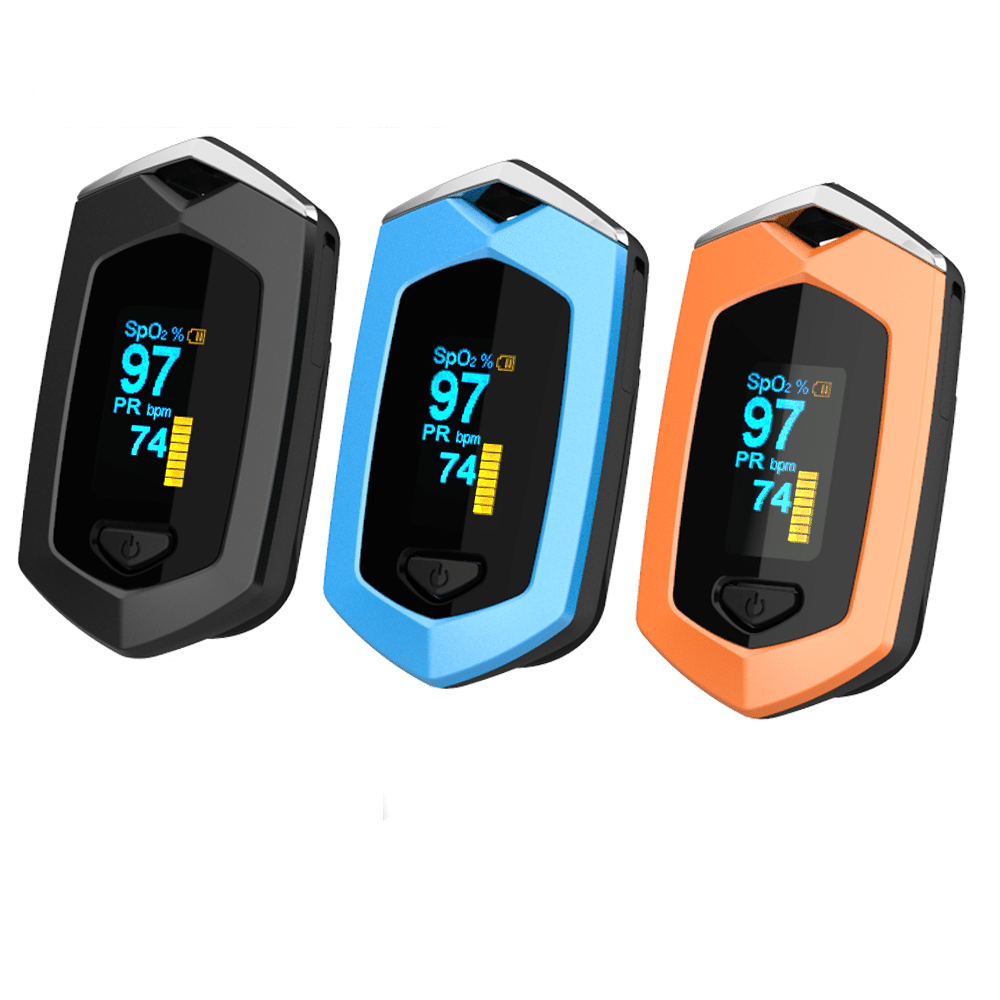 3 – Elera Oximeters
Elera is another store that specializes in medical products, such as thermometers, blood pressure monitors, and glucose meters. They offer several finger pulse oximeters. One of the advantages of this brand is that they have warehouses in certain countries so that you can receive your purchase faster. Their oximeters are high-quality and make very reliable measurements. You can see them all here.
One of their best-selling models is the typical finger oximeter. This brand has several models of that type, with LED or OLED screen and alarms. They also have some baby and neonatal models, and other handheld oximeters with multiple probes to fit the finger of babies, children, adults, and even pets. Although they are a bit more expensive, they can be useful for families where several members need to use it. Something interesting is that we can see a graph with the variation of the values ​​at the moment of making the measurement.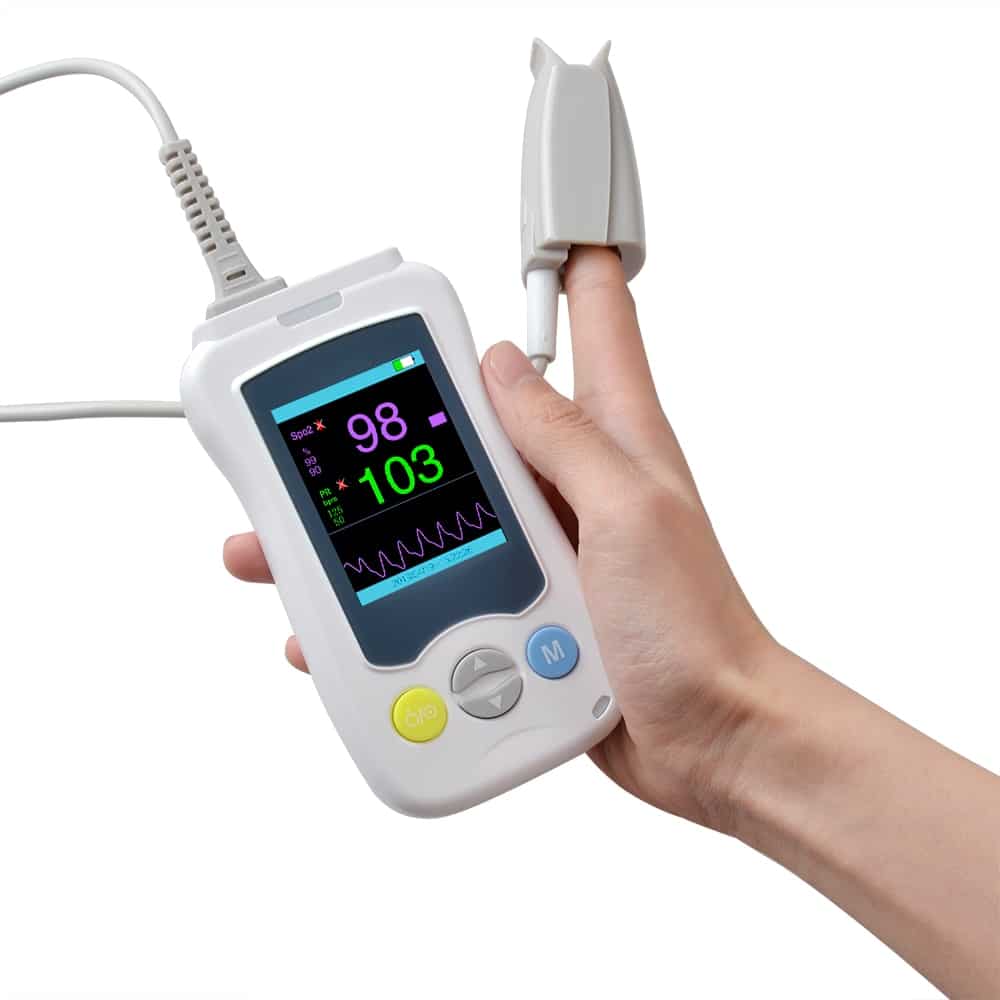 And finally, if you suffer from apneas during sleep, you will be interested in its apnea control monitor, which warns you in case of low oxygen in your blood and records your pulse. You can choose between a small finger device, similar to the typical oximeter, or an oximeter with a bracelet where we can see the measured data and receive alerts through vibration. Lack of oxygen during apneas is very dangerous, as it increases blood pressure and affects the cardiovascular system. Usually, these pulse oximeters for apnea are very expensive, but the models of this brand are low-priced and very effective.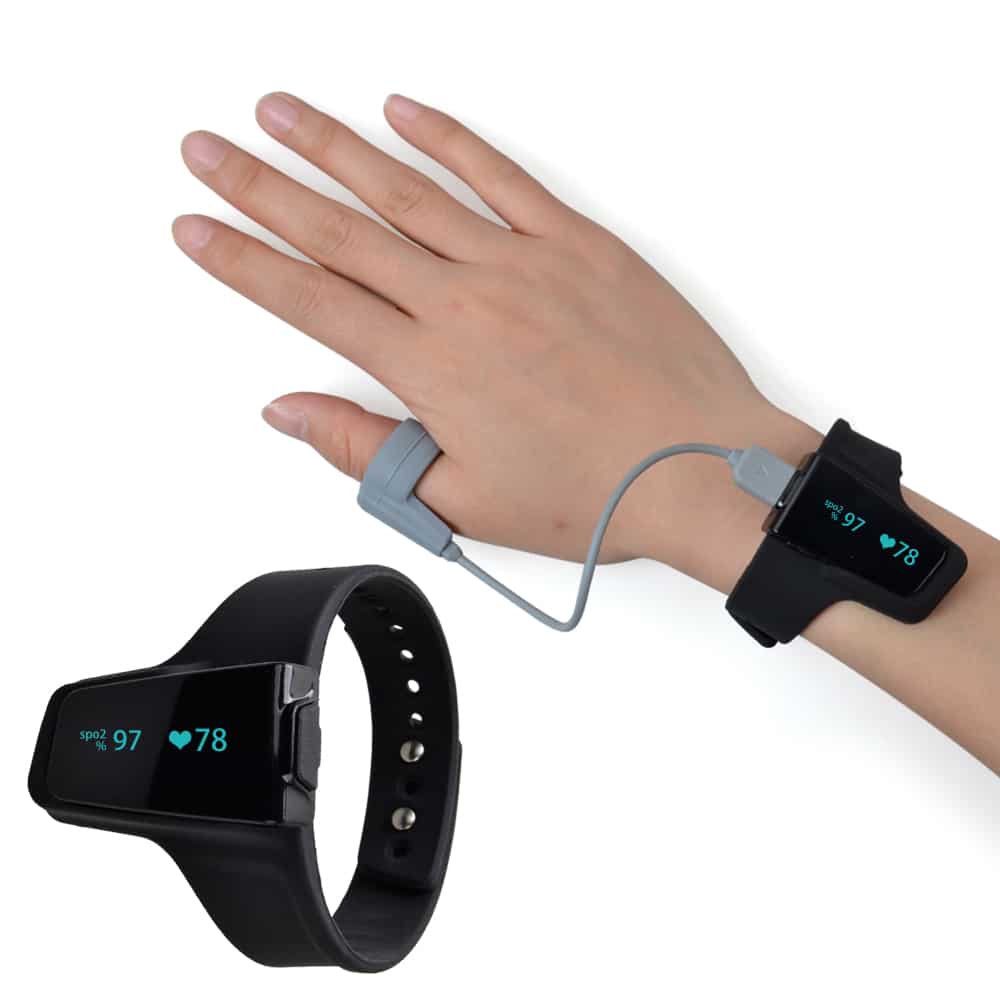 4 – Olieco Oximeters
Olieco has been on the platform for less time but it has already become one of the most prominent brands on AliExpress, thanks to the quality of its products and its excellent customer service. They have all kinds of health care products, and as for oximeters, they have great models for the whole family. These can be found in their official store, as you can see here.
Their pulse oximeters with Bluetooth are the ones with the most sales since in addition to showing the results of SPO2 and pulse on the screen of the device itself, they are connected to a mobile application compatible with Android or iOS, in which we can consult the records of our pulse and oxygen easily. The measurement is done in just 8 seconds, and thanks to its OLED screen, we can see the results more clearly. They also have other inexpensive finger models, which can display data such as perfusion rate or detect respiratory rate.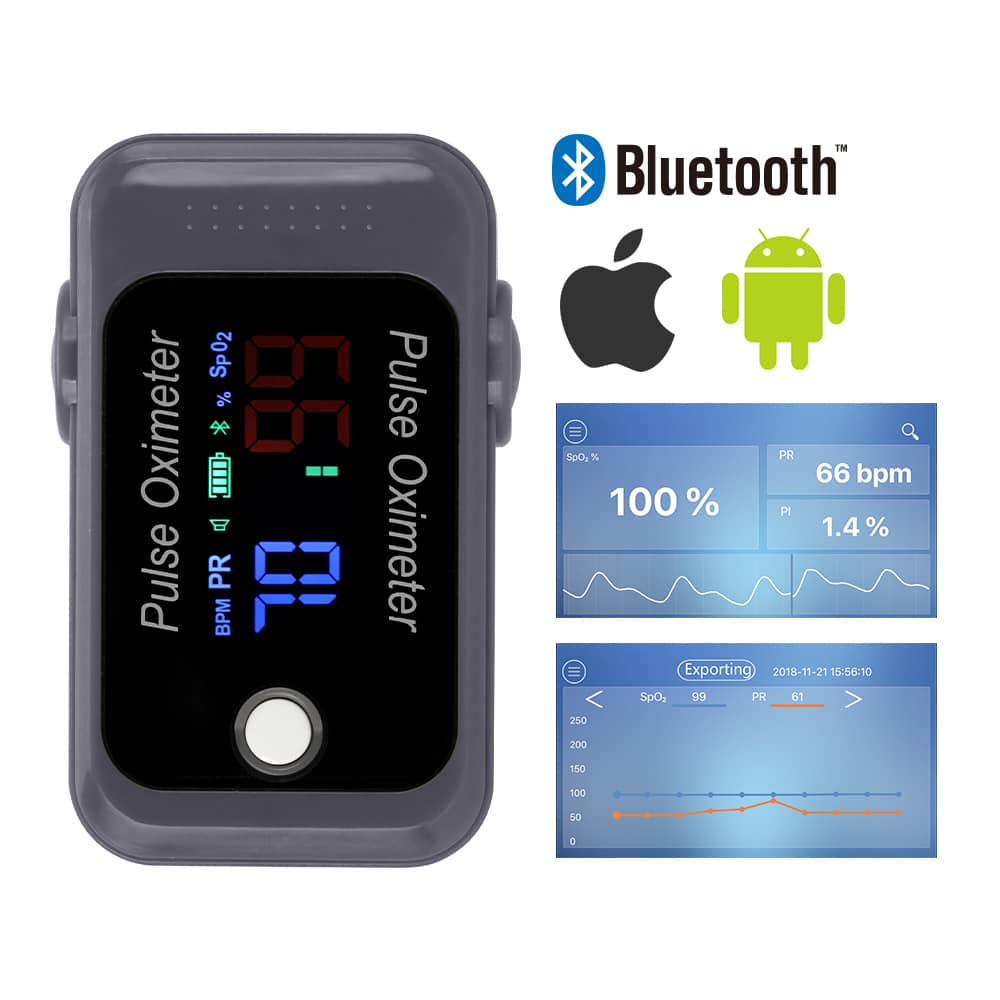 They have other interesting models. For example, their bracelet with blood oxygen measurement can be a good purchase for athletes who do outdoor activities such as mountaineering, avoiding suffering from acute mountain sickness (altitude sickness) due to hypoxia. It is also a good option for people with apnea or breathing difficulties who need constant measurement. Besides, it has Bluetooth, so we can look at the values ​​through the brand's application.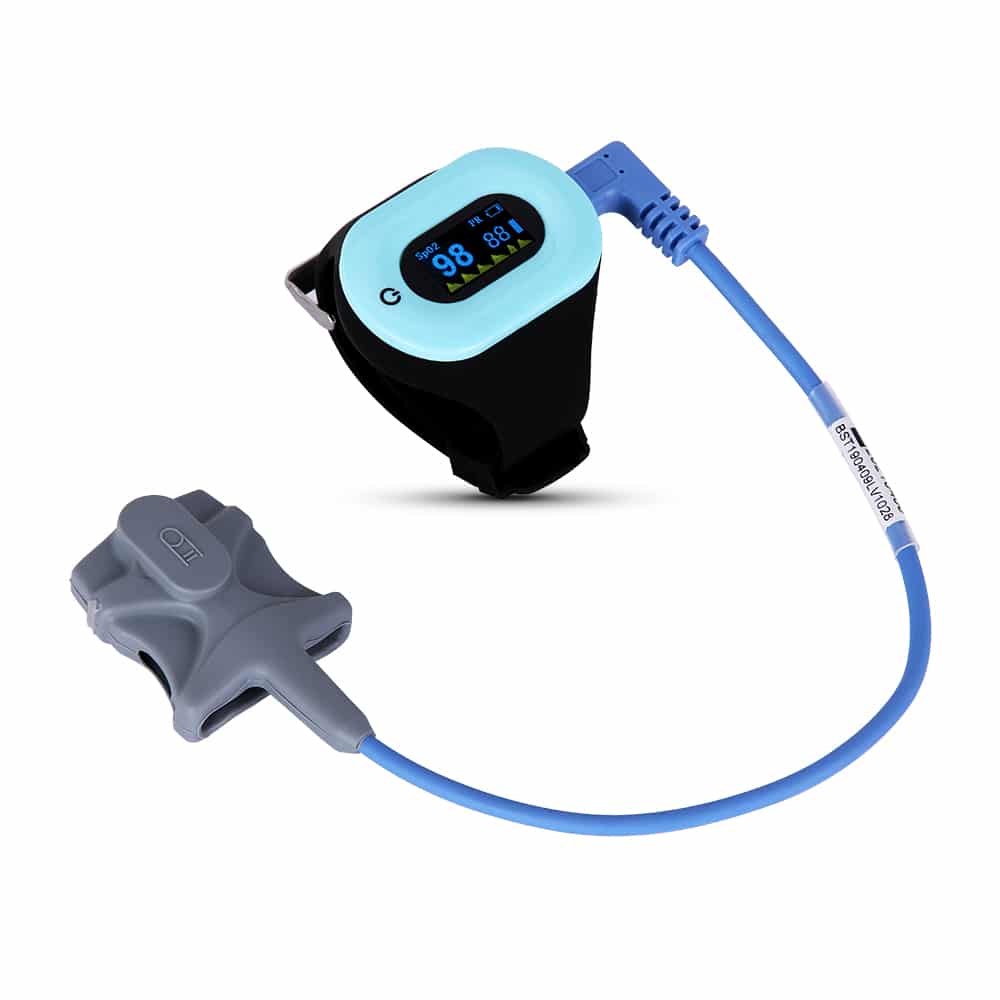 Other oximeter brands
Although in AliExpress you will not find Medisana or Omrom brand oximeters, as you can see there are very good alternatives and the price is affordable, so there is no excuse for not having this very useful device in your medicine cabinet. We have analyzed the models of the most popular brands on the platform, but there are many more that you may be interested in looking at:
Boxym oximeters – You can find them by clicking here.
Cofoe oximeters – You can find them by clicking here.
Yuwell oximeters – You can find them by clicking here.
Jumper oximeters – You can find them by clicking here.
Suolaer oximeters – You can find them by clicking here.
Types of pulse oximeters available on AliExpress
Throughout our review, we have already shown you various oximeters and we have briefly explained how they work. Here we explain in more detail the differences, advantages, and disadvantages of each oximeter, and how to find them at a lower price on AliExpress.
Finger oximeter
The best-selling oximeter is the finger oximeter since in a small device we can have all the necessary information, so it is very practical for people who want to measure their blood oxygen level occasionally. The main differences between models are on the screen (LED or OLED, the latter have a clearer view of the data); in the fact that they allow making other measurements besides SPO2 or not; or if they have an alarm. You can find them by clicking here.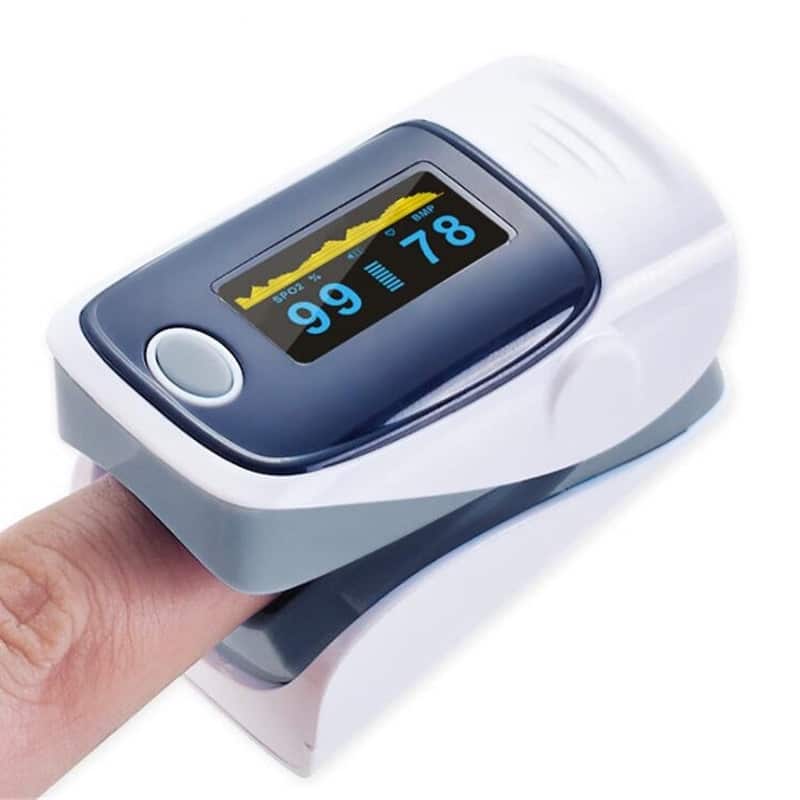 Bluetooth oximeter
Finger oximeters usually display all measurement data on the device itself, but some include a Bluetooth connection. This means that by connecting with our phone, after downloading a mobile application, we can easily record all the data. It is a good option for those who like technology or who want to keep a rigorous control. You can find them in this link.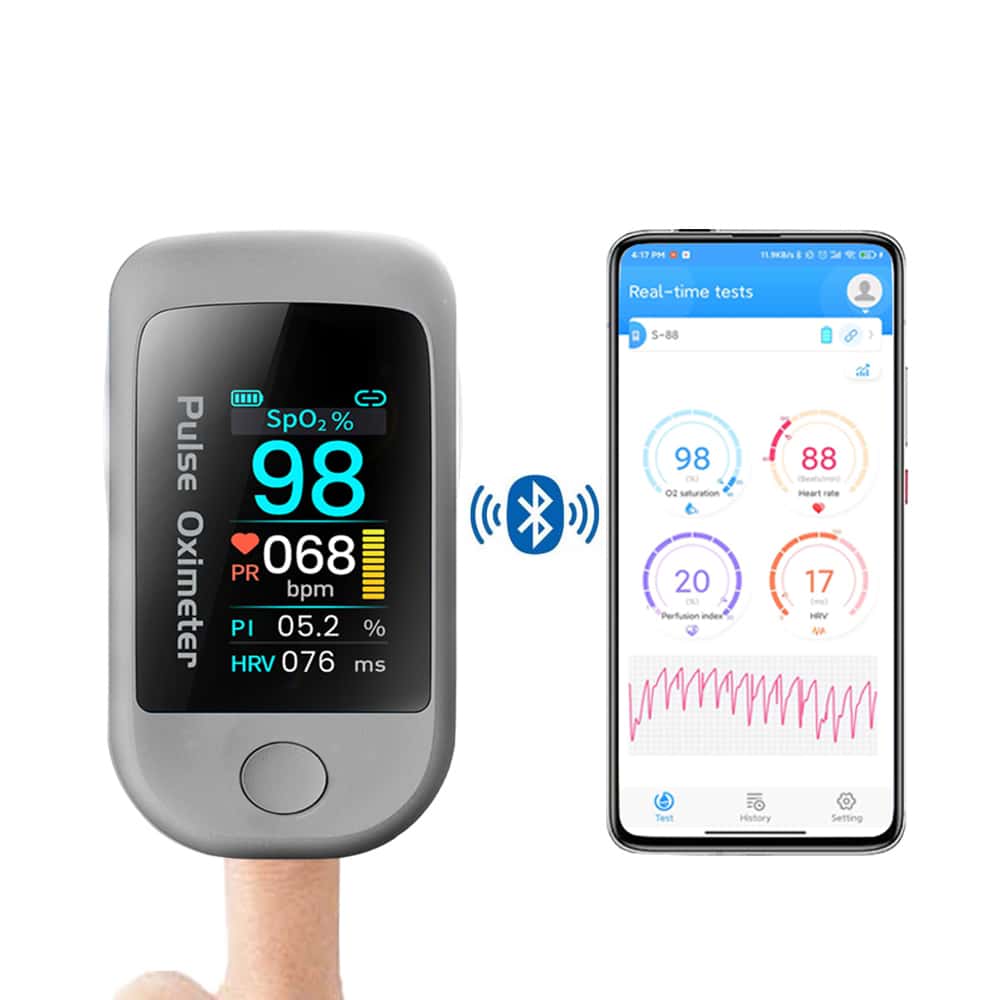 Hand oximeter
In this case, the data is displayed on an external monitor while the sensor is still on our finger. This allows you to change the probe and adapt it according to the size of the finger, with probes for babies, children, adults, or even pets. Also, we can see more data on the monitor and even graphics. Some can also be connected via Bluetooth to a provider's application. Find them by clicking here.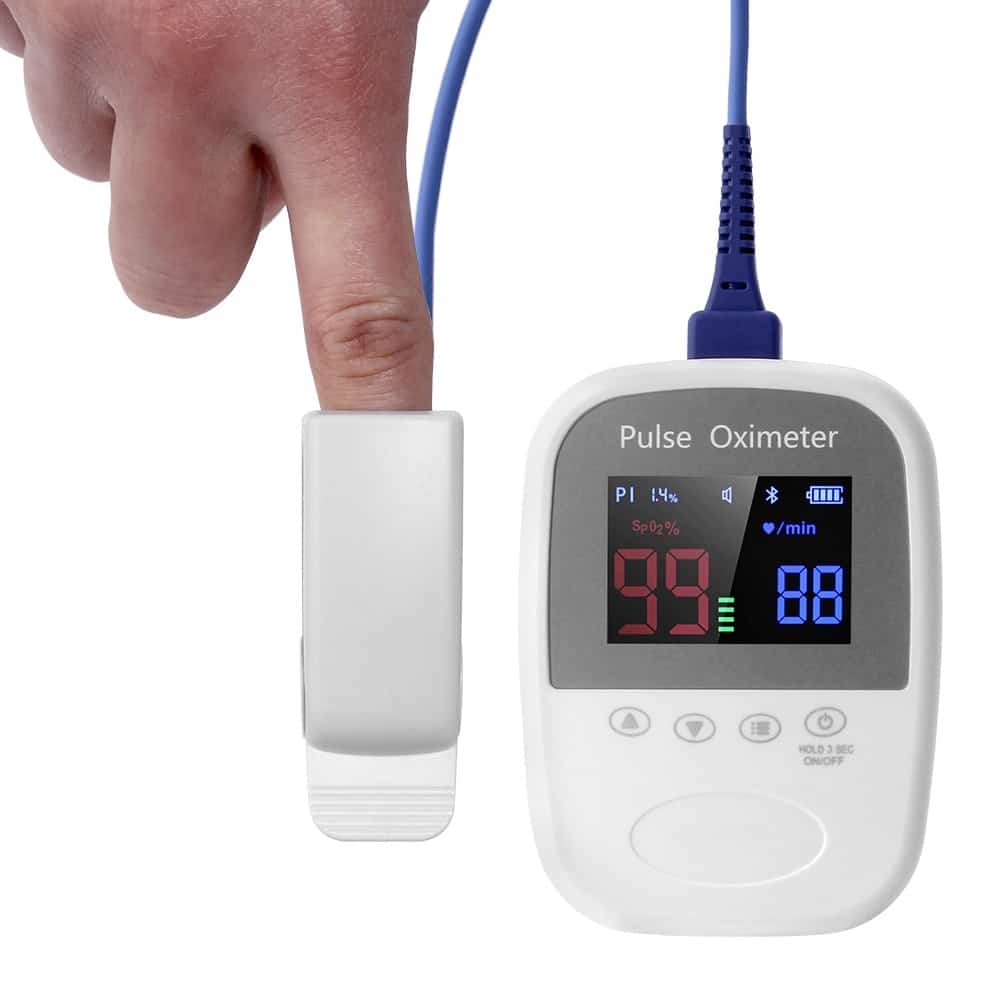 Wrist oximeter
In this case, the data is displayed on a monitor on a bracelet. This allows the device to give us warnings through vibration, which is why they are a good option for athletes or people with apnea who must control their blood oxygen levels while they sleep. You can find them in this link.
Children's pediatric oximeter
These oximeters are smaller in size. Some models are designed for children 12 months and over, you can find them by clicking here. For smaller babies, you will need a neonatal oximeter with an external probe that measures through the baby's foot.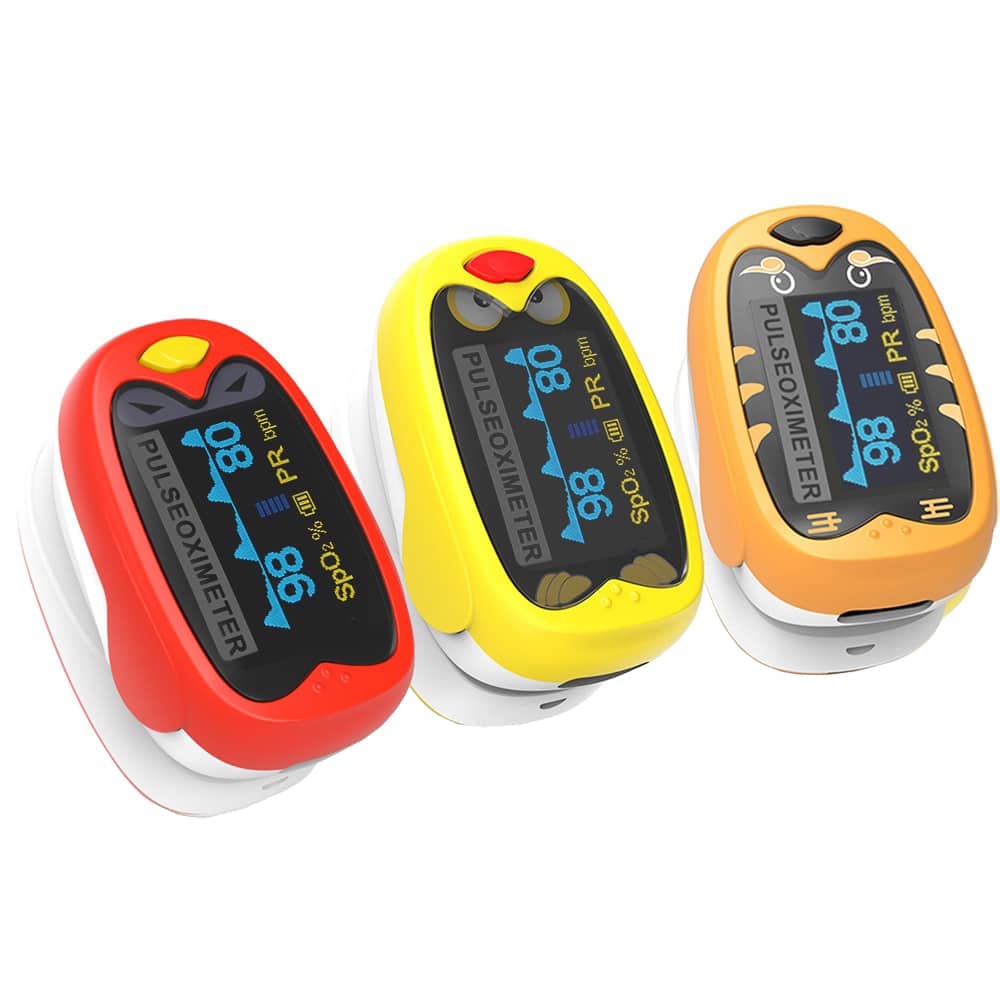 Things to consider before buying an oximeter
Before buying an oximeter, there are a few things to keep in mind. We leave you some recommendations that are worth reading before purchasing one of these devices, either on AliExpress or on any other shopping platform.
Type of display
As you have already seen, some oximeters display the data on a small screen built into the device itself, others use an external monitor. In any case, the screens built into the oximeter itself are small, so it is recommended that they have a good quality (LED or OLED) to be able to read the data well.
Precision
All measuring devices have a certain precision. We are talking about medical data so it is very important that the reading is reliable, so we recommend you look at the specialized brands that we have taught you before. You can also find the precision data in the product description
Measurement and data
As you can see, the measurement of oxygen in the blood is a very important value, but if you want you can also have other data such as pulse, perfusion rate, temperature… Check well what the oximeter can measure, as well as the precision.
Price
Oximeters and pulse oximeters are in high demand and, as we have already told you, they are very low-priced on AliExpress. A finger oximeter on AliExpress can cost from US $8 to $22 depending on the brand and features (screen, Bluetooth connection, batteries…) while in other stores it can cost from US $45 to $70.
Professional pulse oximeters with an external monitor, either hand-held or wrist-worn, can cost from US $35 to $175 on AliExpress, depending on the brand and the measurements it takes; while in medicine stores, pharmacies, or similar establishments, you can't find them for less than US $120.
Is it safe to buy an oximeter on AliExpress? Which guarantees do they offer?
Many people when looking for a pulse oximeter they buy it in pharmacies or pages like Amazon or maybe eBay. But only in AliExpress, you can find the lowest prices on oximeters and pulse oximeters for home and professional use. If you are afraid to buy on this famous online sales platform of Chinese origin, you should know that it is one of the most reliable when buying "Made in China" products: you can find specialized brands, it is a very secure platform and your money will always be covered. Besides, it is becoming easier to make returns. Learn more in our Guide to AliExpress Refunds, Disputes and Returns.
More tips and tricks for shopping safely on AliExpress
Now you know how to find low-priced oximeters on AliExpress. But if you have more questions or want to get advice to buy safely, don't go yet. In AlixBlog, in addition to bringing you the latest news on brands and products on this platform, we have a section with tutorials where we explain everything you need to know as a buyer. If you still don't know much about this sales platform, we recommend that you start with our Definitive Guide about AliExpress, a basic reading for anyone thinking of buying from this page.
What about you? Have you already bought your oximeter on AliExpress? We would love to know your opinion, do not hesitate and leave a comment below with your shopping experience.