Update for the 11 11 Shopping Festival: Until the 11th of November, Select Coupons are free, this means you don't have to earn AliExpress coins to get them. You can claim them here or on any product page.
If you pay attention, you'll notice that the coin icon with a 20 next to it is no longer there (20 was the usual price in coins for each $2 select coupon), in addition you'll also notice that even if you don't have any coins you can get as many as you want: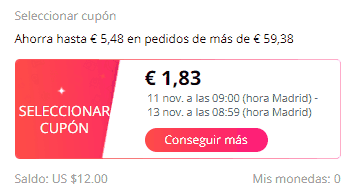 Obviously, Select Coupons have a spending limit (e.g. $6 for every $65 spent), however, this means that on the 11th, 12th and 13th of November it would be wise use these accumulated coins to buy the so-called "AliExpress Coupons", which are cumulative with the previous ones and you can find here.
You can see all your select coupons in this section of your account and read the complete AliExpress 11.11 coupon guide.
---
You may have noticed that, for some time now, there is a new class of coupons in AliExpress called "select coupons". They appeared in one of the last sales and it seems that AliExpress thinks it's a good method, so they have become one more type of coupons that can be combined with those that already existed. Today we're going to explain what they are, how they work and how to get the most out of them.
Types of coupons in AliExpress
To get a good grasp of how these discounts work, it is important to know what other types of coupons AliExpress offers. If you want further information on how to combine discounts you recommend you take a look at our main Coupon Finder article and the 11 11 Shopping Festival Coupon Guide.
AliExpress coupons: These are coupons that AliExpress gives to new sellers, through games, or that can be exchanged for coins. They apply to the entire basket, so you can add products from multiple vendors and then pay all together to apply the coupon. They have a minimum purchase amount, if we do not reach that minimum amount, the coupon will not apply.
Seller coupons: Many sellers offer coupons to buy in their stores. They have a minimum amount, which can be reached by adding several products from the same seller to the basket.
Select coupons: These coupons are offered by AliExpress but can only be used in certain stores, not all accept this kind of coupons, and they have a minimum purchase amount. We'll explain more about it now.
Welcome Coupons: As the name implies, these are coupons that are given to new AliExpress users. To learn more check out our article on New User Welcome Coupons.
These 3 coupons can be added and combined, i.e. you can apply select coupons, vendor coupons and AliExpress coupons if you meet all the minimum amount conditions. Remember that you can see all the coupons in your account in the section "my coupons".
AliExpress Select Coupons: what are they and how do they work
As already mentioned, the select coupons are coupons offered by AliExpress. It is important that you understand that even if you exchange coins for select coupons in one store, if you then decide to buy in another store or simply not buy, you can use those same select coupons in any other store that admits them. You can find out more about these types of coupons on the AliExpress page itself, as you can see here.
How do I get select coupons?
The easiest way to get select coupons is to access the advertisement for any product that accepts them and click on "get selection coupons". Selection coupons are always $2, and we can get as many as we want by redeeming 20 coins for each select coupon.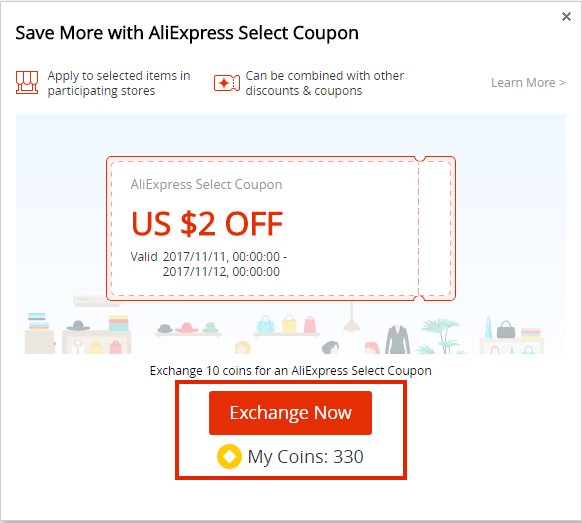 How do I apply the select coupons to my purchase?
It's very simple. First, as we have already mentioned, it is essential that the select coupon symbol appears on the page of the product you are going to buy, and that you have exchanged your coins for one or more selection coupons. In the same place where the "select coupon" symbol appears, you will also see the conditions for it to be applied. For example, in this ad you see below the seller indicates that we can apply a select coupon ($2, as we said is the amount of each select coupon) when our purchase exceeds $15. Therefore, we don't need to buy anything else in your store, because we reach the minimum amount if we buy the watch.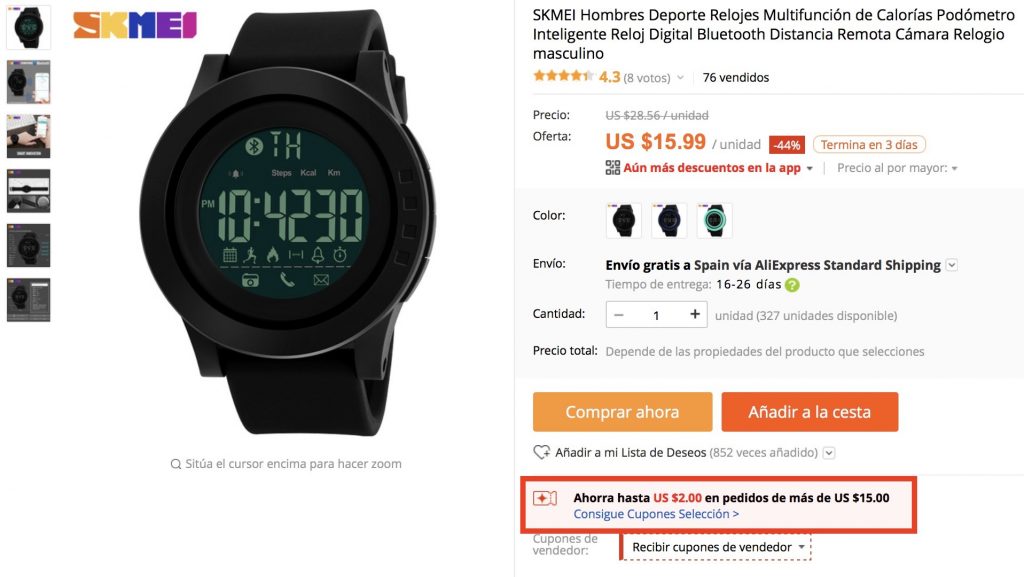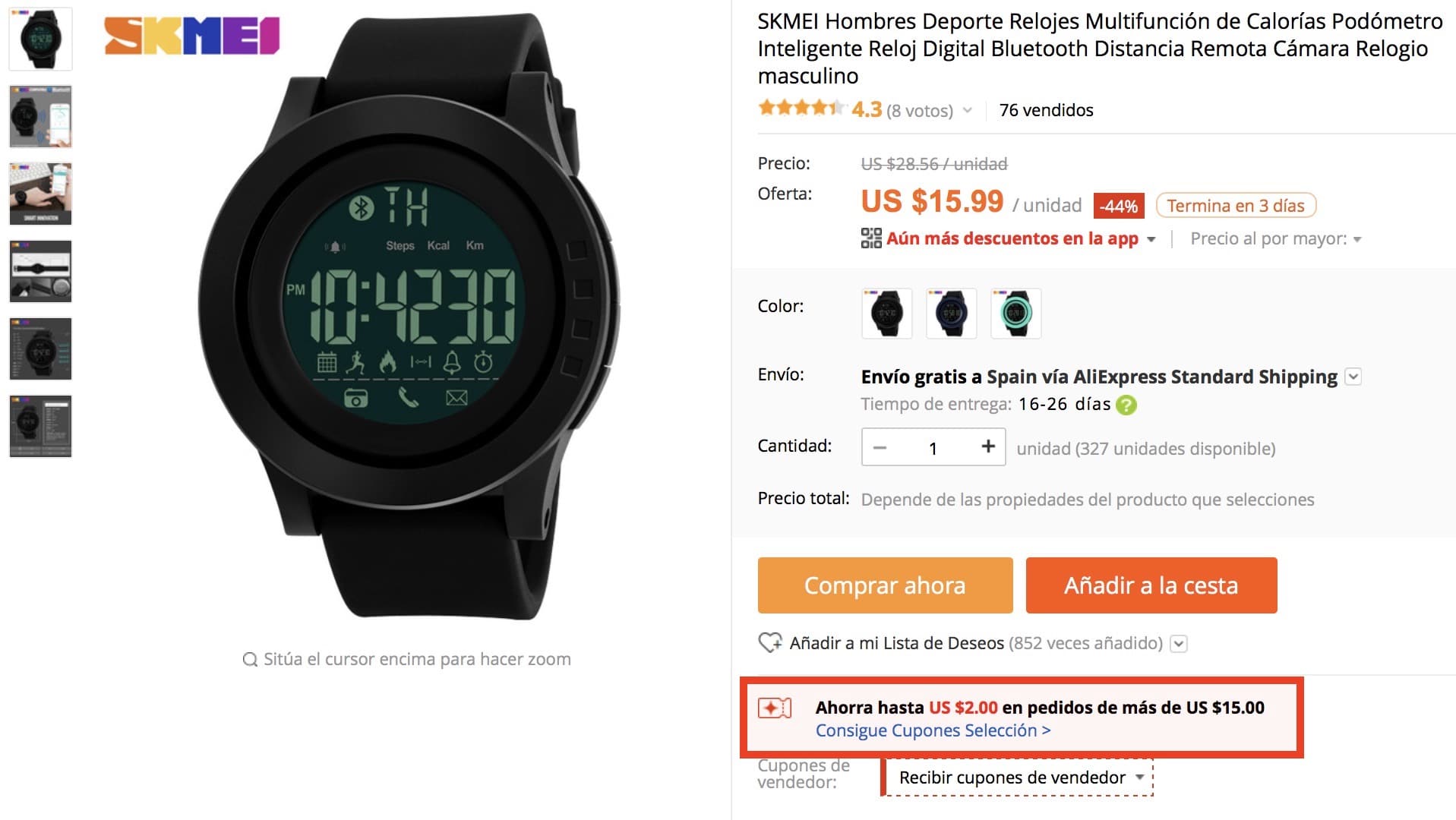 Now we can add the product to the basket, and when we pay, we'll see the select coupon has been applied automatically without having to do anything else. Our watch has gone from $15.99 to $13.99.


How to combine several coupons: a practical example
Because our goal is to save you as much as possible, we are going to explain in a practical way how you can combine several coupons (seller coupons, AliExpress coupons and select coupons) to save much more money on your AliExpress purchases. For example, this seller offers a $6 discount on a minimum purchase of $55 with select coupons, but also has several seller coupons. In this case we will choose the "$3 for every $50 purchase" coupon.
We have chosen two pillows that will cost us $58.66. First we apply the $3 coupon for every $50 (seller's coupon). The purchase costs us $55.66, so we reached the minimum amount to apply the select coupon ($ 6 for minimum purchase of $ 55), to get this price we had to redeem 3 coupons. In total, we will pay $49.66 and have saved $9. Not bad, is it?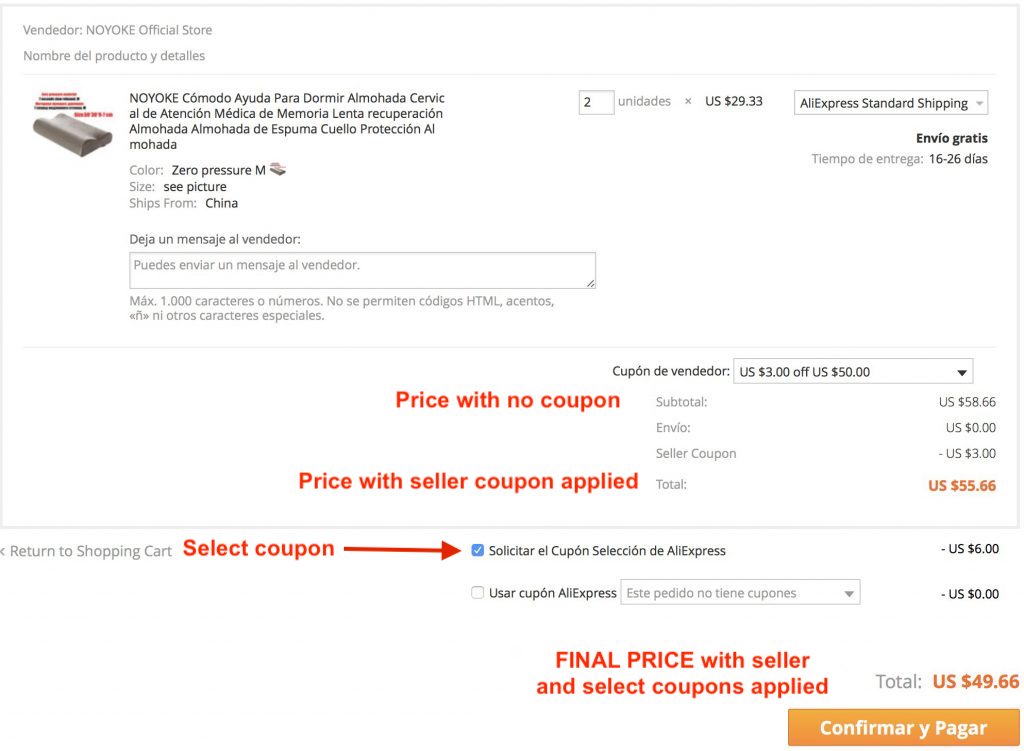 In this case we haven't been able to apply AliExpress coupons because we don't have any at the time of purchase, but if we had and met the conditions, it would apply on the same payment screen that we showed you. The coupons are always applied in this order: first the seller coupons, then the select coupons and finally the AliExpress coupons.
Did you like this guide? Find more in our How To section
Here at AlixBlog we are experts at making reviews and buying guides of products, but if you are looking for help with your purchases we also have a How To section where you will find other articles like this one that will help you save money on your purchases of AliExpress.
Did you already know about AliExpress select coupons? Do you think they are useful? We'd love to hear from you, feel free to leave us a comment below.