For some time now, you may have noticed that AliExpress has a new class of discount coupons called "select coupons".
They appeared in one of the last sales and it seems that the people at AliExpress have found them to be a good method, so now they have become another class of coupons that can be combined with those that already existed. Today we are going to explain what they are, how they work, and how to get the most out of them
Types of coupons in AliExpress
In order to understand this kind of coupons, it is important to know the different discounts that you can find on the AliExpress page:
AliExpress coupons: These are coupons that AliExpress gives away to new sellers, through games, or that can be exchanged for coins. They apply to the entire basket, so you can add products from various sellers and then pay all together to apply the coupon. They have a minimum purchase amount, if we do not reach that minimum amount, the coupon will not be applied.
Seller coupons: Many sellers offer coupons for you to buy from their stores (see coupons). They have a minimum amount and can be reached by adding several products from the same seller to the basket.
Select coupons: These are new coupons that work in all stores and can be combined with the three previous ones. They have a minimum amount and are somewhat peculiar.
Welcome coupons: The welcome coupon is the one that AliExpress gives you for registering. You can use this

PR1C91H3

 promotional code in your first purchase at AliExpress:
These three coupons can be added and combined, ie: you can apply select coupons, seller coupons, and coupons AliExpress if you meet all conditions of minimum amounts. Remember that you can see all the coupons in your account in the section "My Coupons".

AliExpress Select Coupons: what they are and how they work
As we have already said the select coupons are some coupons offered by AliExpress. It is important that you understand that even if you redeem coins for select coupons at one store if you later decide to buy at another store or simply not buy, you can use those same select coupons at any other store that supports them. You have more information about these types of coupons on the same AliExpress page, as you can see here.
How do you get the select coupons?
The easiest way to get select coupons is to access the ad for any product that accepts them and click on the "Get Select Coupons" link. The select coupons are always of an amount of $2, and we can get as many as we want by redeeming 20 coins for each select coupon…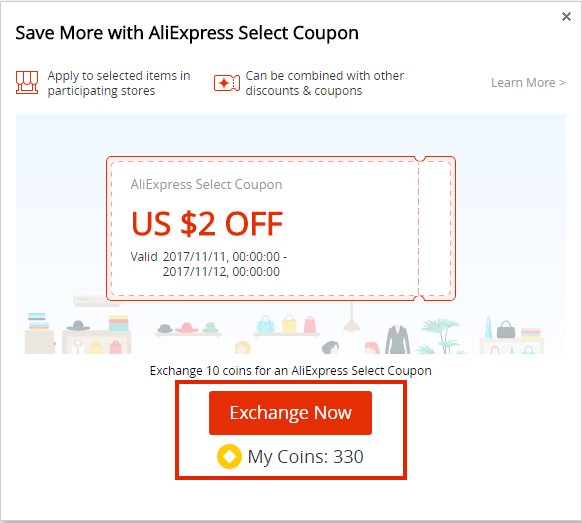 But for some time now, it has been even easier to get them. For example, it is common for AliExpress to give them away on their sales promotion pages like 11.11 of AliExpress. They appear in the couponing rounds and you can get as many as you want. Obviously, there is a limit to how much you can spend on selected coupons (e.g. $6 for every $65 spent). Remember that you can see all your select coupons in this section of your account.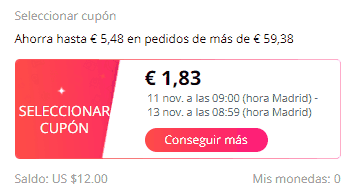 How do I apply the select coupons to my purchase?
It is very simple. First, as we have already said, it is essential that the select coupon symbol appears on the page of the product you are going to buy, and that you have redeemed your coins for one or more select coupons. In the same place where the "Select Coupon" symbol appears, the conditions for its application are also displayed. For example, in this ad that you see below, the seller indicates that we will be able to apply a select coupon (of $2, as we have already said is the amount that each select coupon has) when our purchase exceeds $15. Therefore, we don't have to buy anything else in their store, because we reach the minimum amount if we buy the watch.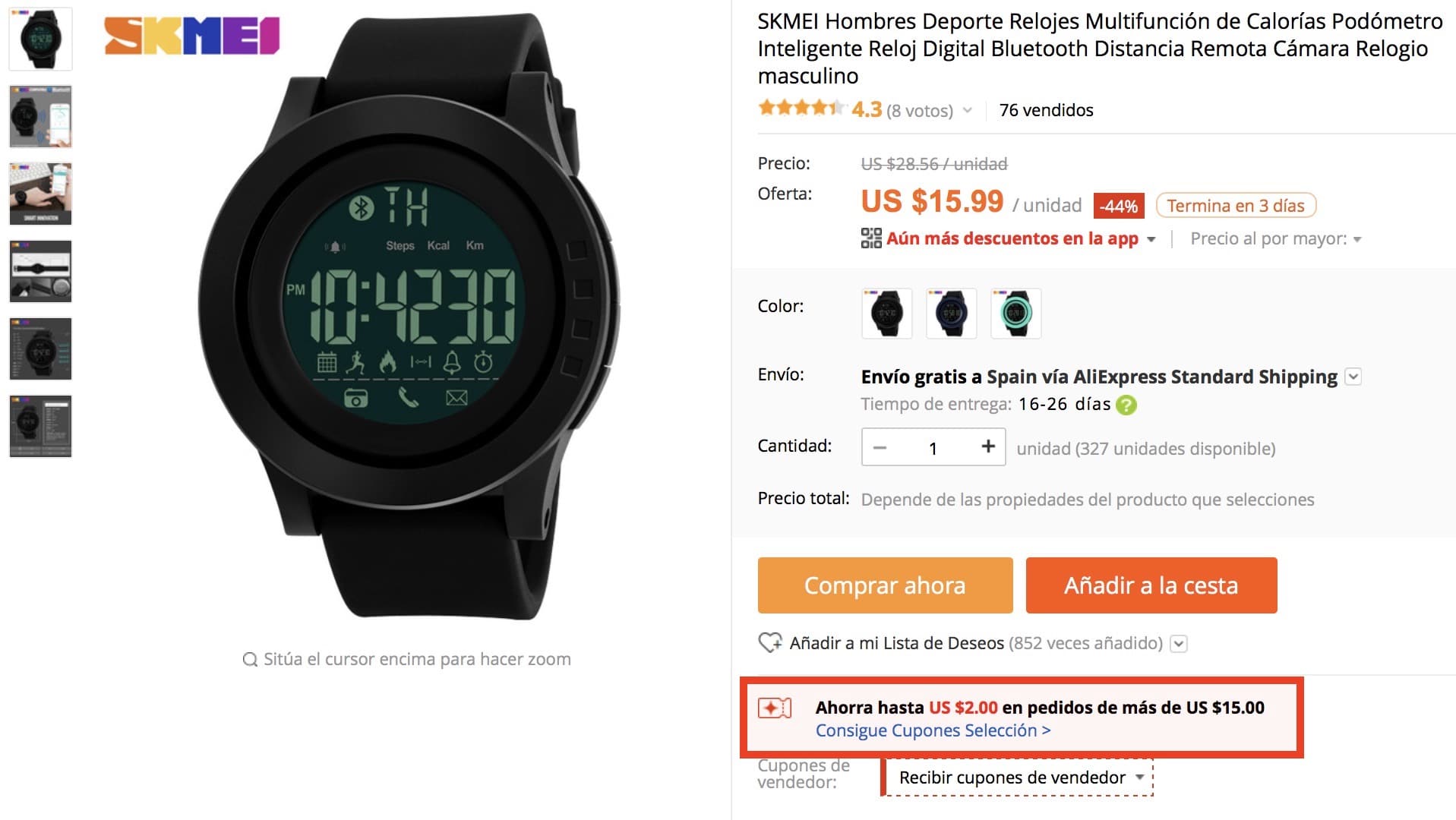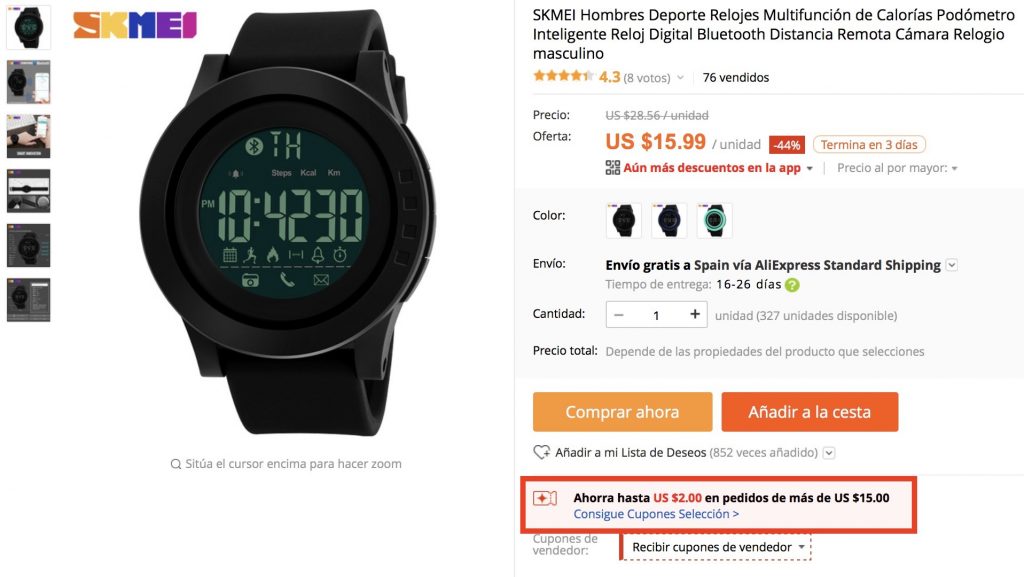 Now we can add the product to the basket, and when we pay, we will see how the coupon selection is applied automatically without having to do anything else. Our watch has gone from $15.99 to $13.99.


How to combine several coupons: a practical example
As our goal is to save you as much as possible, we will explain in a practical way how you can combine several coupons (sales coupons, AliExpress coupons, and select coupons) to save much more money on your AliExpress purchases. For example, this seller offers $6 off a minimum purchase of $55 with select coupons, but in addition, it has several seller coupons. In this case, we will choose the "$3 for every $50 purchase" coupon.
We have chosen two pillows that will cost us $58.66. First, we apply the $3 per $50 coupon (seller coupon). The purchase will now cost us $55.66, so we reach the minimum amount for the coupon selection to be applied ($6 for purchases of a minimum amount of $55), for which we have had to redeem 3 coupons. In total, we will pay $49.66 and have saved $9. Not bad, right?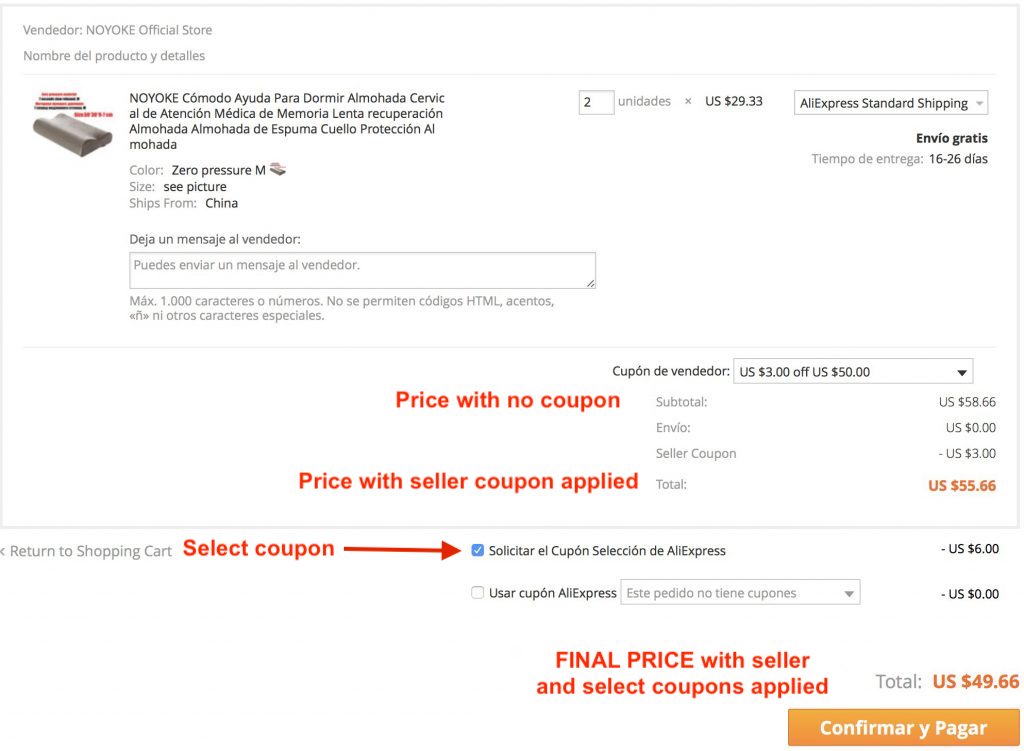 In this case, we have not been able to apply AliExpress coupons because we do not have any at the time of purchase, but if we had and met the conditions, it would be applied in the same payment screen that we have shown you. The coupons are always applied in this order: first the seller coupons, then the select coupons are discounted, and finally the AliExpress coupons.
Find sellers that accept select coupons
We know you want to save money on your AliExpress purchases and we have the best tips for getting discount coupons (real, no tricks or gimmicks). This is because this online sales platform offers its users many ways to save money, not only during the times of sales and discounts. These are the best ways to get discounts and coupons in AliExpress.
AliExpress Welcome Coupon for new users
If you are not yet registered with AliExpress, you can now get a discount coupon that will save you money on your first purchase. It's a good way to start shopping at AliExpress because who doesn't dare to try something if it's free? Well you know, go to the AliExpress home page, when the system detects that you are new it will offer you a discount coupon. You can also read our welcome coupon guide to find out how to get them and how they work.
Invite your friends and earn money
If you are already registered at AliExpress, another good way to get discount coupons is to invite your friends to register on this online sales platform. Both of you will get a discount to buy, and the best thing is that you can get up to 10 coupons per month through this system. We explain more in our article invite your friends and win coupons in AliExpress.
AliExpress Member Program
Every purchase you make at AliExpress is rewarded. And that's not all: leaving comments or visiting AliExpress every day can earn you points. These points are used to classify you on different levels as a buyer. Thanks to the AliExpress member program, the most regular buyers will get discounts for their birthday, coupons for exclusive events, faster refunds… And the new VIP member program allows you to speed up your shopping and get coupons every month.
Freebies and coins to save money
The AliExpress mobile application has many advantages and allows you to shop from anywhere. But it also has a section where you can find games that allow you to win coins to redeem for coupons or get freebies, that is, free products in exchange for writing your opinion of the product when it arrives. We explain more in our tutorial Freebies and coins in AliExpress: what are they and how to get them.
Pay attention to shopping festivals like Black Friday and 11.11
The shopping festivals are full of coupons. November is the month for discounts, so mark your calendar for these dates. Every year we update the Black Friday and AliExpress 11.11 shopping festival articles to bring you the best coupons and offers.
Did you like this guide? Find it in our tutorial section
At AlixBlog we are experts in product reviews and shopping guides, but if you are looking for help with your purchases we also have a section with tutorials where you will find other articles like this one that will help you save money on your AliExpress purchases.
Did you already know about AliExpress coupons? Do you think they are useful? We would love to hear your opinion, feel free to leave a comment below.