When it comes to shaving methods, every man has his preferences and, once acquired, habits die hard, but if you are one of those people that likes changing thing up a bit by switching from a classic blade to an electrical machine or viceversa, or you simply got tired of the brand you always use, or even if you are just feeling a bit innovative or you old machine broke… in today's guide we are going to show you where and how to get these machines at the best price.
In AliExpress you can find a wide range of cheap shaving machines, both electric (we've found some well rated white label ones as well as some Braun or Gillette) and classic, in case you are a bit more old fashioned.
White label shaving machines in AliExpress
There is a huge collection of white label shaving machines in AliExpress that work just as well as a well known Phillips or Braun ones, just to mention a couple of the better known brands.
One of the advantages of purchasing Chinese machine is that the price is so much better that if you were to buy, say, a Gillette. In AliExpress you can find these kinds of electric machines for something in between 20 and 40 euros. However, chances are, you aren't going to find a Braun shaver for less than 60. In fact you may find one for 62 because it's on sale, but the real cost of this fancy machine is actually 120.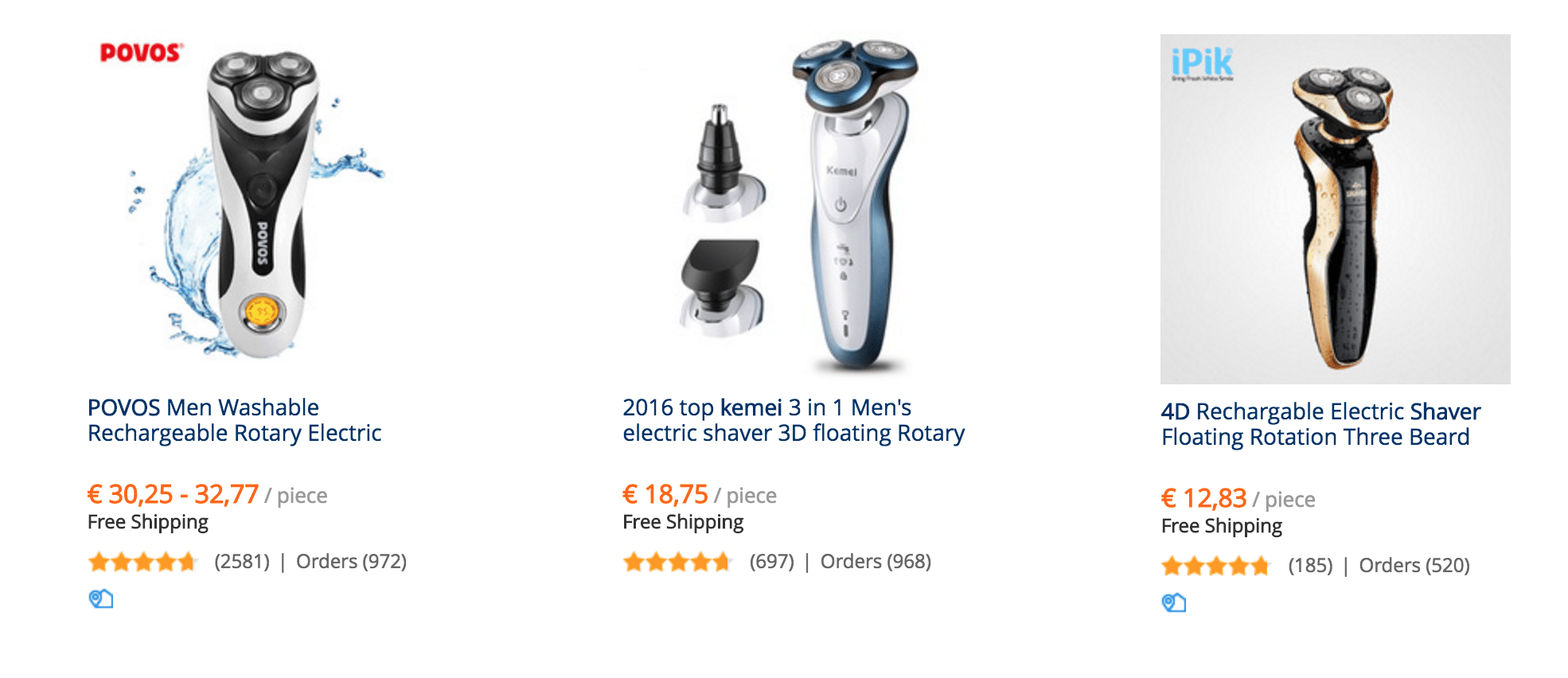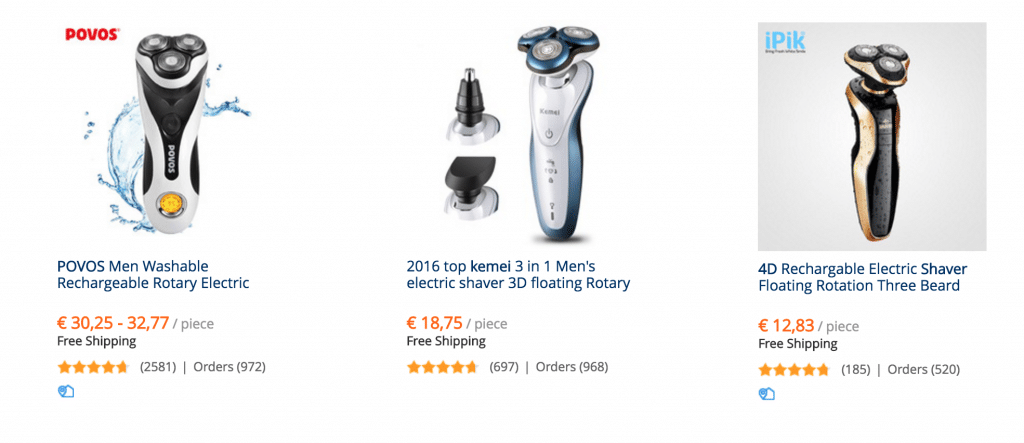 Given these prices, we've taken the liberty of listing some of the best selling and top rated machines which might work just as well as these well known brands.
POVOS

: the top rated shaver of AliExpress. With incredible ratings, this is the top selling shaver. Last generation technology and no need for cables beyond charging are some of its incredible features. It's available in two colors, features a LED technology that shows you how much battery is left and a triple rotating blade that reaches every corner of your face. If we could only recommend just one, this would be it :).

4D Shaver

: Rechargeable and with three, this model is slightly cheaper (available for 25-30 euros) depending on the sales going on at the time of your purchase. It adjusts perfectly to every corner of your face and it has a washable design that allows you to clean this machine thoroughly before putting it away.

KeMei

: this model features interior blades that allow a quieter shave by reducing vibration. It adapts to every corner or your face and includes a trimmer to shape your beard, mustache or sideburns in any way possible. Furthermore, the battery lasts up to 40 minutes without charging… Not convinced yet? Well, here's the best part: it only costs 22 euros!
Best shops to purchase shavers in AliExpress
Given the reputation, number of sales and comments and ratings left by previous customers, we've selected the 4 best shops in AliExpress offering shaving machines.
IMPORTANT: This product is fairly small, so chances are it won't be held in customs. This is a big plus, especially when you are purchasing something from AliExpress.
Classic shavers: Gillette blades and other classic models
AliExpress also knows a lot of people prefer a more classic shave, one with blades. Therefore, Chinese sellers also offer manual shavers for every kind of man, including Gillette blades, the most famous shaving brand in the market.
Our Opinion
When it comes to choosing a shaving machine, we have two favorites. On the one hand the Gillette Mach 3 with 8 replacements, on the other the Gillette Fusion Proglide, now offered 66% cheaper.
You probably will find some other deals on your own, so why not leave us a comment and tell us all about it, we love hearing from you and I'm sure other readers will too.