If you are thinking about getting some cheap Timberland boots in AliExpress, make sure you take a look at this guide. Today we are going to talk about the types of boots you can find on the platform, as well as how to find good discounts for Timberland boots in other platforms.
It used to be pretty easy to find original Timberland in AliExpress, but for a while now, they have been incredibly hard to find. That's why we've updated this article to include you some alternatives for boots inspired by Timberland. We are also going to show you how to find trustworthy sellers and your size, with conversion charts.
Does AliExpress have original or replica Timberland boots?
This is probably the most common question asked by our readers. At this moment (mid may 2016) there aren't any original Timberland boots in AliExpress. I'm pretty sure when we first wrote this article you could find them, but it's hard to tell.
Truth is there aren't any originals: but just to make sure, keep in mind that ever since companies such as Nike, Adidas, Converse among others started using AliExpress, the platform introduced a Guaranteed Authenticity stamp. So now, if you have any doubts about Timberland in AliExpress being original, all you have to do is check if they feature this icon: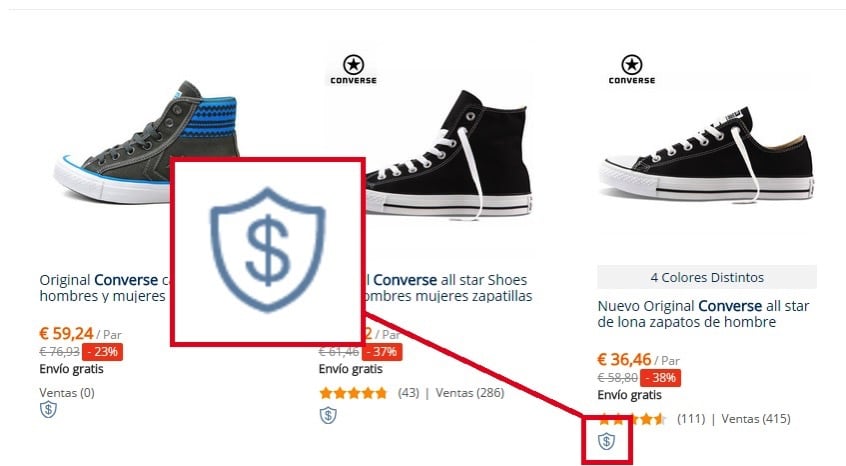 What about the replicas?
Given AliExpress recent policy against replicas, it's becoming harder and hard to find them. And by replicas we are refereeing to products that copy all the aspects of the original product, including the logo and any other distinctive signs.
Instead, try looking for white brand alternatives. In fact, unlike other sneaker brands, Timberland style boots in AliExpress aren't replicas, they are Chinese white brands inspired by Timberland models.
By doing this you can get incredible deals in comparison to the 120 to 150€ you spend on originals: you can get them for something in between 20 and 70€, depending on the material.
How to find them: the best search method for cheap shoes and boots
Because they are white label, sellers use extremely long descriptions and without ever mentioning the brand name, so it can be hard to find these kind of boots. Instead try taking a look at this search for Chinese Timberland inspired boots. Just to give you an idea, shops like ZNPNXN are super popular for offering Timberland style boots.
I've been looking though these white label Timberland style boots (you can see them here) in AliExpress and have found out that there are three kinds:
Type 1: Timberland boots with a VERY different logo from the original
These models are very similar to the originals but instead of using a similar logo, they use their own. These boots are what we call "white label Timberlands". They look pretty cool and tend to be made with excellent materials. The only difference really is that they can't inflate the price by using a well known name.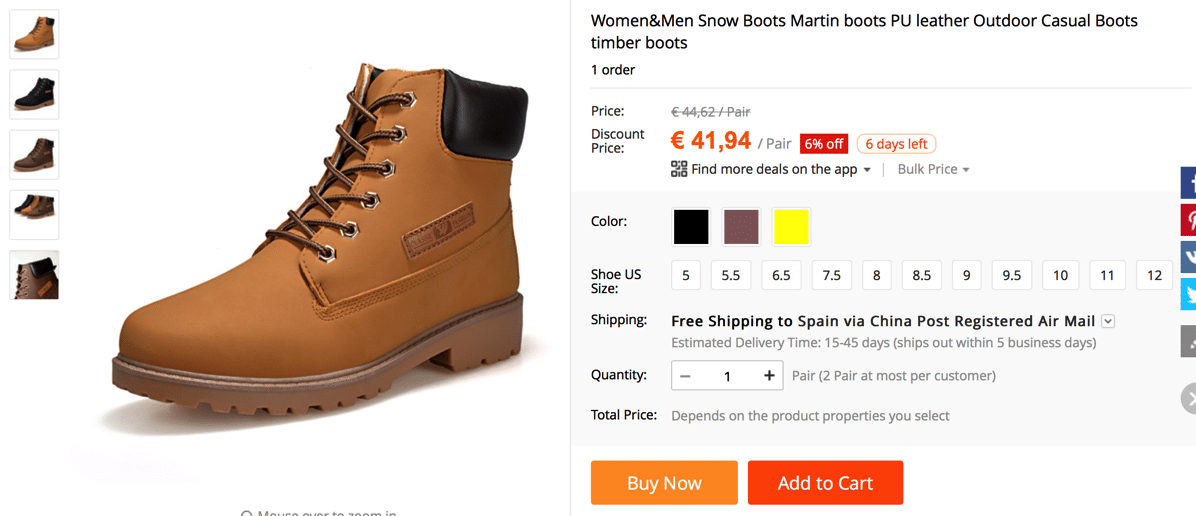 If you don't want to spend a lot of money on boots, but want some good quality Timberland style boots, this is the best alternative. They usually cost around 30 to 50€ (34 -54 dollars). One of the most famous maker is called "Classic Fashion" and although no sellers use the name (why are they so ashamed of their brand names, I wonder?), you can find them in many AliExpress shops.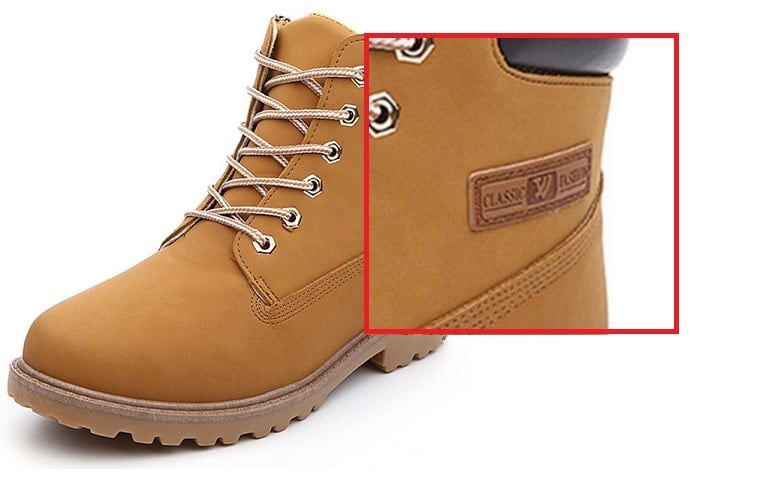 Type 2: boots with a logo inspired by Timberland
These boots are getting harder to find: they are the ones with logos similar to the original. I don't know which Chinese brand makes them, but keep in mind these are most definitely not original Timberland, no matter how similar they are.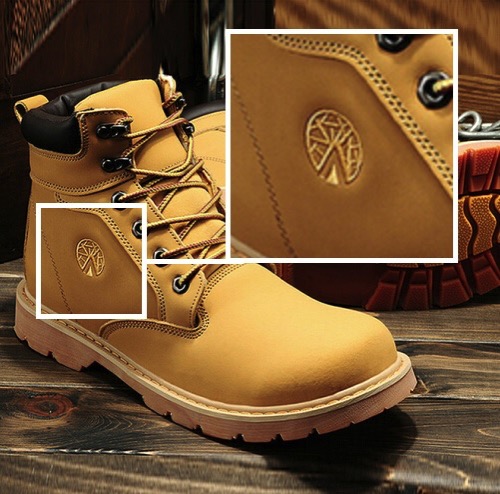 As you can see it doesn't really look like the original Timberland logo: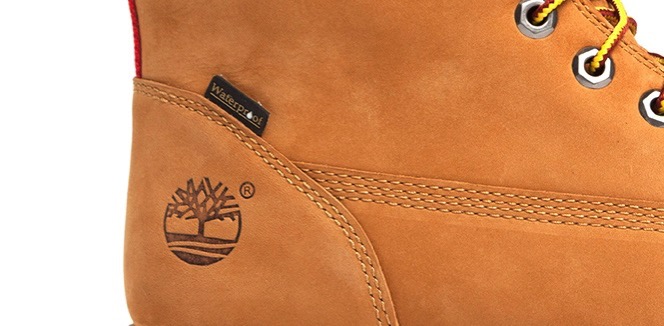 Type 3: Boots without a logo
For those of you that would rather not have any visible logos on the boots. Like the previous ones, they tend to have a pretty detailed finish. I got some brown boots about a year ago and truth is, they are quite amazing. Also like the boots above, their go for around 30 -40 euros (34 -45 dollars) and they are almost the same except they don't feature a logo.
There are all kind of models, just like the ones mentioned above. Personally I think these are the best ones: except for the missing logo, they are about the same quality as Timberland and you only pay 40€.
The same sellers usually offer both kinds of boots, so all you have to do is choose which kind you would like.
How to know if the boots are real / genuine leather
Another aspect you might want to look at is the material of the boots. Depending on your budget and taste you can choose between real leather or PU (synthetic leather). But before you complete your purchase in AliExpress make sure you check a couple of things.
The first thing you want to check is the details of the product, where it specifies what material they are made of: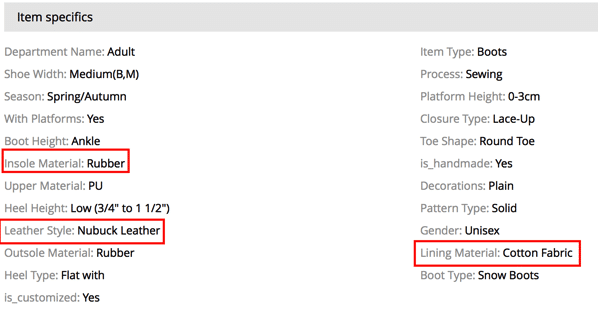 When it comes to this specific item, as you can see by the name, it is made out of real leather, but it does have parts made out of PU (synthetic material). You usually can trust what seller say, but just to make sure, check the following things:
The seller's reputation – Make sure the seller has a good reputation. If they have a low reputation there might be two reasons for this. The first (more common) is that you are dealing with a new shop in AliExpress, so they still haven't sold any units and therefore still don't have a good reputation. These shops almost always will have medals, as you can see in the picture below, and an increasing reputation.

If, on the other hand, the seller has a low reputation and the rating parameters are in red, then you can be sure the seller isn't trustworthy.
Sales / Contact the seller – the number of sales is not a conclusive fact, but it's always better to go for Timberland style boots that have been purchased before. If you are looking at a seller that hasn't sold any units of the particular product you are interested in, try contacting the seller directly. They can send you pictures of the real product so you personally check the quality.
Reviews – This is probably the most important thing you can do. Not only will other customers give you a better idea of the quality of the product, they will also tell you if you need a smaller or bigger size.
How to determine my shoe size in AliExpress?
When it comes to figuring out your size, as you can see, most sellers use the American system. That's why we are giving you a conversion table to help you figure out what your size is in the American system (M is for man and W is for woman).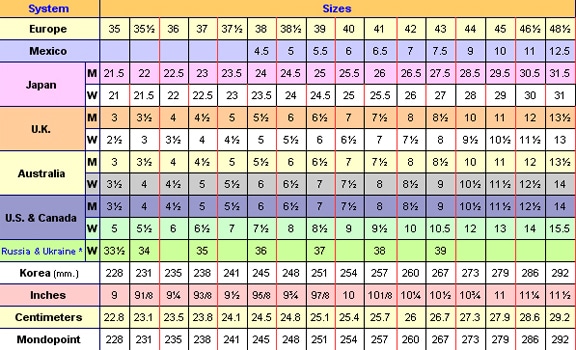 Another thing you need to know is that sizes may vary depending on the seller (it isn't common but it may happen). That's why you should try looking at the size chart provided by each individual seller. Also, if you need more information on sizes take a look at our guide on sizes in AliExpress.
Not convinced by the boots in AliExpress? Try taking a look at the Timberland offered by Amazon
A cheap alternative for Timberland boots is Amazon. They don't have many offers, but you might just get lucky and run into a really good one. T. Discounts of up to 50% (for Timberland) are usually limited to a few sizes.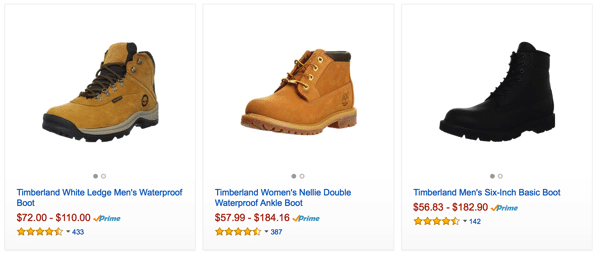 Share your experience!
Have you ever tried purchasing Timberland boots or sneakers in AliExpress or Amazon. Can you recommend any good sellers? Leave us a comment :).