Ok, so let's get this sorted once and for all. We've received loads of comments asking us if we known any online outlet that sells UGG boots and our answer is always the same: outlets selling UGG boots don't exist! And we are going to prove it. 🙂
Be very wary of online "outlet" scams offering UGG boots
When you type "outlet ugg" on Google you are going to get lots of results, that much is true. However, soon you are going to notice something fishy: truth is, when you check them out you'll see that most of them don't even offer clothing (instead you'll find a communication agencies, dating websites, a lawyers website, festival websites…) and when you click on them they'll redirect you to "spamy" clone websites such as this one: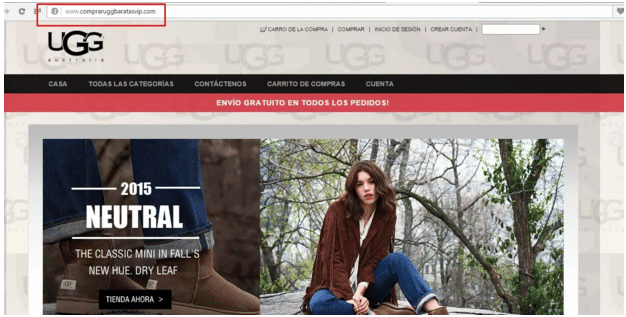 Example of UGG boot website you should be wary of
So, why does this happen? Simple, the websites are hacked. Hackers use these pages to redirect users to their own "online shops" offering UGG boots.
Needless to say, these shops are everything but trustworthy: you might find out that the web has disappeared before you receive the boots, you might get shabby boots, and worst case scenario, you don't get anything and they just keep the money…
Furthermore, a few of our friends recently confirmed what we suspected: the UGGs sold on these websites are replicas and go for something like 80€, a bargain if they were original, but considering you can get replicas for 30€ on other sites, not so much.
Our opinion? AliExpress is the best alternative to risking your money on one of these scammy websites
Luckily for us, AliExpress offers plenty of UGG style boots. Obviously most of them are white label, not to be confused with replicas (you are not going to find originals for 30€ or 40€ when the real ones cost up to 180€).
These white label UGGs are so well made it's hard the difference. Just check the ratings, no wonder UGG style boots are one of the most sold products in AliExpress.
Not everything is UGG replicas
Best white labels
Among the all the Chinese brands making UGG style boots you can find on AliExpress, here are the most popular ones:
These four brands have loads of cheap models. Furthermore they have great reviews and tons of sales.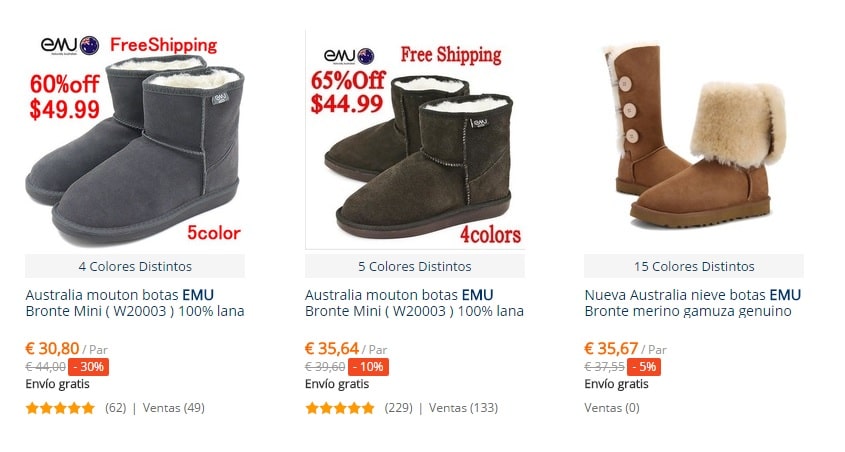 As you can see, they are incredibly cheap and almost the same as the originals, the only difference being they don't have the UGG logo.
Be wary of replicas! Telling a replica apart from a white label is very easy. If it's a replica the seller will have erased the logo or inverted it with photoshop. However, if you are still having doubts, just contact the seller directly.
So, you've clicked on the links and found thousands of results for UGG style boots, you separated the replicas from white label ones, now…how do we make sure we are getting the best deal? Just make sure you ask these three questions:
How many units has the seller sold?
What's the standard rating for the specific product?
Does it have good reviews?
If you are getting good answers to all three questions, you're set to go.
How do I find out my boot size?
Finding your shoe size is very easy, just keep in mind that AliExpress uses American sizes. Therefore, if you live somewhere than doesn't use this system, you are going to have to convert your usual size. Here is an easy chart to use (M is for men, W is for women).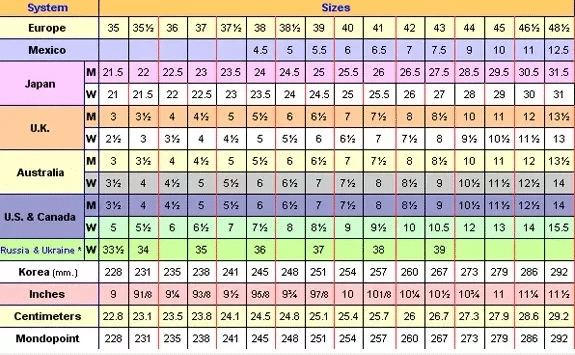 AlixBlog advice: Because they are white label brands, size may vary from seller to seller. Each AliExpress seller offers their own size chart in the product page (you can find it in the middle of the page). Take a look at it to make sure they don't have a different one. Also, if the table is different, you might want to contact the seller directly, they will be able to guide you better on what size will fit.
Another smart thing to do is to look at reviews left by previous customers. This will give you a better idea about the quality and durability of the UGG boots. Even more important, if there is a problem with size, customers will leave comments advising others to get a size larger or smaller. That's why its super important to look closely at the product page.
If you want more information on AliExpress sizes, check out this article and if you have any doubts or would like some more advice on shopping for boots, leave us a comment, we'll get back to you as soon as possible. 🙂
Update: Does the logo say UGG or does it say UGC?
Many of you have asked us via comment and email why these boots feature the UGC logo instead of the UGG one on the pictures. You also asked us if the boots really come with this logo or if they are exact UGG replicas. When the pictures shows the logo "UGC" they come with this logo, it's not a modification, its name of the brand.
If you're still having doubts just go to the ratings section to see if you can find any pictures of the real product taken by previous customers. If you can't find any, you can always contact the seller directly via chat and ask them.
I want original cheap UGG boots… Amazon
Not convinced with the white label UGG boots sold in AliExpress, would you rather get originals? If this is the case, take a look at Amazon. This online shop is constantly scanning for prices and offers some of the best discounts online.
That's why buying UGGs on Amazon will probably be cheaper than getting them on the official website. Also, if you get them on the platform you'll avoid running into any replicas (the famous fake outlets we were talking about at the beginning of the article). Another advantage of shopping in Amazon is that you will get the faster.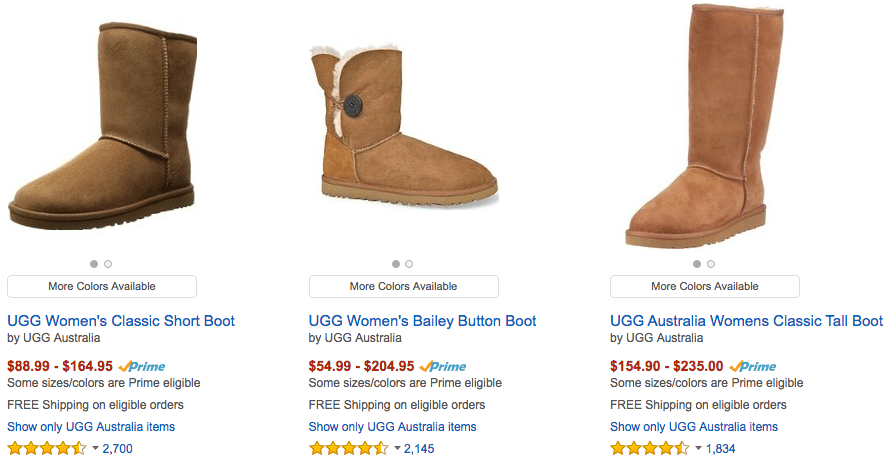 Classic Short Boots, Bailey Bow Boots, Classic Mini Boots, Classic Tall Boots, Dakota Shoes, Classic Cardy, Adirondack…All these designs and more is what you can find in Amazon for a super affordable price, especially considering they are original Australian UGGs.
So, where should I buy them?
Like we mentioned before, each one has it's advantages and disadvantages. If you want to save money and you don't mind wearing a white label UGG, then try AliExpress. The only disadvantage being that shipping is going to take a while. On the other hand, if you really want original UGGs but want them cheaper than usual, try Amazon :).
That's it for this guide, we hope it was useful. But if you are having any other doubt, just leave us a comment below 🙂
Go to AliExpress.