Since the Apple Airpods went on sale, there have been many brands that have wanted to copy the aesthetics and functionality of these minimalist-style wireless headphones. In fact, on our blog, we have already reviewed the Best Chinese Wireless Headphones (Airpods clones). In this article, we are going to analyze one of the best alternatives that have just hit the market: the new Xiaomi Mi Airdots Pro headphones. They cost less than half and are very similar to Apple's, also in terms of functionality. We are going to analyze their characteristics and how to find them cheap on AliExpress.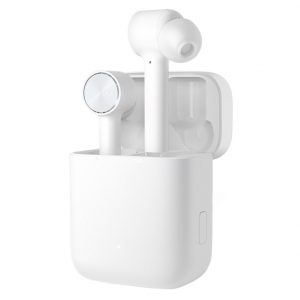 Xiaomi Airdots Pro: lightweight and functional wireless headphones
These new wireless headphones are an improved version of their previous model, the Xiaomi Mi Airdots Youth. Although the price increases slightly, as you can see for yourself by clicking here, they are still a cheap alternative to the original Apple. In addition, Xiaomi is one of the best Chinese brands so the quality of finishes and sound is guaranteed. What stands out the most about these headphones is their lightness: they only weigh 5.8 grams, very close to the 4 grams of Airpods. Thanks to their IPX4 protection, they are resistant to splashing water, so we can use them for sports without worry.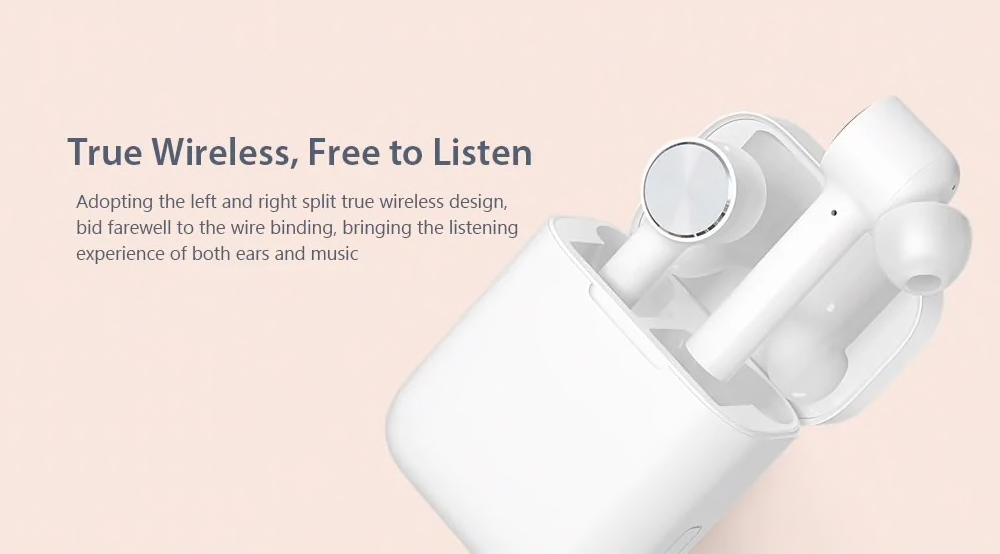 Their design is really minimalist and very similar to AirPods, with an extension that protrudes from the ear where the microphone is located. As in the Apple headphones, this extension is inserted into the case that allows them to be charged. The weight of the case and the headphones is only 58 grams so we can carry them in our pocket without worry. You can find them in black or white.
But one of the best novelties of these headphones compared to the previous model is the possibility of controlling its operation through a combination of touches: we can answer calls, activate the virtual assistant, control music playback, or activate noise cancellation simply by touching the headphones. In addition, the headphones have an infrared optical sensor that detects when we are not wearing them to stop the music playback.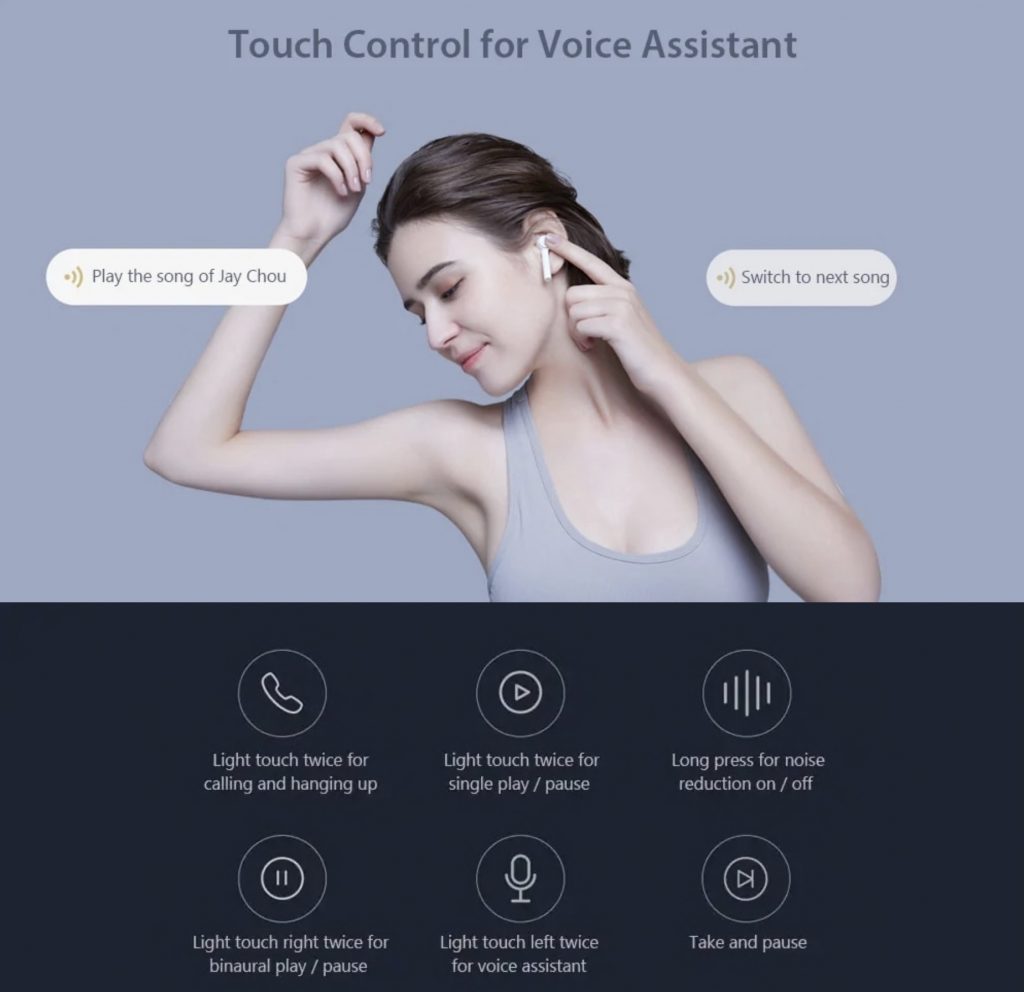 Sound quality is guaranteed thanks to its 7mm neodymium speakers and a titanium coated diaphragm. They have an impedance of 16 ohms and support high-quality music since it is compatible with the AAC (Advance Audio Coding) codec, a coding system for Bluetooth that offers 250 Kbps compression. It also incorporates ANC noise cancellation. Headphones can be used separately (being able to function as a hands-free headset thanks to their integrated microphone in both headphones) and are compatible with Android or iOS mobiles and any device compatible with Bluetooth 4.2.
Like Apple Airpods, these Xiaomi Airdots have a practical case that, in addition to transporting them, serves as a charging base. The 100 mAh battery lasts about 10 hours in music playback mode and the headphones automatically turn off after 30 minutes of standby. To charge them, we will have to place the headphones on their base and plug it in through its USB type C cable. A full charge takes approximately one hour.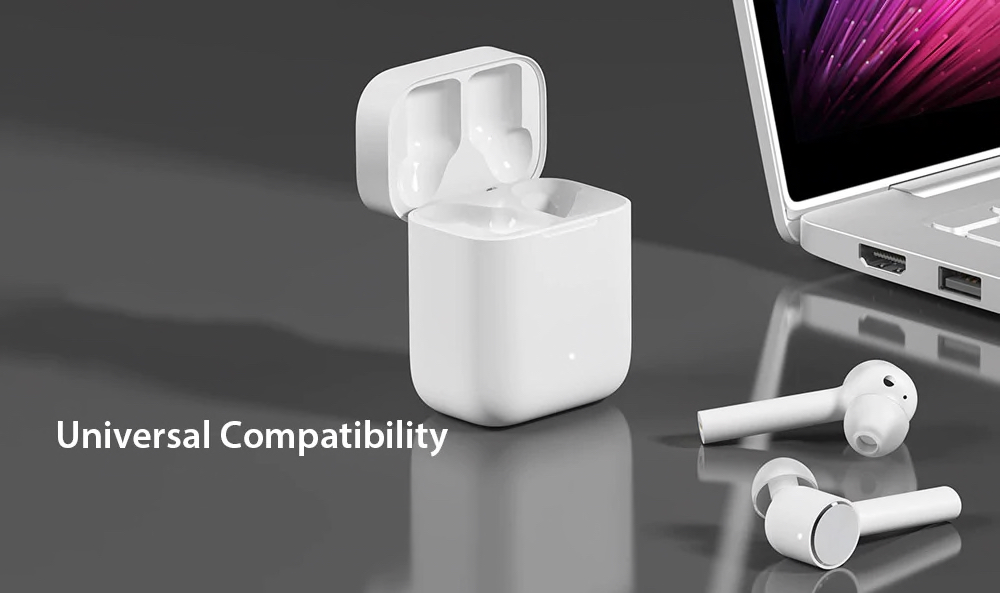 Xiaomi Airdots Pro vs Other Chinese wireless headphones
As you can see, the Xiaomi Airdots offer great advantages over other Chinese wireless headphones, but if you want to know other cheap alternatives, we recommend our Guide to Chinese Airpod Type Wireless Headphones. As you will see, there is a wide variety of this type of headphones, but until Xiami Airdots Youth, predecessors of Xiaomi Mi Airdots Pro, none of them could be controlled through taps on the headset itself. However, the improvement over the first version is significant: more control through the touch panel, more autonomy, and a more attractive and functional design.
Price and Special Offers of Xiaomi Airdots Pro on AliExpress
The starting price of the Xiaomi Airdots Pro is 399 yuans, about US $60 to change, and although they have recently been on sale, they can already be found on AliExpress. However, with shipping, the sale price is about US$ 70 as you can see in this link. This is one of the best ways to buy these Xiaomi wireless headphones since on AliExpress we will find a wide variety of sellers, special offers, and discount coupons to save more money.
If you want to know how to get coupons, discounts, or simply the best tips to buy safely on this Chinese website, we recommend visiting our tutorials section, where you will find articles that will help you buy like a professional. If you still don't know this platform, we recommend you start with our Essential Buyers Guide for AliExpress, where we explain everything you need to know before buying.
What about you? What do you think about Xiaomi Airdots Pro? We would love to know your opinion, don't hesitate in leaving a comment below and telling us your thoughts or shopping experience with this novelty from Xiaomi.