Xiaomi increasingly has more products, so if a few years ago most of us knew this Chinese company for its inexpensive and quality smartphones, now it is impossible to say that the only good thing about Xiaomi are its phones: from robot vacuum cleaners to products for your Smart Home, this Chinese brand has a wide variety of good quality devices at very attractive prices within the reach of any pocket.
Today we are going to talk about a Xiaomi gadget that perhaps you did not know: its Mijia M365 electric scooter, an electric scooter with which we can move around the city easily and comfortably. Today we will thoroughly analyze its characteristics to see if it is worth it and what differentiates the Xiaomi scooter from those of other brands. If you want to find it you just have to click here.
Electric scooters: the new way of moving around the city
Scooters became very trendy a few years ago when children started using them and it became a demanded toy. However, they are no longer just a toy: it is increasingly common to see people of any age using them to move around the city due to their advantages. They take up little space, they are electric so we can move effortlessly and allow us to make routes of considerable distance in a short time.
So if you are thinking about an ecological and efficient urban transport method, why not buying a scooter? They have many advantages over other electric transportation methods like electric bikes. In a short time, scooters will be one of the best options to move around the city, therefore, betting on the creation of an electric scooter is a success from our point of view, and if it is of quality like Xiaomi, even more.
Features of this Xiaomi electric scooter
The Xiaomi Mijia M365 is an electric scooter that follows the aesthetics of the products of this brand: minimalist design with simple lines in neutral colors. In the case of the Xiaomi M365, we can find it in white or black. Scooters, as we have already said, are characterized by being simple elements: we will only have two wheels, the platform to support our feet, brakes, handlebars, and a bell. It can be folded in seconds and transported comfortably.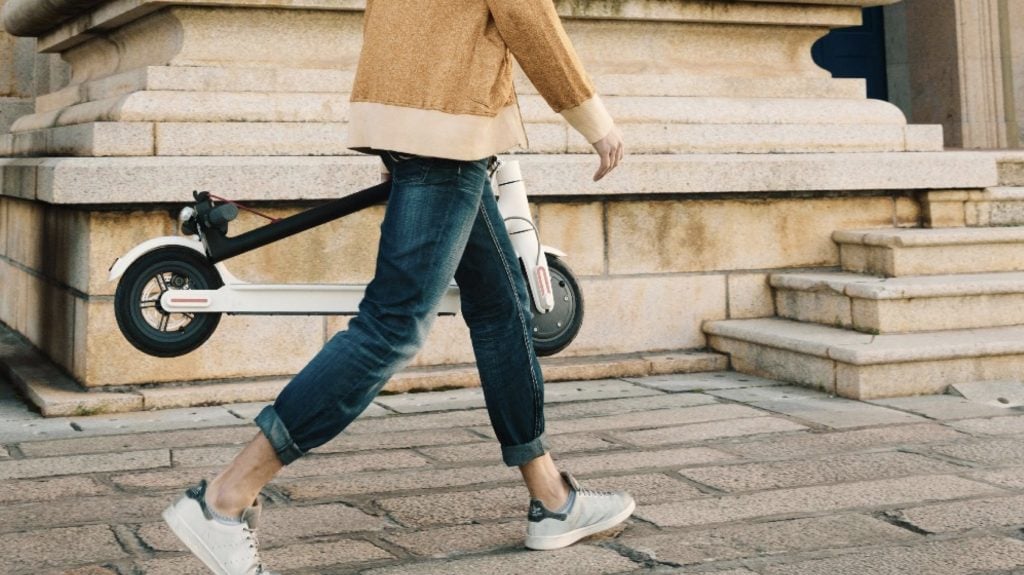 Structure and finishes: high quality in all its components
Xiaomi scooter has 8.5-inch CST brand air tires, wheels from another recognized brand, and a fairly universal size that will be easy to replace over time. They absorb shocks and vibration while we use the scooter, which guarantees us a comfortable and pleasant ride.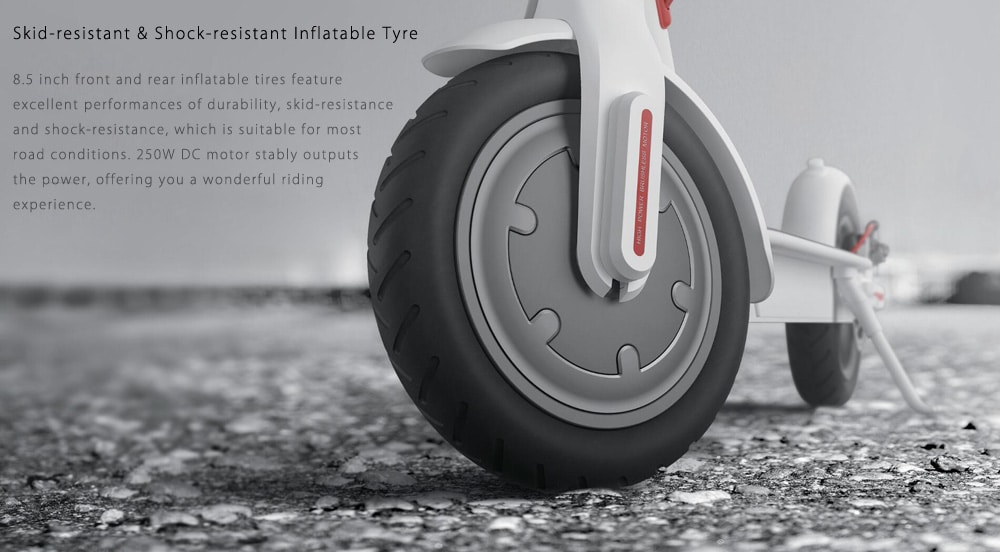 In terms of safety, it has a double braking system (dual brake): in the rear, we have a two-disc brake and its front brake also has regenerative braking, that is, the kinetic energy of the braking will be converted into electric energy, extending the autonomy of our scooter. They also have an anti-lock system (ABS) that prevents the wheels from locking, decelerating gradually, and safely in about 2-4 meters.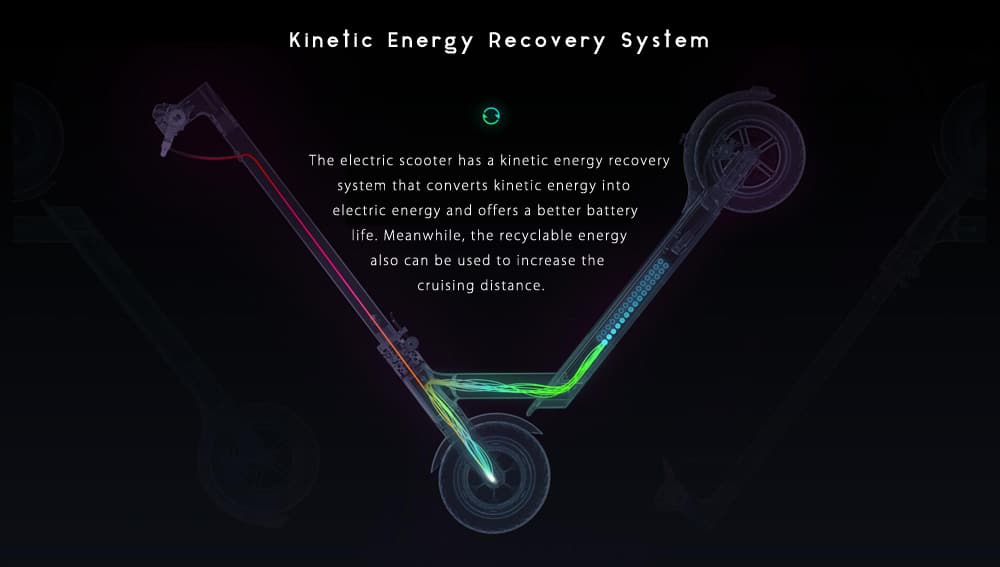 In short, the construction of the Xiaomi scooter is of great quality. Its wheels support a weight of up to 100 kg. On the other hand, in the part of the handlebar, we will find the brake, the bell, and a small 1W support light. The scooter is built entirely with a magnesium-aluminum alloy that gives it great resistance to impact and corrosion with protection against the environment type IP54 (great resistance to water and dust).
Power and speed: excellent for moving through the city
To start driving with the Xiaomi scooter, we will only have to push ourselves a little with our foot while pressing the accelerator, in this way the motor will start working. It is a 250W motor with nominal power (being able to reach a maximum power of 500W) with which we can reach a speed of up to 25 km / h, which is more than enough for urban journeys: in 12 minutes we could travel up to 5 km. In addition, thanks to the high-quality wheels that we have mentioned above, we can easily circulate on any terrain thanks to its grooved design, its high-power motor will also allow us to easily circulate on sloping terrain.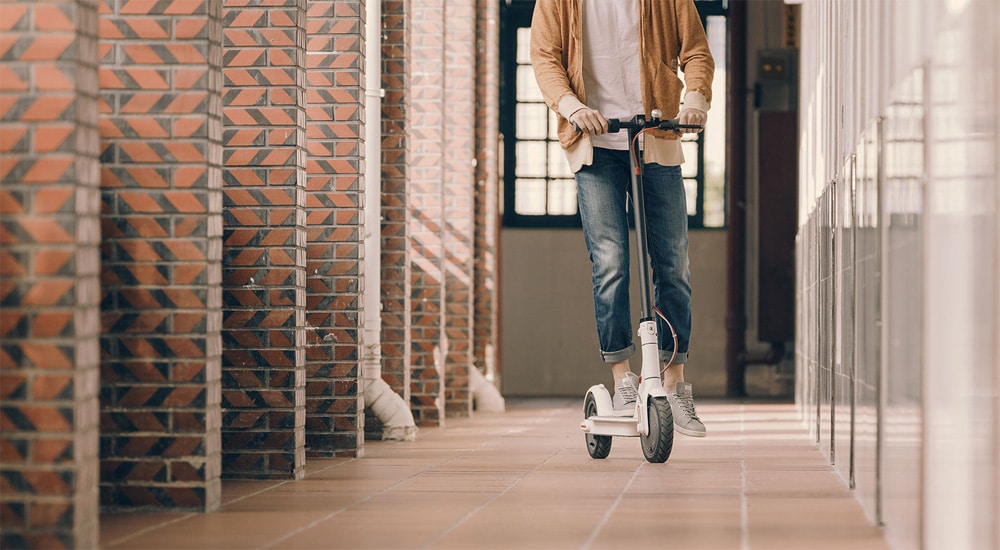 Battery and autonomy are very good, as in all Xiaomi products
If something characterizes Xiaomi devices is their good autonomy, something that can be seen in all their devices: Mi Band 2, smartphones, Xiaomi Mi Robot… They all have exceptional autonomy. In the case of the Mijia M365 scooter, it has a range of up to 30 kilometers thanks to its large capacity 7800 mAh battery manufactured by LG, a high-quality brand. Once our scooter is unloaded, we can fully charge it in about 5.5 hours, which is perfect to recharge it at night and have it ready the next morning to go to work. In the part of the handlebar, we will find 4 LEDs that indicate the state of charge of the battery.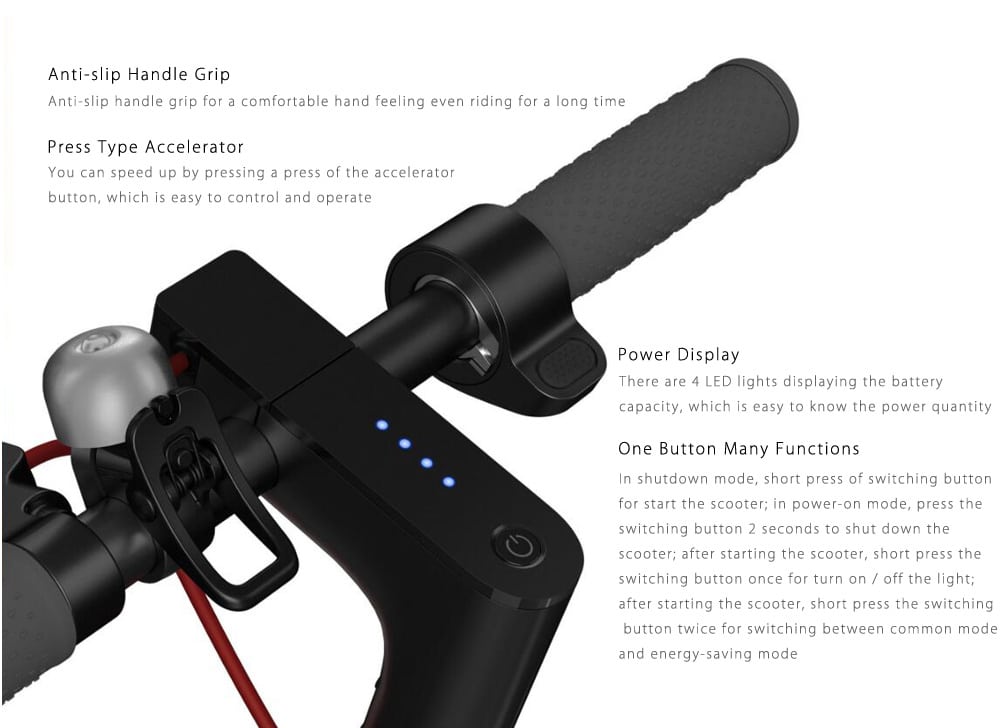 Mijia M365's weight and size
Finally, something very important when choosing a scooter is the ease of being transported and folded when we are no longer using it. In the case of this Xiaomi scooter, it reaches a weight of 12.5 Kg, and it folds into a size of 1080 x 430 x 490 mm. The folding is extremely simple and we can easily transport it using the handlebar as a carrying handle. Without folding, the handlebar reaches a total height of 1.14 meters, which together with its 43-centimeter wide handlebar makes it ideal for any adult.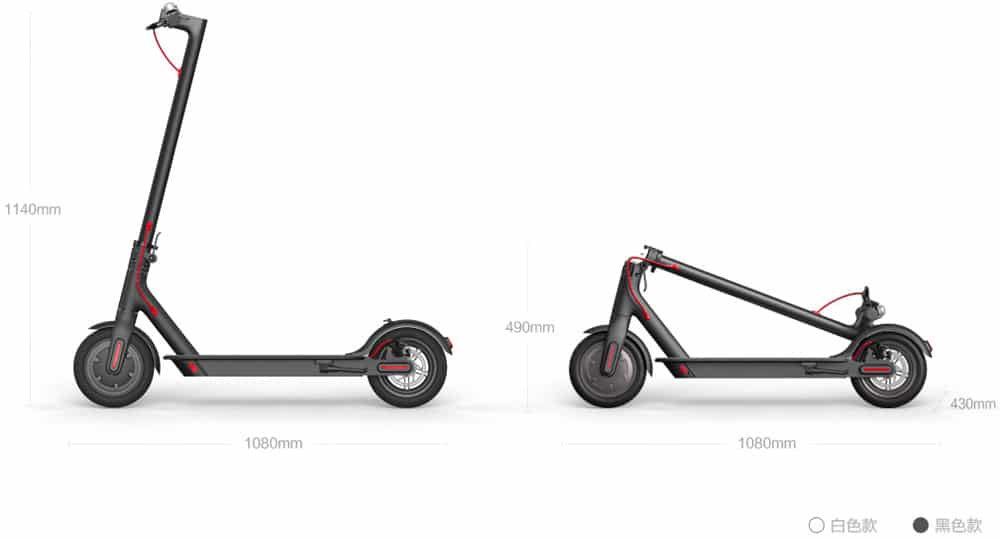 Bluetooth connection: classic in Xiaomi products
If something characterizes Xiaomi products, it is that all (or almost all) can be connected to our mobile. In this case, the Xiaomi Mijia M365 scooter has a Bluetooth connection through which you can connect to the Mi Home application, which allows you to track the habits of use of your scooter: mileage, voltage, temperature, battery status, location… The app can be downloaded from the Android or iOS App Download Center.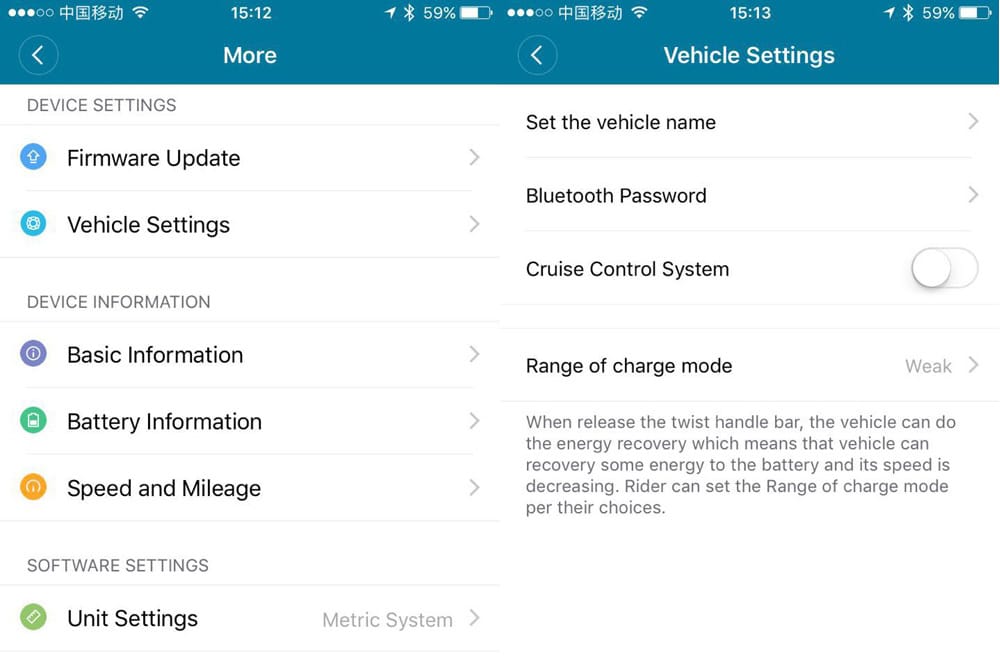 Packaging and first steps after receiving our Xiaomi Mijia scooter
Our scooter will arrive disassembled in a cardboard box. Inside we will find the scooter, handlebars, tools, screws, and the charger. Therefore, its assembly is extremely simple: we will only have to join the handlebar and the scooter using the screws and load the scooter to start enjoying it.
In short: Is this Xiaomi scooter worth buying?
After analyzing all its components we can only say that the Xiaomi Mijia M365 is a great option to consider if you want to buy an electric scooter. Perhaps its only drawback is its price, which exceeds US$ 500. However, we can approach this in a different way: it is a long-term investment. If we use it to go to work or making other errands we will be able to amortize it in a short time, take account of what you spend a year on transport and you will realize that it is not so expensive. We will also be betting on a high-quality scooter: it is true that we can find cheaper scooters online, but not of this quality or finishes. In short, for us, it is definitely worth it.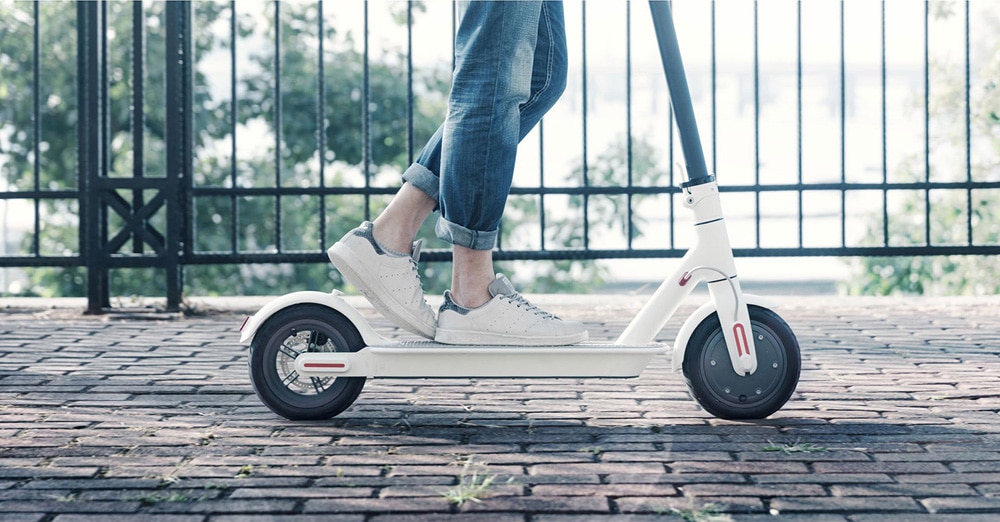 How to find Xiaomi Mijia M365 at a very low price
The best website to get this scooter is undoubtedly AliExpress. There are many sales websites of Chinese origin, but we choose this one because, in addition to having the lowest prices, it is a totally trustworthy website. As we have said before, we can find it for about US$ 500 here. Best of all, many sellers offer it "tax-free" for Russia, the US, and Europe, so we will receive the scooter with express shipping and no extra costs.
More bargains, tips and tricks on our blog
At AlixBlog, we analyze the products that are worth buying on AliExpress, but we also have a section with tutorials where we explain the best tips and tricks to save on your purchases. If you still don't know this online sales website well, you can start with our Essential Buyers Guide for AliExpress where we explain how to buy and what you need to know before buying.
What about you? What do you think about this Xiaomi scooter? We would love to know your opinion, don't hesitate and leave your comment below.