There are cleaning devices that have burst onto the market with great force, such as robot vacuum cleaners and handheld cordless vacuum cleaners. However, although robotic window cleaners are a great invention, their high prices make them inaccessible. However, you can find cheap window cleaning robots on AliExpress.
The famous brand Xiaomi has launched two robotic window cleaners that are succeeding. They are two different models that thoroughly clean glass, tiles, and any other surface. We will review their features.
Xiaomi HUTT robotic window cleaner: characteristics and advantages
Xiaomi currently has two glass cleaning robots, under the name of HUTT, with different characteristics and functions. What stands out the most in both models is their high quality and good performance. We explain their differences below, although you can find them all at this link.
Xiaomi BOBOT Win3060, last release
The Xiaomi BOBOT Win3060 robotic window cleaner, which you can find by clicking here, is one of the latest releases. Its characteristics are very interesting, especially because it is faster and only takes 2 minutes to clean 1 square meter. It has a suction power of 2,500 Pa.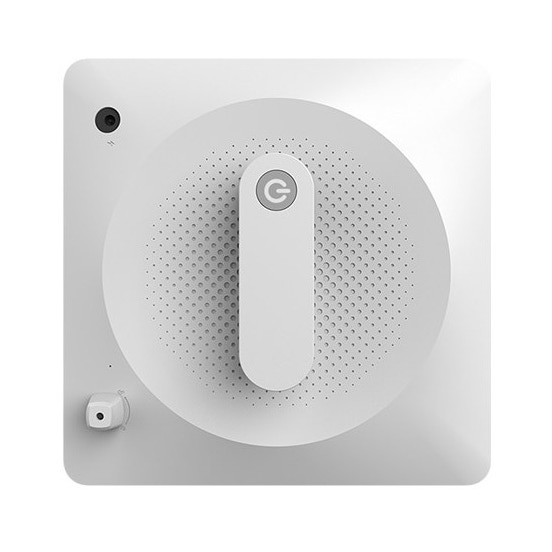 Unlike other window cleaning robots, this square model can work with 3 different patterns: N-pattern, Z-pattern, or a combination of both. You can easily control it through its remote control and also through its mobile application.
It stands on the window without slipping as it has a resistance to gravity of up to 7 kg. It includes a 4-meter safety cable and a 4-meter power cable. Thanks to its 600 mAh battery, it can run for up to 30 minutes if the robot runs out of power, to prevent the robot from falling.
Xiaomi HUTT DDC55, classic robotic window cleaner
The best seller is the HUTT DDC55 model, which you can find at this link. It has the most classic design of these glass cleaning robots, with two circular mops that move to clean the glass. Its compact size is ideal for tight spaces, at just 9 centimeters high. But what makes the difference from other cheap robots is its operation.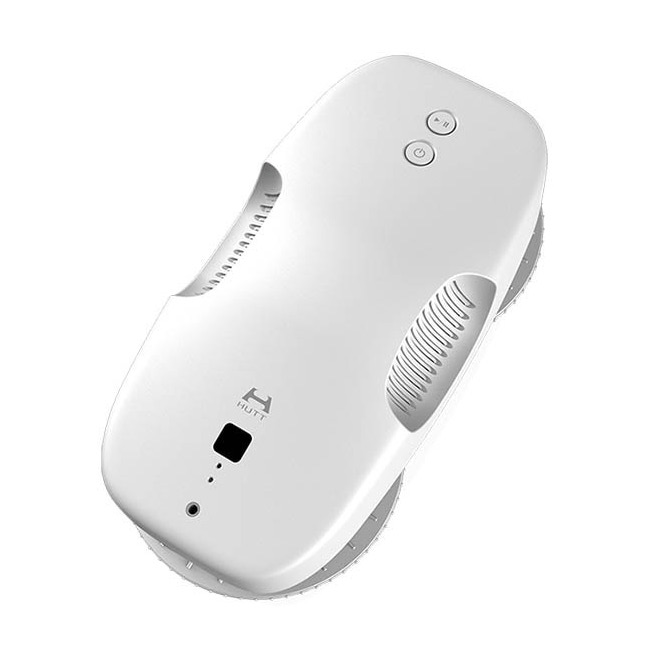 It features a Cortex ARM M3 processor, a 6-axis gyroscope, a SLAM algorithm, and a high-quality Japanese NIDEC brushless motor specially designed to make less noise with long service life. It can be moved at a speed of 3 minutes per square meter. Besides, its mops are made of high-density fiber and are reusable.
It is designed to thoroughly clean glass with a minimum size of 30 x 30 centimeters and 3 millimeters in section. The robot follows an S-shaped pattern to reach every corner. Its two mops go through the entire glass rotating to clean in depth and vacuuming up dirt.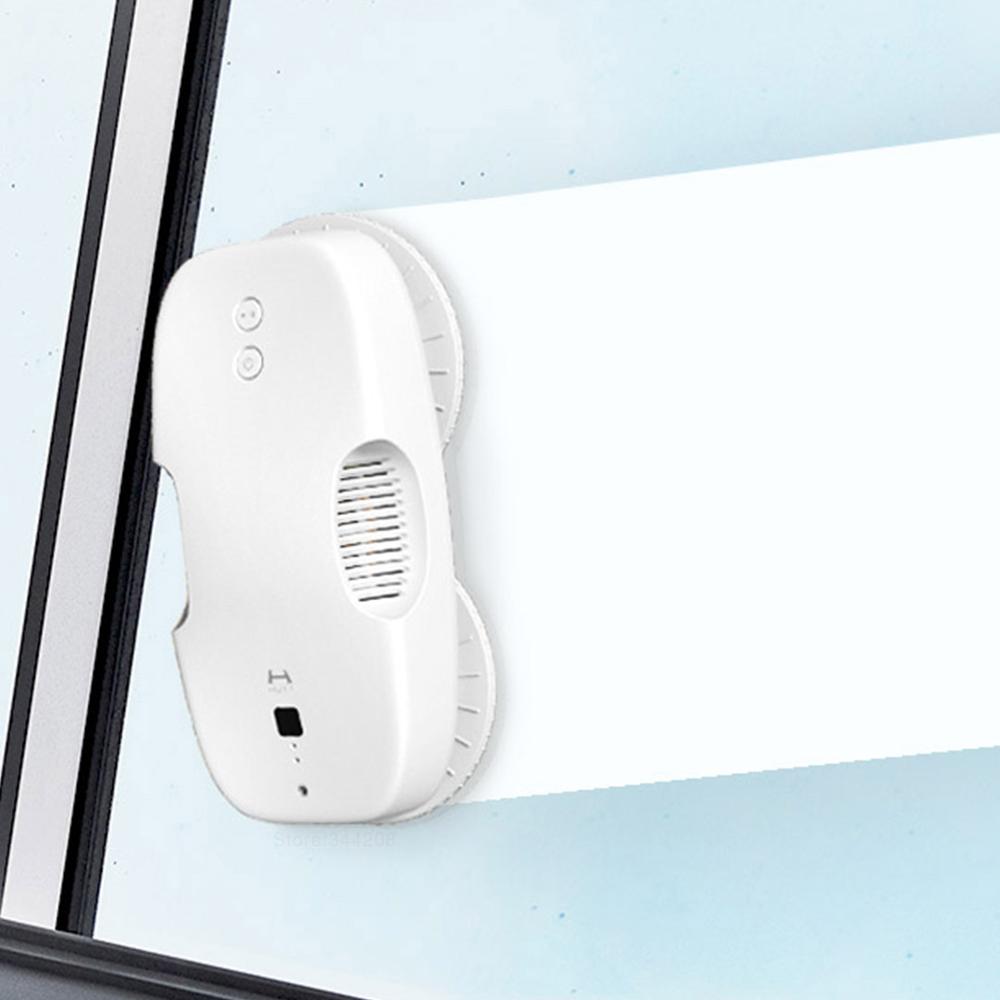 It can detect the level of dirt and adjust its suction power to clean effectively: from 2,600 Pa for small stains to 3,800 Pa for cleaning walls. It also adjusts the frequency according to the humidity of the air and the friction of the glass surface. Thanks to its edge sensor, it prevents falls and detects its position automatically.
To avoid problems and accidents, this robot vacuum cleaner has resistance to gravity of 7 Kg and has a safety rope of 8 meters. In case of running out of power, its 650 mAh battery allows it to run for 20 minutes. It can be controlled thanks to its remote control.
Xiaomi HUTT W55 squared robotic window cleaner
Its second model is cheaper and has a practical square shape that allows you to easily move around the window. This is the Xiaomi HUTT W55 that you can find here. It has a mop on the outside and is moved by the silicone tapes located on the inside next to the vacuum cleaner.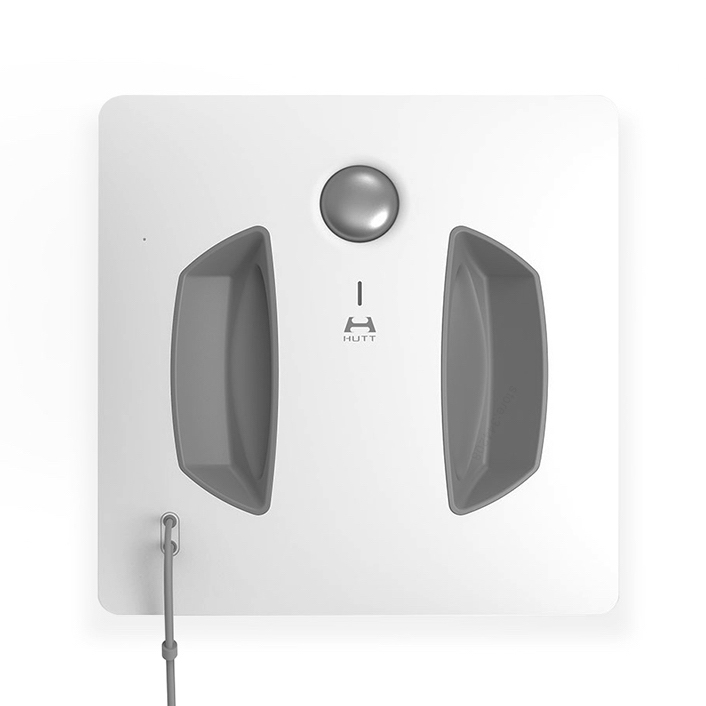 It has a lot in common with the previous robot, especially inside, since it has the same Cortex ARM M3 processor. It also features a pressure sensor, a brushless DC motor, and a 6-axis gyro. Cleans at a speed of 3 minutes per square meter.
Its HUTTPLANING 2.0 route planning system clears the entire window in an N-pattern with a single click. It predicts edges and slows down before hitting them, which reduces bumps. Also, it optimizes routes avoiding obstacles such as handles. It returns to the initial route once it avoids the obstacle.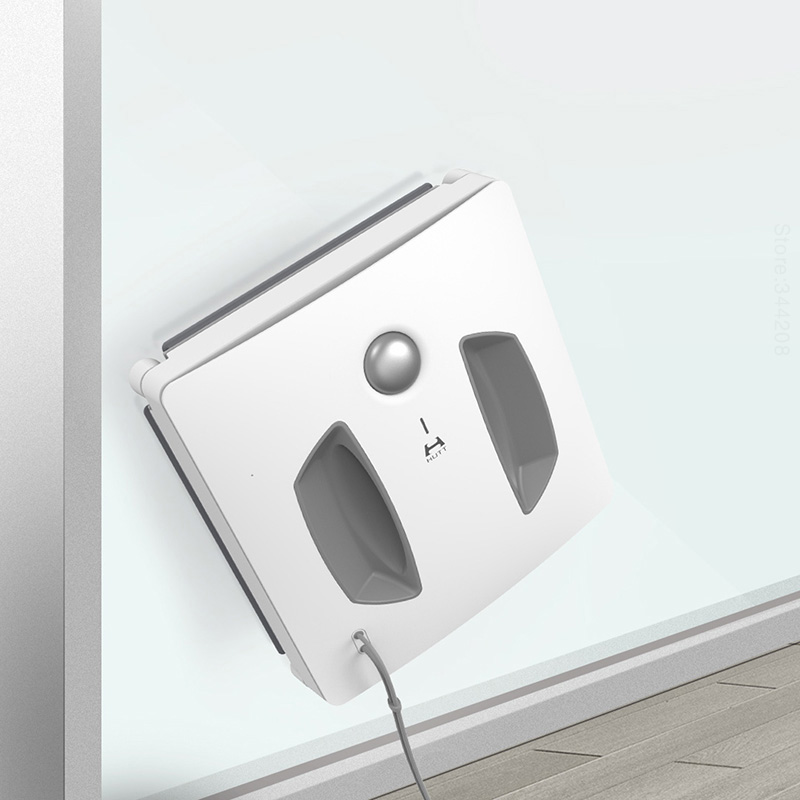 It can clean all kinds of stains thanks to its suction power of up to 2,500 Pa, which is automatically adjusted. It can clean both dry and wet by spraying the cloth or glass surface with water without affecting its adhesion. It has an ultra-thin design of only 7.6 centimeters.
It has an anti-fall safety system, if it runs out of electricity, it can work for 20 minutes thanks to its 650 mAh battery. In turn, the robot works tied to a safety rope. Besides, its suction power allows it to hold up to 7 kg, which is why it is ideal for cleaning other surfaces such as floors, tiled walls, and even ceilings.
Xiaomi Lofans manual electric window cleaner
The latter robot vacuums are a great purchase if you have a lot of windows, but we know they can be out of budget for many people. That is why this electric cleaner from Xiaomi Lofans seems like a good alternative. It is used wirelessly and is very practical.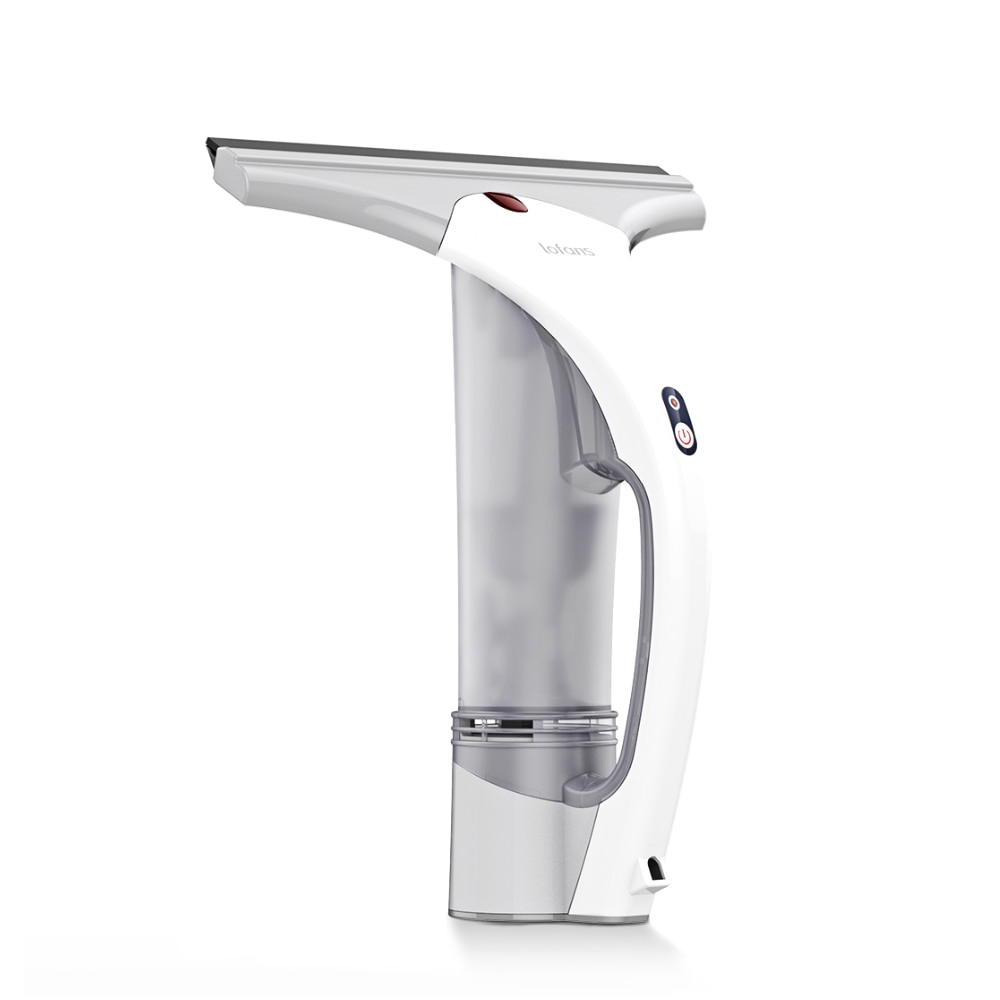 It is a 3-in-1 device that allows you to spray water, clean the glass, and absorb the remaining water, as it has a double tank. Its long-lasting battery has an autonomy of 25 minutes and is fully charged in 160 minutes.
It is ideal for cleaning windows, shower screens, mirrors, and all types of surfaces. It has a high-efficiency motor that allows it to absorb with a power of 1,500 Pa. Thanks to its 27-centimeter silicone nozzle, it can clean large surfaces without damaging them.
Tips and tricks to buy safely on AliExpress
Now you know the best Xiaomi glass cleaning robots and how to find them at the best price on AliExpress. This online sales platform allows you to enjoy the best products at a reasonable price. It is one of the best options to buy online since it ships all over the world.
If you have questions about how this sales page works, on our blog we have a section with tutorials where you can find tips and tricks to buy safely on AliExpress: what kind of payment methods can be used, how to track your orders, what discounts and coupons you can get…
What do you think of these Xiaomi glass cleaning robots? We would love to hear your opinion, do not hesitate and leave your comment below.