Saving more on your Shopee purchases is possible with Shopee Coins, a virtual currency that will help you lower the price of your next purchase without much effort.
Do you already know how to get them and how you can use them?
In today's article we tell you all the tricks to get the maximum daily coins to turn your purchases into real bargains.
How does it work?
Shopee has created this virtual currency to reward users who interact the most with its website and app.
For your reference: 1 Shopee coin is equivalent to one indian rupee and you don't need to have a minimum number of coins to redeem them. Even if you only have 5 coins, you can use them when you pay for your order.
Important: You can deduct a maximum of 25% of your total order or 200 coins per day.
As you can imagine, these coins cannot be exchanged for real money. You won't be able to transfer them from one account to another, but don't worry because getting them is not that difficult, as you will see below.
How can I get Shopee Coins?
For registering
This offer is only available one time, but once you register on the Shopee page, you get a "Coin Injection" of 200 coins.
Buying items on Shoppe
For every Indian rupee spent, you will receive one Shopee Coin, so the more you buy the more coins you will accumulate.
You will receive the coins as soon as you have successfully completed your order: this is when you receive it and confirm that you will not need a full refund.
If you have opened a dispute requesting a partial refund, remember to ask for the corresponding percentage of coins you have spent to be refunded as well.
Shopee will then assess whether to accept your proposal or not.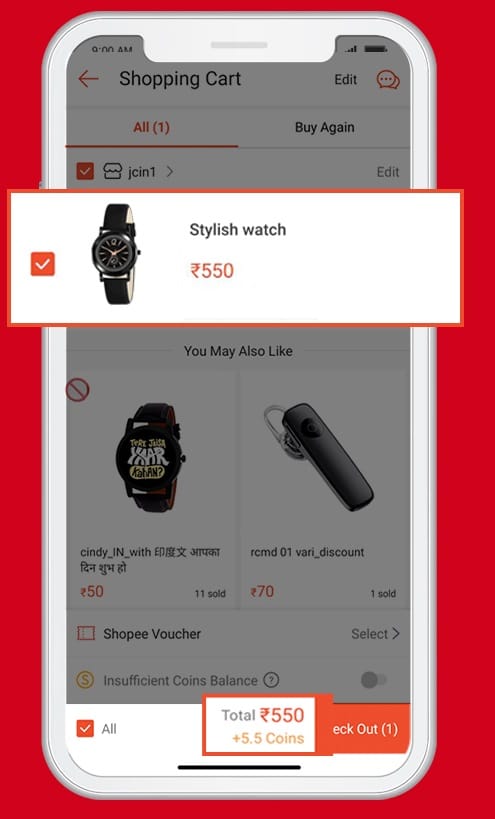 Cashback vouchers
With these vouchers you can receive Shopee Coins cashback when you use them on your purchases, there is no minimum purchase required and although they are limited, they are updated weekly.
You can get them directly by clicking here.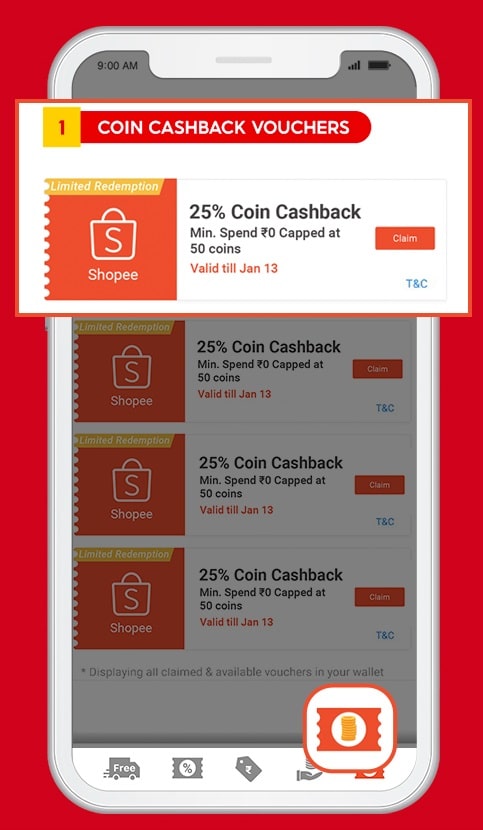 How to use Shopee Coins?
Shopee Coins are valid for all items on the platform and there are two ways to redeem them:
When you pay for your order.
In the form of Shopee vouchers.
When you pay for your order
Once your purchase is clear, click on the shopping cart (here) and at the bottom select the box where it says "Shopee Coins".
You have to do this manually every time you checkout and want to use your coins, as Shopee does not do it automatically, nor will it ask you for it.
You already know that there is no minimum amount of coins to be able to discount in your order, so even if you have few coins, you can always save some more.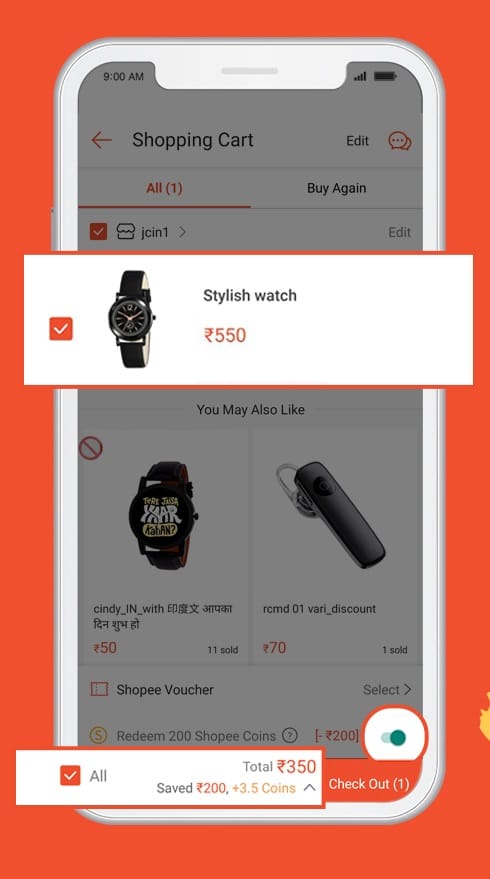 Redeeming coins for vouchers
Shopee offers the possibility to also exchange your coins for discount vouchers, but please note that these coupons are limited and not always available.
You can go directly by clicking here to redeem them.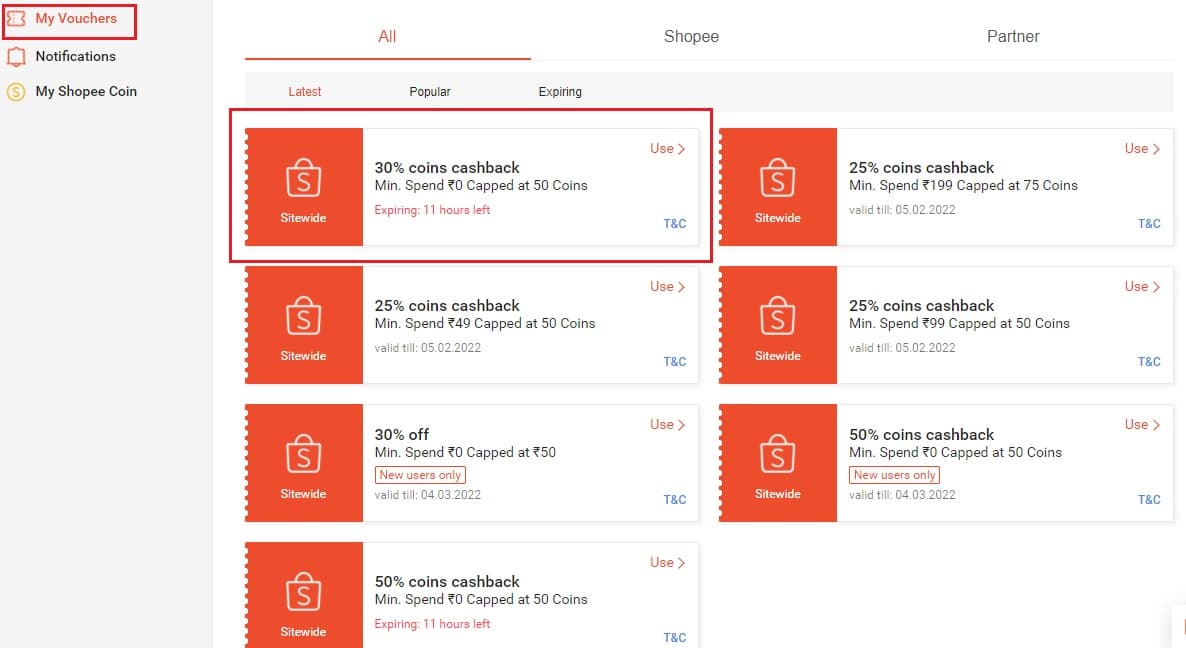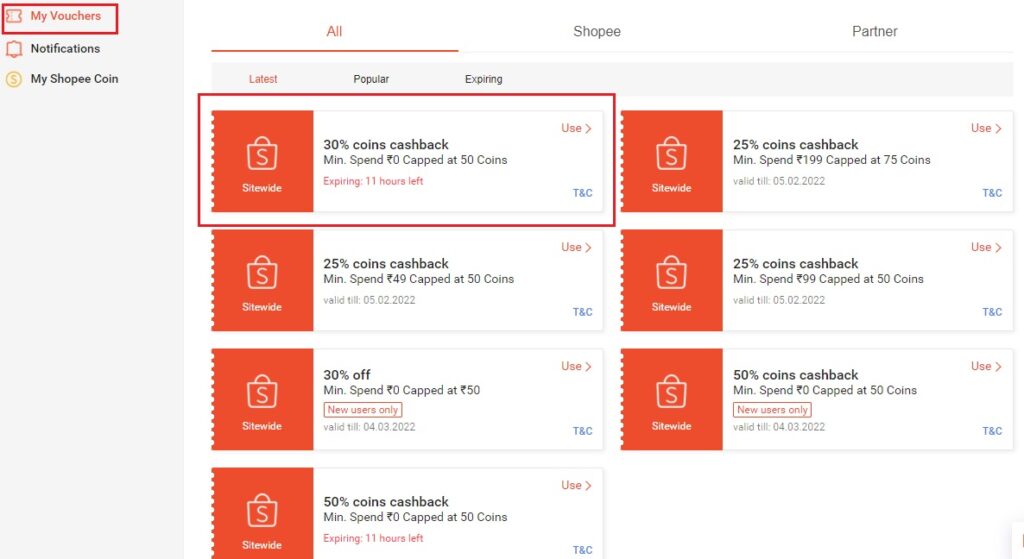 Is there a limit to the number of coins I can receive?
To avoid possible abuse, Shopee has set a maximum coin limit:
Earning Limits:

Max coins earned per order: 100
Max coins earned in last 24 hours: 200
Max coins earned in last 7 days: 600

Spending Limits:

Max coins % per item: 50%
Max spend limit in last 24 hours: 200
Max spend limit in last 7 days: 600
Although it is not easy to reach this limit, if you make a large purchase it's important that you keep it in mind.
How can I know how many coins I have accumulated?
Every time you earn coins, they accumulate in your virtual wallet in your profile, in the "My Shopee Coins" section.
If you prefer you can go directly by clicking here.
Beware because Shopee Coins expire
In this section you have all the history of the coins you have been earning and spending and also their expiration date.
You have 6 months to spend your coins, although you may not need that much time to use them.