You may have heard about Shopee, the brand new shopping platform that has recently landed in India.
Today, we are going to analyze this online store in detail to see if it's really reliable.
What is Shopee?
Shopee is a website dedicated to the sale of all the products you can imagine: technology, clothing, beauty, toys, household items…
The great attraction it has is the huge amount of cheap and bargain items you can find (even more than on AliExpress).
Shopee was created in 2015 in Singapore. It then spread to other Southeast Asian countries such as the Philippines, Malaysia, Thailand, Taiwan…
In 2019 it tried its luck by opening a store in Brazil, and it seems that it has not done badly at all, since this year it has gone a step further by opening stores in Mexico, Chile, Colombia, Spain, Poland, France and now also, India.
One of the things that attracts many users of this platform is the ease of finding replicas of products. The truth is that Shopee is not at all restrictive in this aspect (unlike AliExpress).
Reviews: Is Shopee reliable?
If you are wondering if it's safe to buy on Shopee, the answer is yes.
Although it's a relatively new online store of which you probably do not have many references yet, in Southeast Asian countries Shopee has been a great success and is already the most important shopping application.
So have no doubt: Shopee is a totally secure company.
In fact, to put your mind at ease, Shopee has a buyer's guarantee very similar to AliExpress' (Shopee Guarantee): when you pay for an item, Shopee holds the money until you receive your purchase. Only when you have received and confirmed it, they will release the money to the seller.
This ensures that sales are as transparent as possible to avoid fraud.
Please note that if you are not satisfied with your purchase, you can (of course) claim your money back.
You can also read more about the buyer protection offered by Shopee Guarantee by clicking here.
How to buy from India
If you already have experience buying on sites like AliExpress or DHGate, the way to buy on this website is very similar: each seller has its own store where they offer their products through Shopee, so this platform acts as an intermediary between you and the seller.
Don't forget to register
The first thing you need to do to shop is to register on Shopee here.
You can do it with your cell phone number or in a faster way through your Facebook, Gmail or Apple account.
Steps to follow to shop on Shopee
You can make your purchases through the web or the app in a very simple way:
Search for the product you are interested in in the product categories or type it directly in the search bar (you will find it at the top of the page).
Add everything you want to the shopping cart.
When you have everything in the cart, confirm by selecting all the items you want and click on "Checkout".
If you have not yet completed your shipping address, Shopee will now ask you to enter it.
Now all you have to do is choose your payment method and click on "Checkout".
Easy, isn't it?
Before you buy, make an offer to the seller
One of the things we love about Shopee is the possibility to directly make an offer for an item to the seller: on the main page of the product you will see the message "Chat Now", click on it and in "Make Offer", indicate how much you want to pay for your purchase.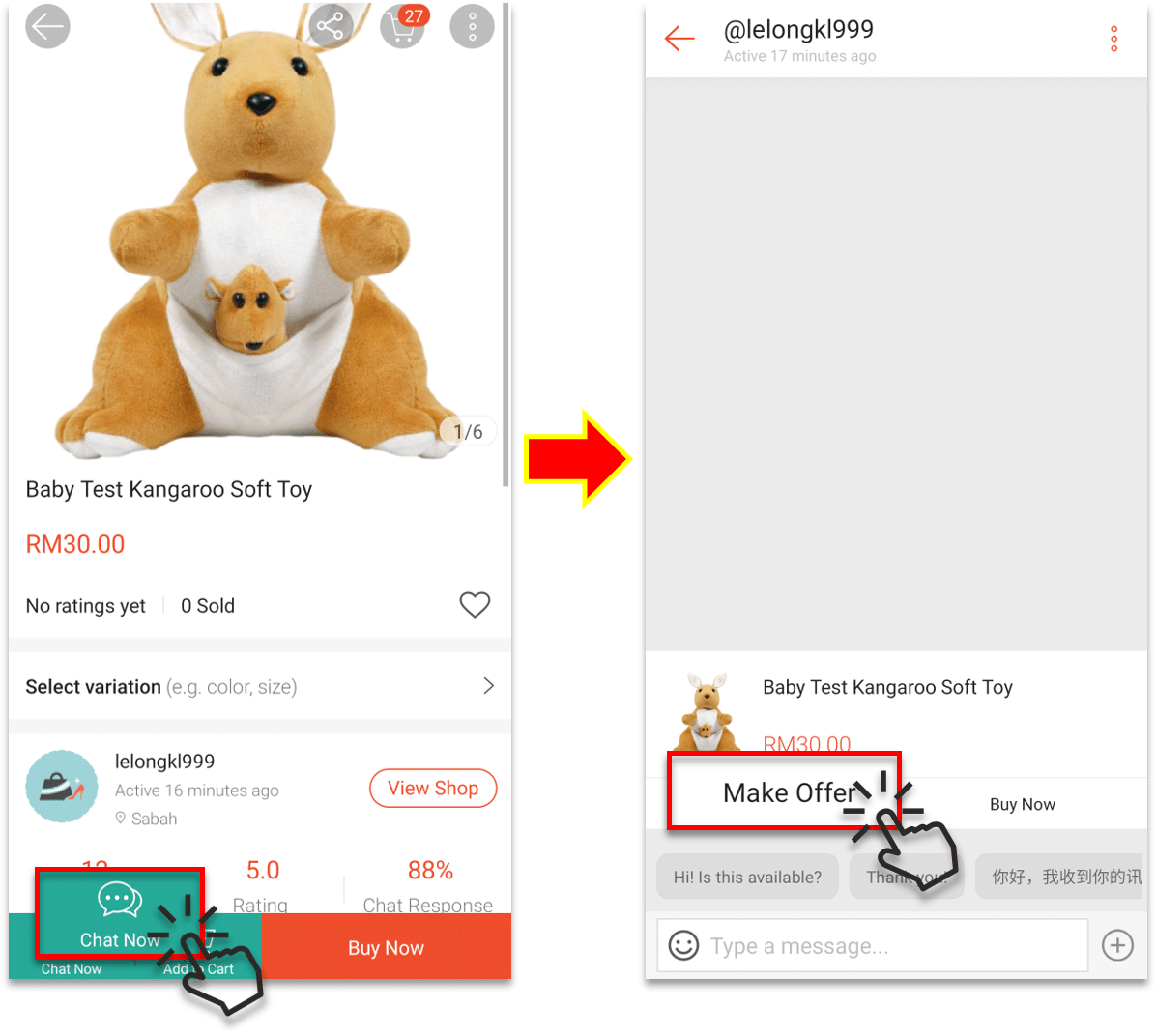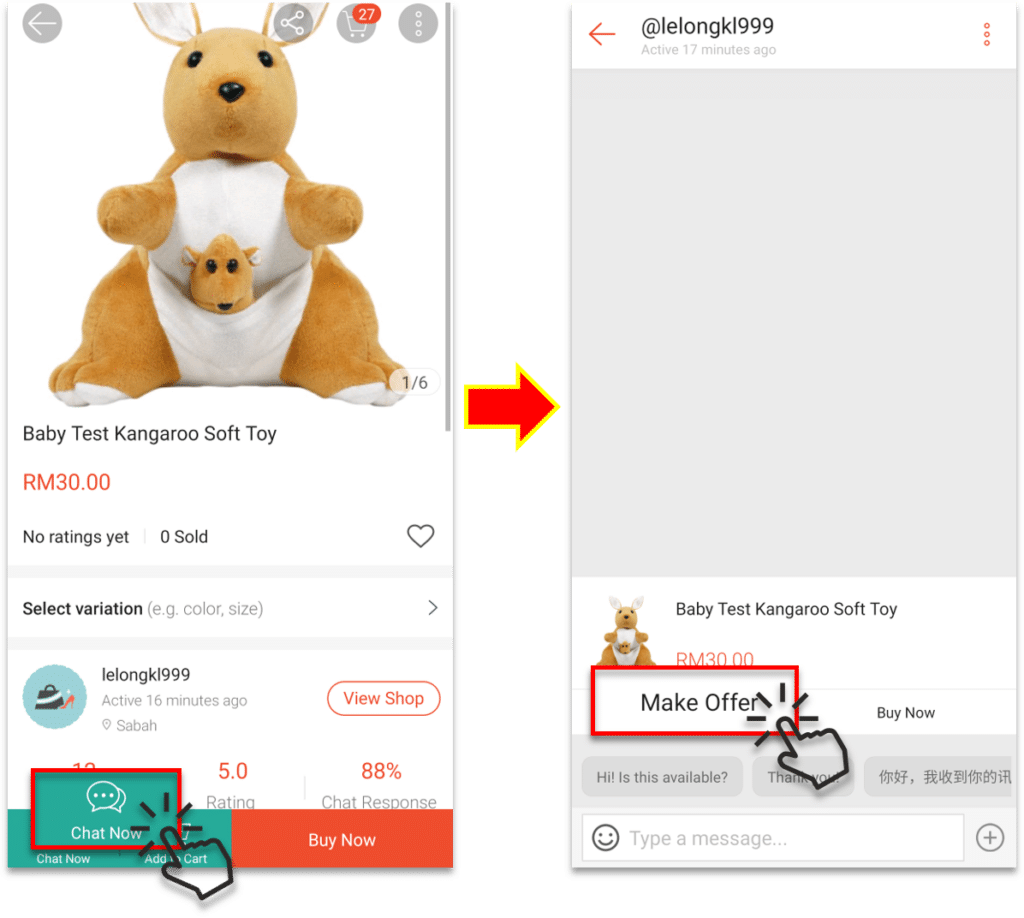 If the seller accepts it, the product will be added directly to your shopping cart.
To get your offer accepted, make a reasonable proposal. Of course, if you are going to order several items from the same seller, you can always negotiate better.
Remember that not all sellers accept to negotiate the price. In this case, when you click on "Make Offer" you will get the message "The seller does not want to negotiate the price".
Ask the seller directly
If you have doubts about a product and it has not had many sales yet, don't hesitate to message the seller and ask them for real photos (from the "Chat Now" section).
If they answer you quickly and clearly, it's more likely that they are an honest seller.
Are the branded products original?
On Shopee it's very easy to find brand name products of all kinds: shoes, t-shirts, sportswear, watches, mobiles and more.
Many of you ask us if they are original products or replicas and by analyzing the prices of the shoes for example, it's most likely that what you get are imitations.
If sellers offer these products with open links without any censorship (unlike AliExpress) is because Shopee's policy regarding this is not strict at all. The truth is that you can benefit from this, if it's precisely what you're looking for.
As for high-end smartphones, keep in mind that you are going to find refurbished smartphones and also, replicas (especially when it comes to iPhones).
You have to know that if you buy an iPhone that is not original, the aesthetics of the phone on the outside will be the same, but the operating system will probably be Android.
So if you have doubts that the iPhone you like is original or not, read the description of the phone very well, since there's where it will be specified if its operating system is iOS (original) or Android (replica).
In the case that the phone is refurbished, the seller will also have to indicate it in its characteristics.
As we have already recommended, at the slightest doubt, ask the seller directly what type of product they offer (this is where you can assess whether you are really interested or not).
Shopee payment methods in India
Shopee accepts different payment methods:
Debit or credit card.
Unified Payments Interface (UPI: a system that powers multiple bank accounts into a single mobile application of any participating bank).
Cash on Delivery (COD)
Even if you have any problem with your order, you can also claim a refund from Shopee if you pay through any of their netbanking methods. In case you choose the Cash on Delivery method, you can also get a refund that will be sent to you through your UPI or bank account.
Shipping method
A strong point of Shopee is that all shipments are free and certified, with no minimum purchase, so you will no longer have the problem of buying something very cheap and then the shipping costs you more than the item is worth.
The delivery time varies between 11 and 25 days from the time the seller sends your purchase, so they are fast shipments.
Which company delivers Shopee's shipments in India?
The company in charge of delivering your order is Delhivery and ECom Express.
Sometimes you might encounter that a seller doesn't have either of this options, so you can ask them to turn on the couriers in their shop and product listings or you can simply check other sellers that sell similar items.
How to track my Shopee order
With Shopee you can track the status of your order at any time through the guide that will appear on each item you have purchased.
Just go to "My Purchases" by clicking here and click on the item you want to track.
Then click on "View" to open the drop-down menu with the tracking of your package.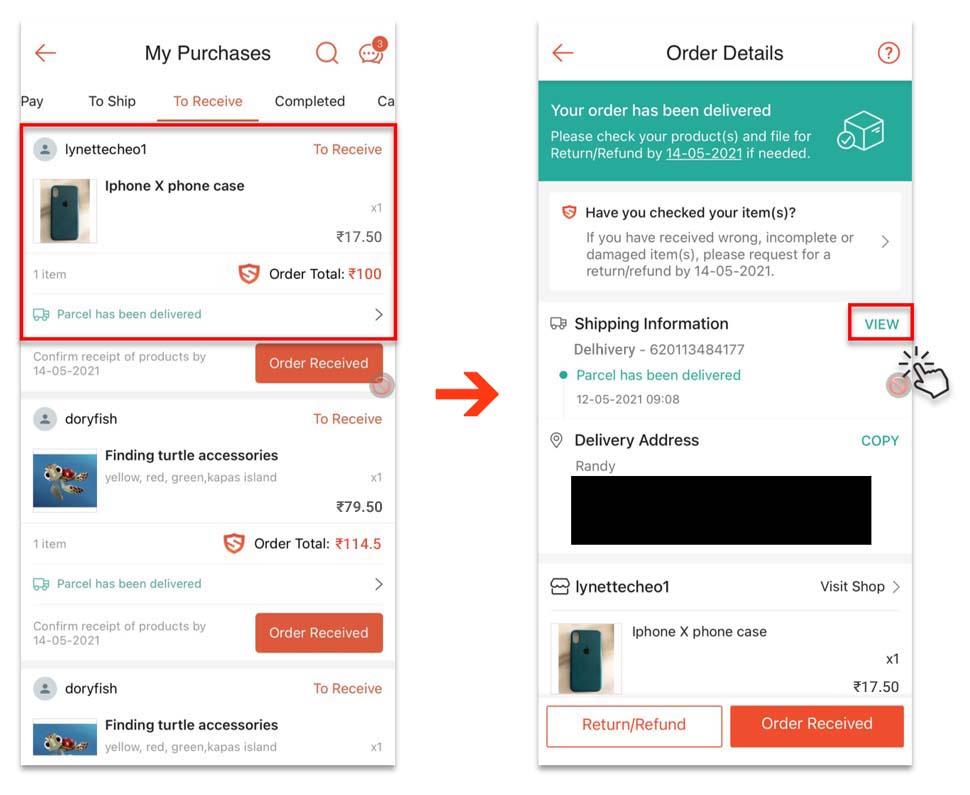 Find the best deals on Shopee
Flash Deals
If what you like the most is to find real bargains, you have to take a look at the flash sales that Shopee offers every day, by clicking here.
There are plenty of items to keep you entertained while browsing and you can also check out the products that will be available in the next time slot.
What are these Flash Deals?
Eight times a day, or every two hours, (12AM, 10AM, 12PM, 2PM, 4PM, 6PM, 10PM), Shopee offers a selection of products with great sales (some items are up to 95% off).
Many of these items can be found for as little as ₹9, so if you really like something, we recommend that you don't wait too long to buy it, as units are limited and only available for a short time.
Discount Coupons
Main article: Shopee India Coupons
On Shopee you can also get discount coupons that you can redeem when you go to make your purchase.
Just for registering you can get exclusive products from ₹99 & ₹149, you also get a 30% discount voucher, 200 free coins and 50% cashback in your purchases, and, if you use their app, you can scan a QR code that gives you an exclusive free gift.
New User offers (aka New User Zone)
Shopee welcomes you in the best way: opening offers with 30% off (and so much more!) that you can find here.
Filter your searches to find the best price
If you know what you want to buy and you want it at the best price, just go to the category of the item you want and select "Price: Low to High" in the bar above.
This way you will always get the cheapest products first.