You may have already heard about Shopee, the Singapore-based online store that has landed in India, and in many Latin American and some European countries, as it has recently become a direct competitor to AliExpress.
Beyond the curiosities about whether it's safe to buy (it is), Shopee raises doubts about whether their products are original or replicas.
In this article, we will try to answer this question.
How do you know if a product on Shopee is original?
To give you an idea, Shopee is kind of like what AliExpress used to be: on this site you can find original products or not, depending on the category and the store that sells the product.
If you want to see if it's an original product and not a fake, you can read reviews and ratings from other buyers. Many of them upload real photos of the products they receive and this helps a lot to make a reliable and assertive purchase.
However, there are many stores where there are no reviews or real photos of the product. Buying in these stores is risky, no matter how much the seller assures that it is an original product.
Another tip to know if it is a replica or an original is to look at the price. Even if it is much cheaper than buying in other sites and recognized stores in India, you should be suspicious and careful when the price is very low compared to the official stores of the brand.
Shopee Guarantee
To ensure that the user feels secure, the platform has the Shopee Guarantee. This guarantee is a proof that the store is interested in pleasing and offering products that meet the buyer's expectations.
With it, the amount paid for the product is withheld until the buyer reports in the app that they have received their purchase in good condition. Only then, does the seller get the money for the purchase.
Therefore, it's important that you always try on your product the moment you receive it and then click on the "Order Received" tab to confirm that you are happy with it.
Are Shopee sneakers original?
We have to tell you that most of them are not. According to what we have been able to observe and investigate, there are no original brand sneakers in the store. However, you will find replicas of recognized brands and others that are not.
On YouTube, you can find videos of unboxing of sneakers that claim that they are replicas because they are very cheap and light. To give you an idea, there are sport and urban sneakers that cost around 1826,96 INR or even less.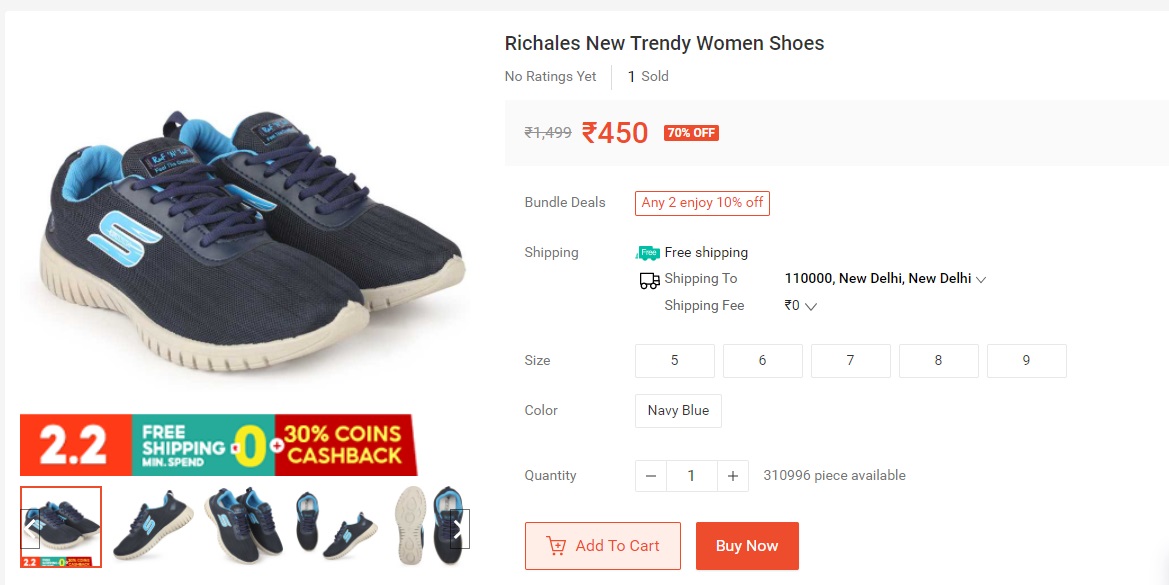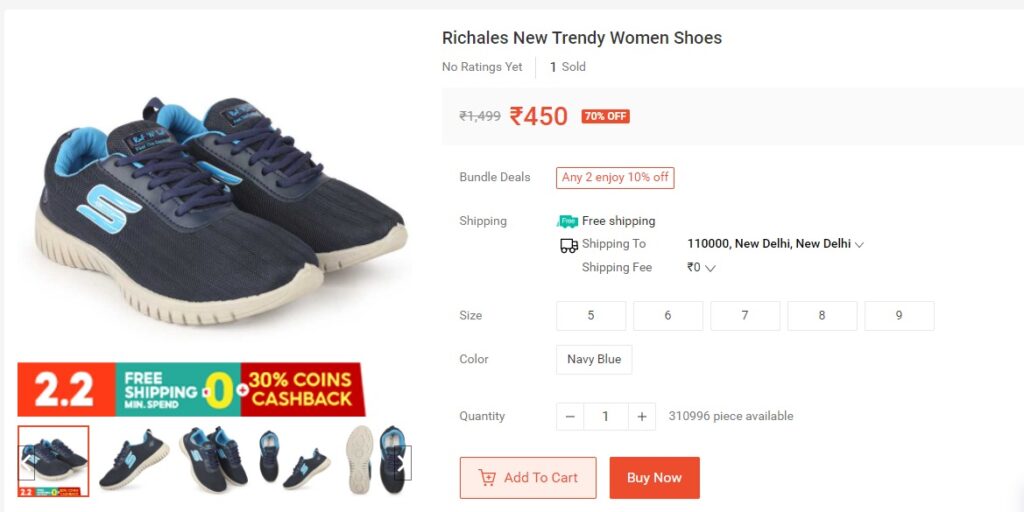 Many buyers are satisfied, despite the fact that they are imitations, and claim that the shoes they have received are very similar to the photos in the product description.
You should keep in mind that since they are not original and have such a low production cost, their durability may not be the best.
It is also worth noting that it is very likely that the shoes you buy on the platform come without a box. Sellers prefer to send them wrapped in bubble wrap so that they are more compact when shipped.
What about the smartphones, are they original?
We haven't been able to find a large stock of smartphones at Shopee India (in comparison to similar websites), but here are a few tips in case you come across some while exploring the store.
As we have already said, if they're too cheap you better be careful. Most likely, the product is fake. Now, there are some sellers who advertise for values closer to what we find in other stores and publish original photos of the device, with brand seals and everything else. In those cases, it's very likely that it's an original smartphones but ends up being a pre-owned or reconditioned product.
Likewise, to make sure, you should send an inquiry to the seller and check the ratings and reviews of other buyers. Many of them share their buying experiences and even photos of the product they received, which can help you make a decision.
Another tip we can give you is to check the title and description of the ad. As an example, if it just says Android instead of the brand and model of the phone, it's a replica. They are unbranded phones with low quality components.
We think it is important to tell you that if you have never bought on this platform you could choose a very cheap product just to try it and check the service of the store. In case you are satisfied, you may be encouraged to buy bigger and more expensive products, such as a phone or electronic products.
How do I know if a Shopee seller is trustworthy?
Shopee is a marketplace where several stores advertise and sell their products. In some cases, they may be official stores but most of them are independent sellers.
Before making any purchase, the most important thing is to properly do your research and check the reviews of the products of the particular store you intend to buy from to check its reputation and thus, have a greater guarantee that you'll get what you're looking for.
Through the store's app you can also view ratings and reviews. It's a way to get the full picture and know if it's worth taking the risk and buying from that store.
We saw many complaints from customers who bought products sold as original but were in fact fake and were asking for their money back. Some claim that they contacted the seller and were assured that they were original products but when the order arrived, after a long wait, they turned out to be replicas.
The most important advice we can give you is to be careful when choosing products and sellers. You can also send your queries and complaints to the Shopee India team using this form.
How to register on the platform?
If you have never accessed the platform before, you can register here. Just enter a phone number, your email address or connect from your Google, Apple or Facebook account.
If you choose to register with your smartphone, you will receive an SMS with a 6-digit confirmation code. After registering this number on the website, create your username and password to log in whenever you want.
How to buy on Shopee?
On the home page you can find the offers of the moment in various categories. But, if you already know what you want and don't need to browse, you can use the search engine and filter the results according to what you want.
Shopee will allow you to filter on that search, so you can find only products that have received good ratings from other users. After doing your research and checking the reviews, you can select the product, add a shipping address and payment method to finalize your purchase.
To get more information about your purchase, you should go to the My Purchases tab and click on the order you want to track. Then click on View and you can track the delivery of your product until it enters Indian territory.
What are the delivery times?
An order's delivery may vary depending on the Seller's Days to Ship (estimated number of days it takes for an order to be prepared for shipment and arrangement of orders for pickup) and the Courier's Delivery Lead Time (number of days it takes for the order to arrive starting from the day Shopee Logistics Partner has successfully picked up the order from the seller). This varies between a week or more.
The lead time varies depending on the buyer's delivery address, the seller's pickup address, and the couriers' working days. Make sure your address is updated and that you pay attention to Shopee's app or your smartphone, as sometimes you can get contacted by the courier through SMS. In case you don't pick up, the courier will attempt the delivery three times before returning the product back to the seller.
How to request a refund?
From the moment you receive the product, you have up to 7 days to request a refund. However, if upon receipt you immediately click on Order Received, the payment will be delivered to the seller and you will no longer be able to claim a refund (either for item not received, damaged or if you regret the purchase). Before confirming, please check the product completely.
If there are malfunctions in the product, you have up to 30 days after receipt to notify them, and you can submit a request for a refund of the item. To do so, you will need to contact Customer Service and report your situation.