Shein has just updated its points program and we tell you how it works so you can save the most on your purchases.
If you have not registered on Shein yet, don't waste time and do so by clicking here.
Warning: with this trick you can get unlimited Shein coupons. Click here to find out more.
What do Shein points do?
They allow us, the users, to obtain discounts. It's a small reward offered by the site for being a loyal shopper. And, best of all, earning points is easy!
You can check your points through the Shein app by going to the "Points" section. You can also see how you've earned them, which ones have already expired…
It is important to note that only a maximum number of points can be received:
Maximum 8,000 points per day overall.
Maximum 2,000 points per day for comments.
Maximum 500 points per day for events.
Maximum 200 points per day for surveys.
So if you get a large clothing order, it's best not to post all the comments at once since you may reach the daily limit quickly. Wait until the next day to continue uploading your shopping comments.
How to earn Shein points
Earning Shein points is very easy, you just need to do one of these actions:
Verify your email: 100 points.
Shop at Shein: 1 point for every dollar spent when you confirm receipt of your order.
Comment on products: 5 points for posting a comment, 10 if the comment includes an image, 2 if you include a comment with a size rating.
To leave a comment on the product, just wait until you receive your order. Log in to your profile and look in the "sent orders" section. Depending on the operating system (Android / iOS for iPhone) we may have to click on the three dots on the left to add comments or the "Comments" button will show up directly.
Then, we will be able to add a star rating, comments and a photo of the product. For each comment we will be given five points. It will be double if we include a photo.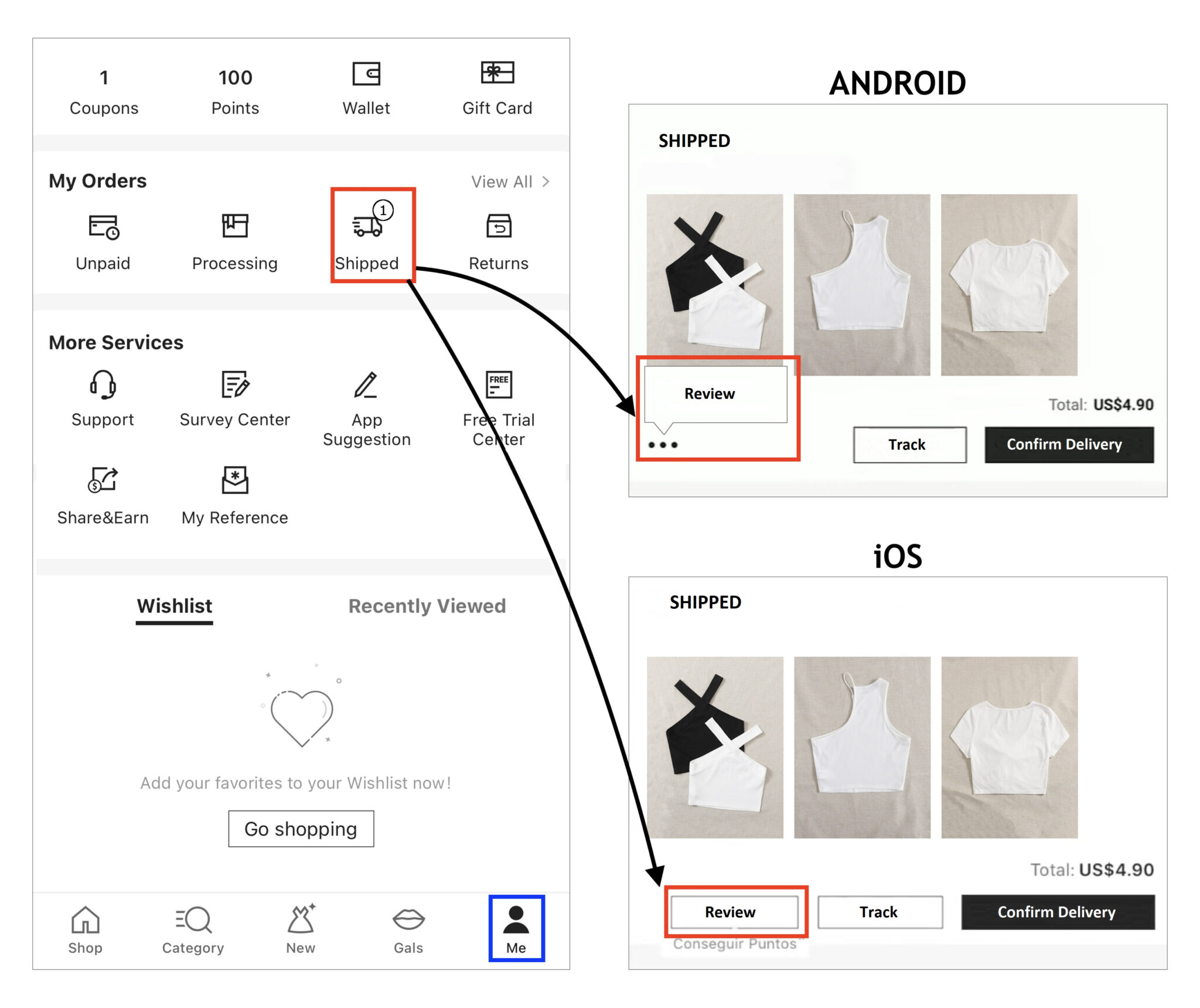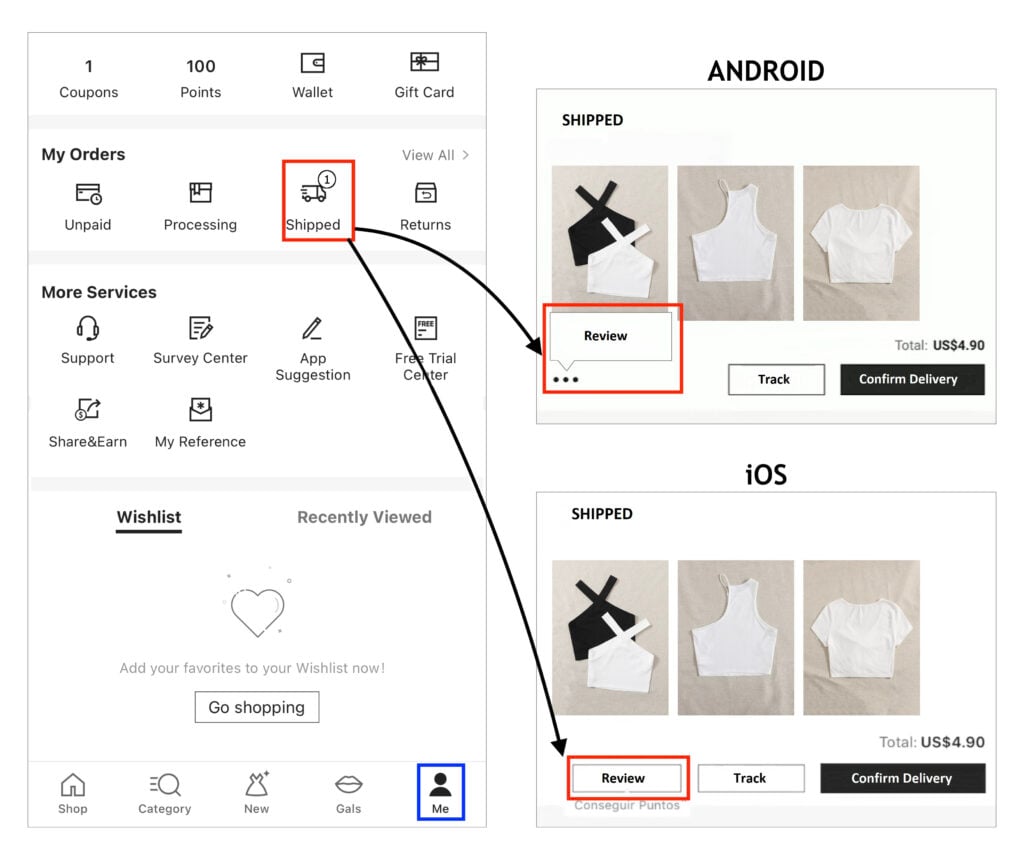 There are also several ways to earn points through the mobile application.
1. Check in daily
A very easy way to earn points is to enter the application every day and check in. It is not enough to log in to the application, you must click on the daily access button on the home page to validate points.
When there are special events, a special check-in is launched that gives extra points.
The daily check-in has a 7-day cycle. Each day we log in we will earn more points, and in total in a week we can earn 37 points just by logging in, without spending money.
The best thing is that on day 3, 6 and 7 we will get a surprise, which can be a gift or extra points.
2. Participate in outfit contests
Another way to win discounts is through the contests that appear in the mobile application. The outfit contest is the most accessible.
Every week Shein launches several themes on which you have to make a complete outfit by adding Shein items. In total, 73 outfits are selected from different users who can win from 100 to 1,000 points, depending on the category in which they have won. If you like fashion, this is your chance.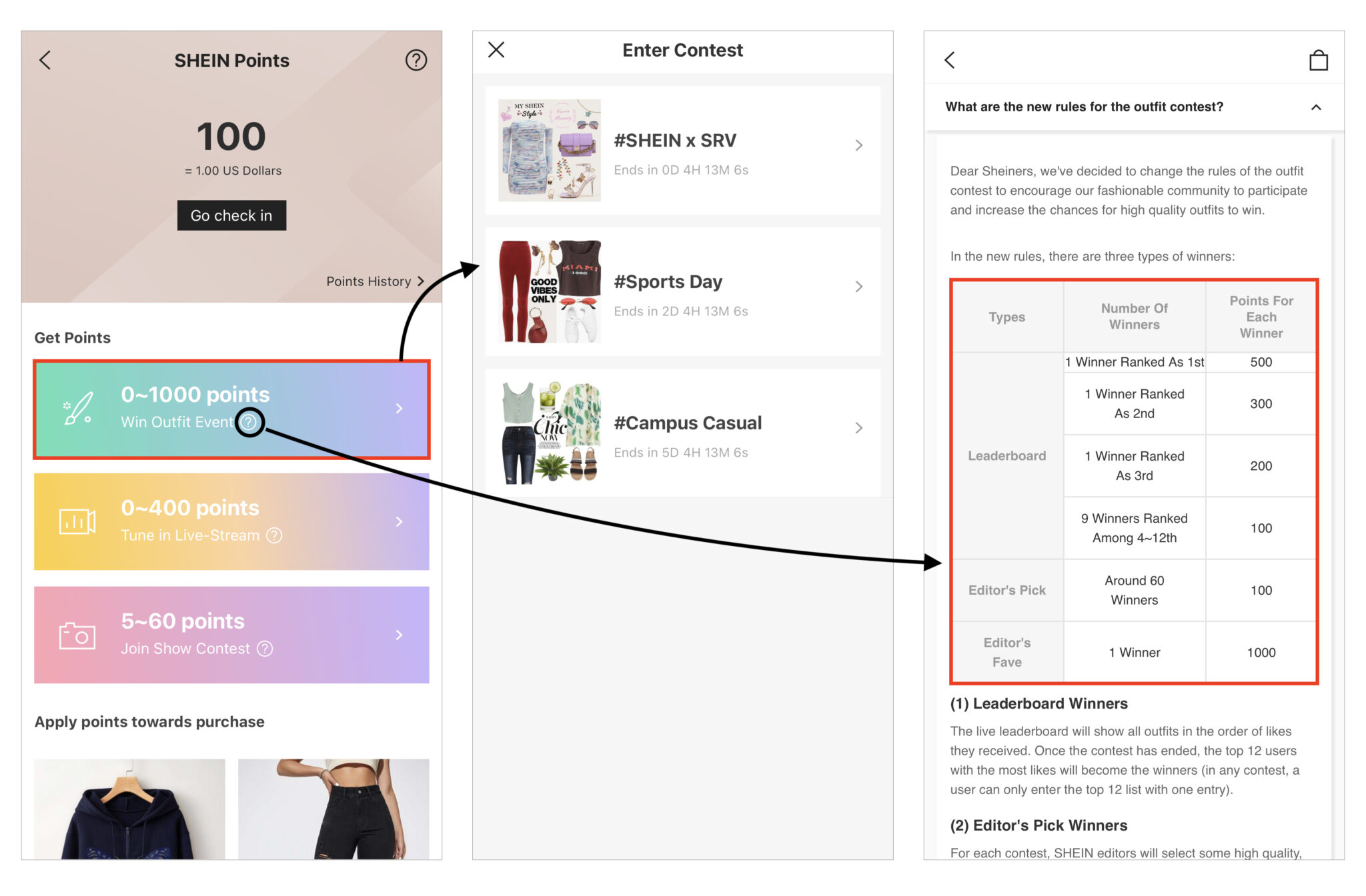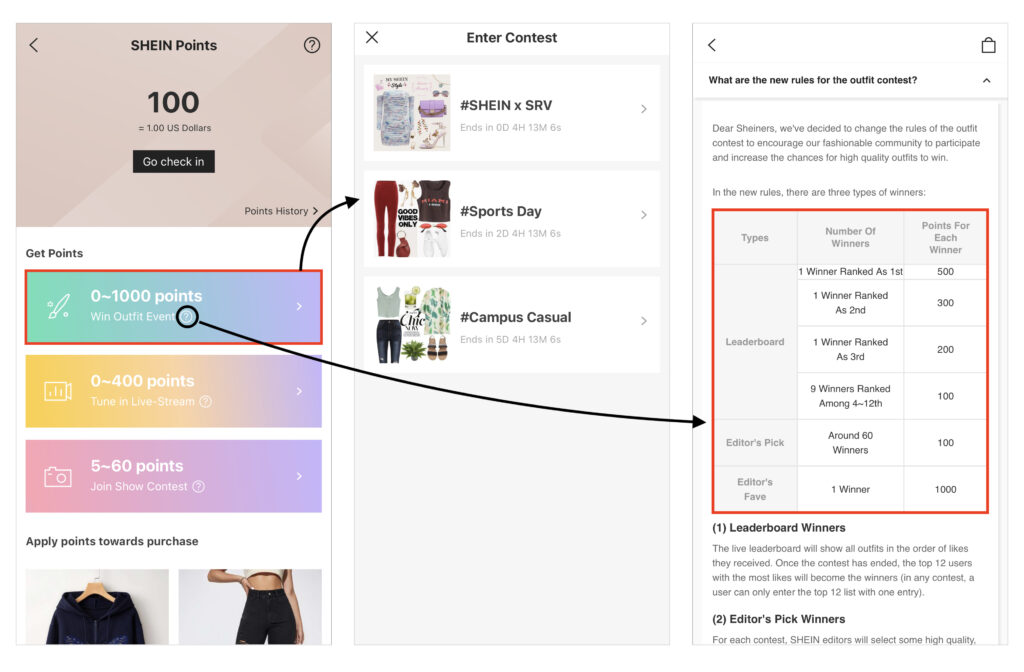 3. Don't miss Shein's Lives
In Shein's live shows you can find out about the latest news in fashion, beauty and pop culture. In addition, points and gift cards are given away at random.
The live shows are on Wednesdays. During the broadcast a chest or gift box appears. If you click on it opens and it will give you points or a gift.
They usually appear several times during the rebroadcast so you have to be attentive. You can earn from 5 points for sharing the live broadcast on social networks, and up to 400 points through the extra points contests that take place live.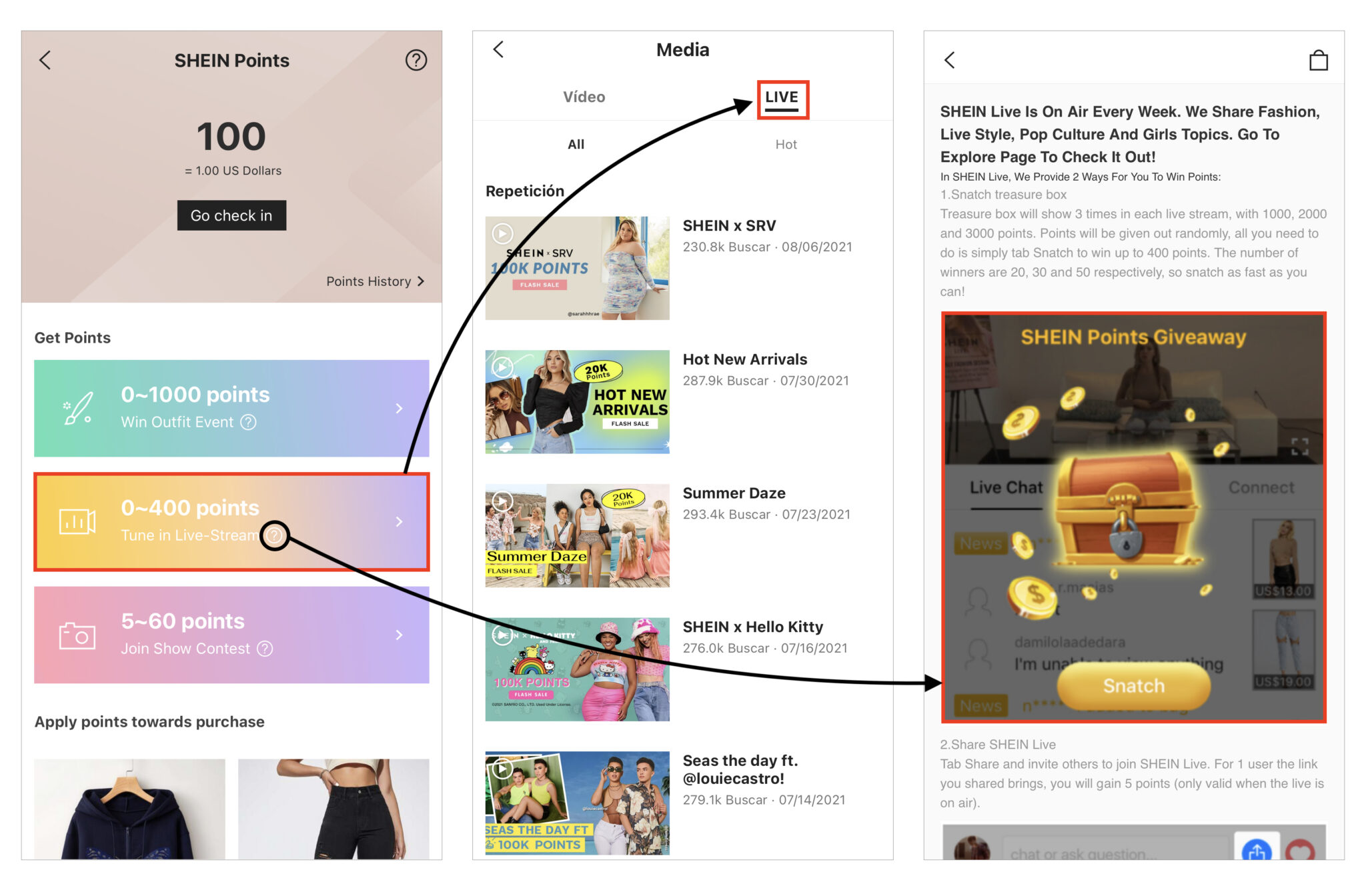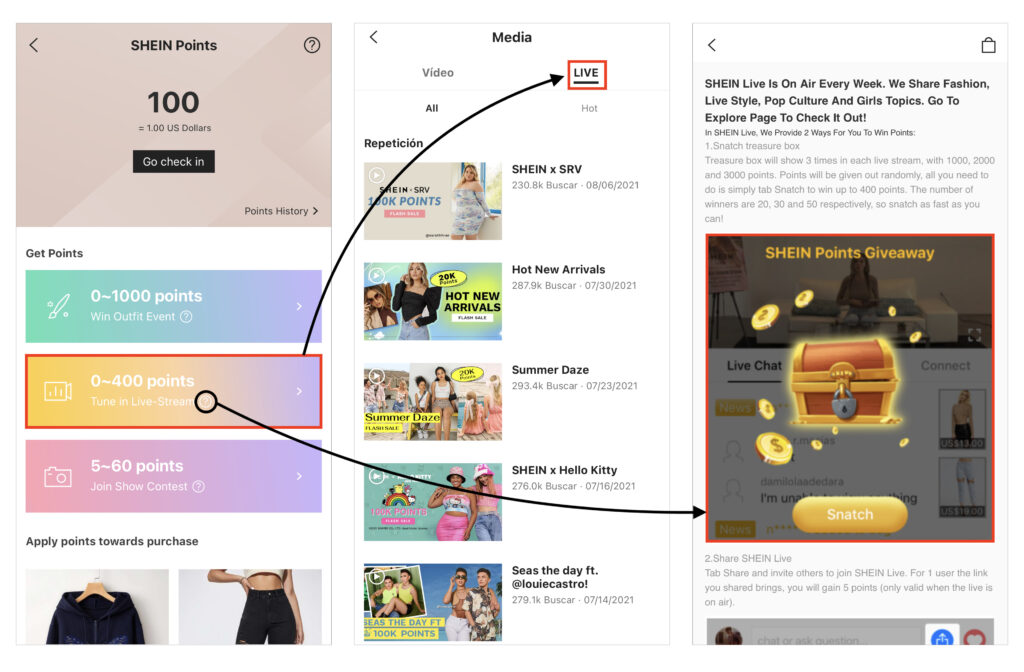 4. Go to Shein's survey center
When you access your Shein profile through the mobile app you can see a section called "Survey Center". From time to time, surveys pop up and they give you some extra points. In the last survey they made, they gave poeple 20 points.

Warning: with this trick you can get unlimited Shein coupons. Click here to find out more.
It's a quick and easy way to earn points and although there are surveys that don't give points, we will help the site improve by answering them.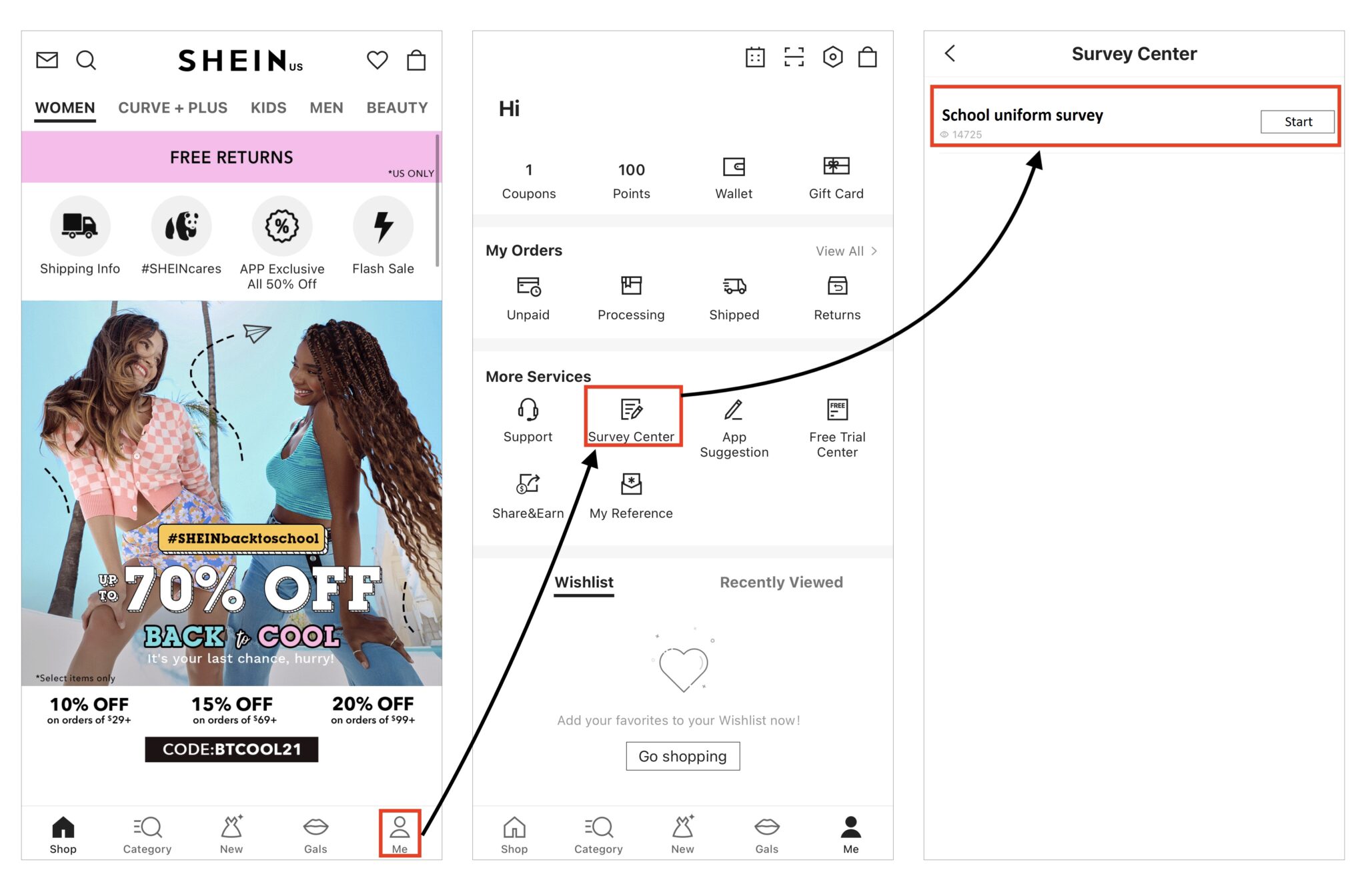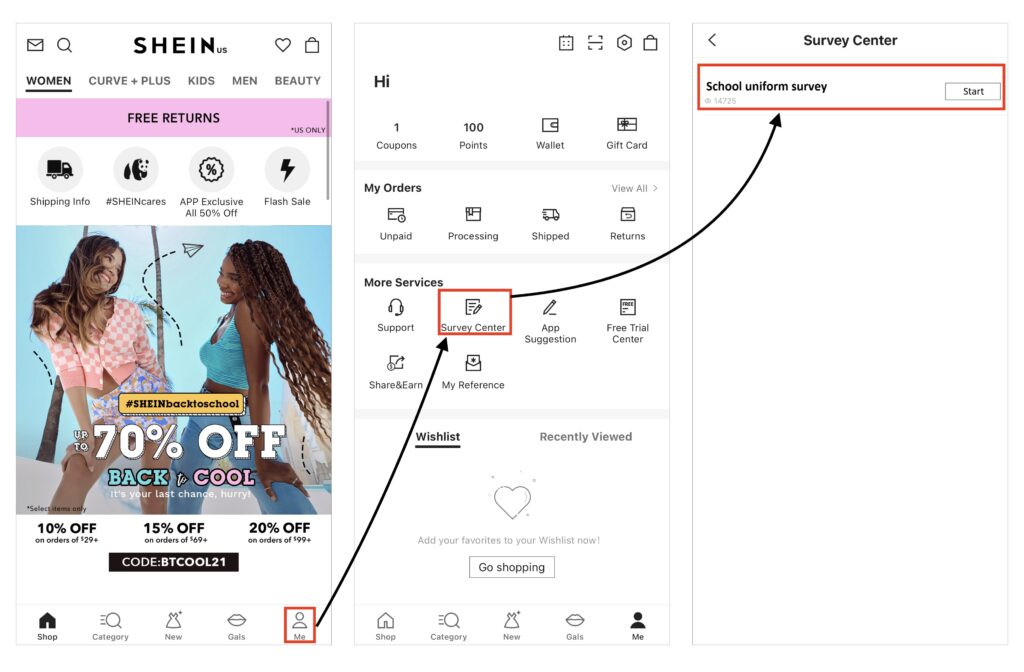 5. Check out Shein's new campaigns
Every week there are new promotions from this site and many of them offer extra points for a certain period of time. So if you want to save more money, keep your eyes open because the site knows that the best reward for their shoppers is a good discount.
How much are Shein points worth
Each Shein point equals 0.01$ USD so every 100 points, we will get 1$ off. Points can only be applied to 70% of the purchase excluding shipping, handling and taxes. To give you an idea, if we place a $10 order we will only pay $3.
At the time of payment, a section will appear with the available points. We have to click on it and indicate how many points we want to use in this purchase. Then, the discount will be applied automatically in our basket.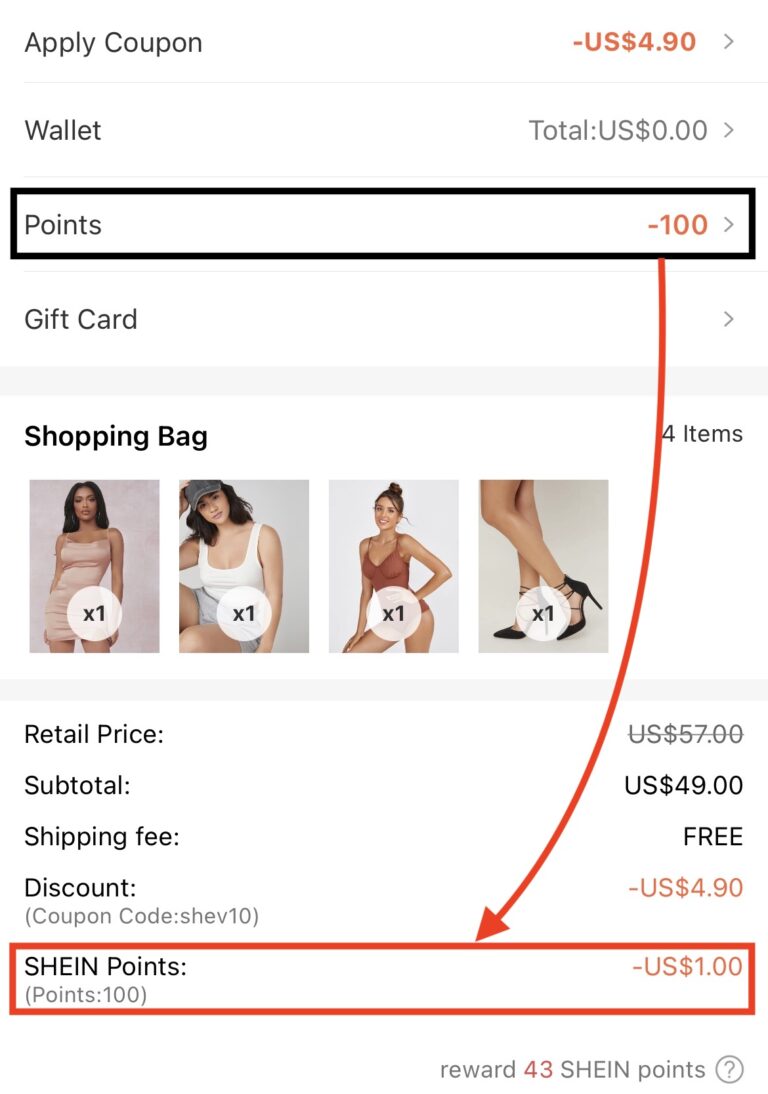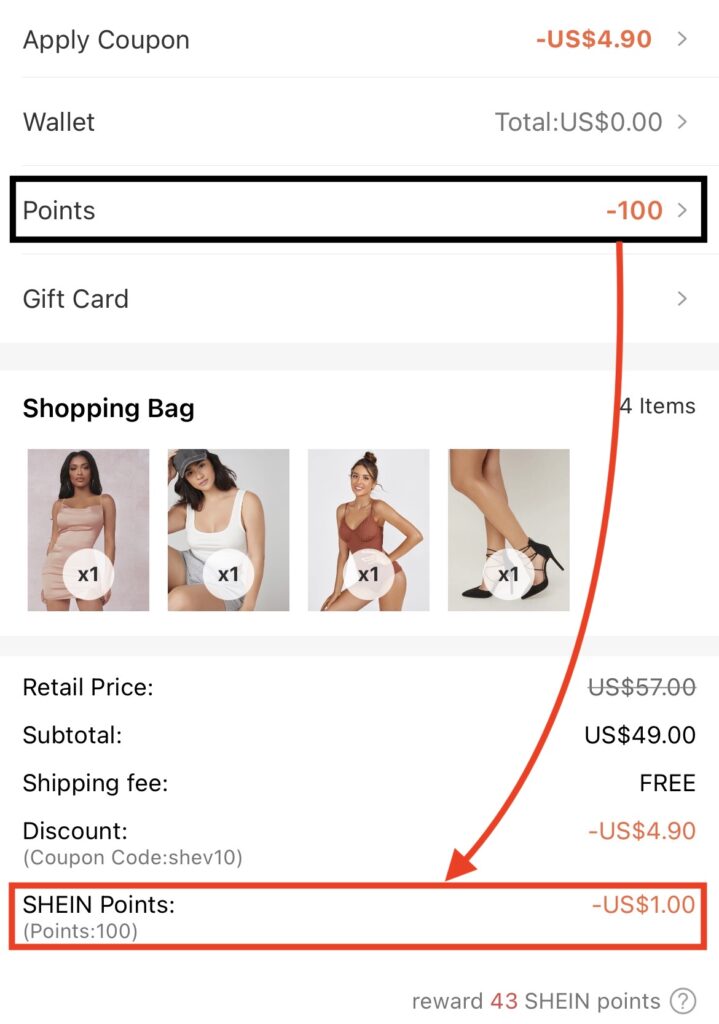 Do they expire?
Shein points expire between seven days and three months, depending on how you earned them. For example, points earned through daily logins or comments expire in three months.
It is also possible that there may be changes in the points system and the page itself recalculates the points. But if you are a regular shopper, don't worry, you will surely spend the points before they expire.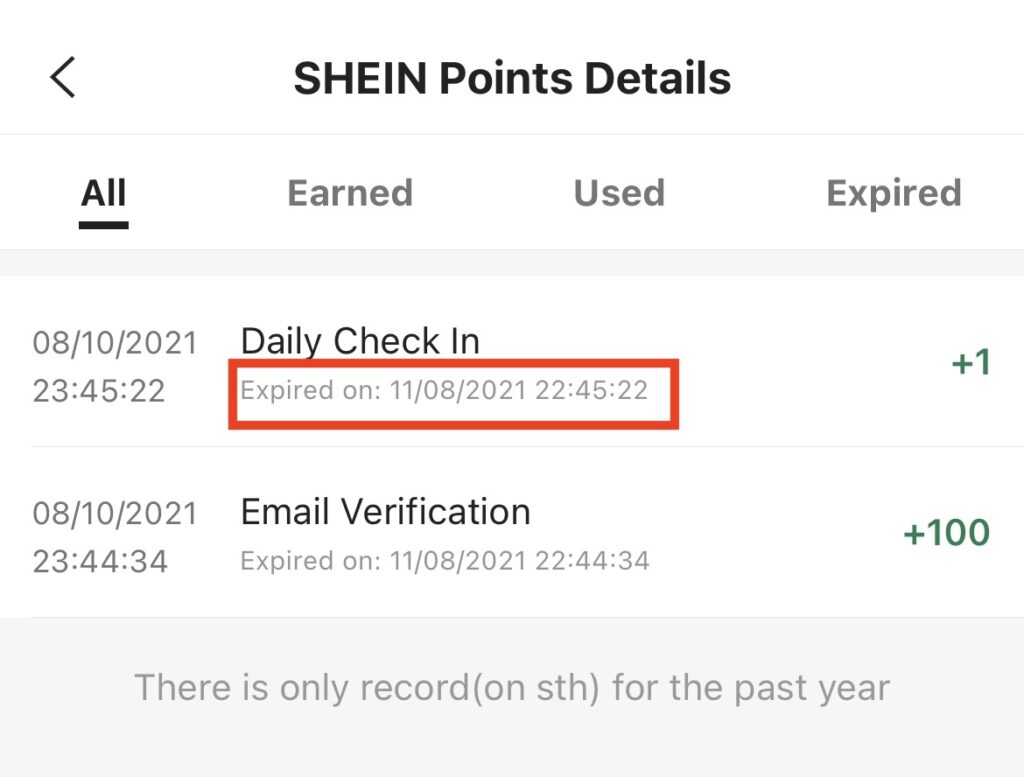 If the order is cancelled or a refund is issued, the site will refund the points used. In case of a partial refund, you will be refunded the corresponding part. Please note that the expiration date of the points does not change, so it is possible that expired points will be refunded.
Can you transfer Shein points?
It is not possible to transfer Shein points from one account to another, as they can only be associated to the account that made the purchase or comment.
If you have any problems when paying, try changing your payment method (such as Paypal) or use your computer to shop at Shein. And if you've created a new account, it's best to follow our tips to start earning points as soon as possible.
5 hacks to save money on your Shein purchases
This online fashion site offers many coupons and discounts on a regular basis to its shoppers. In addition to the points program, we have five other ways to save money on your purchases that you might not have known about (although we had already mentioned them in our article Shein Reviews).
Sale and flash sale section: every day new offers are added with incredibly low prices as you can see here.
Shein VIP: the new program for members with which you can get exclusive discounts.
Student discount: sign up for Unidays and get 15% off at Shein.
Shein Test Center: get free products in exchange for your opinion. Access from this link.
Shein gift cards: gift cards are discounted between 10 and 12.5%, buy them here.
Warning: with this trick you can get unlimited Shein coupons. Click here to find out more.